This post brought to you by Moen, Incorporated. All opinions are 100% mine.
I was so excited when I was asked to review the Boardwalk Spot Resist bath faucet a month or so ago. It was perfect timing since we were trying to finish some home improvements on the house before we tried selling it. We had one bathroom's sink that hadn't been replaced recently, and we knew the new faucet would help it look so much better
You can see the results for yourself:
Thanks to the hubby he was able to install it quite quickly which provided a nice faucet makeover. If you are thinking of replacing your faucets too, here is what you'll need:
TOOLS:
– Adjustable Crescent Wrench – Plumber's Putty
INSTRUCTIONS:
These were my hubby's condensed instructions (he had to modify it a bit because the holes in our sink were so close – Refer to enclosed Moen instructions for more detailed instructions).
1. Turn off water under sink. Remove old hosing from the wall and from the old faucet. Remove old faucet.
2. Install the two side valves by threading washer and nuts into position indicated on the instructions placing them through the holes and using the retaining ring to hold it in place. *SIDE NOTE: By using things like retaining rings and specialty tools that were included in the package, Moen made it very easy and hands free.
3. Tighten all washers and bolts to secure the spouts. Thread valves on top of the hot and cold stems.
4. Install the spout. Put a thin layer of plumber's putty under the spout. Insert it through the center hole and secure with washer and specialty tool on the under side.
5. Connect the stems, water supply and spout together with the hoses supplied. **SIDE NOTE: This was very easy since the Moen hosing clicks in (no tools required).
6. Connect water supply to stems.
7. Remove old drain. Thread and insert new drain.
8. Install rod and drain stop.
9. Turn on the water, and you're done.
I LOVE how it turned out!
What's great about the Moen Boardwalk Bathroom Faucet is that its brushed nickel finish resists fingerprints AND water spots (that's my favorite feature of all considering how messy the little ones are in the bathroom)! It's also WaterSense compliant, using up to 32% less water without sacrificing performance. Nice, right?
If you are wanting to find out more about Moen and the products they offer, be sure to follow them on Facebook. And be sure to check out this faucet and other Moen products at your local Lowe's. 🙂
Now, although we were able to do this nice Faucet Makeover, I still never had a chance to give the entire bathroom a makeover. I've been busy looking up ideas for our next home on Pinterest and wanted to share with you 10 Amazing Bathrooms. They are all so beautiful and show how you can make your bathroom just as beautiful as the rest of your home with some small additions like storage, decor and color. 🙂
Check Out My Other Recipes
10 AMAZING BATHROOMS: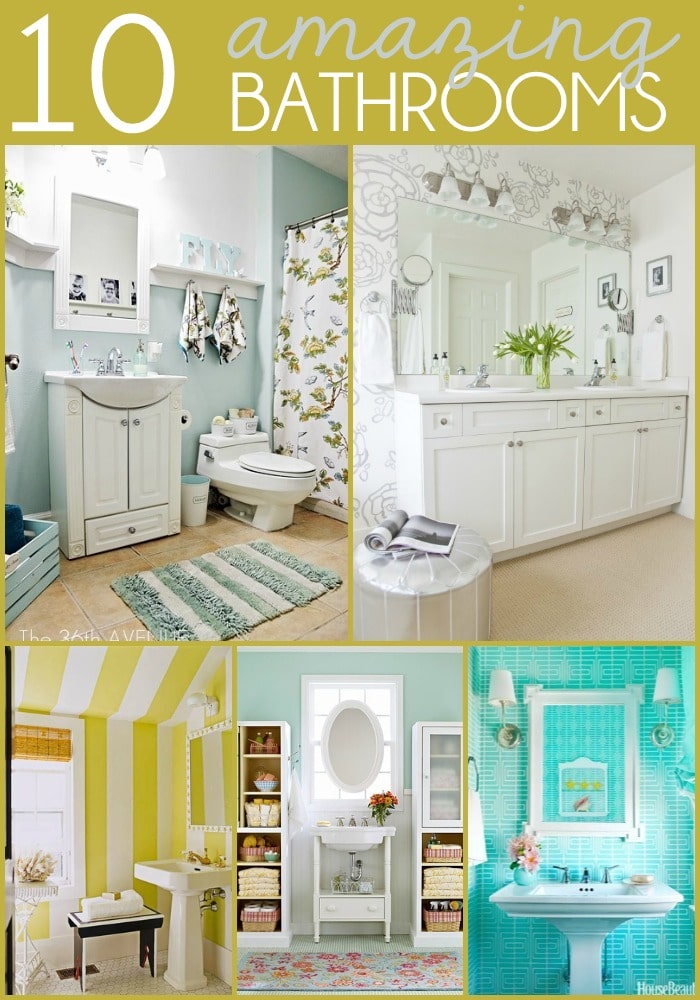 I'm SO in love with these beautiful and amazing bathrooms!
Can't wait to start working on ours at the new home in Texas. 🙂
ENJOY!
Need more recipes and creative ideas? Sign up and get a FREE copy of my latest ebook!