Hey Lil' Luna readers! I'm Jezzica (or Jezzy, or Jezz), and I've been working here at Lil' Luna for about two and a half years as Kristyn's assistant! (BEST job EVER by the way!!) Just a little bit about me: I'm from Gilbert, Arizona but currently going to school at Brigham Young University in Provo, Utah and studying Communications, I'm the oldest of two kids (technically four if you count the dogs, cause my cute mom treats them like children), I love being outdoors, I love being creative, and I am a serious frozen yogurt enthusiast. (Here's my cute little fam!)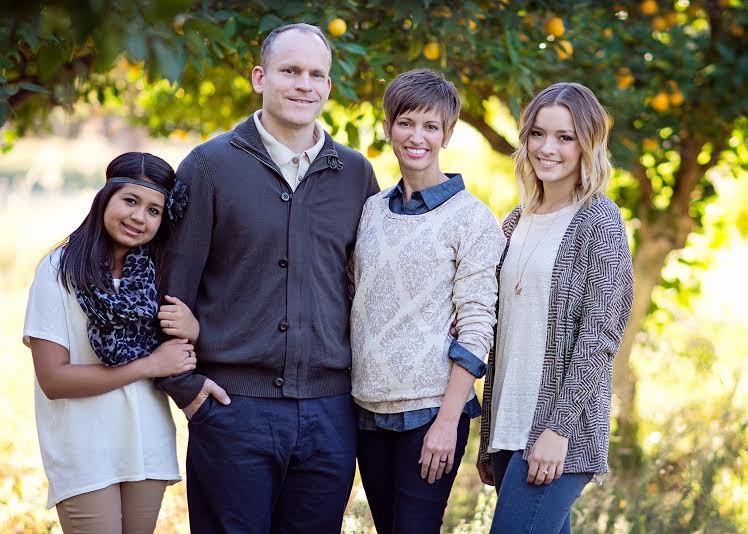 I also firmly believe I have the best job in the world being a blog assistant. Most of the work I do here is behind the scenes. I'm also in charge of round up posts, but I'm REALLY excited to start doing style posts and tutorials here on the blog!
Something you should know about me is that most of my closet consists of stripes. Shirts, dresses, swimsuits, sweaters, skirts, jackets, you name it and I definitely have it in stripes. I almost feel like I need to go to one of those shopaholic anonymous ordeals and say "Hi, I'm Jezzica and I have a stripe fetish". I am queen of the striped tee, ask anyone who knows me. But you know what? Stripes are flattering, easy to wear, and SO versatile! Which is why for this post I decided to show you 10 different ways to wear a black and white striped tee.
The beauty about black and white striped tees being so versatile, is that you can dress it up or wear it down. I put together 10 different styles, casual and dressy, using the same striped tee.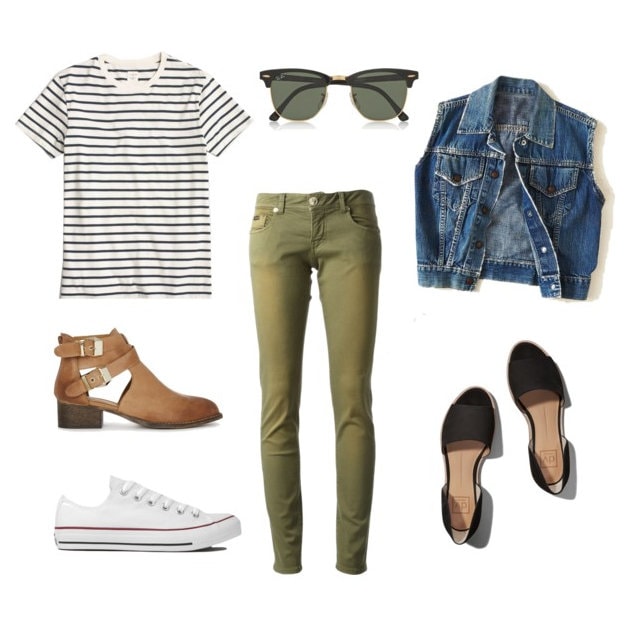 1. Denim vest. Denim vests are a perfect layering item for spring and summer! And I love these olive green jeans.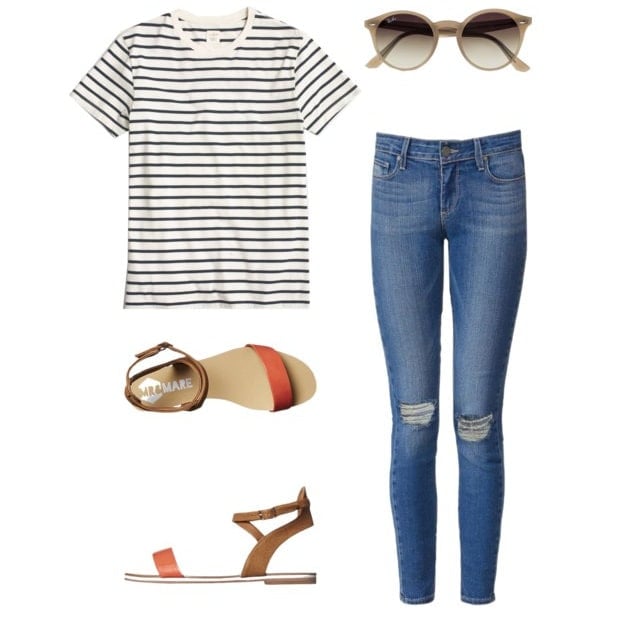 2. Jeans and sandals. Just throwing on a pair of jeans and some cute sandals with your striped tee is simple, but still really cute. Perfect for a casual day at the park or running errands.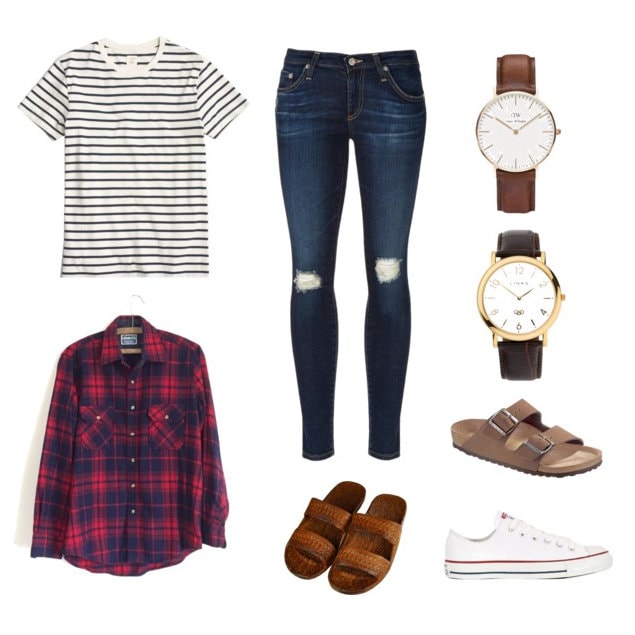 3. Flannel. This is one of my personal favorites. The nice thing about flannels is you can wear them unbuttoned over your tee, or if the weather is warm you can tie it around your waist. Feel free to complete this look with a messy bun or top knot. 😉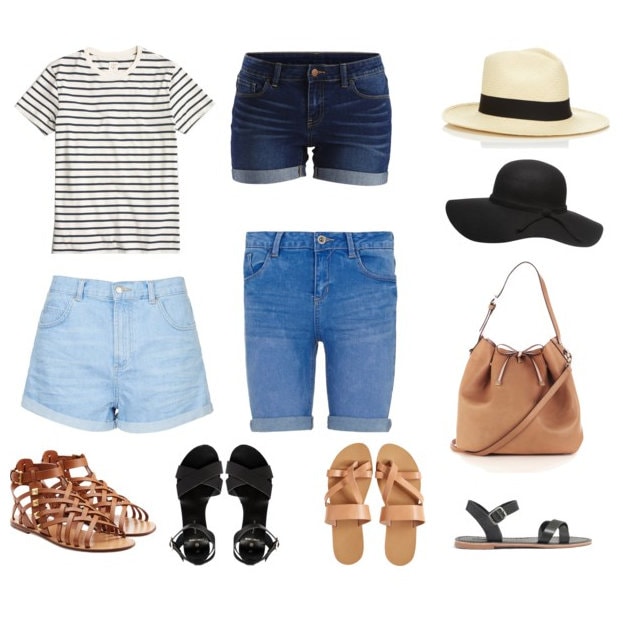 4. Shorts and sandals. Shorts and sandals are always a good choice when the weather is warm. I like to tuck the front of my tee just on one side into my denim shorts, or even tuck it in all the way with high waisted shorts!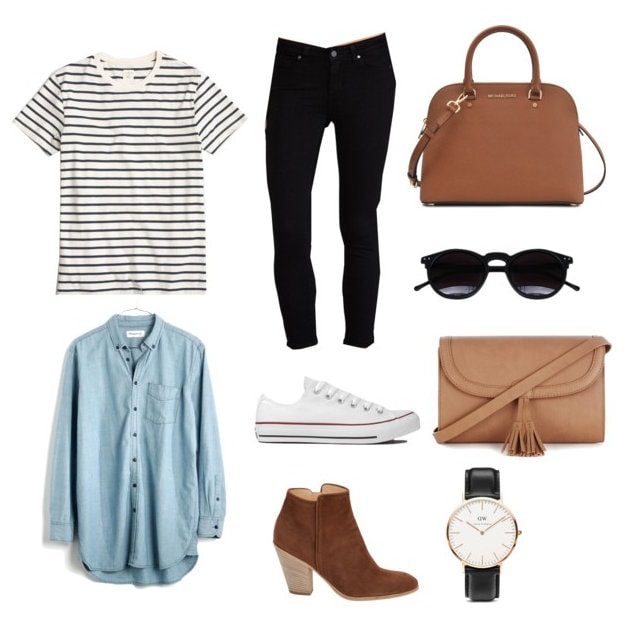 5. Chambray shirt. Just like flannels, chambray shirts can be worn unbuttoned or tied around the waist. Cute with black jeans or crops, or you can go for a denim on denim look.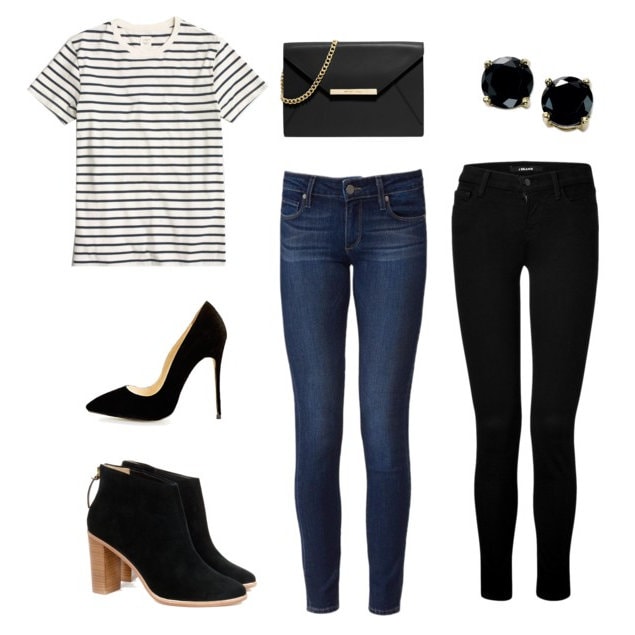 6. Black heels. Whether you wear it with black jeans or blue jeans, throwing on some black heels takes it from casual to more dressy just like that. Accessory choice also helps to determine the level of casual or dressy.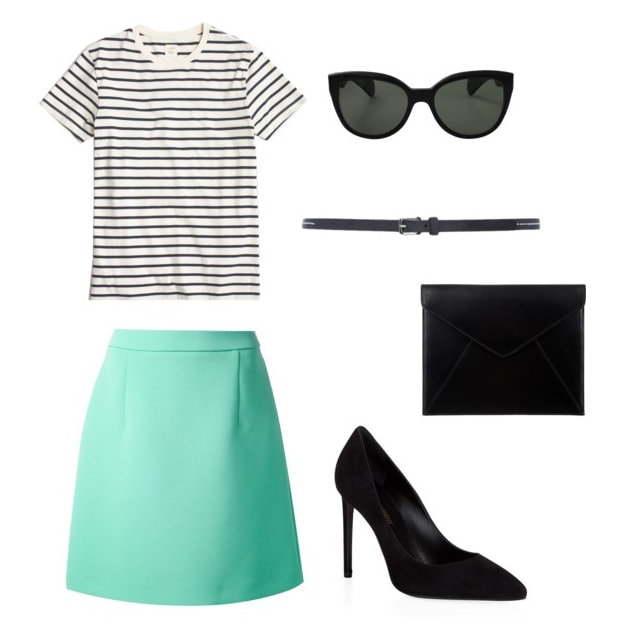 7. Solid colored skirt. It doesn't matter what color, but it's fun having black and white with a little color pop.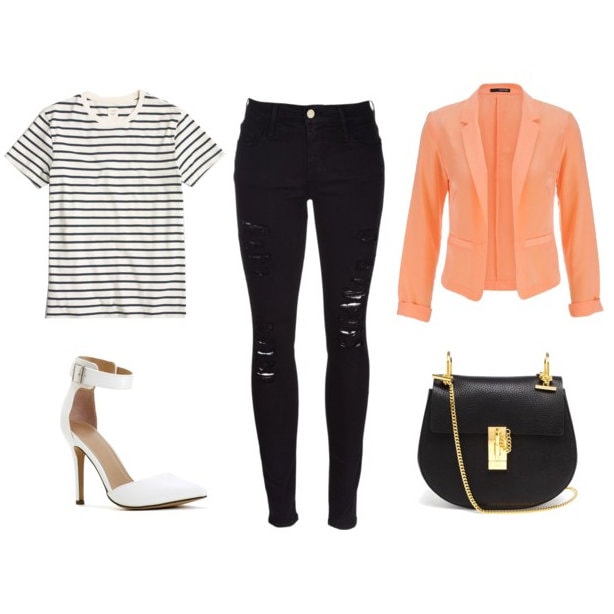 8. Blazer. Wearing a blazer over your tee with some jeans and heels makes for the perfect business casual attire. Any color blazer will do, but I loved this pink one! Again, a cute color pop.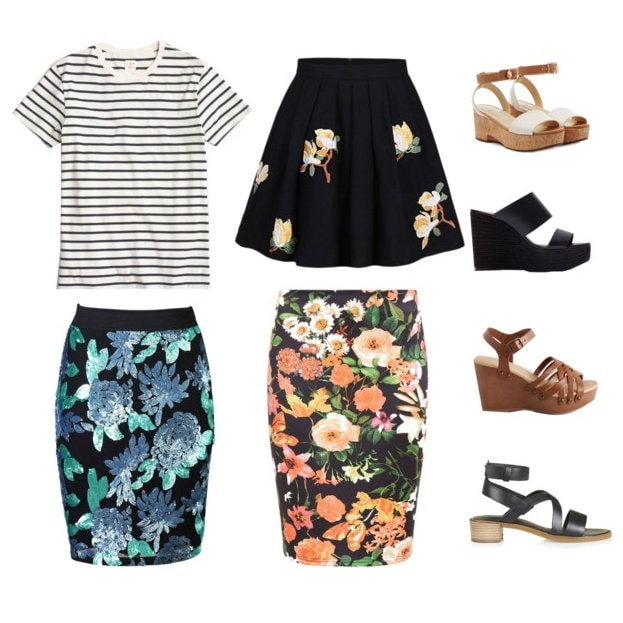 9. Floral skirt. Another personal favorite. I'm a huge fan of mixing patterns, and stripes with floral is one of the best!! I have a colorful floral pencil skirt that  I love to wear to church with my black and white striped tee and some brown wedges. It's just so fulfilling finding that perfect mixed pattern combo. 😉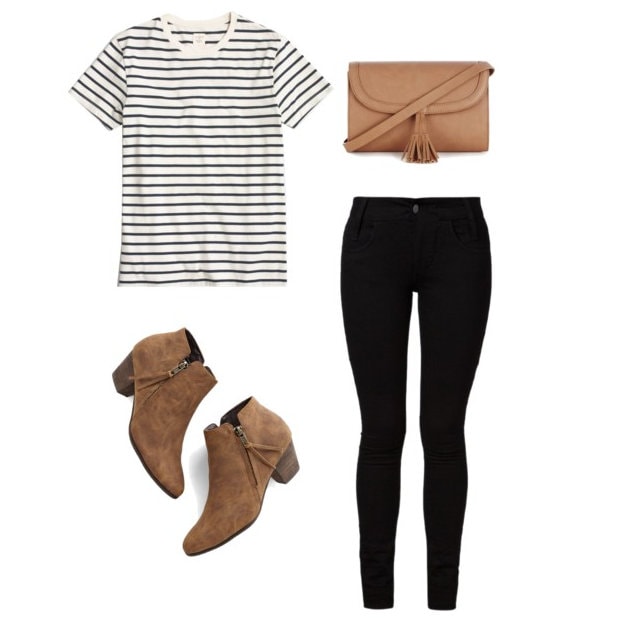 10. Jeans and ankle boots. I think this is a happy medium between casual and dressy, and not to mention super easy to put together. I'm like wearing this type of outfit on a low key date or even when I'm out running errands. It works great for both.
So, if you don't have your perfect black and white striped tee that you could wear every single day, go out and buy one! It's life changing. 😉 I hope you enjoyed, and I'm excited to post more of these from here on out!!
Jezzy
———————————————-
LOVE this, Jezz! The Striped Tee is so versatile! I think I need one stat. 😉
For more great Style tips, check out: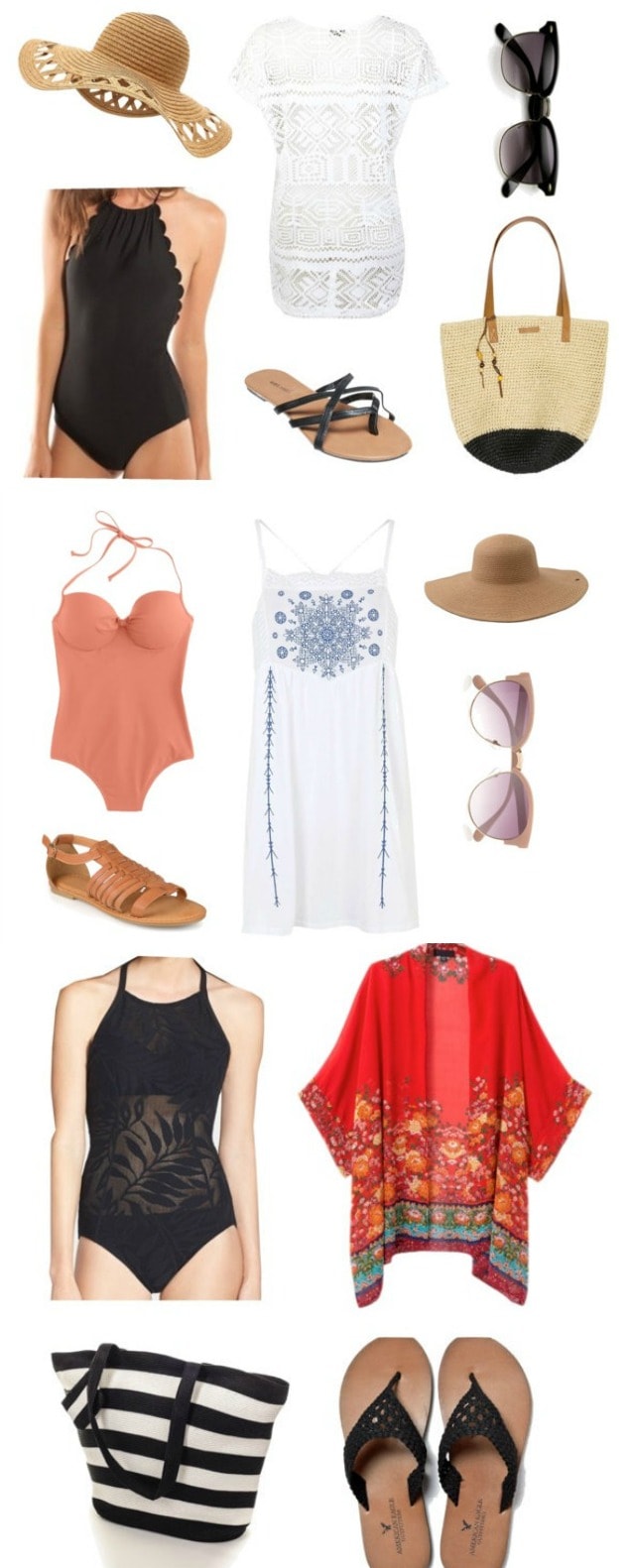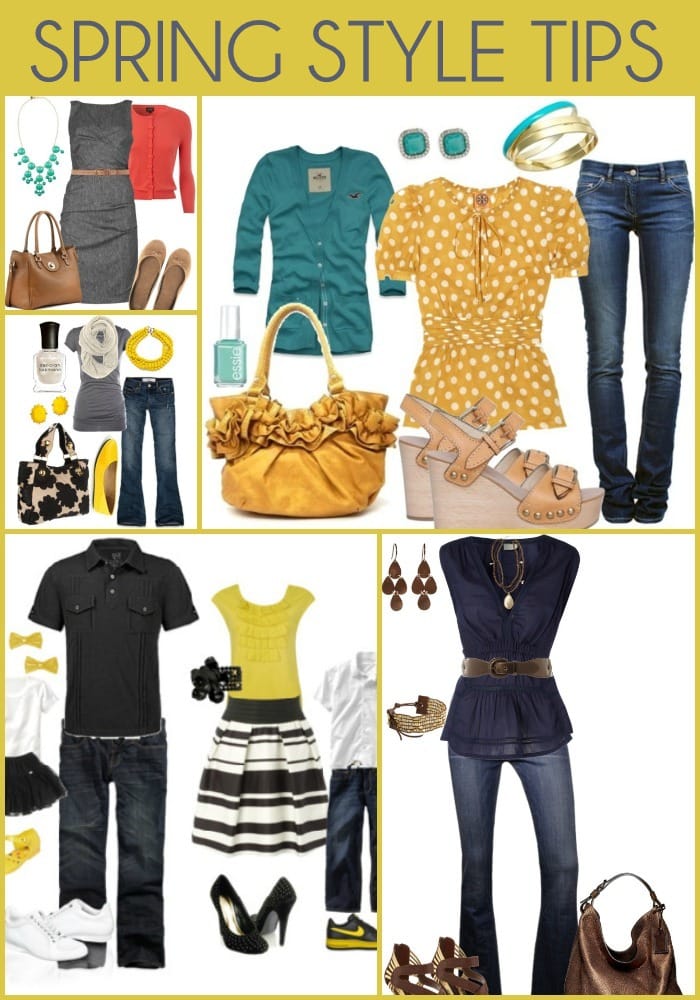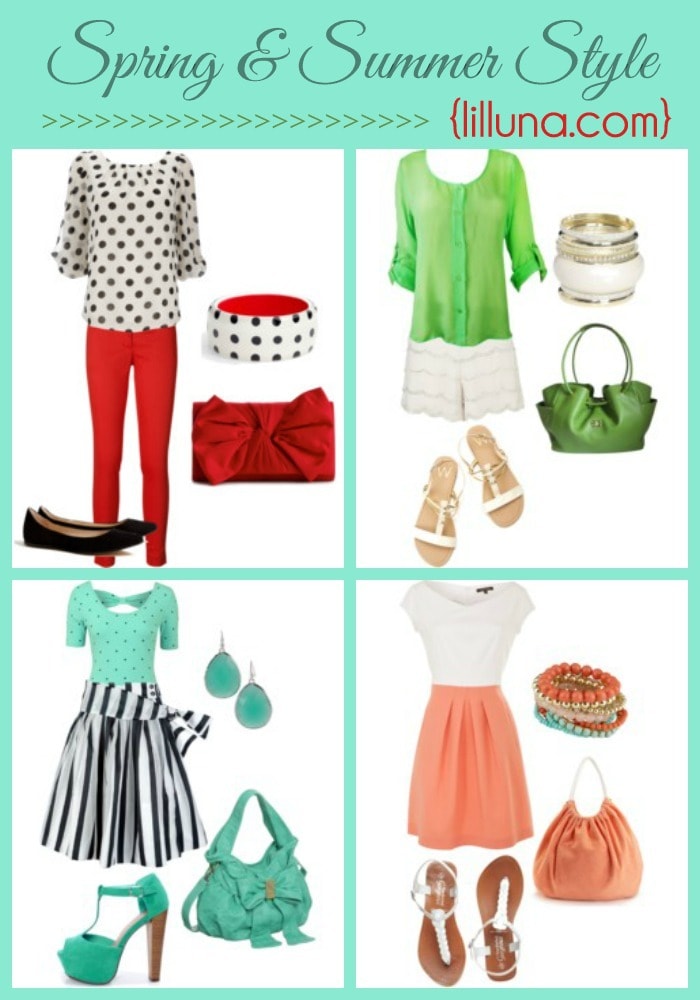 For all Style tips on the site go HERE.
For all TIPS go HERE.
And get weekly emails with monthly freebies by signing up for the Lil' Luna newsletter. 🙂
For even more great ideas follow me on Facebook – Pinterest – Instagram – Twitter – Periscope – Snapchat.
Don't miss a thing – Sign up for the Lil' Luna Newsletter today!
ENJOY!