Oh, TIME… there's never enough of it, right?
As school starts here in the coming weeks for us, I've started to make a new schedule for us so I know exactly what each kid has and when. It was pretty pathetic when I realized how much I'd be in the car with 1 elementary school and 2 different preschools in the mix. :/ Add T-Ball, dance and soccer and things are even crazier. Having said all that I was talking to the hubby and explained how although we are busy I never want to be too busy that we couldn't all sit at the dinner table together for a meal. He agreed. Yes, we want our kids doing extra-curricular activities, but we think there should be limits and we're insistent that we're not picking up fast food and eating in the car 3 nights a week. No thanks.
With that in mind and knowing that many of you are busy too, I thought I would put together Over a Month of 20 Minute Meals for you to use one some of those "crazy" nights. I mean, most should have at least 20 minutes to put a meal on the table, right? I know some may not but if you do, here are 31+ ideas for you to make and enjoy during a busy or hectic schedule.
From Lil' Luna:
MY OTHER RECIPES
Bowtie Pasta with Italian Sausage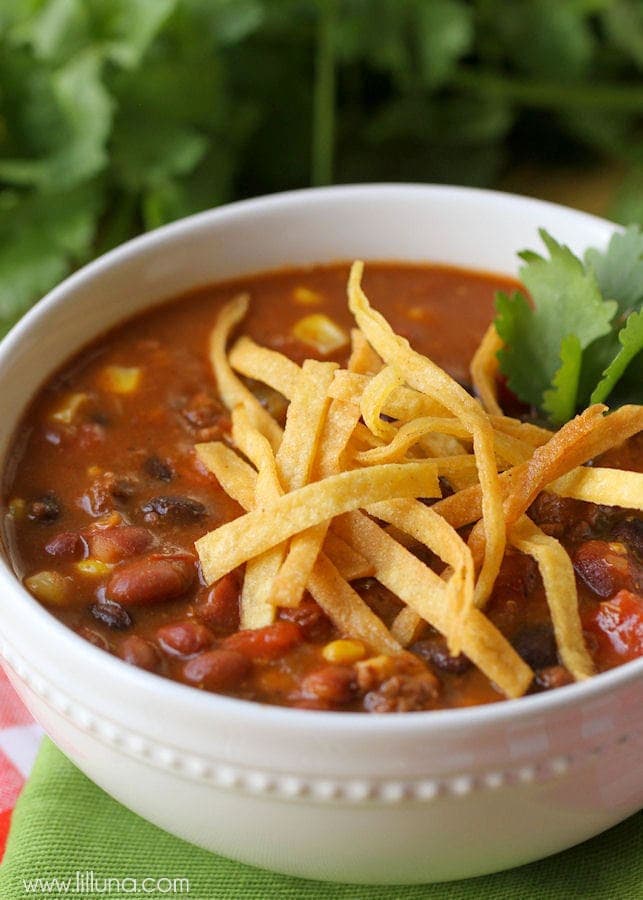 Quick and Easy Chicken Stir Fry
Quick meals from blog land:
Spaghetti Carbonara from Damn Delicious
One Pot Cheesy Sausage Pasta from Yellow Bliss Road
Dogs with Avocado and Chips from BHG
Homemade Macaroni and Cheese from Bless This Mess
Twenty Minute Tortellini Bake from This Gal Bakes
Easy Baked French Dip Sandwiches from Yellow Bliss Road
Italian Sausage Tortellini Skillet from Yellow Bliss Road
Pork Chops with Fennel Salad from BHG
Stovetop Cheesy Flatbread Tacos from Yellowbliss Road
Chicken Penne Alfredo from The Kitchen is My Playground
Tuscan Pasta with Tomato Basil Cream from My Recipes
Chicken Dijonnaise from BHG
Mustard Crusted Steak with Herb Butter from BHG
Ham and Asparagus Pasta from BHG
Spicy Chicken Sausage Pasta and Greens from BHG
Alfredo Pesto Pasta Sauce with Chicken and Tomatoes from Real Life Dinner
Creamy Spinach Tomato Tortellini from Cooking Classy
Skillet Pork Lo Mein from Six Sisters' Stuff
Cashew Chicken Coconut Curry from Iowa Girl Eats
Greek Style Pizza from BHG
French Bread Pizza from Yellow Bliss Road
 Bacon, Tomato, and Basil Pasta from Eat at Home Cooks
Skillet Chicken and Spinach Parmesan from Mom On Timeout
Beef and Brussel Sprouts Stir Fry from Lemons for Lulu
Oven Baked Tostadas from Yellow Bliss Road
Beef and Bean Stir Fry from BHG
Greek Style Steak and Tomato Salad from BHG
A great collection, right?!
I have a feeling I will be frequenting this post often since we all know busy life gets when school starts AND the holidays hit!
For more great recipe collections be sure to check these out:
ENJOY