Are you in the middle of deep cleaning? I am!
Usually, at the beginning of each year I get in this mode and try to tackle the whole house. I just feel like if everything is organized and clean then I'm much happier and less stressed. I've been picking one room or part of the house each day to clean and organize, and it's such a great feeling. It will probably take me the whole month to get the house in order, but it's worth it to me!
In case you are trying to deep-clean and organize too, I'm sharing some of my favorite Cleaning Tips. There are so many great ones that I now use on a regular basis that help out a TON!!
Washing Legos from Gettin' By

Cleaning Electronic Devices via Daily Life Hacks
Broom as Long Distance Duster from Real Simple
Emory Board as a Stain Remover from Real Simple
Coffee Filter as Screen Cleaner from Real Simple
Clean Your Oven Naturally from The Graphics Fairy
Clean Your BBQ Grills from Made From Pinterest
Keep Baseboards Clean with Fabric Softener from Apartment Therapy
Clean Microfiber Furniture from Chris and Robins Nest
Tip to Get Paint Off Skin from Real Simple
Homemade Febreeze from Life. Family. Love.
Safely Clean Your Oven from Clean and Scentsible
No Scrub Oven Burner Cleaner from The V Spot
Natural Carpet Powder One Good Thing by Jillee
Lipstick Stain Remover from Real Simple
Keeping Linens White from Clean and Scentsible
How To Clean Blinds from Creatively Southern
Removing Permanent Marker from Budget Savvy Diva
DIY Swiffer Cloths from The Space Between
Citrus Peel Disposal Deodorizer from Real Simple
Naturally Deodorizing Your Sink from The Happier Home Maker
Detangle Doll Hair from Lil Blue Boo
Deodorizing A Sponge from Flour On My Face
Cleaning A Glass Stovetop from Behind The Studio
Hopefully this helps motivate you to get in cleaning mode! 😉
To help even more you can use this Weekly Cleaning Printable found HERE: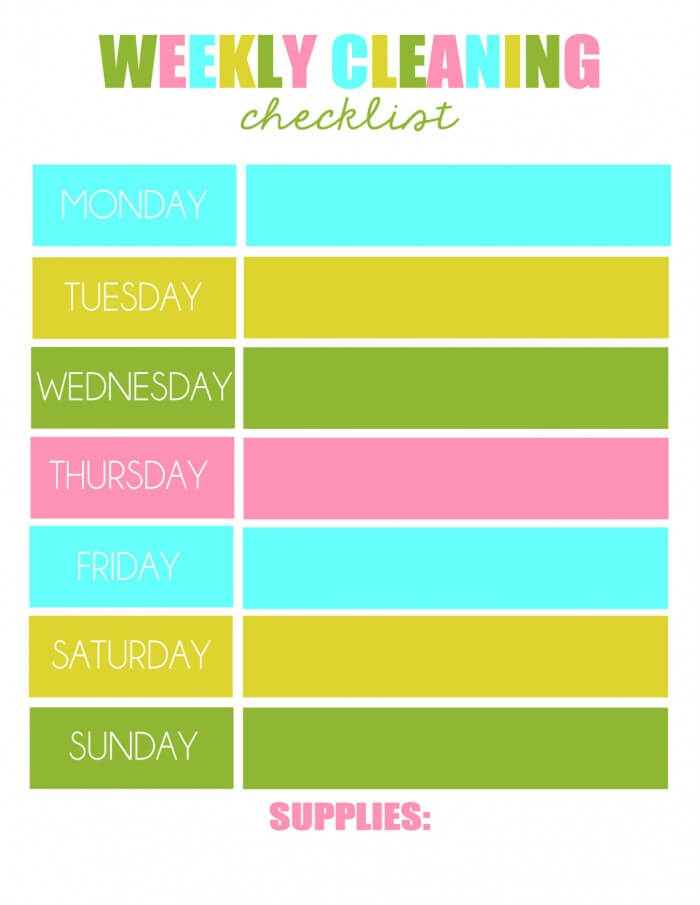 And, for some organization ideas be sure to check this round-up out:
ENJOY!