This Loaded Baked Potato Soup tastes just like Disneyland's version from Carnation Cafe. It's loaded with flavor and filled with Russet and Red potatoes, carrots, bacon, cheese and more. It's always a favorite during soup season!
Few things are better than smooth and creamy potato soups. This baked potato soup is one of our favorites, but we also love Cheesy Potato Soup, and Loaded Broccoli Potato Soup.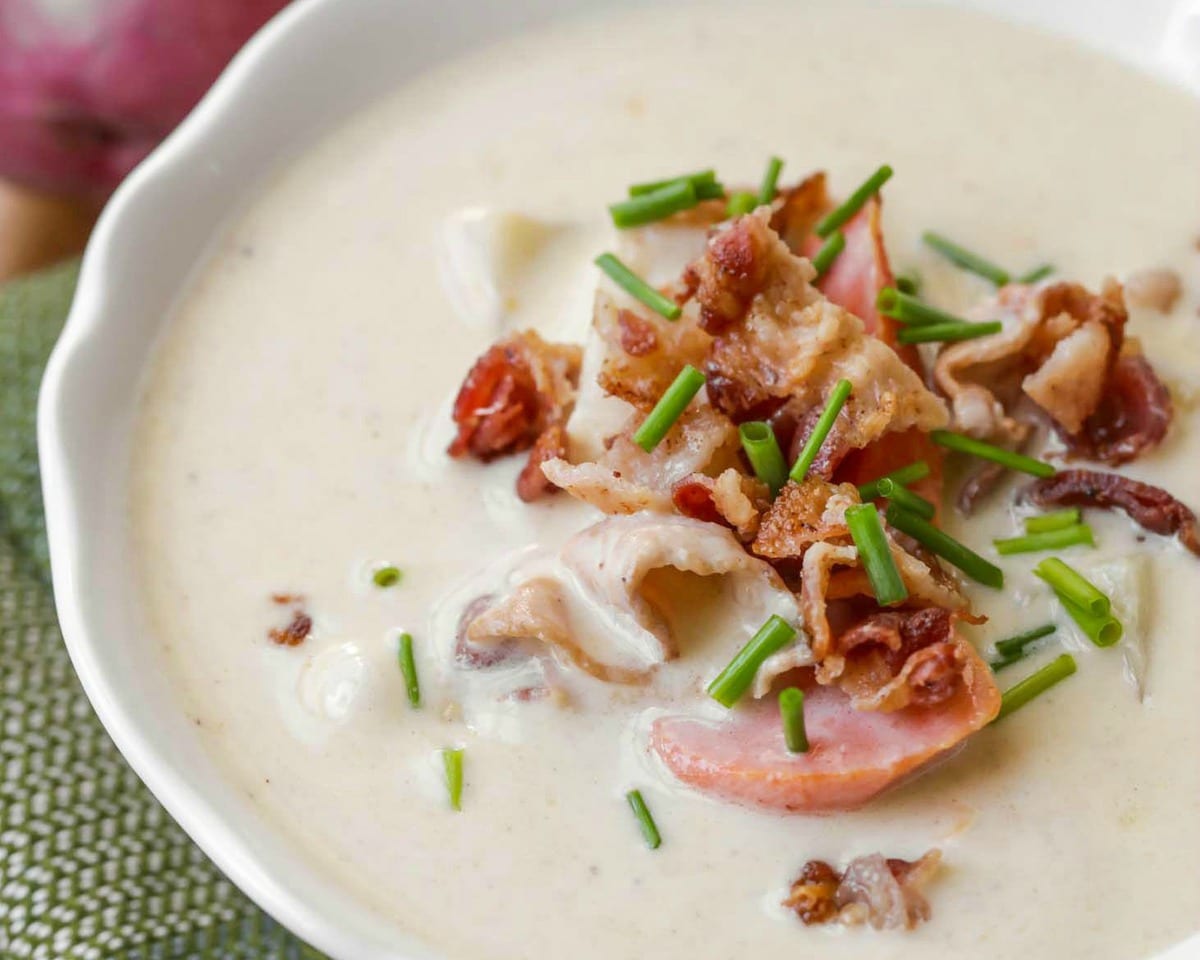 Loaded Baked Potato Soup
Have you ever been to Disneyland's Carnation Cafe? If not, it's one of the many MUST-STOP spots at the Happiest Place on Earth, because the food is delicious!
Their Baked Potato Soup recipe is beyond amazing and is tied (in my book) with the Broccoli Cheese Soup from Pacific Wharf Cafe at California Adventure (which is served in a warm sourdough bread bowl!) Fortunately for us, Disney shared their recipe for this soup on their blog, so I had to give it a try.
This Loaded Baked Potato Soup is so creamy, hearty and flavorful. It's just a matter of following the directions and having all the ingredients on hand. If you love Potato Soups, you will definitely want to try this awesome recipe, it really is the best.
In case you're looking for a recipe with minimal effort though, you can always try this Crock Pot Baked Potato soup recipe. 😉
What are the best potatoes for potato soup?
This recipe calls for two different types of potatoes—red potatoes and russet potatoes. Each type contributes something different to create the perfect texture in this baked potato soup recipe.
The russet potatoes are among the most starchy potatoes, and fall apart quickly when added to liquid and heat. This helps to create the smooth and creamy base for our soup.
The red potatoes are more waxy, and they hold their shape extremely well despite liquid and heat, which is how we are able to have hearty chunks of diced potato in our baked potato soup.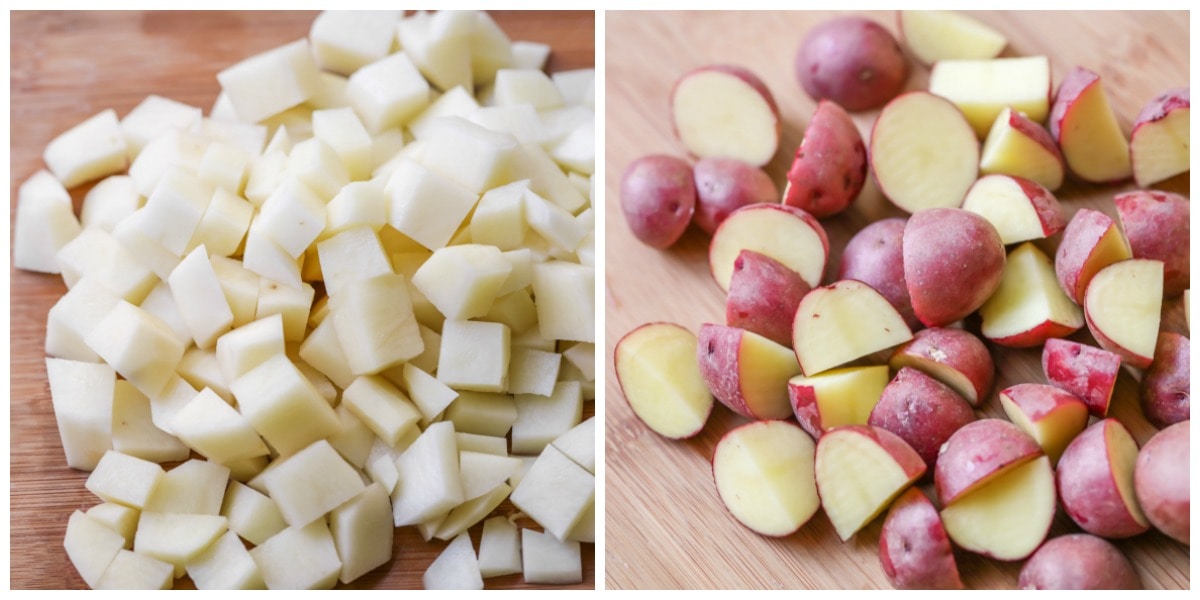 How to Make Loaded Potato Soup:
Like I said earlier, it takes more time than some of the slow cooker soups where everything is just dumped in, but it's still easy. Read these directions and see for yourself!
Begin by frying up your bacon (or cooking in the oven). Let the bacon drain on paper-towel lined plate.
Cook carrots for 3-4 minutes in the bacon grease left in the pan, then add the potatoes and cook for an additional 4-5 minutes, stirring occasionally.
Whisk flour into the pot of carrots and potatoes and mix until things have thickened up a bit. Add the chicken broth, half the bacon and salt and pepper.
Bring the soup to a simmer and cook for 20-25 minutes or until the potatoes are soft. Mash any potatoes if you want a more creamy consistency. Add the whipping cream and 1 cup of cheese. Simmer for 5 minutes and add any more broth if needed.
Season to taste and add more cheese, along with sour cream and any leftover bacon pieces.
With bacon, cheese, potatoes and cream you really can't go wrong with this recipe.
Baked Potato Soup Toppings ideas:
Sour cream

Green onions

Chives

Bacon

Cheese

Salt

Pepper
And you can't go wrong serving it in a bread bowl!!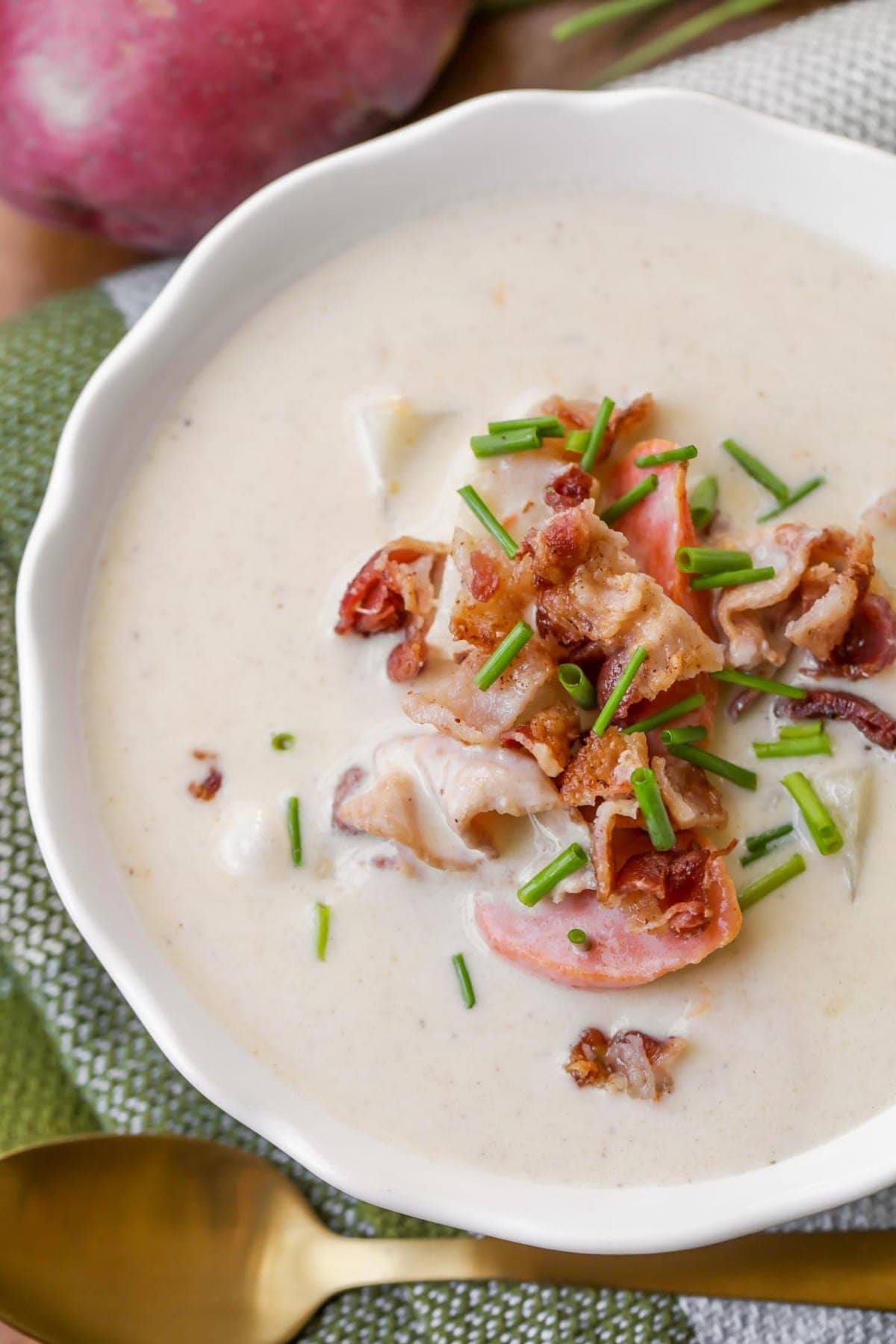 freezing tips
Wait to add cheese. If you're planning on freezing the soup, wait to add the cheese (step 6) until you are reheating and serving the soup. The cheese reheats at a different speed than the soup, so it's best to leave it out before freezing.
Freeze in serving sizes. Depending on how many servings you're likely to use in a single setting, you can freeze the soup either in one large gallon sized freezer bag, or several smaller quart sized ziploc freezer bags.
Let it cool, lay it flat. Make sure you let the soup cool off before putting it in freezer bags. Once you scoop the soup into the plastic bag, you can release all the excess air, and lay the bags flat so they stack nicely in your freezer.
Thaw. When you're ready to eat it, you can thaw it in a sink filled with warm water, or if you're not in a hurry, you can let it thaw in the fridge. Once it's liquid, heat it over medium-low heat on the stove. You can also microwave it on a lower heat setting.
Revive it. Sometimes cream based soups like this one will separate during the freezing process. Don't stress! Once it's thawed, you can whisk in a little bit of fresh cream to revive it.
I loved everything about this soup, but the sour cream, cheese and bacon on top were the best toppings for this Baked Potato Soup. I definitely think you need to try this recipe – ASAP!
What to serve with baked potato soup:
For more potato soup recipes, check out: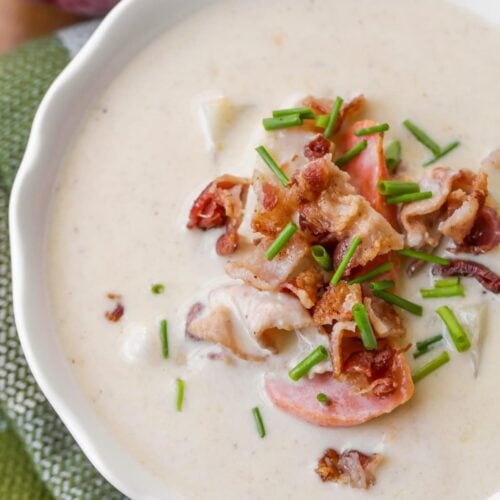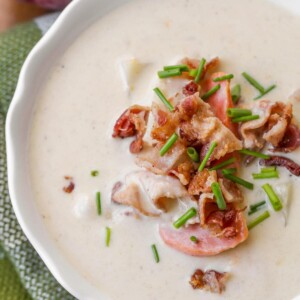 Baked Potato Soup Recipe
This Baked Potato Soup is loaded with flavor and is filled with Russet and Red potatoes, carrots, bacon, cheese and more.

Ingredients
1

lb

bacon

chopped

2

carrots

peeled and sliced

1

tsp

onion powder

4

large

Russet Potatoes

peeled and diced

5

medium

Red Potatoes

diced

1/4

cup

flour

2

cups

chicken broth

3-3.5

cups

whipping cream

2-3

cups

shredded cheddar cheese

Salt and Pepper to taste

sour cream
Instructions
In a large pot fry bacon until crispy over medium heat. When done, take the bacon out and let drain on a plate with a paper towel on it.

In the bacon fat, cook carrots for 3-4 minutes. Add potatoes and cook for 4-5 minutes stirring occasionally.

Whisk flour in your pot until the flour is cooked and it has thickened up a little bit (about 5 minutes)

Add chicken broth, half the bacon(the other half will be used for garnish), and salt & pepper.

Bring the soup to a simmer and cook for 20-25 minutes or until the potatoes are soft.

Mash any potatoes if needed if you want a more creamier consistency. Add whipping cream and 1 cup of cheese - simmer for 5 minutes. Add more broth if needed for a creamy consistency. Season to taste.

Add more cheese to the top along with sour cream and left over bacon pieces. ENJOY!
Adapted from HERE