Follow these steps on how to make banana pancakes for light and fluffy pancakes that are simple and so full of banana flavor.
Everyone loves these banana pancakes—they're perfect topped with Nutella, Chocolate Sauce, or even Buttermilk Syrup! Change it up by making our Banana Oatmeal Pancakes or Peanut Butter Banana Pancakes.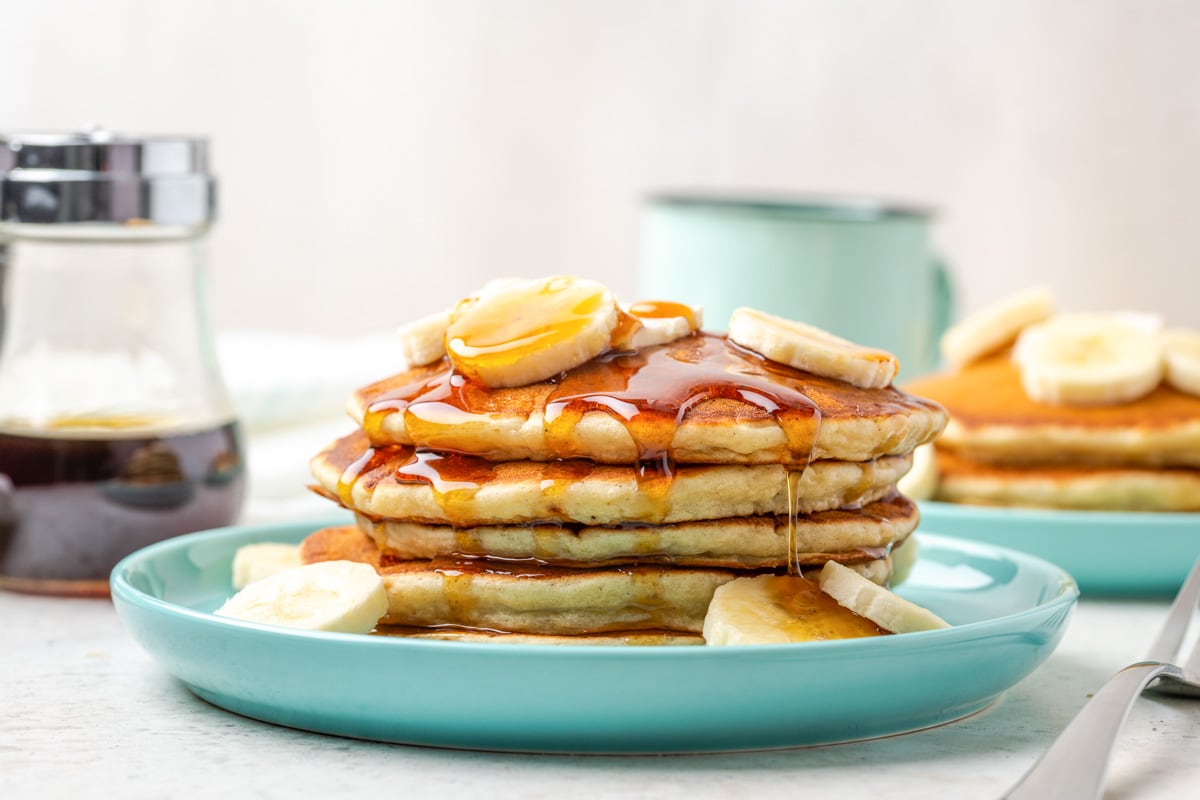 quick & Easy breakfast
My kids are totally obsessed with these banana pancakes, and request them almost every weekend for breakfast (we sometimes even make Peanut Butter Banana Pancakes).
They're simple and quick to make and use ingredients that we nearly always have in the house. They have a fantastic banana flavor, and are totally delicious with butter, syrup, and sliced bananas on top!
We love that these pancakes are so simple, just follow the easy steps for how to make banana pancakes and see for yourself!
They really are so packed full of flavor that I think you'll agree they're the best and easiest banana pancakes.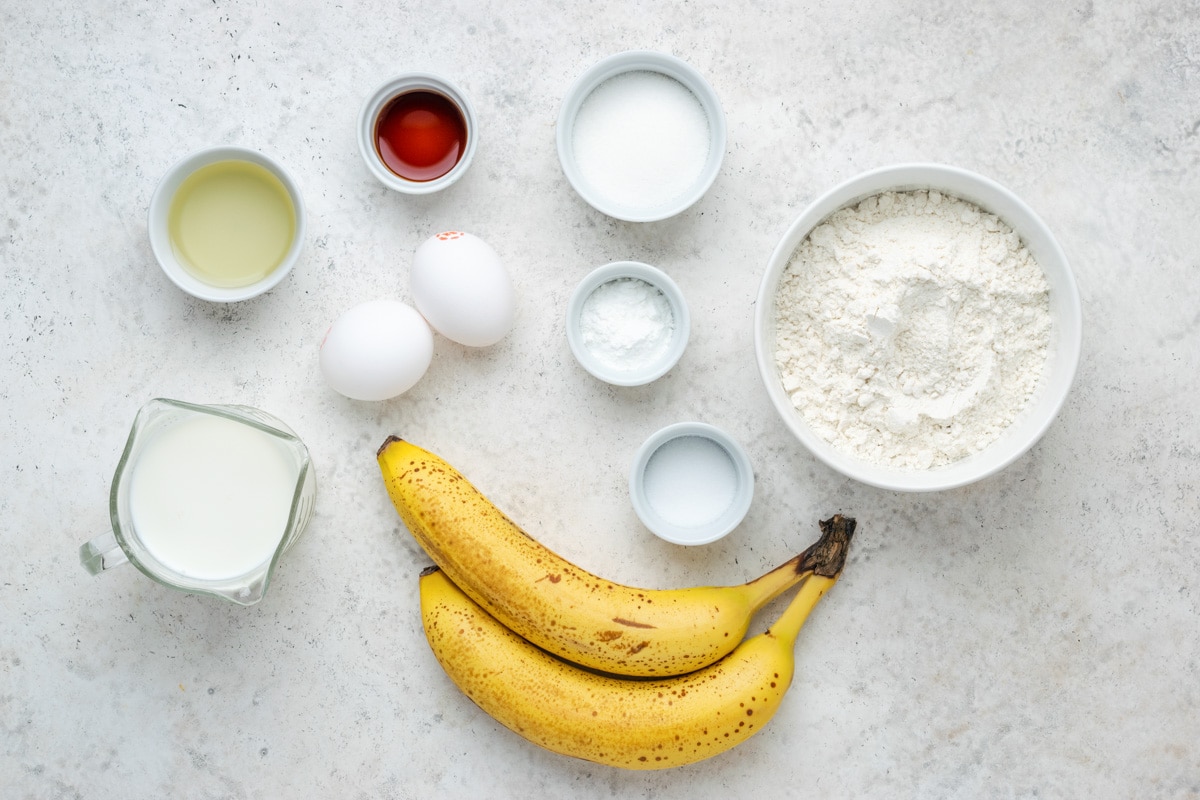 easy ingredients
The ingredients needed for this pancake recipe are pantry staples. Here is what you'll need to make these banana-filled pancakes:
flour
sugar
baking soda
salt
bananas
milk
eggs
vanilla
oil
We always have bananas on hand, and whether they are ripe or overripe, they still work for this recipe. We just like to have fresh bananas to top them off with too.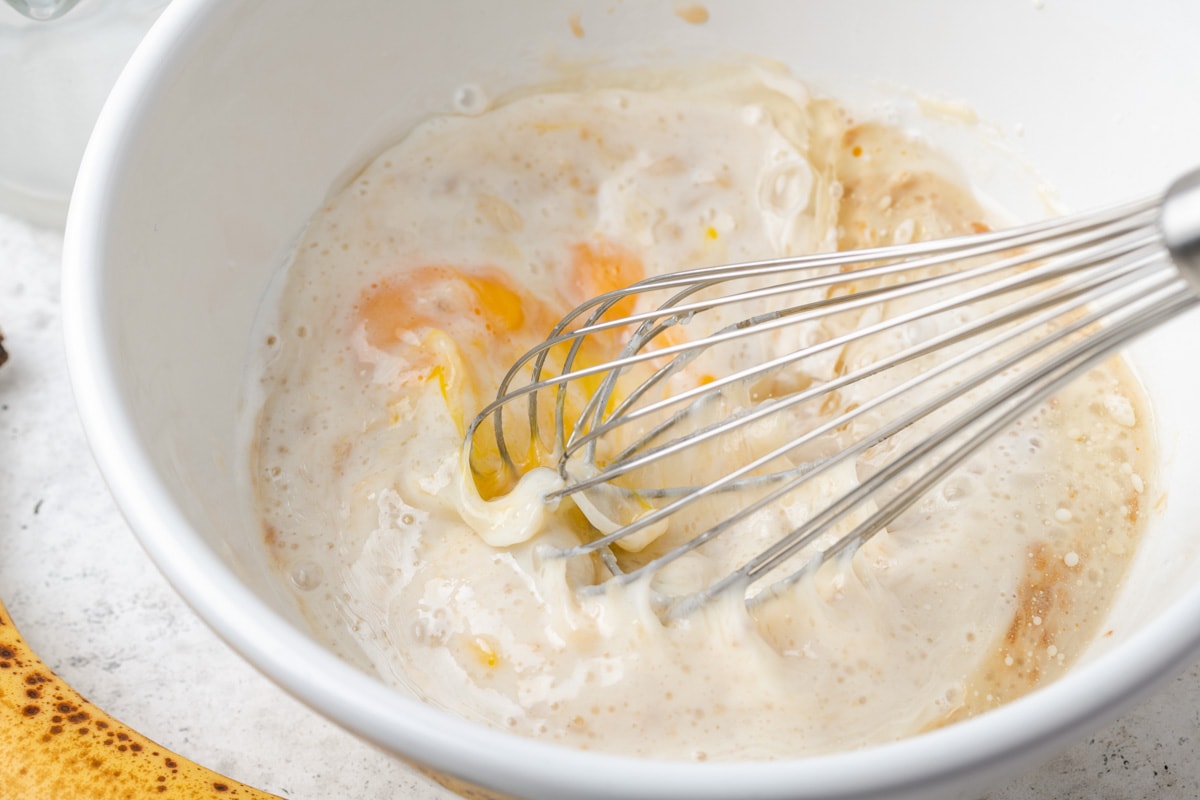 How to Make Banana Pancakes
One of the keys to pancake perfection (in my opinion) is to let the batter rest for 5-10 minutes before pouring it onto the hot griddle. I always find that my pancakes are lighter and fluffier if I let the batter rest a little before cooking.
It also helps the batter thicken just a little bit, which makes it easier to pour.
MIX. Combine the dry ingredients in a bowl. Then, mash your bananas and add the other wet ingredients. Combine the banana mixture with the dry ingredients and mix well (a few clumps are fine!)
GREASE. My griddle has a non-stick ceramic coating, so I don't ever grease it, but if you're using cookware that isn't non-stick, a little butter or cooking spray will help the pancakes come off the pan cleanly.
COOK. Spoon about ¼ cup of batter onto your griddle and cook for about 3-4 minutes (or until bubbles form on top), then flip and cook for an additional 2-3 minutes.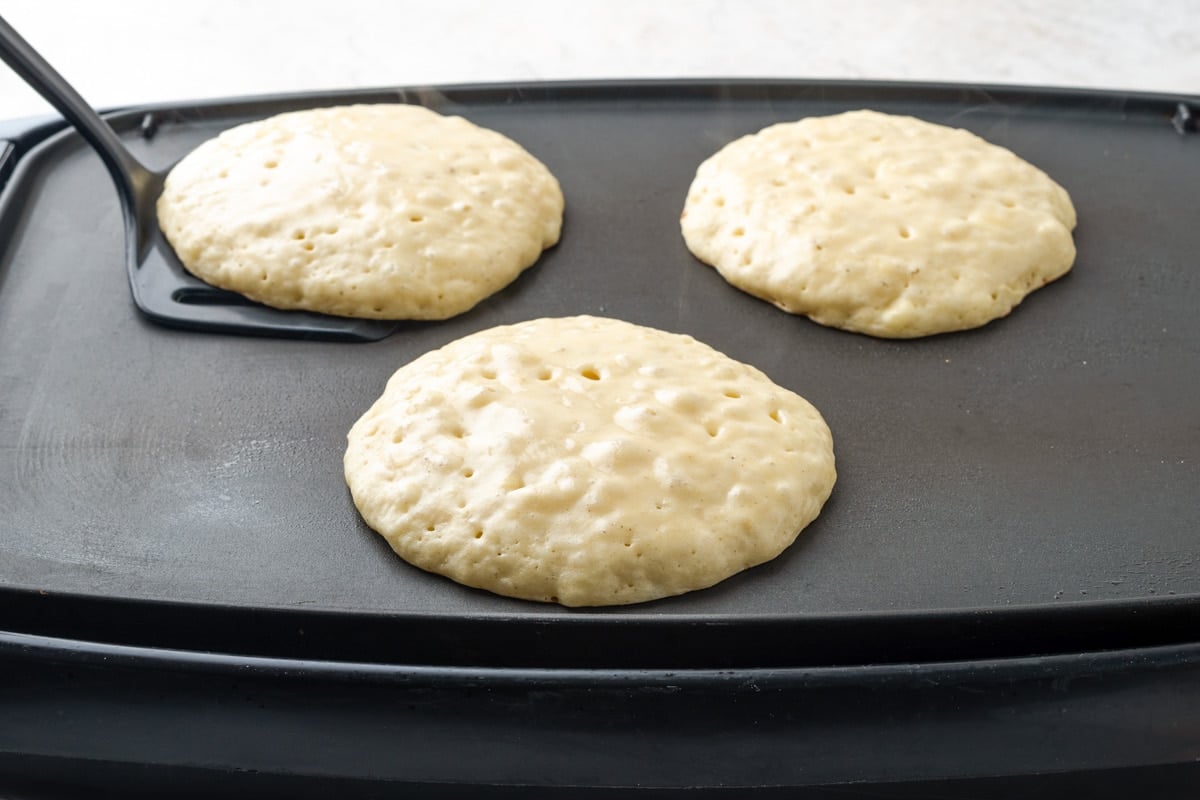 Recipe Tips
Temperature. Make a test pancake before pouring out several pancakes onto the griddle. Adjust the cooking temperature as needed.
Thick batter. If the batter is too thick and the pancakes don't cook well, simply thin out the batter with a tidbit more milk.
Baking powder. Fresh baking powder is important to create fluffy pancakes. If not opened, baking powder can last 18-24 months past the "best if used by" date. Once opened it can last for about 6 months.
To test it, add 1 teaspoon of baking powder to ⅓ cup of warm water If it bubbles, then it is still active and can be used.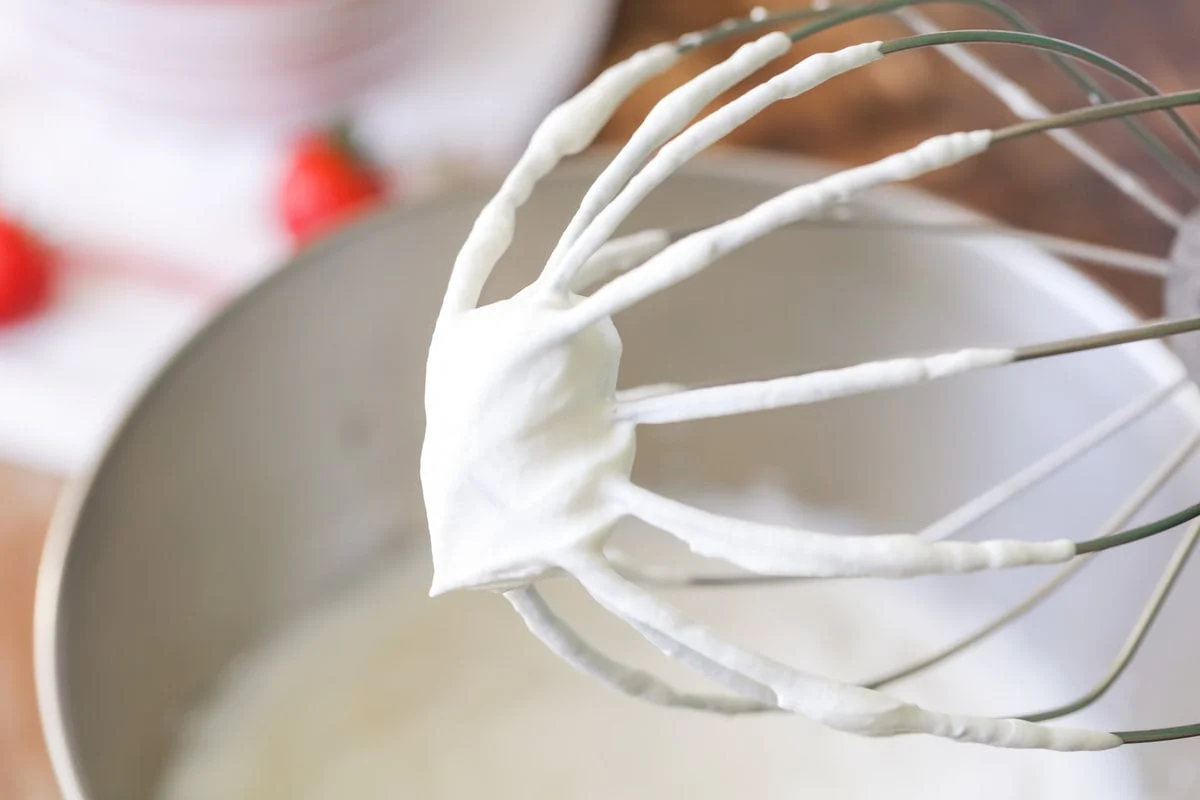 TOPPINg ideas
We ate our banana pancakes with a simple drizzle of maple syrup, but these pancakes would also be really yummy with:
peanut butter or Nutella
fresh berries
chopped walnuts or pecans
mini chocolate chips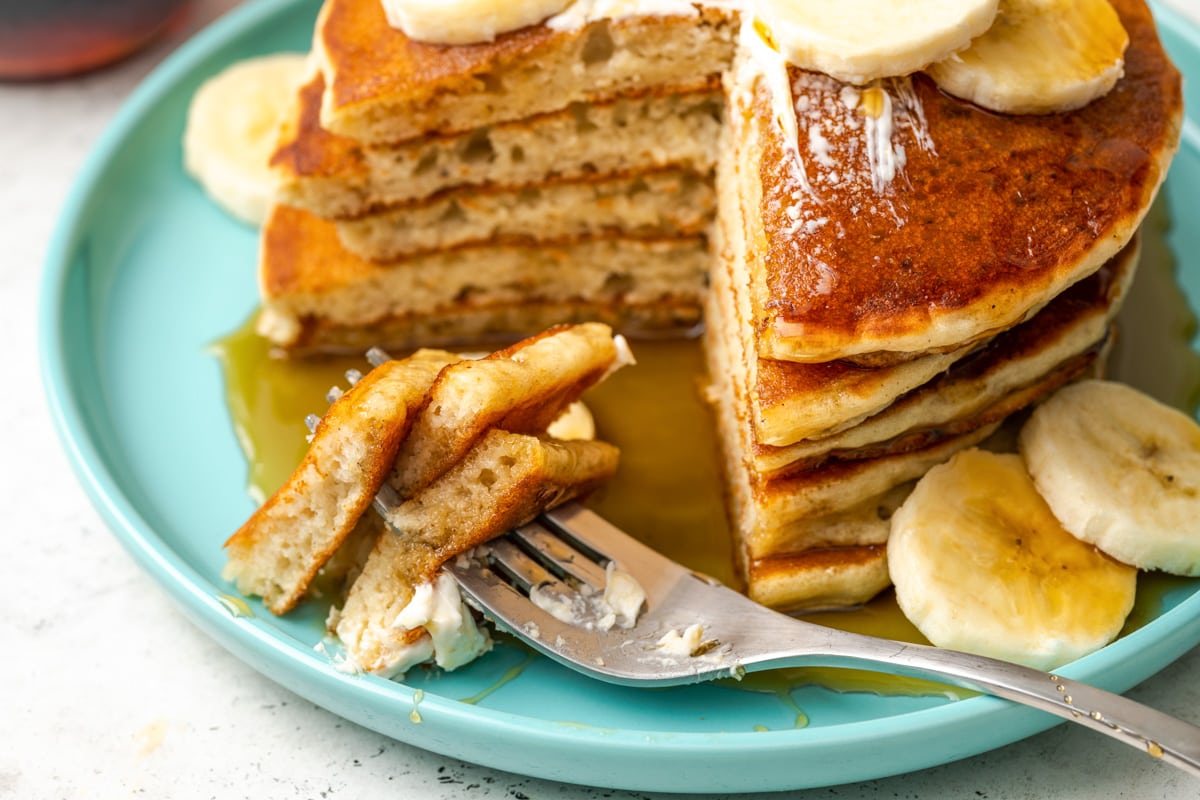 Storing Info
STORE. Place in an airtight container and store in the fridge for up to 4-5 days.
FREEZE cooled pancakes in an even layer on a parchment-paper-lined baking sheet. Let freeze for about an hour. Doing this will prevent the pancakes from sticking together.
Stack (for even more safety add waxed paper between each pancake) and place in a freezer-safe Ziploc bag for up to 2 months.
Reheat Banana Pancakes in the microwave, toaster oven, or oven. Place them on a baking sheet and cover them with foil. Bake for 10-15 minutes at 350°F.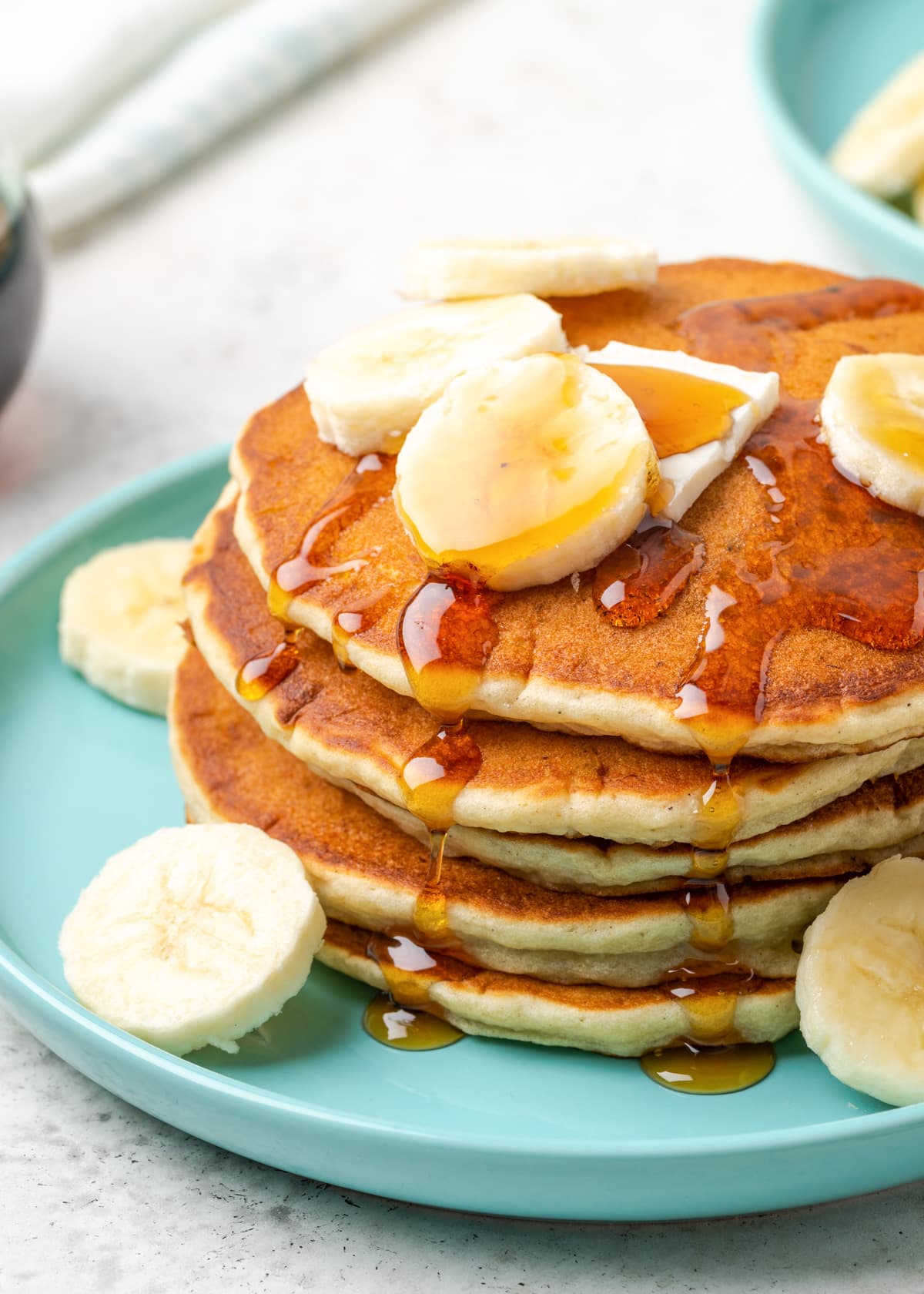 Recipe FAQ
How ripe should the bananas be for this recipe?
Whether they are barely ripe (bright yellow with no brown spots), or overripe (lots of brown spots and freckles), they will still work for this recipe. Keep in mind, the more ripe they are the more sweet they will be.
How do you keep banana pancakes from falling apart?
These pancakes may fall apart if there are large chunks of banana in the batter. Make sure the bananas are thoroughly mashed with only small chunks, if any.
Why are my pancakes not fluffy?
If the batter is over-mixed, the pancakes may come out dense. Another culprit is baking powder that isn't fresh. Be sure you're using fresh ingredients!
For even more pancake recipes, try: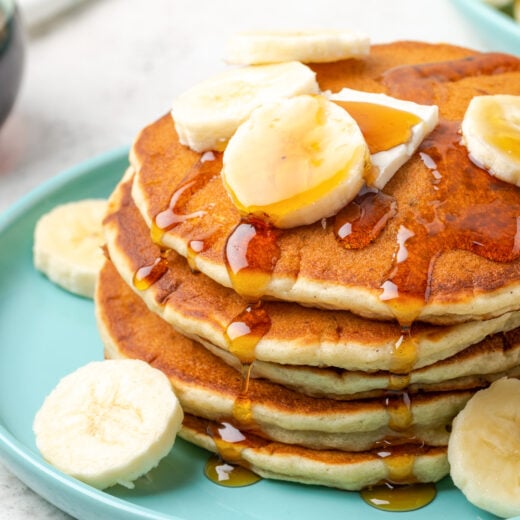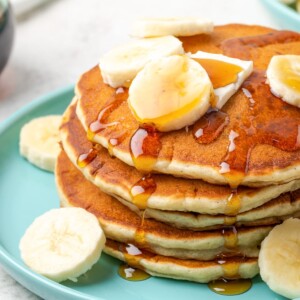 How to make Banana Pancakes Recipe
Follow these steps on How to Make Banana Pancakes for light and fluffy Banana Pancakes that are simple and so full of flavor.
Instructions
In a medium bowl, whisk together the flour, sugar, baking powder, and salt.

In a large bowl, mash the bananas with a fork until only small chunks remain. Add the milk, eggs, vanilla, and oil, and mix until combined.

Pour the dry ingredients into the wet ingredients, and mix until just combined (a few small lumps are fine). Let sit for 5 minutes.

While the batter is resting, preheat a skillet or griddle over medium heat. Spoon the pancake batter onto the hot griddle by ¼ cup scoops. Cook for 3-4 minutes, or until bubbles form over the surface of the pancake, then flip and cook an additional 2-3 minutes.

Serve warm with sliced bananas, butter, and syrup.
Nutrition
Calories:
469
kcal
,
Carbohydrates:
66
g
,
Protein:
10
g
,
Fat:
18
g
,
Saturated Fat:
2
g
,
Cholesterol:
87
mg
,
Sodium:
643
mg
,
Potassium:
687
mg
,
Fiber:
2
g
,
Sugar:
23
g
,
Vitamin A:
255
IU
,
Vitamin C:
5.1
mg
,
Calcium:
227
mg
,
Iron:
3
mg
Nutrition information is automatically calculated, so should only be used as an approximation.
Making this recipe? Tag us!
Share it with us on Instagram using the hashtag #lilluna, so we can see what you're creating in the kitchen!