Hi Lil' Luna fans! I'm Emily from
52 Mantels
and I am SO excited to be here today sharing an easy tutorial for a sweet bow holder with monogram and chalkboard! That's a whole lotta fun in one project, don't you think??
I'm the momma to one precious girly girl and she has a LOT of bows! This holder made the perfect addition to her aqua, pink and orange
bird-themed nursery
. But, I also love this project because it would make for a darling and affordable baby gift. I love handmade gifts, don't you? (I don't think baby Wesley has any bows, or I would send this to you, Kristyn!) 🙂
Bow Holder with Monogram & Chalkboard
-unfinished picture frame (in a fun shape!)
-acrylic paint in desired shade
-2 coordinating scrapbook papers
-stencil set with desired monogram
-glue stick
-paint brush
-pencil or pen
-pretty ribbon in desired length
-match or candle
-hot glue gun
1) Gather supplies
TIP: I like to paint small items on freezer paper because the clean-up is a breeze!
2) Paint your unfinished frame in whatever color you desire. Let it dry for the time specified on paint packaging
TIP: You can also use a ready-made frame in a fun shape or finish!
3) When the frame is totally dry, brush on your chalkboard finish (pay close attention to the directions on the packaging!)
4) Take the frame backing and use it as a template to cut out a piece of scrapbook paper
5) Take coordinating paper and trace your monogram to the back-side of it (remember to flip the monogram when you trace it!)
6) Use a glue stick to attach your cut monogram to the center of the coordinating paper
7) When your frame is completely cured (at least 24 hours), take a piece of chalk and "prime" the chalkboard surface by rubbing chalk over the it. Wipe off with a paper towel and use chalk to write a sweet message
8) Cut two pieces of ribbon to the desired length. Seal unfinished ends by melting them with the heat from a flame. Use your hot glue gun to attach the ribbon to the backside of the frame
9) Hang up bow holder and add your bows!
This was a super easy project to complete and I love how it turned out! It's practical and pretty.
If you're interested in seeing more projects from my daughter's nursery, check out the links below!
Come visit me sometime at 52 Mantels!
———————————–
MY OTHER RECIPES
Thank you so much Emily for sharing this super cute idea!!
For even more cute ideas & tutorials, check out these: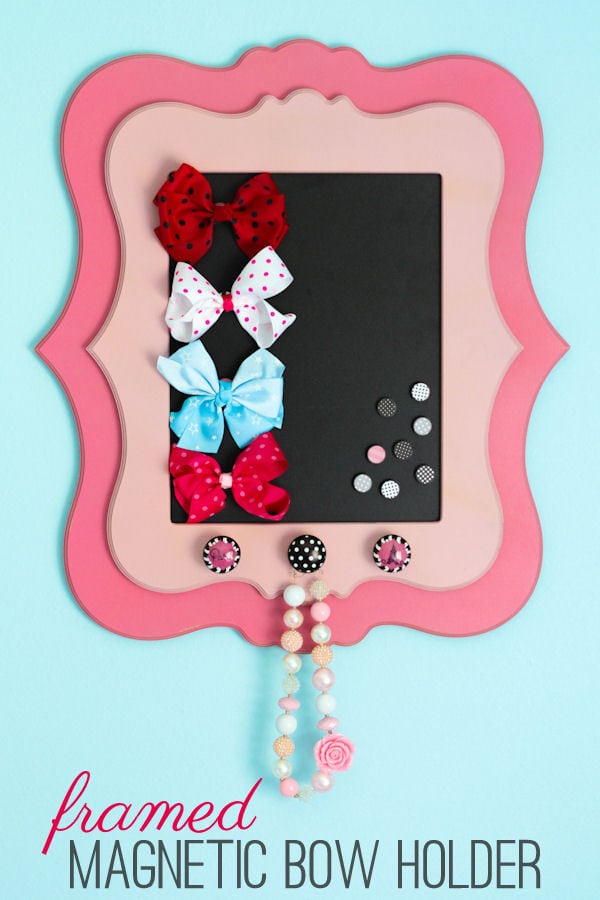 And get weekly emails with monthly freebies by signing up for the Lil' Luna newsletter. 🙂
For even more great ideas follow me on Facebook – Pinterest – Instagram – Twitter – Periscope – Snapchat.
Don't miss a thing – Sign up for the Lil' Luna Newsletter today!
ENJOY!!