Today, I'm sharing with you a creation made by my mom… that's not food related – lol!! I admit, she did a lot more crafting back in the day but before we left Arizona (and yes, these pictures are 2 years old!!) she made this cute Easter decoration. I was super impressed and told her I needed to take pictures. I took the pictures and then totally forgot I had them until last year, but it was already after Easter so I've been waiting to share them with you this year. These Burlap Carrots are easy to make, and although I don't have step-by-step pictures for it, it's pretty self explanatory.
I thought you may want to make them yourself for Easter coming up. They'd be great to make as a little craft night too because they are simple and require few supplies.
If you like Burlap and Dots (how could you not?!) then I think you will love having these Burlap Carrots Decor hanging in your home or on your front door. 😀
Here is what you'll need to make them…
SUPPLIES:
– Burlap
– Orange Craft Paint
– White Craft Paint
– Circle Foam Brush (for dots)
– Twine/Ribbon
– Greenery
– Sewing Machine
 DIRECTIONS:
1. Begin by cutting out triangles from your burlap. My mom made hers about 10 – 12 inches long.
2. Brush orange paint onto your burlap. It doe not need to be perfect. Let dry.
3. Paint white dots onto your carrots. A circle foam brush works great for this. Let dry.
4. From there, you will put two triangles back to back and sew a zig-zag stitch along the edges leaving the top open.
5. From there, add some greenery into the tops of the carrots. Tie a bow (double-knot) around the top using some twine or jute, and leaving the ends long. Repeat this for all the carrots.
6. Tie all the ends together making sure the carrots hang at different lengths.
7. Using ribbon, tie a bow at the top and HANG.
I LOVE how this looks!!
I need to set some time aside to make one for my own house. These Burlap Carrots are so stinkin' cute!
Simple and inexpensive crafts are always the best. 😀
For more cute Easter decorations, check out: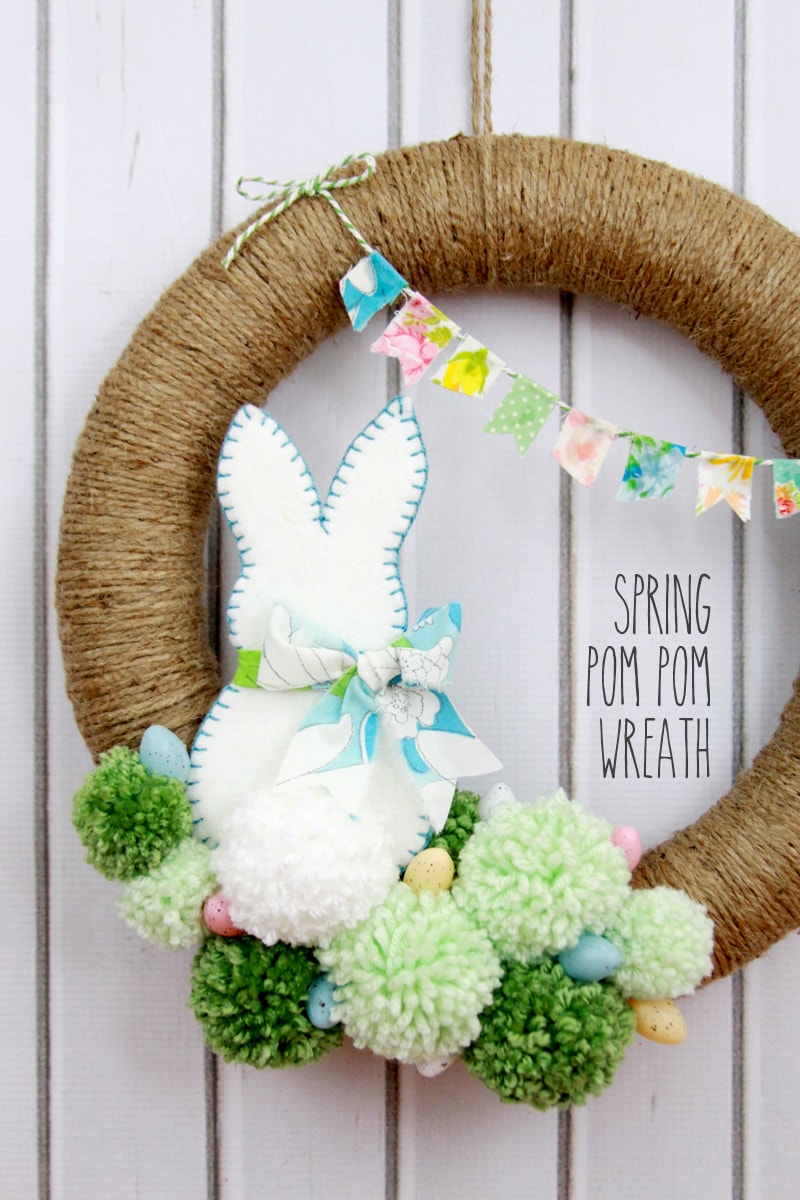 It's so fun to add some holiday touches to your home!
For all Easter and Spring ideas on the site go HERE.
For all crafts go HERE.
And get weekly emails with monthly freebies by signing up for the Lil' Luna newsletter. 🙂
For even more great ideas follow me on Facebook – Pinterest – Instagram – Twitter – Periscope – Snapchat.
Don't miss a thing – Sign up for the Lil' Luna Newsletter today!
ENJOY!