Sometimes there is nothing better than finding a new and delicious recipe that the whole family loves. Wouldn't you agree?

Last month, I tried a recipe from Taste of Home thinking that it would be pretty good. Little did I know that it would be phenomenal. I wasn't sure how it would turn out but had tons of ingredients we already loved – like potatoes, carrots, corn, bacon. It also had a "secret ingredient" of maple syrup which made we question how much we'd like it, but the sweet ingredient made it taste even better! I'm happy to report that this recipe is a new favorite, and I'm SO glad we gave it a try. It's not a soup, and it's not really a "main dish" type recipe but the only thing I can compare it to is a KFC Bowl. Have you had one before? They're delicious and this recipe reminded me of them. 😉
We ended up topping off this recipe with some sour cream and cheese and it was amazing. Other than the KFC Bowl, this dish reminded me of the most delicious Baked Potato you'd ever eaten. Can I rave about it enough?! If you like all these yummy veggies and love a little bit of sweet with sour cream and cheese, then you'll agree with us that this is an amazing recipe. 🙂
MY OTHER RECIPES
Taste of Home called this Candied Corn Medley, and I think it fits because it's definitely a medley of some great ingredients that I know you'll enjoy all thrown together!!

Candied Corn Medley
Ingredients
2 Large Potatoes, peeled and cubed
4 medium carrots, diced
6 bacon strips (cooked and chopped)
1 TB olive oil
1 tsp. onion powder
1 can corn (drained)
3-4 TB maple syrup
1 tsp. salt
½ tsp. pepper
Garnish (with cheese and sour cream if desired)
Instructions
Place potatoes in a pot and cover with water. Bring to a boil and reduce to low heat and cook for 10 minutes. Add carrot slices 5 minutes before it's done. Drain.
In a skillet prepare your bacon. Reserve 1 TB of bacon grease.
In another skillet, add bacon grease, syrup, olive oil, onion powder, salt, pepper and corn. Cook for 4-5 minutes until corn is heated through. Add potato and carrot mixture add mix. Heat through. Top with cheese and sour cream if desired
Recipe adapted from

Taste of Home.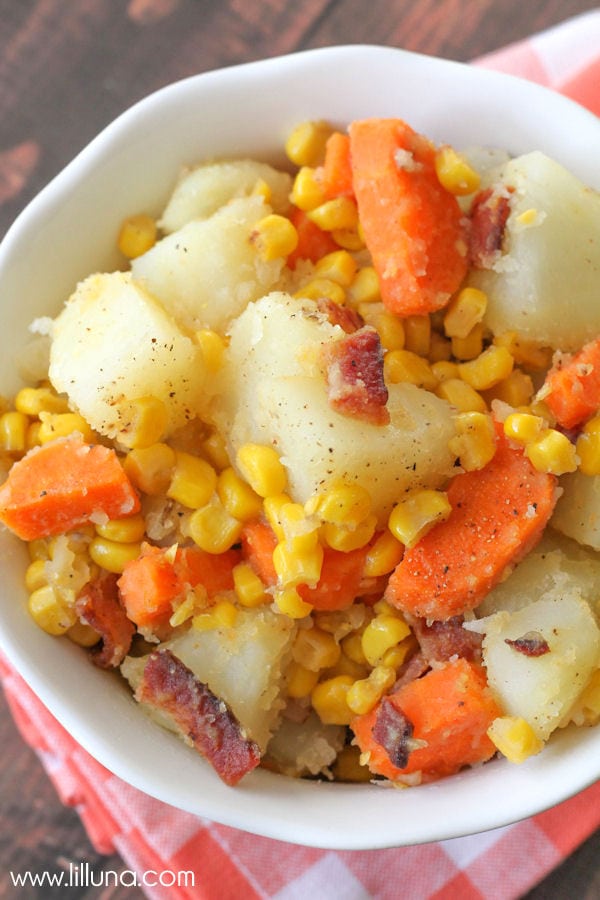 My hubby especially loved this recipe! He may have had a few bowls. 😉
It's all good because I was right behind him getting seconds. LOL!
For more great recipes be sure to check out these potato favorites: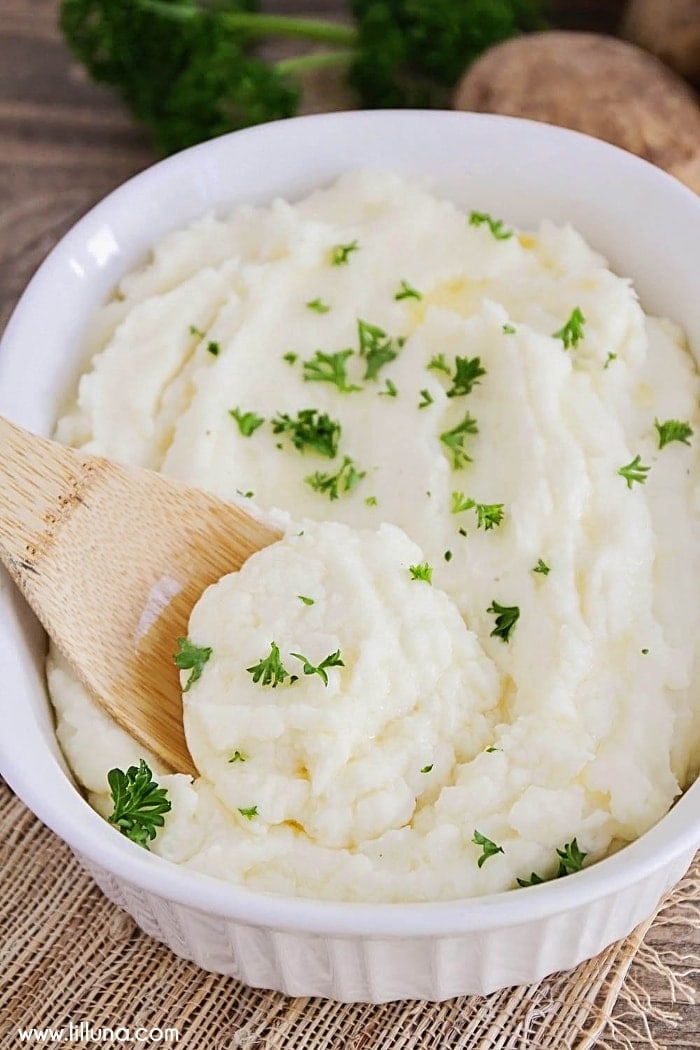 Chicken and Potato Florentine Soup
For all Side Dish recipes go HERE.
For all recipes on the site go HERE.
And get weekly emails with monthly freebies by signing up for the Lil' Luna newsletter. 🙂
For even more great ideas follow me on Facebook – Pinterest – Instagram – Twitter – Periscope.
ENJOY!