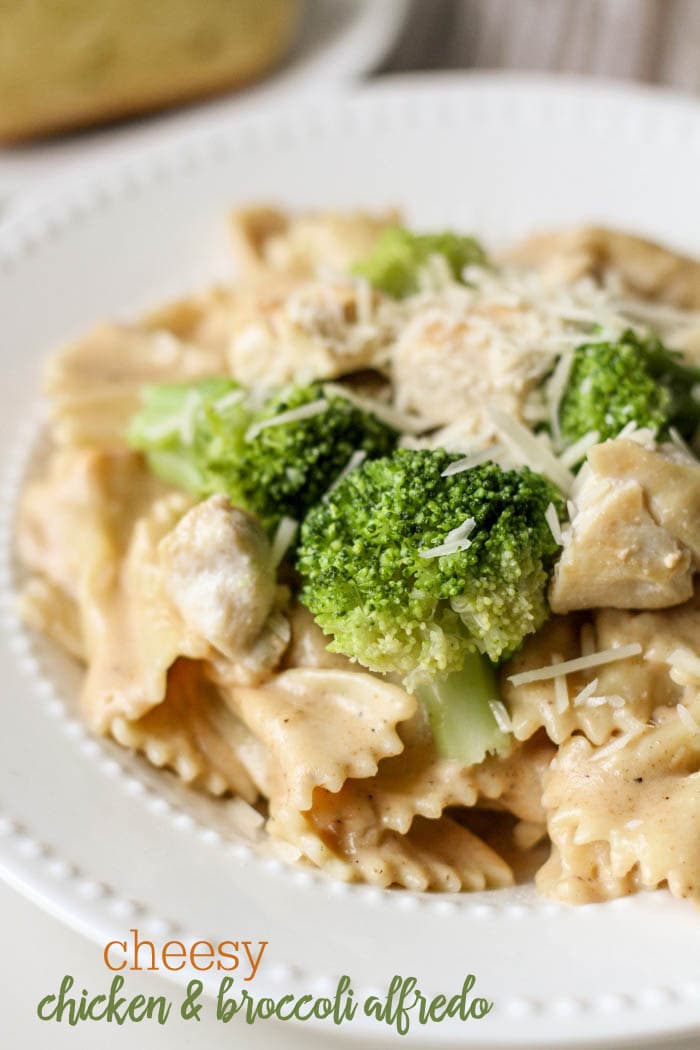 I love to find new and delicious dinner recipes! This next one was such a hit that we made it again a week later. I think your whole family will enjoy this Cheesy Chicken and Broccoli Alfredo! In fact, we had company over to enjoy this dish and they loved it too. If you love Chicken and pasta dishes like we do, then you will want to give this a try asap. 😉
What was so fun about this is we included a new ingredient we had never tried before – Silk Coconutmilk.
We even had our guests try and guess what the ingredient was and they had no clue. They couldn't believe it was coconut milk!! Even the hubby agreed with them. The Silk Coconutmilk gave it a sweet and creamy taste making the recipe even better.
If you'd like to try it too, here's the recipe: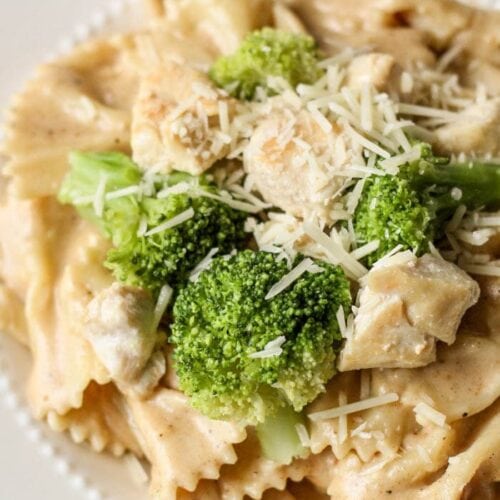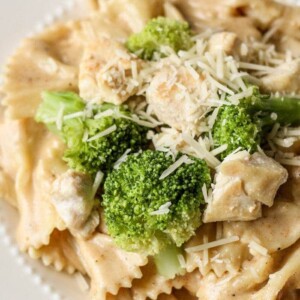 Cheesy Chicken and Broccoli Alfredo Recipe
Cheesy Chicken and Broccoli Alfredo - a favorite dinner recipe that is creamy and delicious!
Ingredients
3

chicken breasts

cubed

6

tbsp

butter

1/2

cup

flour

2

tsp

garlic powder

1

tsp

salt

1

tsp

pepper

2 1/2

cups

Silk Coconut Milk

1

cup

shredded Parmesan cheese

2

cups

broccoli florets

1

lb

bowtie pasta
Instructions
Cook chicken in a large pan until coked through. Remove from pan.

Cook pasta according to package/box instructions.

Cook broccoli florets according to package instructions and set aside.

Add butter and flour to your pan and bring to a roux.

Add garlic powder, salt, and pepper. Add 2½ cups Silk Coconutmilk and stir until sauce thickens.

Add chicken, broccoli and pasta. Add Parmesan cheese right before serving.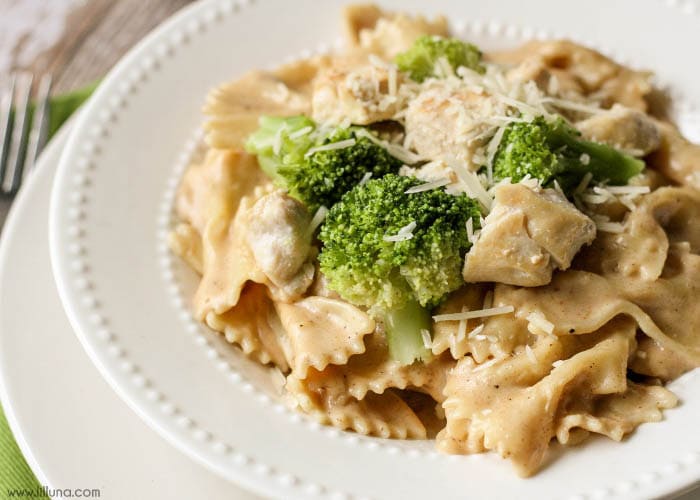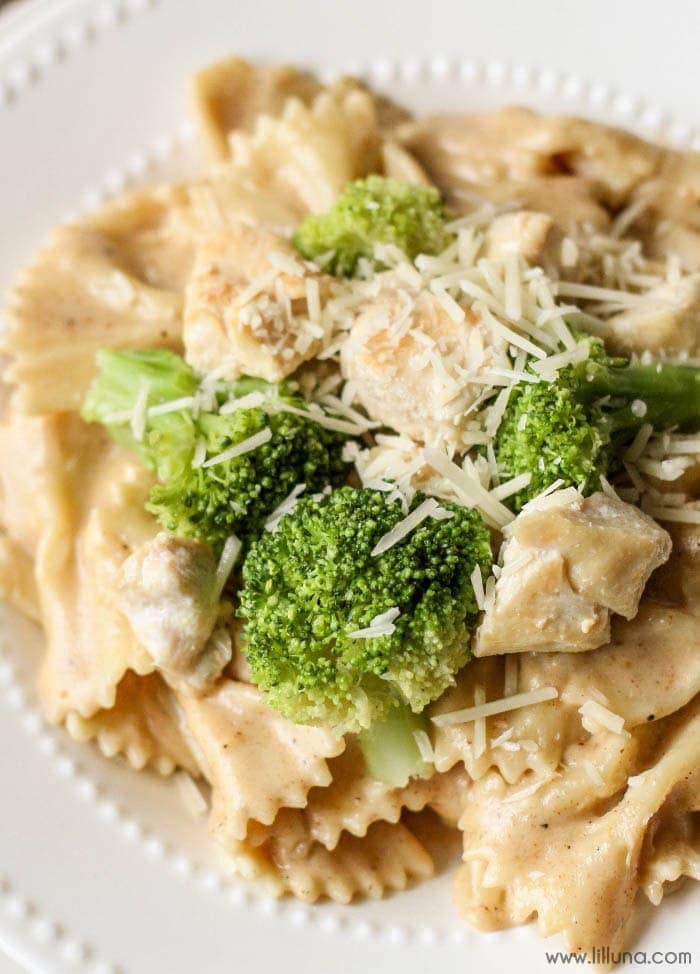 Seriously – SOOO good!! I admit, the kids weren't HUGE fans of the broccoli but they loved the chicken and pasta. Fortunately, the hubby and I loved it all. 🙂 We were glad our guests like the recipe too. As we prepared for having company it made me think of a few TIPS I wanted to share for throwing a little dinner party, and I wanted to share those with you today.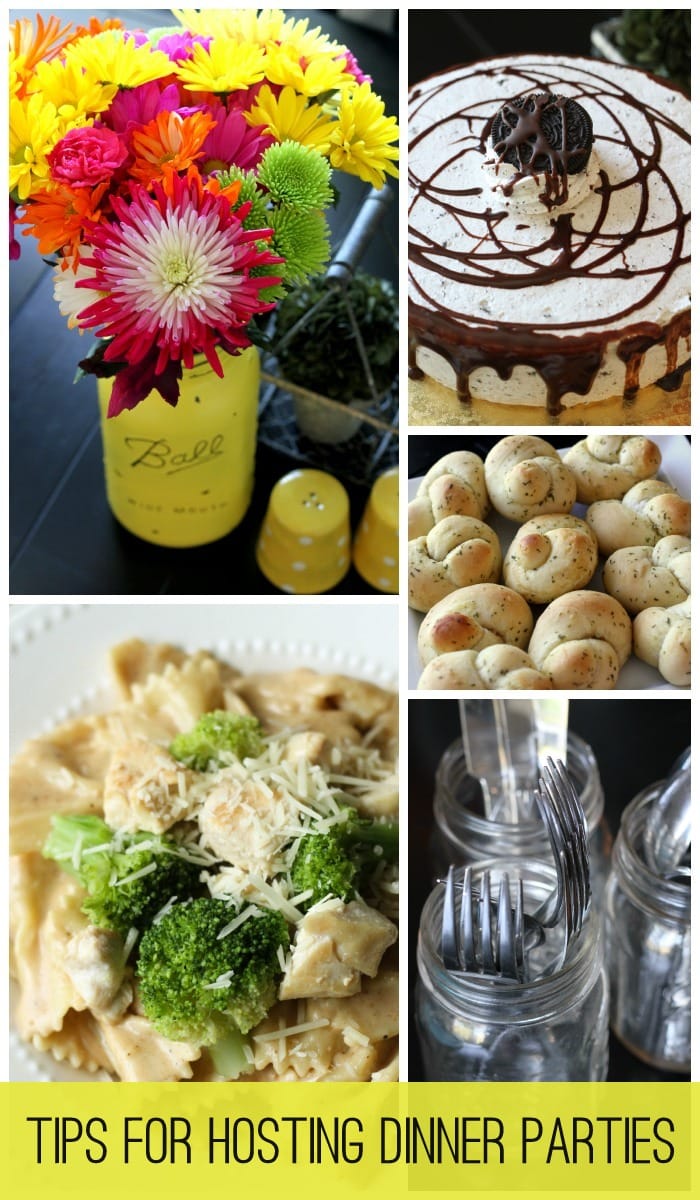 TIPS FOR HOSTING DINNER PARTIES:
COOK SOMETHING YOU'RE FAMILIAR WITH – It may be tempting to try a new recipe, but it may add stress AND may not turned out as planned.
MAKE SURE YOU KNOW ANY SPECIAL DIET NEEDS OF YOUR GUESTS – It's always nice to ask dinner attendees if they any special diet needs, and you want to make sure there always a few dishes each person can have. I've cooked Steak for vegetarians in the past, and I can tell you right now it made a dinner a little awkward. Learn from my mistakes and be sure to ask beforehand so the night can be enjoyable and the food can be eaten by all.
PLAN OUT YOUR PREP TIME – Do the math beforehand and make sure you have PLENTY of time to make everything. Make sure you know how long everything bakes/cooks as well as oven/stove availability. Knowing this beforehand will make sure everything gets done, and on time. Get your house situated beforehand as well so you don't have to worry about anywhere but the kitchen. 😉
STAY SIMPLE – Keeping the menu simple will help you be less stressed and will make for a more enjoyable night. If you are familiar with the recipes and use seasonal ingredients, there should be no surprises. We all know how stressful any "surprises" can be right before company comes over. 😉
MAKE IT SPECIAL – It doesn't have to be fancy to be nice. Having a fresh bouquet of flowers on the table or even the table set can make your guests feel special. Also, taking a little bit more time to make the food look nice (like pouring your Alfredo into a nice serving platter or bowl) will show that little extra effort that was made to make it look nice.
Having guests for dinner is so much fun!! We are able to do it a little more being in Texas and not having family around, and we've really enjoyed the company!
If you'd like to try even more recipes using Silk, be sure to check out these:
For all Silk recipes go HERE as well as on Pinterest HERE.
For more information about Silk Coconutmilk go HERE. You can even download a coupon for $1 off on their site. 🙂
ENJOY!
This is a sponsored conversation written by me on behalf of Silk. The opinions and text are all mine.