I think I've made it very clear that I have a slight obsession with potatoes. With the already 25 potato recipes you can find here on the site, I'm adding one more to the list, and it's one I think you guys will LOVE!!
Today's recipe is for Cheesy Ranch Potatoes Gratin. Did I already interest you by mentioning the words CHEESY and RANCH?? 😉 I sure hope so!! I had never made Potatoes Gratin before so I was anxious to give them a go. Since Hidden Valley Mix already makes things taste better, I knew that with cheese and potatoes this was sure to be a hit at any party or holiday get together.
I knew this recipe passed the test when the hubby asked for more, so don't say I didn't warn you. These cheesy potatoes are delicious and simple to make and would make the best side dish for any meal or for any upcoming function or get together (Christmas dinner, perhaps!?)
MY OTHER RECIPES
Here's the recipe:
¼ cup finely chopped, fresh chives
1 packet (1 ounce) Hidden Valley® Original Ranch Salad® Dressing & Seasoning Mix
1 tablespoon unsalted butter (for greasing pan)
2 cups grated Parmesan cheese (divided)
6 potatoes washed unpeeled, sliced 1/8 inch thick
2 cups buttermilk
10 slices bacon cut into ½-inch pieces
1 cup cheddar cheese (divded)
chives for garnish
DIRECTIONS:
Preheat oven to 375°F.
Place bacon in skillet and fry until crisp. Remove from heat, cut into 1/2 inch pieces and set aside.
In large bowl, combine potatoes, buttermilk, 1 cup of Parmesan and dressing mix. Season with salt and freshly ground black pepper and toss to coat.
Place 1/3 the potatoes in a buttered 9×13 dish. Pour 1/3 cup of buttermilk mixture over the potatoes and sprinkle with Parmesan, a third of the bacon pieces, 1/3 cup cheddar cheese and repeat 2 more times but leaving the bacon off for the last layer.
Cover dish with aluminum foil and bake for 1 hour.
Remove foil and top with remaining cheddar cheese, remaining Parmesan cheese, and bacon. Bake an additional 15-20 minutes.
Let rest before serving and garnish with fresh chives. ENJOY!
Recipe adapted from Hidden Valley.
Make sure your potatoes are well coated in the buttermilk, Hidden Valley mix and Parmesan cheese!
Cheesy and bacon between each layer = HEAVEN!!
The result?? Cheesy potato goodness!!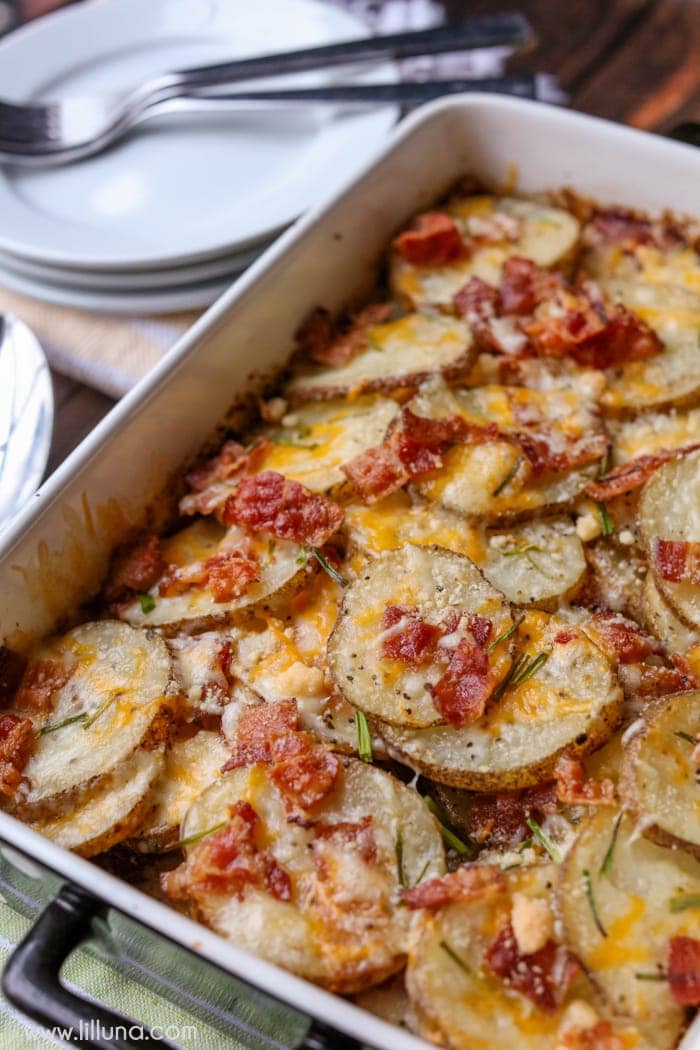 Seriously – this is a new favorite side dish!!
I'm thinking these potatoes will be great for some upcoming dinners, but would especially be loved at some holiday family dinners with some Roast, salad and rolls. YUMMY!!!
I was able to get the ingredients and products I needed for this recipe at my holiday-go-to-spot, Walmart (we just got a Neighborhood Walmart down the road and it's AH-MAZING!!) I bought more of the Hidden Valley Ranch Mix and Glad Press'n Seal since those are two products I use a ton and ALWAYS have on hand. 😉
The Glad Press N Seal is perfect to use to cover and keep the food fresh and warm when taking it to your get togethers. I use it for all my recipes and think it's the best thing since sliced bread!! I'm sure you'd agree. 😉
I hope you enjoy this delicious Cheesy Ranch Potatoes Gratin!! I know we'll be adding it to the meal rotation. 😉
For another great potato recipe I know you'll love, check out: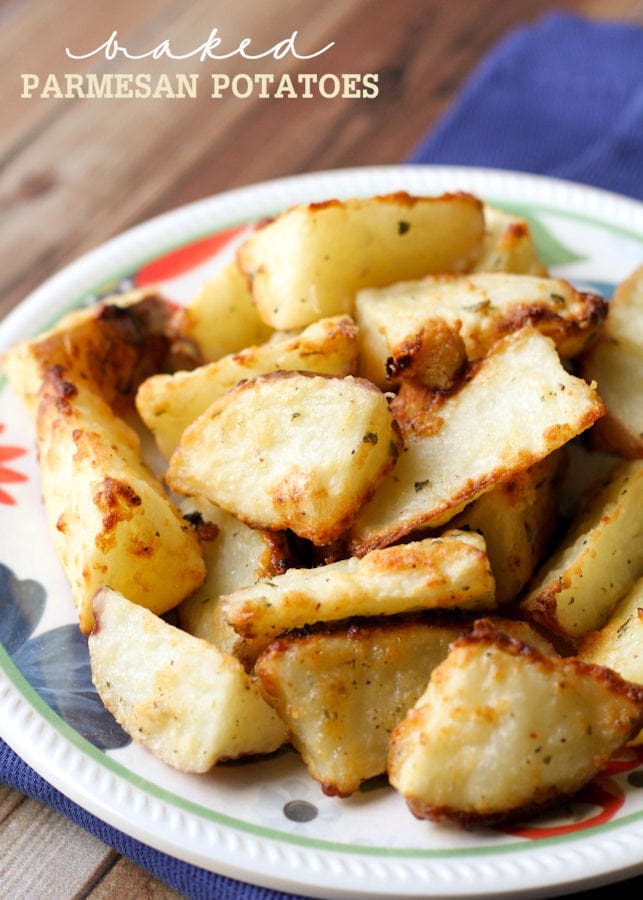 For all side dish recipes on the site go HERE.
For all recipes go HERE.
Be sure to get more info about Glad and Hidden Valley on Walmart.com.
ENJOY!
This is a sponsored conversation written by me on behalf of Glad & Hidden Valley Ranch. The opinions and text are all mine.