I am THRILLED to be here at Lil' Luna today! She is one of the sweetest people I have ever met and one of my greatest blog friends! Her ideas, crafts and recipes are top notch and I am ecstatic that I have the opportunity to take part in her Christmas in July Series. This is a fun idea and a great way to get to know some amazing bloggers out there.
My name is Nikki and I am the blogger behind Chef in Training. I am a die hard foodie! I am married to the man of my dreams and have a beautiful little girl with a sassy attitude, and a handsome little boy who's smile can brighten anyone's day! Sometimes, being a stay-at-home mom can make for pretty long days, so to spice up my days at home, I have started to cook and bake. Like most moms, wives, and people out there, I am a "Chef in Training", teaching myself how to cook one recipe at a time. I LOVE being in the Kitchen and have a great love for good food! I have some amazing taste testers and get a thrill out of perfecting and finding new recipes! Being a mom of two, days can get pretty busy. On my blog, you will find easy, fast, delicious and family-friendly recipe to suit anyone's taste and needs. Be sure to come by and say hello! I love to meet new friends!
What is your favorite holiday and why?
My Favorite holiday is Christmas. The music, the hot chocolate, the family, and the whole feel of it is wonderful. It seriously makes my heart smile 🙂
What is your favorite Christmas Tradition?
Every Christmas Eve, my family gets together for a Mexican Feast. Seriously, the best Mexican food around and lots of it! I anticipate it all year long.
What is your all-time favorite Christmas Movie?
White Christmas. My mom made us watch it every Christmas. I think part of the reason it is my favorite movie is because she loves it so much.
What has been the best present you've ever received and why?
My Kitchen Aid hands down because I use it all the time! I adore it!
Why do you blog?
I blog because I love it. I blog to share one of my passions with people. I blog because there are SO many amazing recipes out there and I want to share my favorites with you. I also want people to understand that you don't need to be a top chef to make a decent meal in the kitchen. I think so many people opt out of cooking because they find it intimidating, but I promise you its not. My blog is filled with easy, fast, delicious and family friendly recipes with people.
Today, I am sharing a recipe that is a staple in my home around Christmas. My mom always made homemade cinnamon rolls for the neighbors. Her cinnamon rolls are the absolute BEST!
Top them with some yummy Cream Cheese Frosting….
Delicious!
Homemade Cinnamon Rolls with Cream Cheese Frosting
 Dough:
MY OTHER RECIPES
2 cups milk
1/2 cup vegetable oil
1/2 cup sugar
1 packet (2-1/4 tsp) active dry yeast
4-1/2 cups flour (divided)
1/2 heaping tsp baking powder
1/2 scant tsp baking soda
1/2 Tbsp. salt
Filling:
1/4-1/2 cup butter, softened
brown sugar
cinnamon
Cream Cheese Frosting:
1/2 cup butter, softened
2 oz. cream cheese, softened
1 tsp. vanilla
16 oz. powdered sugar
3-6 Tbsp. milk
Mix milk, oil and sugar in a sauce pan. Scald to 150 degrees. Let cool until mixture is lukewarm (about 30-45 minutes). Sprinkle in the yeast and let sit. After the yeast sits and activates, add in 4 cups flour. Stir the mixture together. Cover and let sit for one hour.
Add in 1/2 cup flour, baking powder, baking soda, and salt. Stir or knead mixture together.
Divide the dough in half. Sprinkle surface with flour and roll dough out to form a thin rectangle.
Smear a generous amount of softened butter over surface of rolled out dough. Rub brown sugar over the buttered surface of rolled out dough. You just want a thin even layer. Sprinkle with cinnamon.
Fold the dough toward you. Pinch the seam to seal it. Grease a foil cake or pie pan, or do like me and grease a cookie sheet.
Cut rolls 3/4 to 1 inch think and lay on greased pans. If you do the cookie sheet method like me, lay them in 3 rows of 3.
Repeat with the other half of the dough and filling.
Cover rolls and let sit for 30 more minutes.
Bake at 375 for 15-18 minutes for cake or pie pans and 10-15 minutes for cookie sheets.
To make frosting:
Cream softened butter and softened cream cheese together. Add vanilla powdered sugar and milk. Add more powdered sugar or milk to get it to your desired consistency. I like my frosting thicker so I add a little more powdered sugar.
Once Cinnamon rolls are cooled, frost and enjoy!
Makes about 3 dozen cinnamon rolls give or take.
Thanks Kristyn for having me today!
Be sure and come visit me at Chef in Training!
You can also find me on Facebook, Pinterest and Twitter
 ——————————————-
Thank you so much Nikki!! These look so delicious!!!
For more yummy breakfast sweets be sure to check out: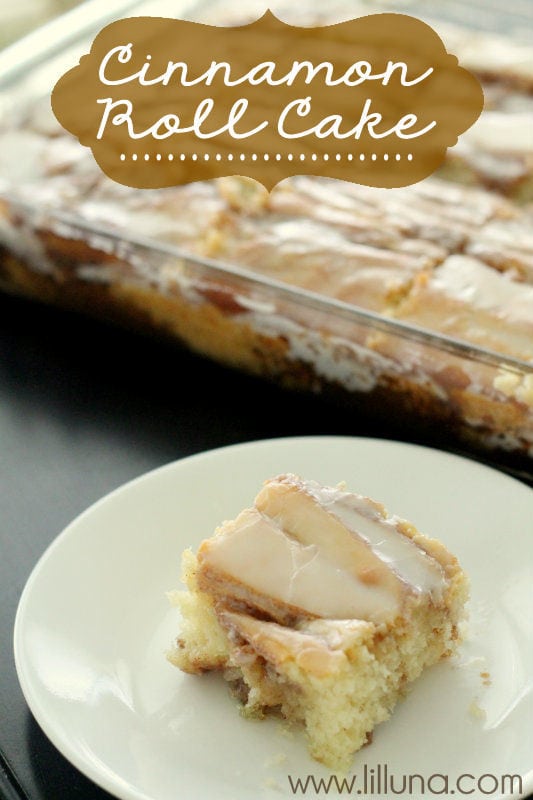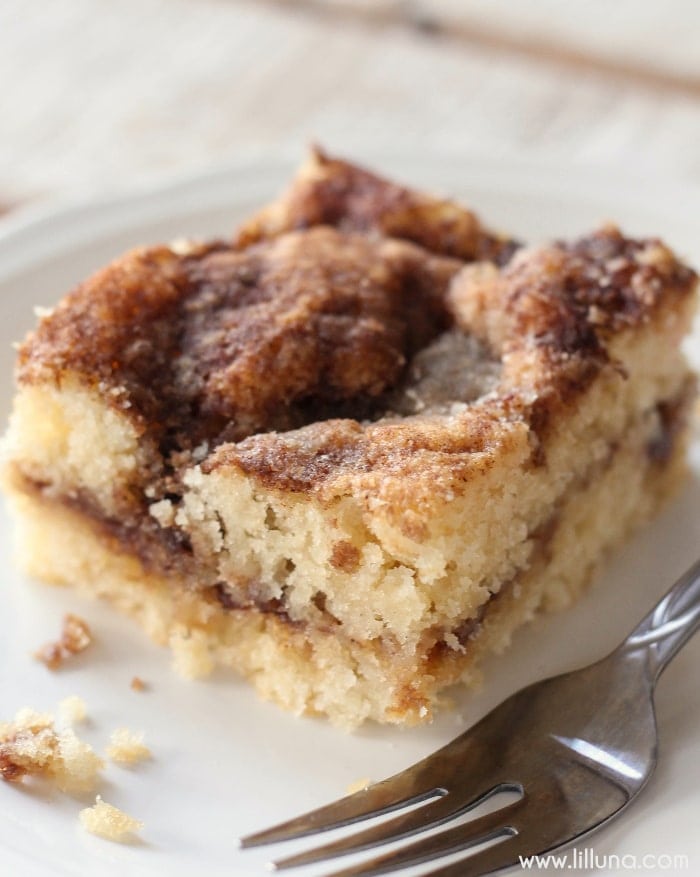 And get weekly emails with monthly freebies by signing up for the Lil' Luna newsletter. 🙂
For even more great ideas follow me on Facebook – Pinterest – Instagram – Twitter – Periscope – Snapchat & YouTube.
ENJOY!