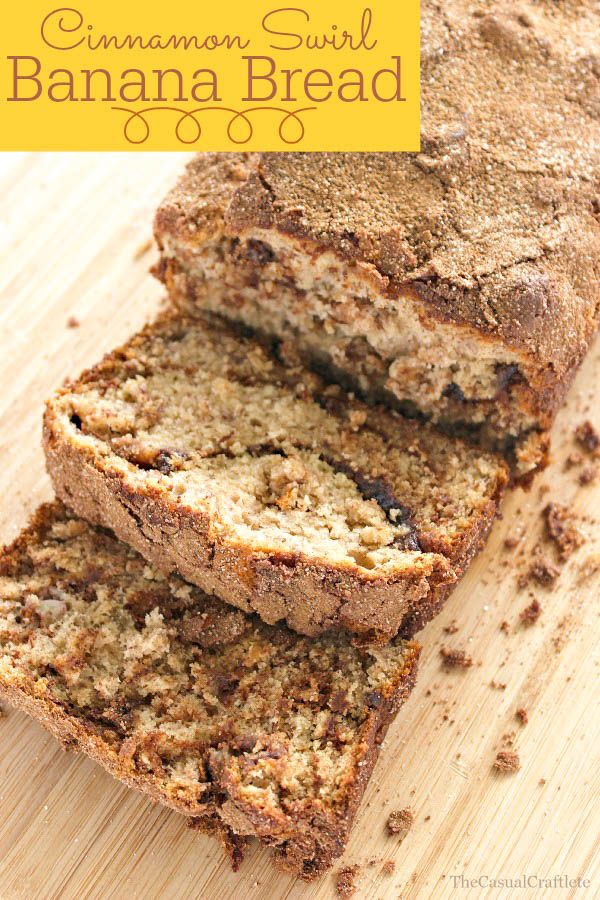 Hey there, Lil' Luna fans!  My name is Katie and I am the blogger behind The Casual Craftlete.  I am a wife and stay at home mom to our three year old daughter.  I started blogging in 2013 to give myself a creative outlet.  Some of the things you will find me sharing are easy diy/craft projects, yummy recipes (mostly sweet treats) and my running journey and weight loss.  That's where my name came from: Craft and Athlete.  Everything I do is quick, easy and simple since I spend most of my day chasing around my daughter.
I am so incredibly honored to be here today!  I absolutely love Kristyn and I'm super excited for her and her family. Today, I am sharing my Cinnamon Swirl Banana Bread recipe.  This makes a great homemade treat for the holidays.  Plus, I have included a free printable gift tag later in this post to wrap up your bread.
I don't know about you but I just love baking for the holidays.  There's just something comforting about the smell of warm cinnamon in the home that makes life happy.  Every year I bake some type of sweet treat to give to my family and friends for the holidays.  This year they will be receiving this amazing cinnamon swirl banana bread.  It's so moist and delicious!  It's perfect for breakfast or a snack during the day.
MY OTHER RECIPES
Just look at that lovely brown sugar and cinnamon swirl throughout the bread.  It also creates an amazing crispy crunchy crust on top.
Since I am giving these loafs of bread as gifts, I have including some really cute and neutral color tags.  That way you can use them for any holiday or anytime of year, really.  I used a small hole punch and twine to wrap the tag around the bread.
I always have over ripe bananas that never get ate during the week.  So, I always try to make some type of banana bread recipe.
Cinnamon Swirl Bread:
Cinnamon Swirl Banana Bread
Cinnamon Swirl Banana Bread recipe. Moist bread full of bananas, cinnamon and a swirl of sugar, brown sugar, and more cinnamon!!
Ingredients
For the bread:
8 Tablespoons (1 stick) butter softened to room temperature
1 cup granulated sugar
2 teaspoons vanilla extract
2 beaten large eggs
2 cups all purpose flour
1 teaspoon baking soda
1 teaspoon cinnamon
½ cup plain yogurt (I used greek)
1-1½ cups over ripe bananas mashed (about 3)
Swirl Ingredients:
½ cup granulated sugar
3 tablespoons brown sugar
2 tablespoons cinnamon
Instructions
Preheat oven to 350 degrees. Spray loaf pan with non-stick cooking spray.
In a stand mixer, cream together butter and granulated sugar until creamy.
Add the beaten eggs and vanilla extract and mix well.
Add the all purpose flour, baking soda and cinnamon just until combined.
Fold in the yogurt and mashed bananas until well incorporated.
Pour ⅓ of the banana bread batter into the prepared loaf pan. Sprinkle ⅓ of the cinnamon swirl mixture over top. Repeat both layers two more times, ending with the cinnamon swirl mixture on top.
Bake for 50-60 minutes or until a toothpick comes out clean after inserting it into the center of the bread.
Let cool on a wire rack
Serve warm or at room temperature.
A huge THANK YOU and HUG to Kristyn for having me today.  And thank you all for letting me share my recipe and tags.  If you get a chance, I'd love for you to come see me at 
The Casual Craftlete!
Hope you all have a wonderful holiday season!!!
———————————————————–
Oh yes, I'm a HUGE fan of Quick Bread recipes, and this Cinnamon Swirl Banana Bread looks amazing! Thank you so much, Katie! For more great creations from her, head on over to The Casual Craftlete.
For another great bread recipe that makes a perfect gift idea, check out:
Cream Cheese Filled Banana Bread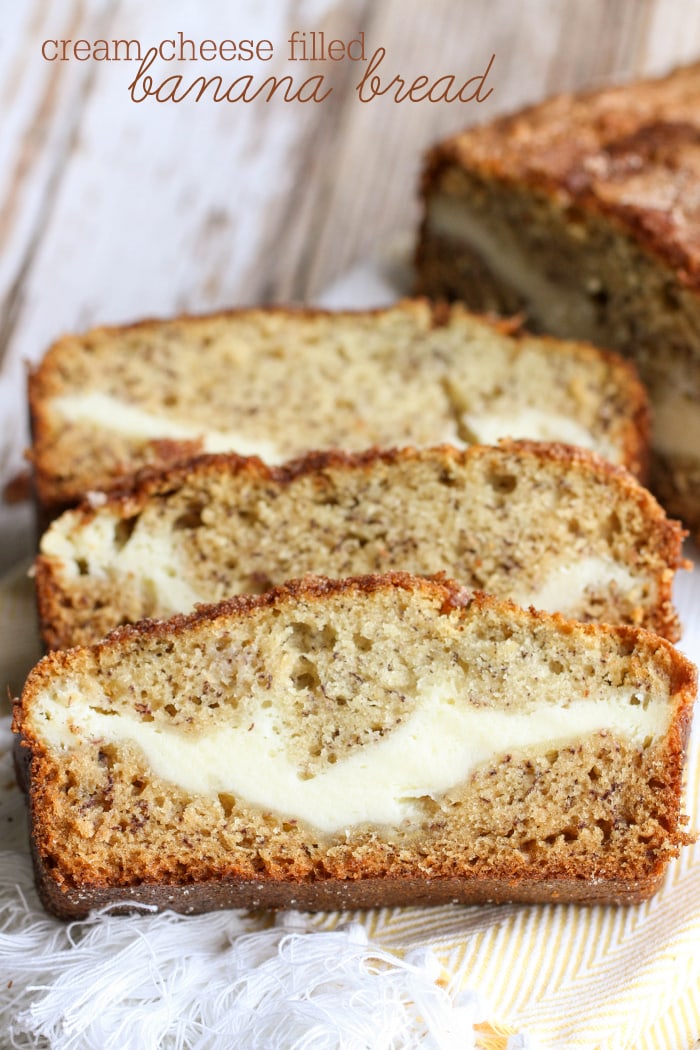 And for a few more bread recipes…
ENJOY!