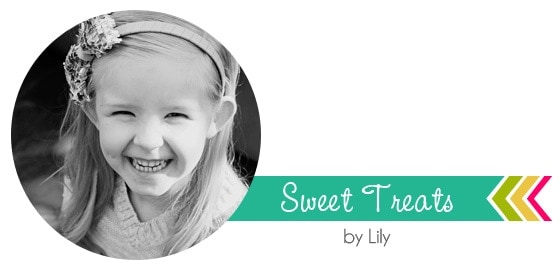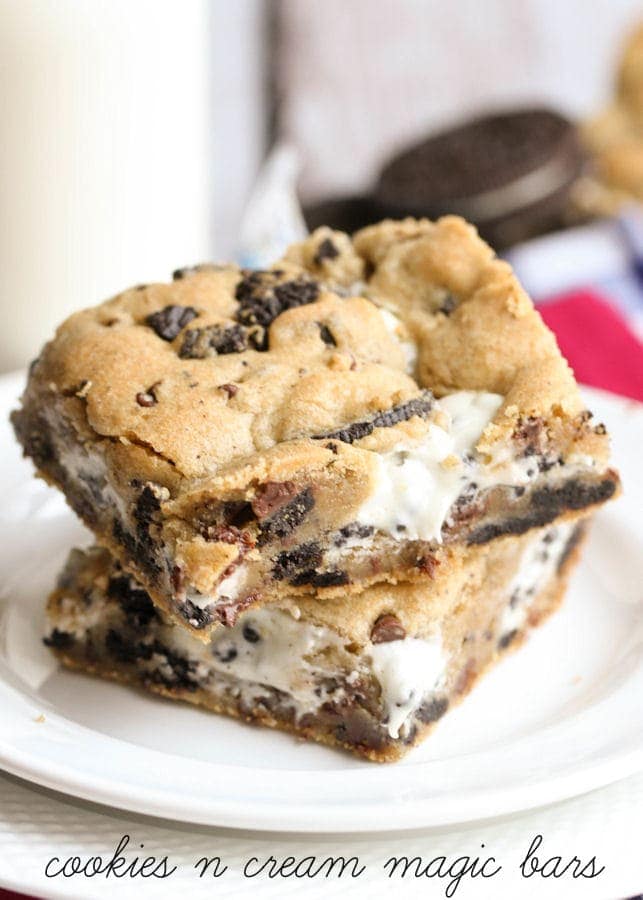 Hellllo, again!!
It's Lily!!
Last night I had so much fun with my mom because the boys were out of town. They had a Fathers and Sons Campout, so we had a mommy and daughters date. We went and saw Cinderella. We went to Pei Wei's and I learned how to use chopsticks, and I got a fortune cookie. My fortune said:
"A sound mind and a healthy body bring many happy events to your family."
That means if I'm calm, peaceful and healthy my family will be happy!
We also went to Tutti Frutti and got frozen yogurt! I got Tutti Frutti and Cake Batter with chocolate covered marshmallows for my topping. It was delicious.
You want to know what else is delicious? The recipe we are sharing today! I know your kids will love it. They are Cookies N Cream Magic Bars from Picky Palate. We really like Cookies N Cream treats at our house, so we really liked this recipe. We just changed it a little bit and served it with ice cream. It was really good!
My friend, Hallie, was here when we were taking pictures so she just to see how I do it. We also played in the backyard and made a movie. It was so fun!
I really think you'll like this recipe, so here it is: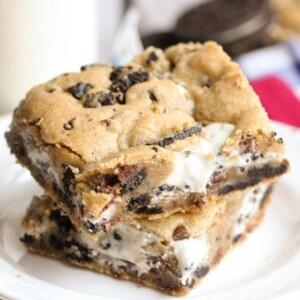 Cookies N Cream Magic Bars Recipe
Cookies N Cream Magic Bars - YUM! The perfect treat filled with mini chocolate chips, oreos, and cookies n cream hershey kisses!!
Ingredients
1/4

cup

butter

softened

1/2

cup

sugar

1/2

cup

brown sugar

1

egg

2

tsp

vanilla

1 1/4

cups

all purpose flour

1/2

tsp

baking soda

1/2

tsp

salt

1

cup

mini chocolate chips

or white chocolate chips

10

oreos

chopped

25

Cookies & Cream Hershey's Kisses
Instructions
Combine butter and sugars in a large bowl until well combined. Add egg and vanilla and mix well.

Add dry ingredients, chocolate chips and Oreos and mix well.

Press ½ of the dough into a greased 8x8 pan.

Add 5 rows of 5 Kisses on top of your dough. Add the remaining dough on top and gently press on top.

Bake for 24-26 minutes or until golden brown. Let cool and enjoy!
Kisses & Oreos
Mix your ingredients and add the dough to your greased pan.
Add Kisses and top with remaining dough.
Bake until golden brown!
VOILA!
I hope you like this recipe. It's really simple and is a good way to change things up rather than making brownies. 😉
I hope you can come back again soon for more yummy treats from me.
Love, Lily
————————————————
For more cookies n cream recipes, check out:
For all recipes by Lily go HERE.
For ALL desserts go HERE.
ENJOY!!
 BEHIND THE SCENES AT LILLUNA.COM:
This is my friend, Hallie. We had so much fun playing together.