Creamy and delicious Homemade Cream of Chicken Soup that is filled with chunks of veggies and chicken. This hearty soup is perfect to enjoy all year long, and is simple too!
There is something so comforting about warm and creamy soups! Whether it's this cream of chicken, or another favorite—like cream of broccoli or chicken and dumpling soup—I always love a big bowl of creamy soup.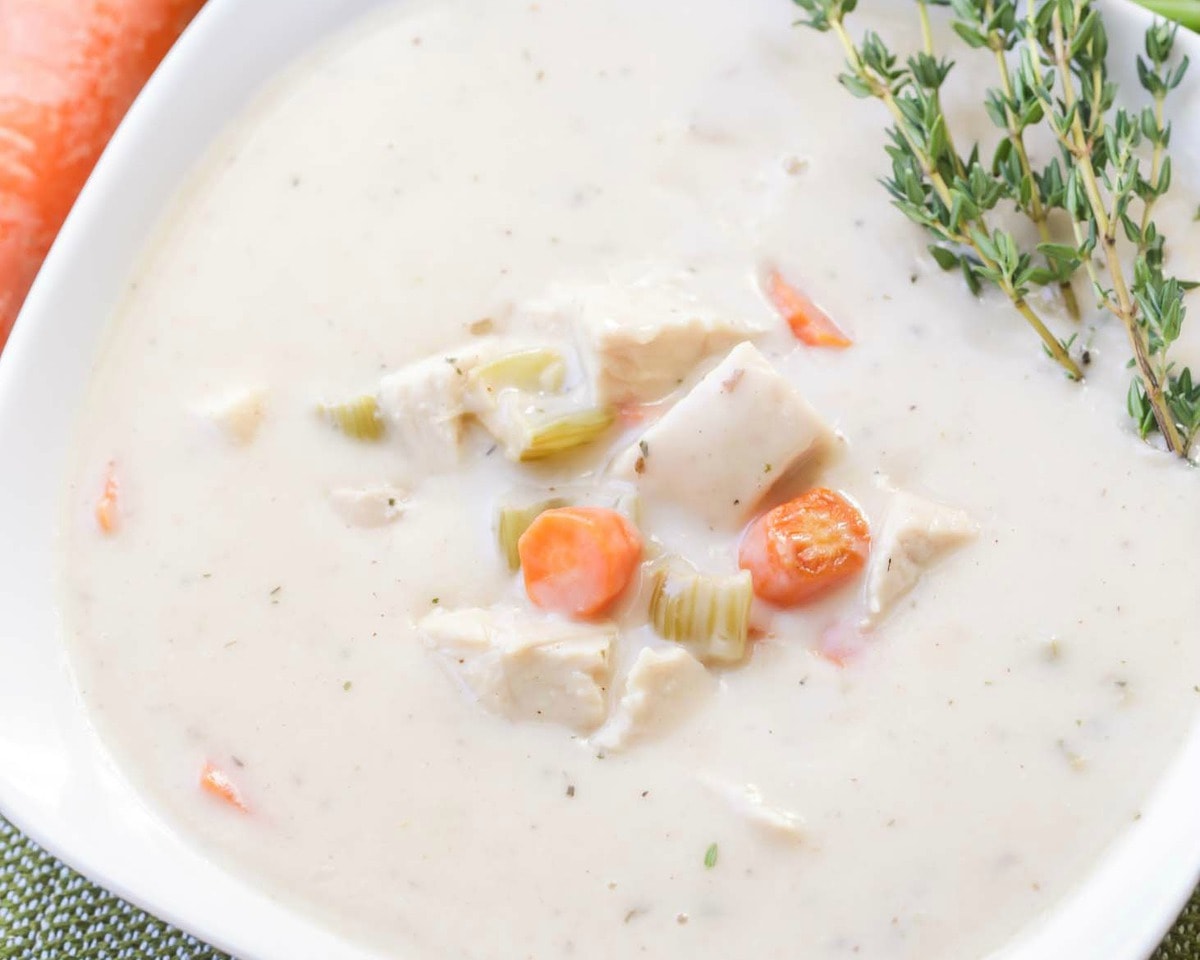 Homemade Cream of Chicken Soup
I can't think of many things I love more than a bowl of this homemade cream of chicken soup. It's creamy, it's dreamy, it's the perfect definition of comfort food. One spoonful of this creamy soup is full of tender pieces of chicken, a soft crunch from the celery and carrots, and flavorful herbs. My mouth is watering just writing this!
Wouldn't a bowl of this soup be great for warming up on a rainy day? I think it would also be the perfect dish to deliver to a family that doesn't have time to make dinner that day. I know I would LOVE to receive this soup from a friend or neighbor.
How to Make Cream of Chicken Soup
You only need about 45 minutes and a few simple ingredients to make this cream of chicken soup. Easy peasy, right?
CHOP. Make sure to chop up 3 medium carrots and 2 stalks of celery before you start making this soup—it will be easier to put everything together if you have all the vegetables prepped and ready to go.
CHICKEN. You'll need about 2 and ¾ cups of cooked chicken for this delicious soup. You could use any leftover chicken you have from other recipes, some shredded rotisserie chicken, or a can of chicken from your pantry. Whatever is easiest for you.
COMBINE & SIMMER. After you've added all the ingredients to the pot and let it simmer for 15 minutes, whisk in the salt and whipping cream. Sprinkle extra parsley on top and serve it hot!
Tip: To give this delicious soup an extra layer of flavor have a side of bacon bits to add to your serving of soup.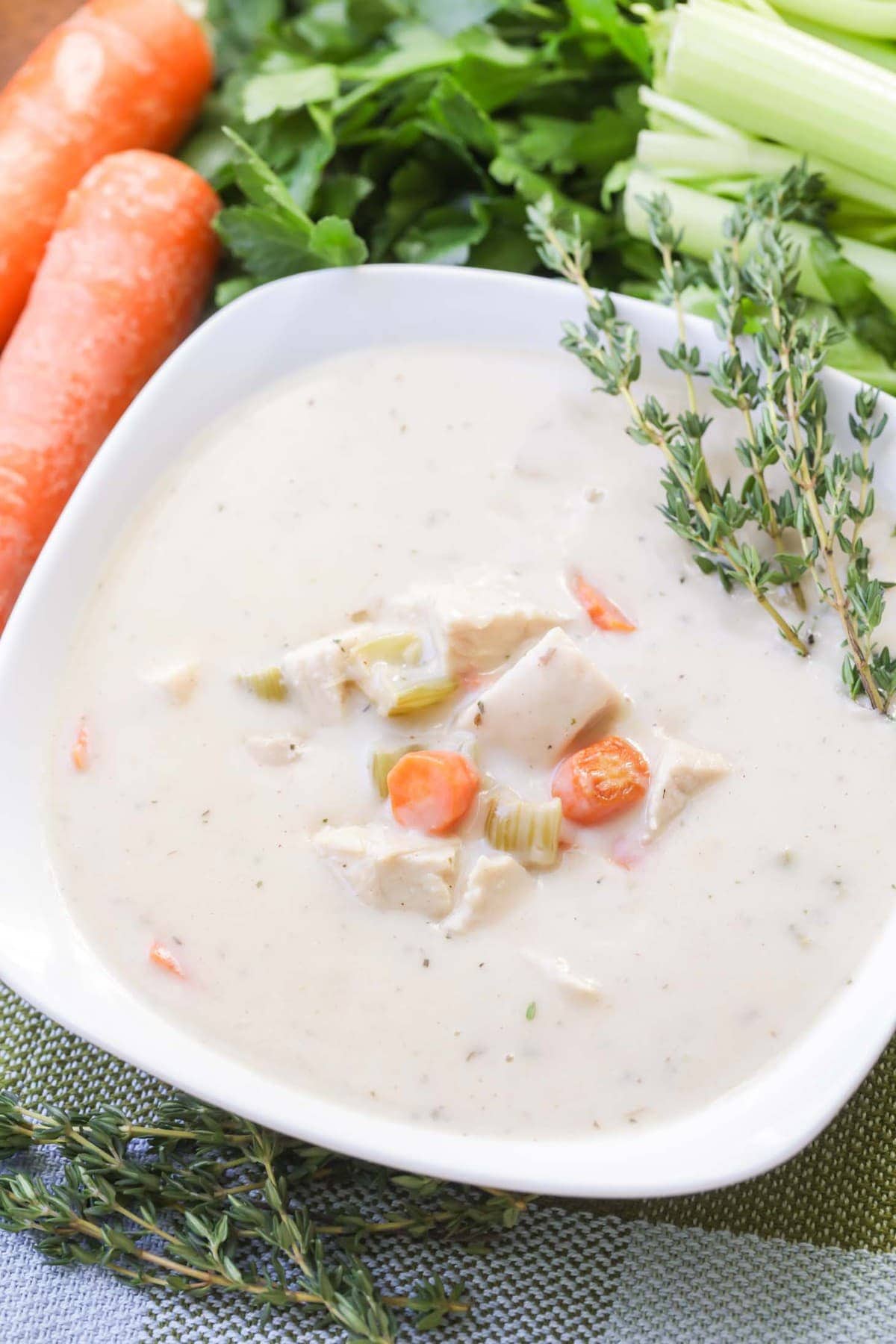 Tips and Troubleshooting
What do I do if the soup is too thick or too thin?
Too Thick: Add a little more chicken stock until you reach your desired texture.

Too Thin: Add a little more heavy cream .You can also add a little more flour: In a separate bowl combine ¼ c of soup and 2 Tbsp of flour. Mix until smooth then add back into the soup. 
How to store leftovers:
Fridge: Place the soup in an airtight container and store in the fridge for 3-4 days. Reheat on the stovetop or in the microwave.

Freezer: Place soup in an airtight container and store in the freezer for 4-6 months. Let soup thaw in the fridge. Slowly reheat in a pot over LOW heat. Stir constantly to keep the cream combined with the soup. 
Can this be made in a crockpot? Yes! Just add chicken and veggies to the crock pot, sprinkle flour over the top and toss. Add remaining ingredients except for the heavy cream. Cover and cook on low for about 6 hours, or until chicken is cooked. Stir once about halfway.
Don't worry if the flour looks a little clumpy. It will smooth out once the soup is finished cooking. Slowly whisk in the heavy cream. Let cook for another 10-15 minutes. Serve.
Yes, we are all about the easy recipes here, and we think you'll love this soup. We like to enjoy it all year long and love that it is simple, quick and so flavorful. With some homemade rolls, this meal is the epitome of comfort food!
For more chicken soup recipes, check out:
Cream of Chicken Soup recipe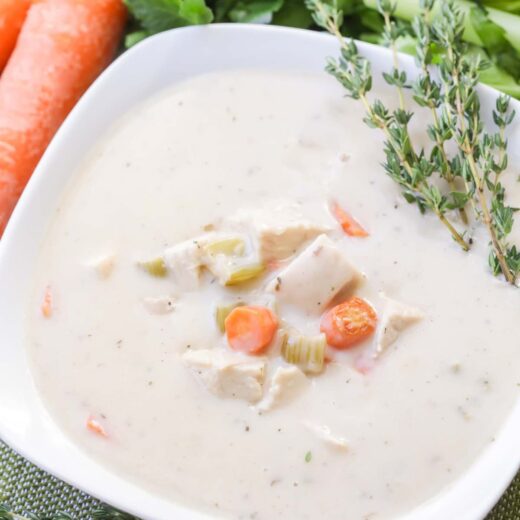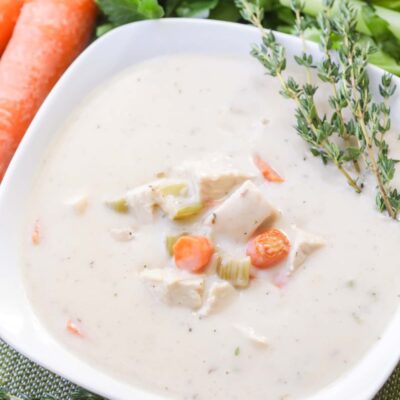 Creamy And Delicious Homemade Cream Of Chicken Soup That Is Filled With Chunks Of Veggies And Chicken. This Hearty Soup Is Perfect To Enjoy All Year Long And Is Simple Too!
Ingredients
1/2

cup

unsalted butter

2

stalks

celery

chopped

3

medium

carrots

chopped

1/2 cup + 1 tbsp

flour

7

cups

canned chicken broth

1

tsp

parsley

1

tsp

thyme

1/2

tsp

bay leaves

crushed

2 3/4

cups

diced chicken

cooked

1/2

cup

heavy cream

2

tsp

garlic salt

pepper to taste
Instructions
In a large pot over medium heat, melt butter. Add celery and carrots. Cover and cook for 12 minutes, stirring occasionally. Veggies should be soft and tender. Using a wooden spoon, stir in flour and cook for 2 more minutes.

Whisk in broth and bring to a boil. While continually whisking, add seasonings. Lower heat and simmer for 15 minutes.

Add chicken and bring liquid to a boil.

Remove from heat. Whisk in the salt and whipping cream. Add pepper to taste. Sprinkle with extra parsley and serve hot.
Notes
TRIED AND TRUE FINDINGS:
DIFFICULTY: easy
HOW MANY DOES IT FEED: 4-6
ANY CHANGES MADE: took out onion, dry sherry and kosher salt - added garlic salt
ANY SUGGESTIONS FOR NEXT TIME: none
 Adapted from Food Network