I'm warning you now… I've been baking pumpkin treats along with soups and chowders for the last few months! You know what that means, right!? There will be LOADS of delicious fall recipes and creations here on the site in the coming months. Today's recipe for Creamy Southwest Chicken Chowder happens to be a new favorite. When I saw all the delicious ingredients, I knew it would be a hit, and it was!! It calls for some of the Green Giant Steamers which makes the recipe even easier to make (no cutting up veggies for this one!) You cook up the veggies and then throw it all in a pot with the rest of the ingredients and let it cook for 20 minutes and you're done. Talk about easy peasy!!
I've tried so many new recipes the last few months and this one was a HIT!! The fam loved it, and I know I'll be making it more often as the temps cool down. If you're looking for a simple but hearty chowder recipe, this is the one!! It's so full of flavor and will help welcome fall right in. 🙂
Here's the recipe…

Creamy Southwest Chicken Chowder
Ingredients
1 - 24 oz. bag Green Giant Steamers Value Size Niblets frozen corn and butter sauce
1 - 19 oz. bag Green Giant Steamers Value Size frozen roasted potatoes with garlic & herb sauce
1 TB vegetable oil
1 - 16 oz can chicken broth
2 - 4.5 oz. cans chopped green chiles
1 - 12 oz. can evaporated milk
2 cups chicken, shredded and cooked
1 tsp. cumin
salt to taste
garlic pepper to taste
cheese
cilantro
Instructions
Cook frozen veggies as directed on bag using minimum cook times.
In a large pot, heat oil on medium heat and add veggies, chicken broth, chicken, green chiles, evaporated milk, cumin, salt and garlic pepper.
Bring to a simmer and cook on LOW for 20 minutes or until veggies are tender.
Top with cilantro and cheese and serve immediately.
Recipe adapted from Betty Crocker.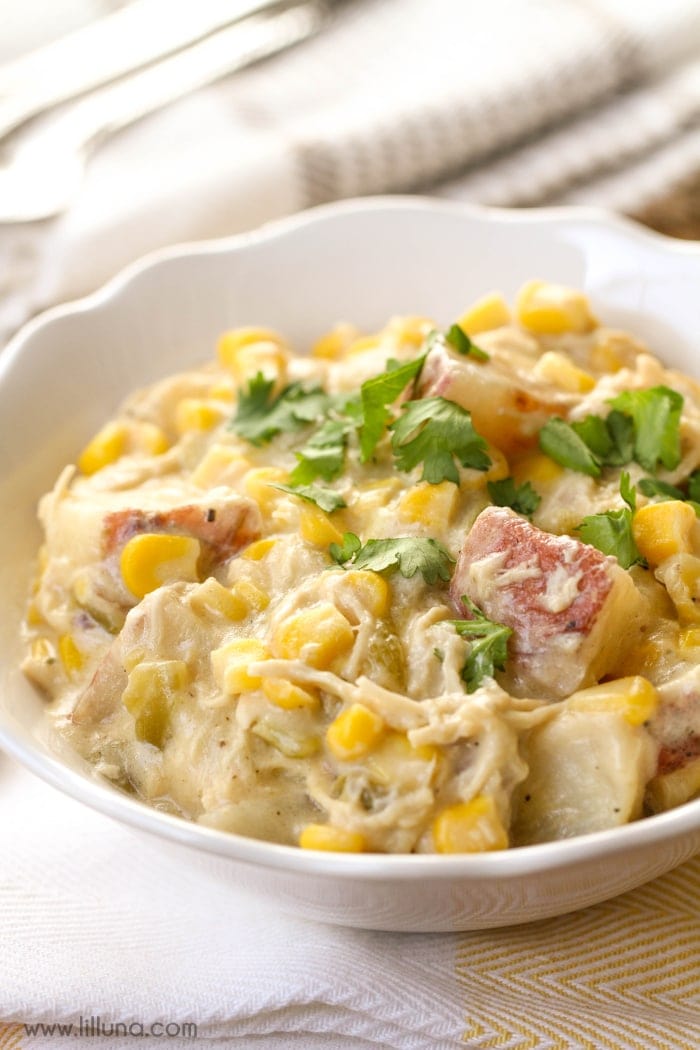 I've always been a fan of the "southwest" taste, and think this chowder encompasses the delicious combo of chicken, corn, green chilis and spices!! Mmmm!
This recipe is thicker and is a chowder, but you can always add more milk or water to make it more soup-y – totally up to you!! I'm sure it would be delicious either way! 😉
For more great soups on the site, check out: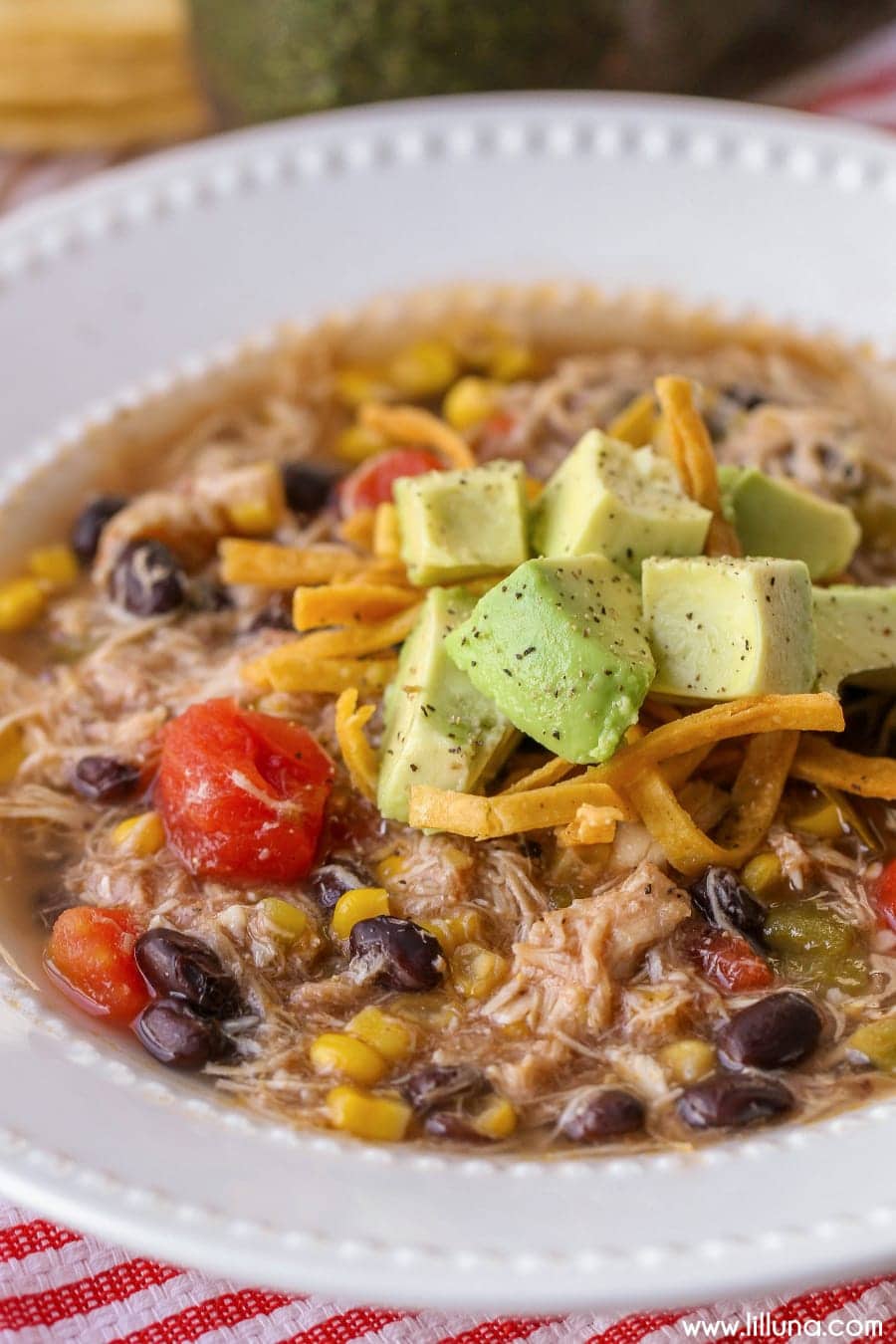 Check Out My Other Recipes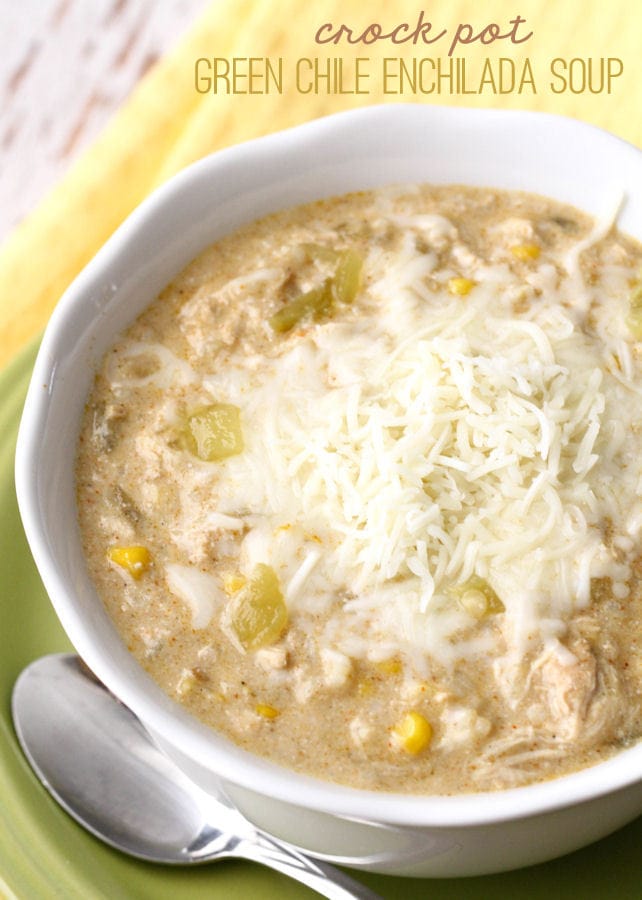 Crock Pot Green Chile Enchilada Soup
I am SOOO ready for soup season – can you tell?! 😉
For all soup recipes on the site be sure to go HERE.
For all recipes go HERE.
And get weekly emails with monthly freebies by signing up for the Lil' Luna newsletter. 🙂
For even more great ideas follow me on Facebook – Pinterest – Instagram – Twitter – Periscope – Snapchat.
Don't miss a thing – Sign up for the Lil' Luna Newsletter today!
ENJOY!
Need more recipes and creative ideas? Sign up and get a FREE copy of my latest ebook!