Appetizers are the best!! There is nothing better than going to a get together or party and having some delicious bite-sized snacks to much on. That is why we are always on the look out for new appetizers to try. We recently found these crescent sausage bites and thought we'd give them a try! It was a good thing we did, because these were so yummy (especially if you like a little spice). I couldn't stop popping these in my mouth.
The original recipe called for spicy jalapeno cream cheese, but if you are not a fan of a little nip, you could easily switch that out with regular cream cheese or even another flavored cream cheese. And you can also change up the sausage (from a little more spicy to mild) as well, in case you want something less spicy.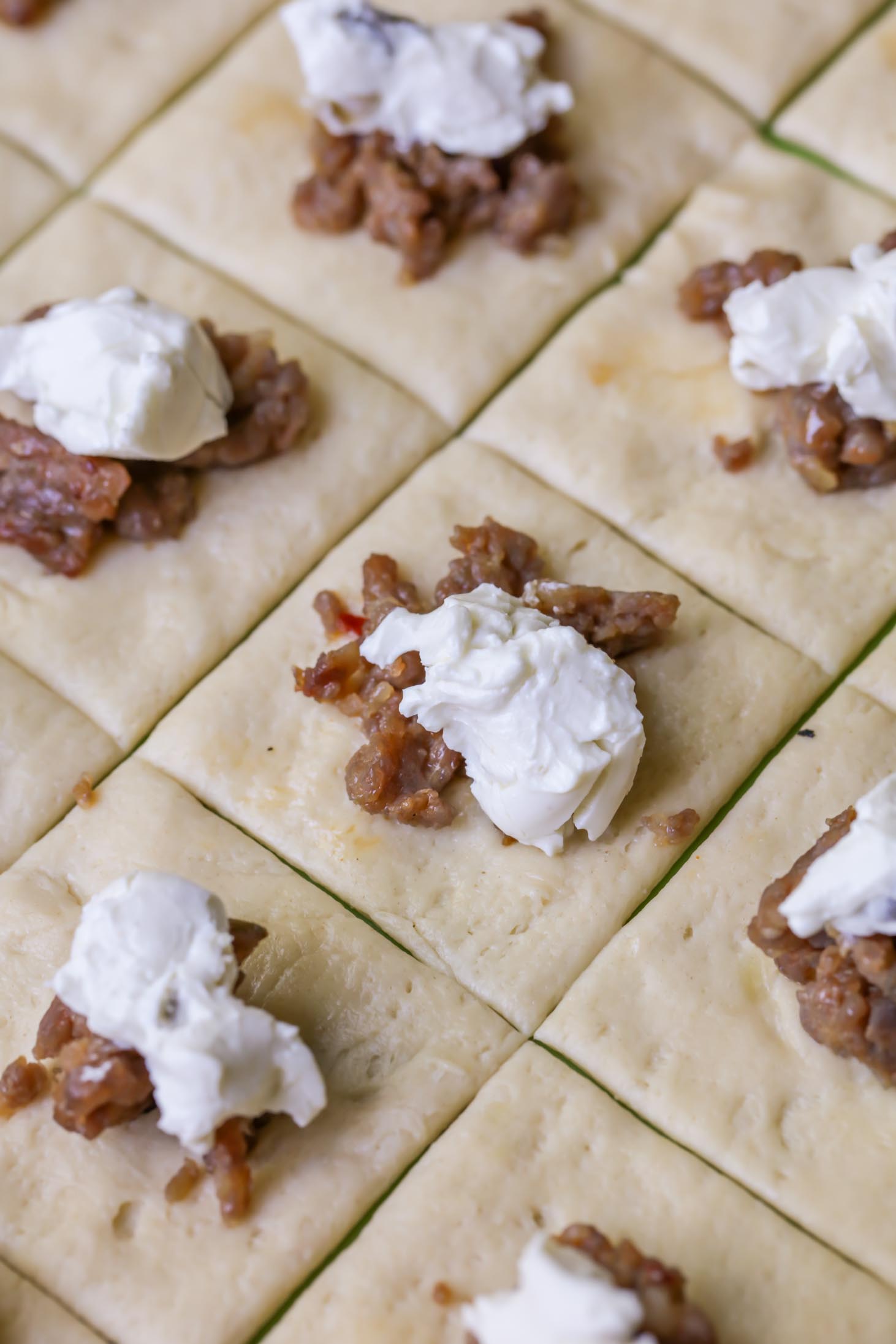 What we loved most is how simple these work. They took minutes to throw together, required just a few ingredients and turned out fabulous!! We have a feeling they will be showing up at several of our upcoming family get togethers in December. And we can't wait to add them to our ever-growing "go-to" favorite appetizers list. 😀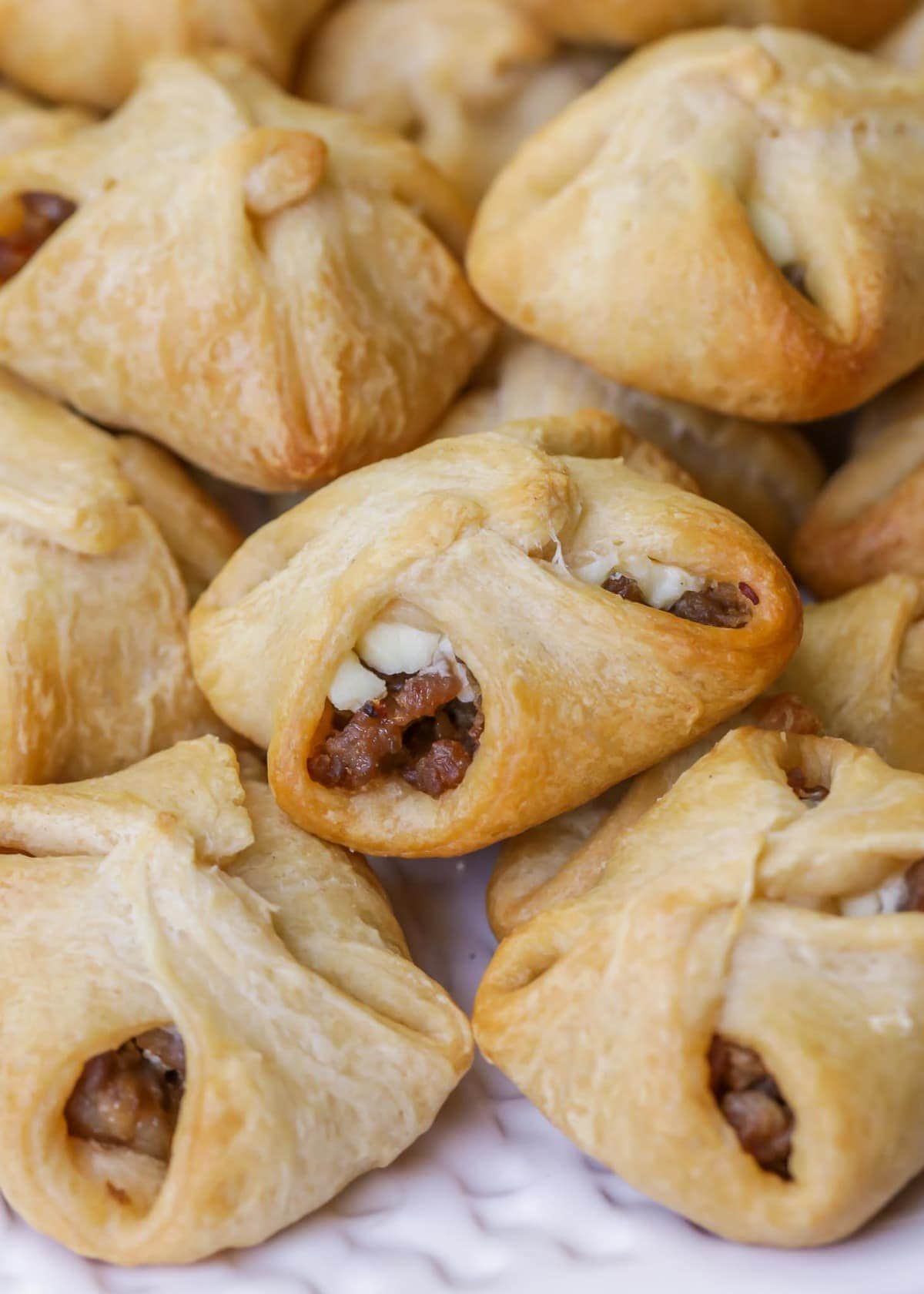 There really was so much flavor in these crescent sausage bites, and we can't wait for you to try them. We think you'll love them just as much as we did.
For more sausage recipes, check out:
How to make Crescent Sausage Bites: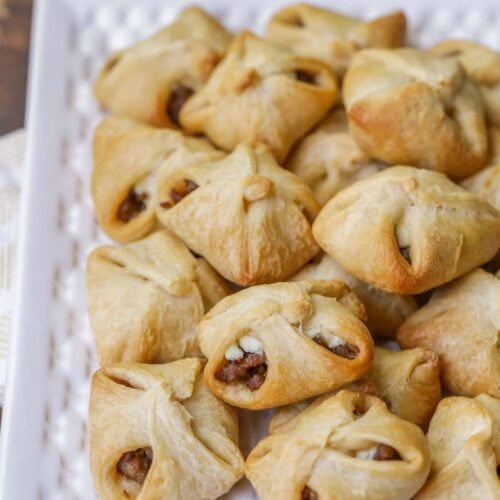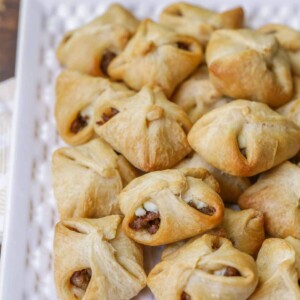 Crescent Sausage Bites Recipe
3-ingredient Crescent Sausage Bites - this simple appetizer is great for parties and get togethers and is so full of flavor!
Ingredients
8

oz

Pillsbury™ refrigerated crescent dough sheet

1/2

lb

hot pork sausage

1/2

cup

spicy jalapeño cream cheese spread
Instructions
Cook sausage in a nonstick skillet over medium-high heat for 4-5 minutes until no longer pink; drain.

Unroll dough and press into a 12x9-inch rectangle, firmly pressing any perforations to seal. Slice into 6 rows of 4 to make 24 squares.

Place 1 rounded teaspoon of sausage on the center of each dough square. Top with 1 teaspoon of cream cheese.

Bring 4 corners together, overlapping slightly in center at top of each bundle. Twist and pinch to seal, leaving small gaps between seams.

Place on an ungreased cookie and bake at 375 for 10-14 minutes or until golden brown. Serve warm.
Adapted from Food Lion.