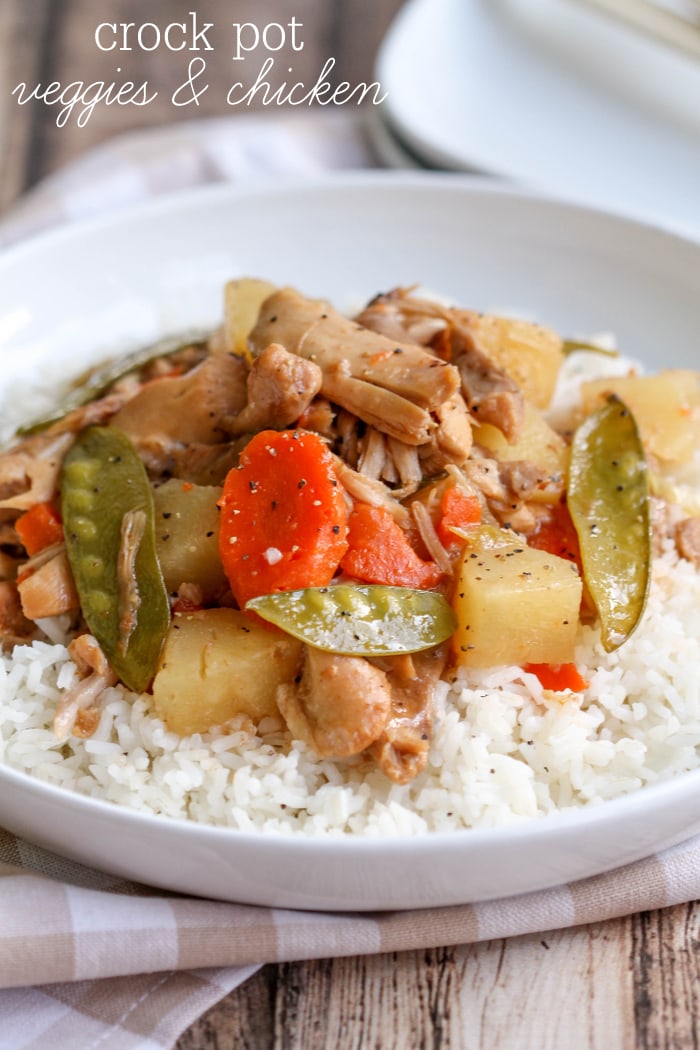 Hi everyone! Kellyn here!
I don't know about you, but its baseball season here in the Carpenter house. My oldest is 7 and he loves spring because it means baseball practice and games. For me, it means stress and more driving than I'd like to do! I cant deny that I love the sound of a metal bat hitting a ball and seeing the excitement in my sons eyes as he makes it to a base. However, with practice twice a week, its makes it difficult for family dinners, which I hold above anything else. Including my sons love for baseball. I don't use my crock pot near as much as I should, so this season I told myself that I would be better at having dinner ready so that we could  get home from practice and still have time to eat a meal as a family.
My mom found this recipe and I was so glad we tried it. This crock pot Veggie and Chicken recipe was simple and tasty. We used our own yummy sweet and sour sauce, but for times sake, any store bought sauce will do. If you decide to make our sauce, this recipe only calls for 1/2 cup, so you will have left over. In which case you should our outstanding Egg Rolls and use the sauce for dipping. Its pretty great! Yumm… Egg Rolls… I think I'm adding them to the menu this week 🙂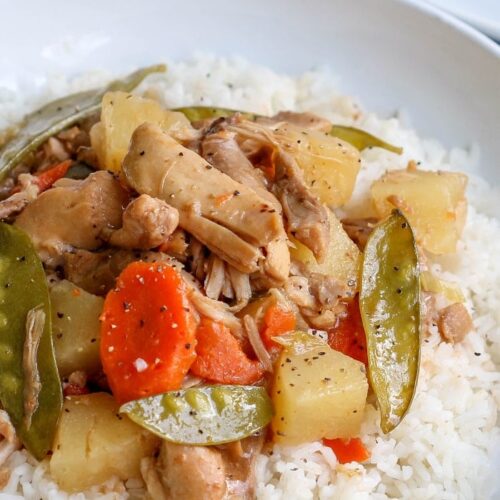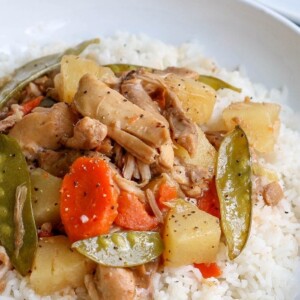 Crock Pot Veggie and Chicken Recipe
Crock Pot Veggies and Chicken recipe which is a new family favorite. It's so simple and filled with your favorite veggies, pineapple and chicken!
Cook Time
4
hours
30
minutes
Total Time
4
hours
45
minutes
Ingredients
1 1/4

lb

boneless skinless chicken

cut into 1/2 inch strips

2

tbsp

soy sauce

2

medium

carrots

sliced, about 3/4 cups

8

oz

pineapple chunks

in unsweetened juice, drained, reserving juice

2

cups

rice

(minute or long grain, your choice)

1/2

cup

sweet and sour sauce

purchased of our yummy homemade sauce

2

tsp

cornstarch

1

tsp

ginger root paste

1

cup

snow peas

fresh
Instructions
Mix chicken pieces and soy sauce together in a 4-quart crock pot. Stir in carrots and reserved pineapple juice, until well combined.

Cover; cook on low setting for 4 to 5 hours.

In the meantime, mix together ½ cup sweet-and-sour sauce, cornstarch, and ginger root in a small bowl. Stir into chicken mixture. Gently add in your pea pods, and pineapple chunks. Increase to high heat; cover and cook an additional 20-25 minutes or until pea pods are crisp-tender.

Serve chicken over cooked rice (keep in mind that long grain rice takes at least 30 minutes to cook, so prepare accordingly).
Recipe adapted from Betty Crocker.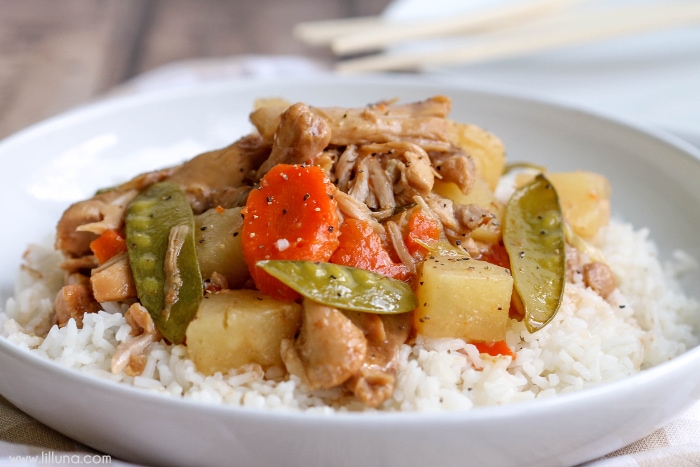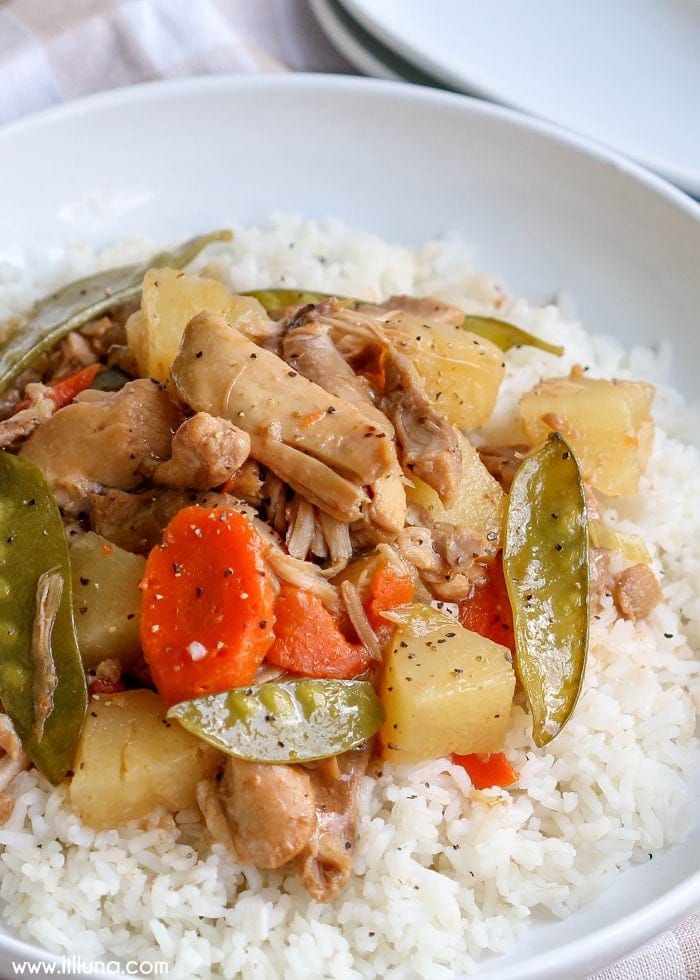 Can't wait to have this again!!
DIFFICULTY: Simple
HOW MANY DOES IT FEED: 5
ANY CHANGES MADE: took out chestnuts, used our homemade sweet and sour sauce, used ginger root paste,  less snow peas, marinade chicken before adding soy sauce
ANY SUGGESTIONS FOR NEXT TIME: Apparently the hubs likes water chestnuts, so we might have to add those back in next time :/
Here are some more awesome crock pot recipes: