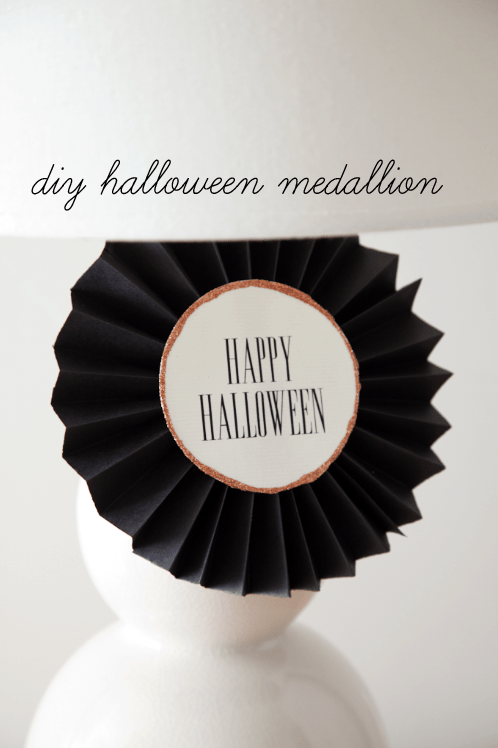 Good morning readers!
This is Sarah once again, visiting from Boxwood Clippings. I'm excited to share another very simple holiday decoration. I hope you enjoy!!!
Decorating for the holidays doesn't have to be time consuming or expensive. Little touches around the house really help welcome the season, and get us all giddy for what lies ahead.
This DIY Halloween Medallion adds a little 'festive' to where ever you might hang it. Personally, I love it just hanging from a lamp, simple and cute.

To Make It You Will Need:
scissors
glue
2 sheets of 8×10 paper
glitter
A text print out
thin ribbon.
How To Make:
1. First start by printing your text on card stock. On mine I simply wrote "Happy Halloween", but you can be more creative if you wish! Then cut it in a circle. You can make yours any size, mine was about 3.5″..
2. Glue the edge of circle and sprinkle glitter generously, and gently shake off excess..
The medallion part is a bit more tricky, here are photos to help!
3.

4.
Also, this is the time to trim the length if you want to. 
5.
6. Make another the exact same, and then
7.
8. Glue on the text circle, and add a bit of ribbon behind for hanging.

9. You're finished, now just decide where to hang it!

……………..
If you'd like to see more of our EASY, FAST and CHEAP projects, be sure to click HERE, HERE or HERE!!!
HAPPY HALLOWEEN EVERYONE!!!!!
———————-
Thanks so much Sarah!! What a cute and simple idea!
Be sure to go to Boxwood Clippings for more fun projects from Sarah, and
for more information about her please go HERE.
For more great creations from Sarah, be sure to check out: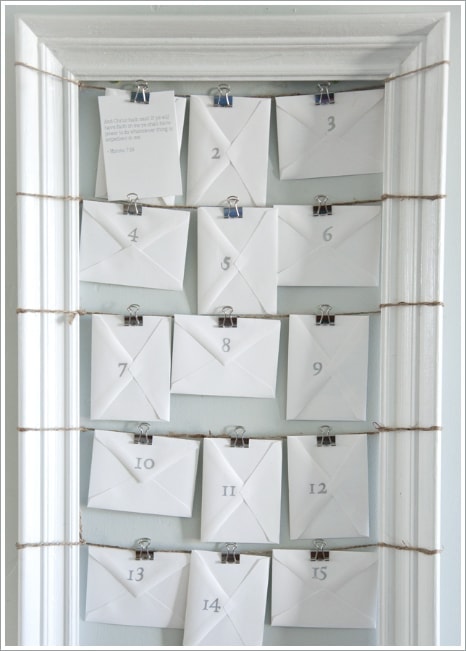 For all Halloween ideas on the site go HERE.
For all crafts & tutorials go HERE.
And get weekly emails with monthly freebies by signing up for the Lil' Luna newsletter. 🙂
For even more great ideas follow me on Facebook – Pinterest – Instagram – Twitter – Periscope.
ENJOY!