With Halloween in full swing here at the Merkley home I'm happy to share with you guy a fun DIY Skull craft that I made this past week using some old supplies and Mod Podge.
About a month ago I was at Home Goods and saw this amazing Skull Vintage piece that I wanted… really bad. The problem – it was $24.99! I guess that's not too expensive but I just couldn't get myself to pay that much for him when I knew I could make a cuter one for less (I know – it's the cheapy crafter in me). I didn't get him but ended up buying a broken black and glittered Candle Stick holder in the clearance section for $5. I knew I could make it the base of my own Skull if I ever got the time to do it. I'm happy I finally found the time and made my little guy this week because now I'm in love.
Pretty sweet, huh?
Besides buying the candle stick he sits on, I had all the other supplies, which means I only ended up paying $5 for him (lots cheaper than that $25 I could have paid for the other guy).
I am SOO glad I decided to make this because I love how this one turned out ten times more!!
Here is how you can make something similar as well…
SUPPLIES:
– Glitter Skull (bought mine on clearance last year for $1 at Target)
– Candle Stick
– Party Hat
– Scrapbook Paper
– Mod Podge Dimensional Magic
– Embellishments (ric rac, glitter scrapbook paper)
– Hot Glue
– Crepe Paper (I used black and white)
– Sewing machine
DIRECTIONS:
 1. Gather all your supplies together and decide how you want to embellish your skeleton. I knew I wanted him wearing a hat because this is what would make him look vintage.
2. From there I wanted to Mod Podge my party hat. I knew I wanted it to look a little older and paper-mache-like and knew the Mod Podge would do just the trick. I ripped pieces of scrapbook paper and mod podged them to the hat. The hat turned out exactly like I had hoped!! From there, I let it dry.
3. Then I sewed my crepe paper. To begin I cut about half inch off of the inside crepe paper color (in this case, the white).  From there I sewed the white crepe paper onto the black. I did a straight stitch and back stitched at the beginning and sewed about 4 feet of crepe paper. I left the stitch open at the end so I could pull the thread and scrunch the paper. I know some machines will automatically ruffle crepe paper, but mine doesn't so I have to pull and scrunch the paper, which is easy but takes a little time.

4. From there I embellished my hat. I begin by hot gluing the crepe paper around the bottom as well as adding ric rac to the hat. I added a circle of crepe paper to the front of the hat as well. I also wanted to use from Mod Podge Dimensional Magic (one of my new favorite crafting tools) and added it to some glitter numbers I cut out from glitter scrapbook paper. I was too impatient to let them dry completely before I glued them to the hat, but I would advise that you be more patient than me let it dry completely first (which is about 3 hours). 🙂
5. I also decided to glue some crepe paper around the rim of my candle stick to make it a little of a collar for Mr. Skull.
6. From there I hot glued the head on and also made sure the hat was on so it was glued on as well.
Now I have this almost 2 foot Glitter Skull on display that fits in perfect with my Black and White Halloween decor!!
I love how he turned out and and am even more happy I decided to make my own for only a fraction of the original price!
Gotta love cheap but adorable and Vintage Halloween Decor!
For more Spooky Halloween decor ideas be sure to check out: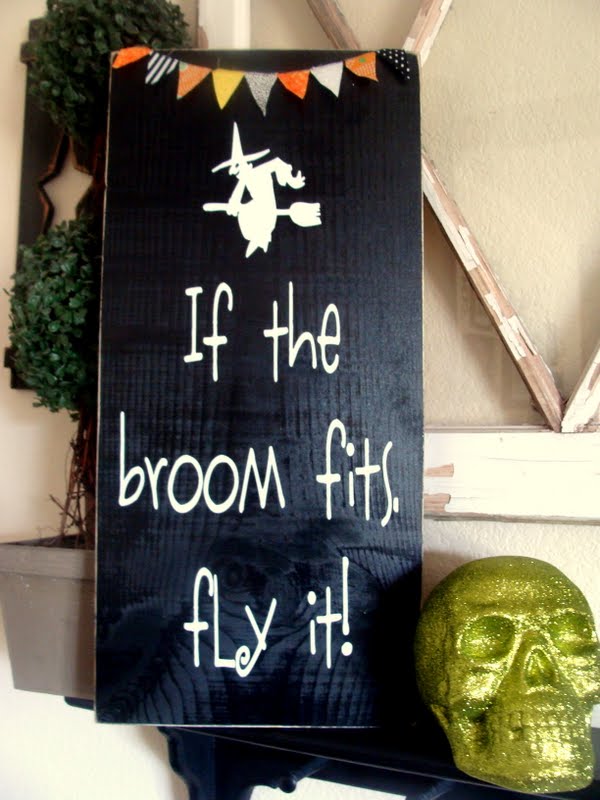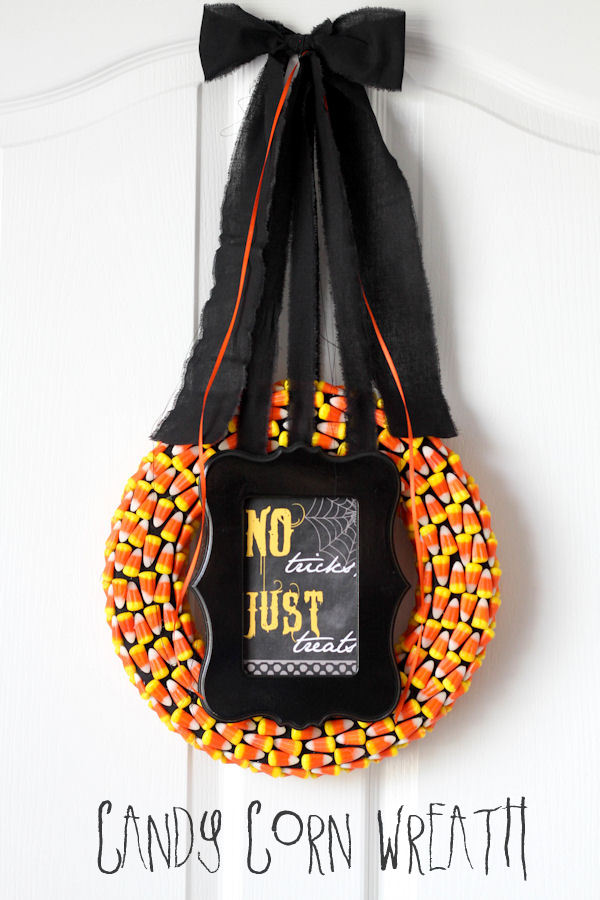 For all Halloween ideas go HERE
For all Crafts & Tutorials go HERE.
For even more great ideas follow me on Facebook – Pinterest – Instagram – Twitter – Periscope.
And get weekly emails with monthly freebies by signing up for the Lil' Luna newsletter. 🙂
ENJOY!
For more information about Plaid, please visit them HERE:
Facebook: http://www.facebook.com/InspiredByPlaid
Twitter: http://www.twitter.com/PlaidCrafts
Pinterest: http://www.pinterest.com/PlaidCrafts
I wrote this post as part of a paid campaign with Plaid Crafts and Blueprint Social. All opinions are my own.