This post is brought to you by McCormick and Mom it Forward.
UPDATE: YAY!! My team (Team 6) won! Thank you for helping us with our Virtual Bake Sale!!
You guys all know how much I love COOKIES, right? And you probably have guessed by now just how much I love CHOCOLATE too. Put the two together and you have one happy blogger. 😉
I'll pretty much take any excuse I can get to make some yummy cookies… especially if they have chocolate. What if I told you this next recipe has DOUBLE the chocolate? Pretty sweet, right? I'm calling this next recipe: Double Chocolate Mint Cookies. It has a chocolate base and has White Chocolate Chips and Chopped Chocolate Mints too (I guess technically that makes it triple?!)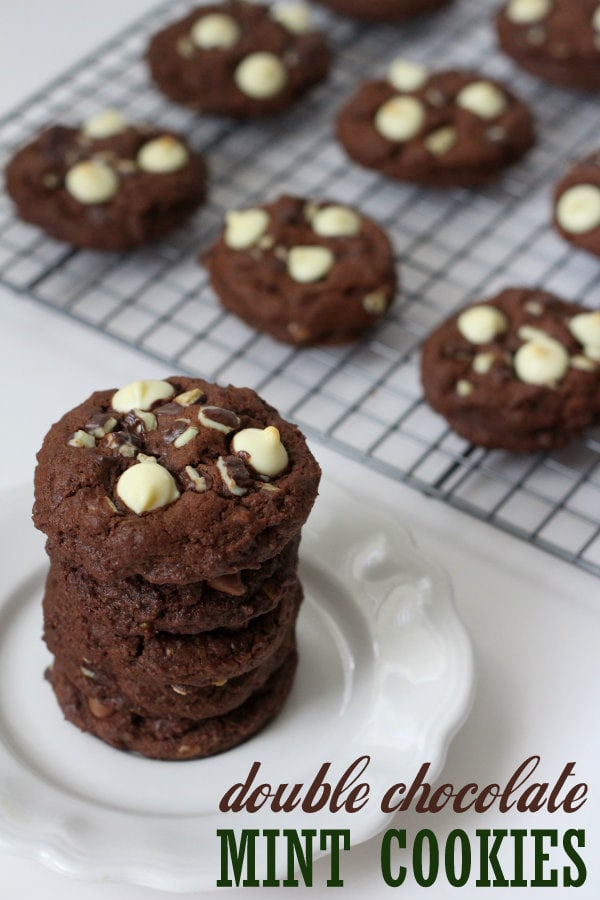 I'm happy to report that they turned out FABULOUS!! They were chocolate-y and minty and oh-so soft (definitely my kind of cookie!)
I'll definitely be adding this one in on the cookie rotation. 🙂

Double Chocolate Mint Cookies + GIVEAWAY
Ingredients
2 cups flour
⅔ cup unsweetened cocoa powder
1 tsp. baking soda
¼ tsp. salt
1 cup butter softened
1 cup sugar
⅔ cup light brown sugar
2 eggs
1 tsp. McCormick® Pure Peppermint Extract
¾ cup white chocolate chips
¾ cup chopped chocolate mints
Instructions
Preheat oven to 350°F.
Mix flour, cocoa powder, baking soda and salt in medium bowl and set aside.
In a large browl beat butter and sugar with a mixer on medium speed until light and fluffy
Add eggs and extract - mix well.
Gradually beat in flour mixture on low speed until well mixed. Stir in white chocolate chips and chopped chocolate mints.
Place on greased cookie sheet and bake for 7-9 minutes.
ENJOY!
Check Out My Other Recipes
The recipe was inspired by the Double Chocolate Chunk Mint Cookies from McCormick. I just added even more chocolate to the mix. 😉 I had been asked to create a recipe from their kitchen and team up with some other bloggers to have a "Virtual Bake Sale" via Pinterest (through re-pins).
Here is how the VIRTUAL BAKE SALE will work:
Repin this recipe to one of your boards, using hashtag #McCormickBakeSale
Each repin FROM the McCormick Bake Sale Pinterest Board is equivalent to "buying" an item from the Bake Sale.
The team with the most REPINS wins!
GOT IT?
If you help "buy" via a repin from my or my team's virtual bake sale table, you'll be entered to win a McCormick prize pack worth $75!!
TO ENTER:
Be sure to check out the whole teams' recipes as well as enter the giveaway on their sites too for more chances of winning!
For more great recipes be sure to follow McCormick on Facebook.
For all Lil' Luna recipes go HERE.
This post is sponsored by McCormick as a part of the Mom it Forward Blogger Network. As always, all opinions are my own. 🙂