Cinnamon Rolls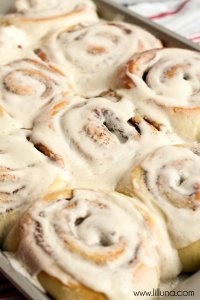 1 pkg yeast
1 cup warm milk
½ cup sugar
⅓ cup butter, softened
1 tsp. salt
2 eggs
4 cups flour
1 cup brown sugar
2½ TB cinnamon
2 TB flour
⅓ cup butter, softened
½ cup butter
1½ cup powdered sugar
¼ cup cream cheese
½ tsp. vanilla
⅛ tsp. salt
In a large bowl, dissolve yeast in warm milk. Add sugar and 1 cup of flour. Stir gently, cover and set aside until doubled in size, about 30-45 minutes.
Add butter, salt, eggs and remaining flour. Mix well with wooden spoon.
Turn dough onto a lightly floured surface and kneed for 5 minutes (dough will be a little sticky) Place back in the bowl and cover to let rise until doubled in size.
Roll out onto a 21x16 rectangle, about ¼ inch thick.
Spread the ⅓ cup softened butter then sprinkle with the brown sugar. Roll up long ways and cut into 1¾ inch slices. You should get about 12 cinnamon rolls
Place on a greased jelly roll pan and let double in size.
Bake at 375 for 15-20 minutes.
While rolls are baking, mix all icing ingredients together and spread over warm rolls.