This post is brought to you by Michaels.
Remember the announcement I made about Michael's?!
Well, in case you missed it I blogged about how Michael's now carries Craft Fabric. Can I get a Hallelujah?! I was so excited about this announcement and rushed on over to the local Michael's to check out all the fabric. I was thrilled to find adorable patterns and colors that come in varying sizes including cotton, canvas, burlap, felt, faux fur, crushed velvet and tulle. I was fortunate to have had some of this fabric sent to me to craft with, but couldn't resist buying a few more pieces to add to my collection. 😉
I wanted to think of something fun and easy and decided to make this Fabric Covered Magnetic Frame. I saw the frame in the CLEARANCE section at Michael's and knew it would be perfect. Here is how it turned out: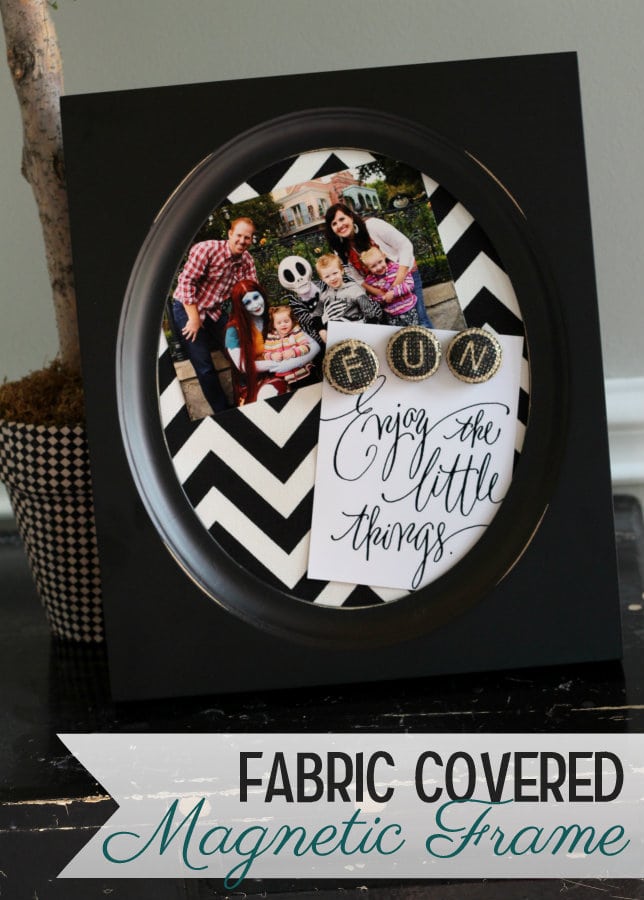 Cute, right?
I made it for my friend at Disney for thanking them for the BEST vacation ever!! Normally, I wouldn't attach a picture of my fam as a gift but wanted to show her how just how much we loved our trip there last November. 🙂
If you'd like to make this fun and easy sign as well, here is what you'll need:
INSTRUCTIONS:
– Frame
– Sheet Metal
– Fabric
– Magnetc (and Cover Buttons)
– Tape
DIRECTIONS:
1. Gather your supplies. Get your sheet metal at your local home improvement store.
 2. We cut our sheet metal to be 8×10 inches using a jigsaw and a metal blade to fit our 8×10 frame. We also filed the edges so it wouldn't be too sharp. 🙂
Cut your fabric to a little larger than your sheet metal.
3. Wrap your fabric around the sheet metal like a present and taping the sides.
4. Add your fabric covered metal to your frame and add the back.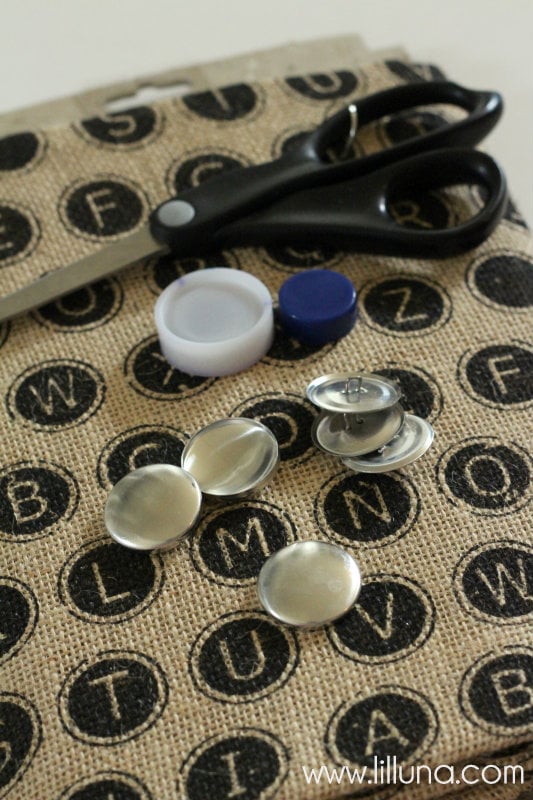 5. I wanted to make some fun Fabric Covered buttons with some of the craft fabric too just for fun. All the directions for those are found on the packages.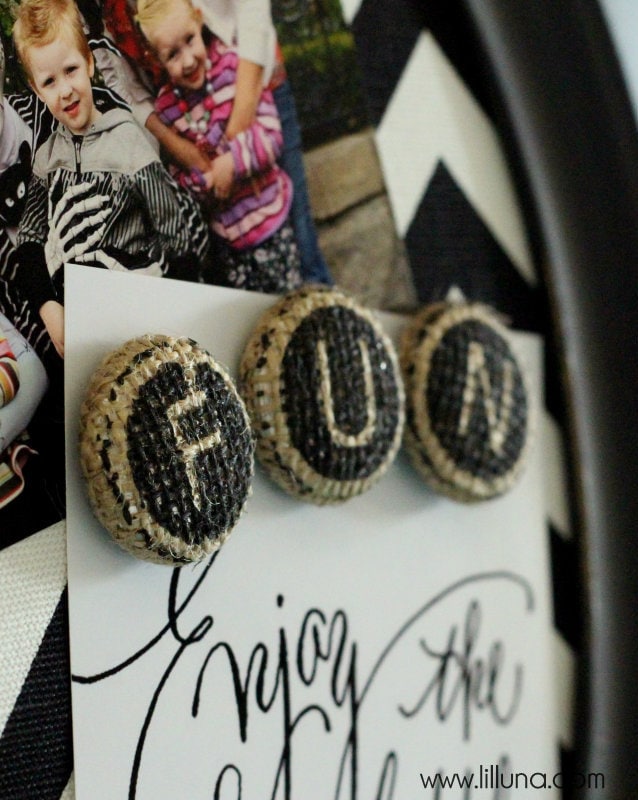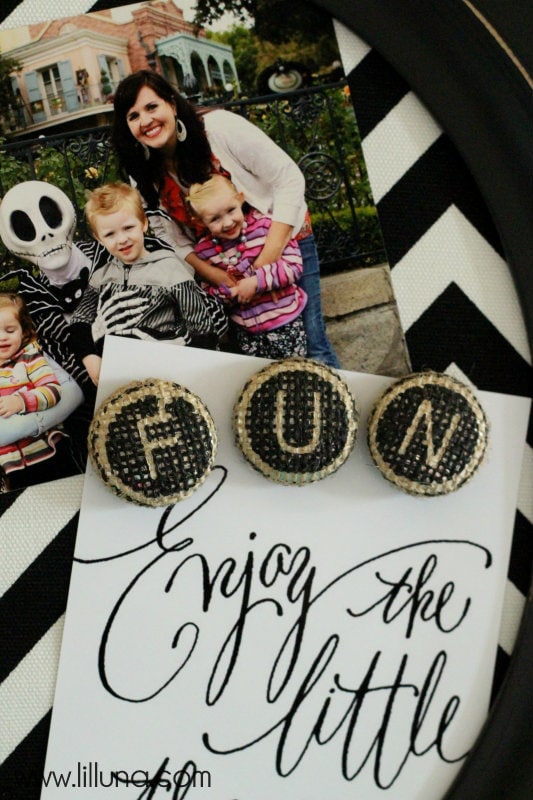 6. Then I hot glued a magnet onto the back of the buttons (We bought these magnets from Michael's.)
I kind of love how it turned out. Super simple but super cute which are the kinds of gifts I LOVE!!
What's best is that the fabric can be changed out according to the seasons, the decor of someone's home or for the event (if you use it while hosting).
I just love cute and inexpensive gift ideas!
For more information about the awesome craft fabric at Michael's be sure to check out their SITE and follow them on Facebook. Michaels.com and Michaels Pinterest Boards feature project ideas that use fabric, including throw pillows,lamp shades, chair seat covers, and bracelets. Laminated burlap, a Michaels limited exclusive, can be fed through most home printers to add personalized messages and images to fabric projects.
SWEET!!
ENJOY!
Disclaimer: I received free product from Michael's for this post. As always, all opinions are 100% my own. 🙂