My family is obsessed with soup. What can I say? The second the weather cools down, we bust out the crock pot and rely on delicious soup recipes to feed us during the cooler months. I think the soups also remind us of the season and the holidays, and we think of them in a loving way. Sounds silly, I know, but it's true. 😉
This next recipe is for Fajita Chicken Chili and is one my mom and sisters tried out back in Arizona. They absolutely loved it and said it would definitely be added to the soup season rotation list. It's filled with so many great ingredients like chicken, tomatoes, beans, avocado and more. With it's great blend of spices and so many great recipes, this recipe is one of a kind and beyond delicious!!
MY OTHER RECIPES
Yes, those avocado cubes on top are just the icing on the cake! OH, AND the tortilla strips. YUM! I honestly think I could have soup every day – it's my favorite!
Fajita Chicken Chili Soup:
Fajita Chicken Chili
Delicious and Hearty Fajita Chicken Chili filled with chicken, beans, tomatoes and more making it a soup the whole family will love.
Ingredients
2 pounds skinless, boneless chicken breast halves, cut into 1-inch pieces
1 TB chili powder
1 tsp. fajita seasoning
½ tsp. ground cumin
2 tsp. minced garlic
2 14½ ounce can diced tomatoes
1 - 16 ounce package frozen pepper (yellow, green, and red) and onion stir-fry vegetables
1 - 15 ounce can white kidney beans, rinsed and drained
3 TB light dairy sour cream (optional)
3 TB shredded reduced-fat cheddar cheese (optional)
3 TB purchased guacamole (optional)
Instructions
In a medium bowl toss chicken with chili powder, fajita seasoning, cumin, and garlic. Spray a large skillet with nonstick cooking spray and place on medium-high heat. Cook chicken, half at a time, in hot skillet until browned on all sides, stirring occasionally.
Place cooked chicken in slow cooker. Add undrained tomatoes, frozen veggies and cannellini beans. Cover and cook on low-heat for 4 to 5 hours or on high-heat setting for 2 to 2-1/2 hours.
Top individual servings with sour cream, shredded cheese and/or guacamole, as desired.
For another great soup recipe, be sure to check out:
Crock Pot Creamy Green Chile Enchilada Soup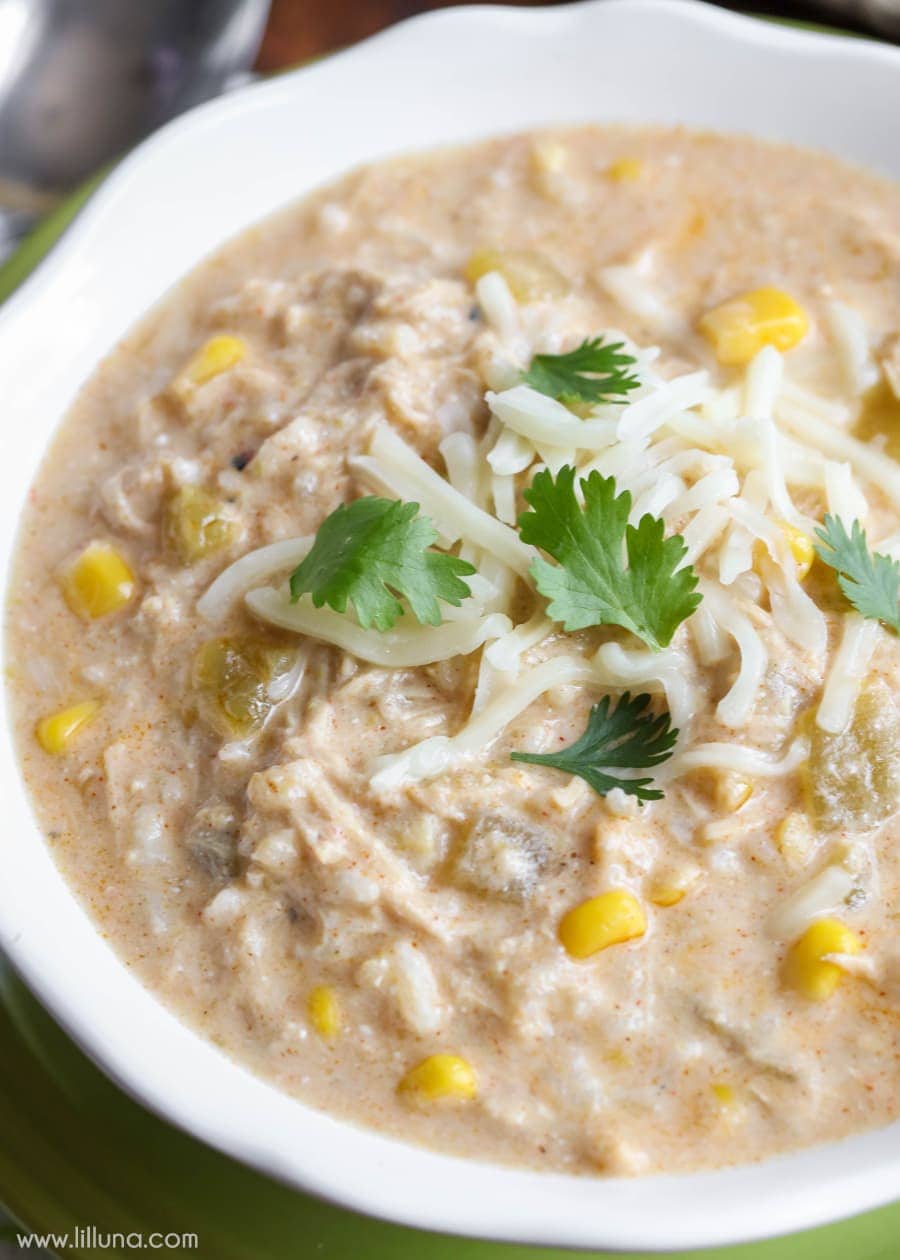 And for more chili recipes, check out:
ENJOY!