Morning Lil Luna readers! This is Sarah visiting you again from Boxwood Clippings. I'm so excited to be here today to share a very easy, very cheap, and very chic centerpiece for your fall enjoyment!
I hope you like it as much as I do! In fact, I kinda surprised myself once it was all finished!
I didn't have a plan; just a color pallet of gold, black and a hint of brown (so hot right now!), and with that I went on a little scavenger hunt around my house to see what would fit the bill. The only thing I bought was a can of gold spray paint to help tie ordinary objects together. It was well worth the $3!
MY OTHER RECIPES
I used leftover Christmas wrapping paper for the runner and hung sprayed leaves from my chandelier for a dramatic effect!
Spraying little glass jars instantly transformed them into glamorous vases. Pine cones, acorns, stones, twigs and feathers all scream fall, so they were a natural fit…naturally!
My point is: you don't have to spend any money to decorate; use what's around you, and at the very most splurge on a can of paint! I hope this inspires you to create your own centerpieces. I'd love to see what you come up with.
To see more of my spur-of-the-moment—almost zero budget—seasonal decorating, see HERE, HERE, HERE, HERE, and HERE!
——————————————————–
Thank you Sarah!! This is beautiful!
Be sure to go to Boxwood Clippings for more fun projects from Sarah, and
for more information about her please go HERE.
For more Fall crafts take a look at these great ideas: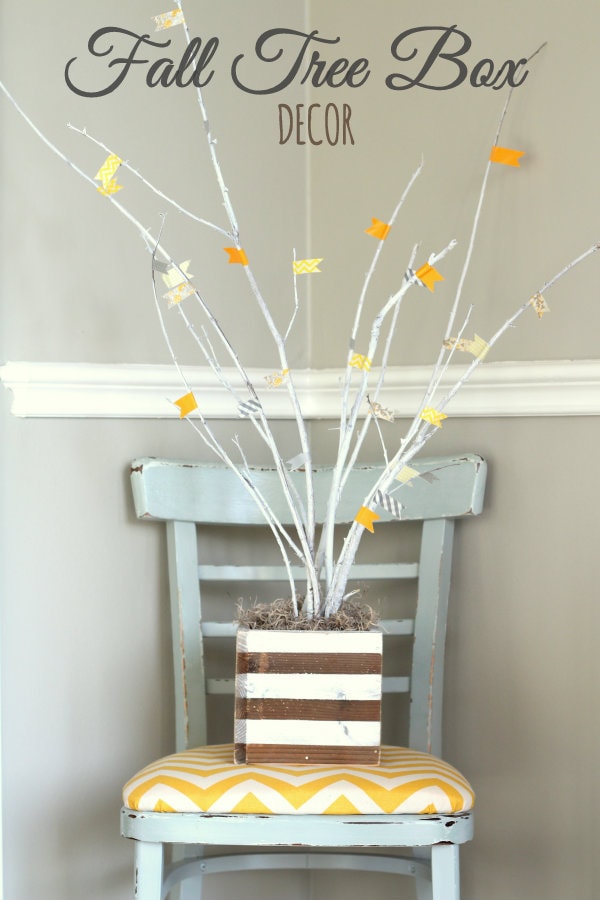 For all Crafts & Tutorials go HERE.
For all Fall ideas go HERE.
And get weekly emails with monthly freebies by signing up for the Lil' Luna newsletter. 🙂
For even more great ideas follow me on Facebook – Pinterest – Instagram – Twitter – Periscope – Snapchat.
Don't miss a thing – Sign up for the Lil' Luna Newsletter today!
ENJOY!