The fall season brings out some of the best comfort food. This collection features all of the best Fall Recipes including soups, salads, appetizers, and even desserts!
More collections: Fall Soups, Fall Salads, Fall Desserts, Fall Dinners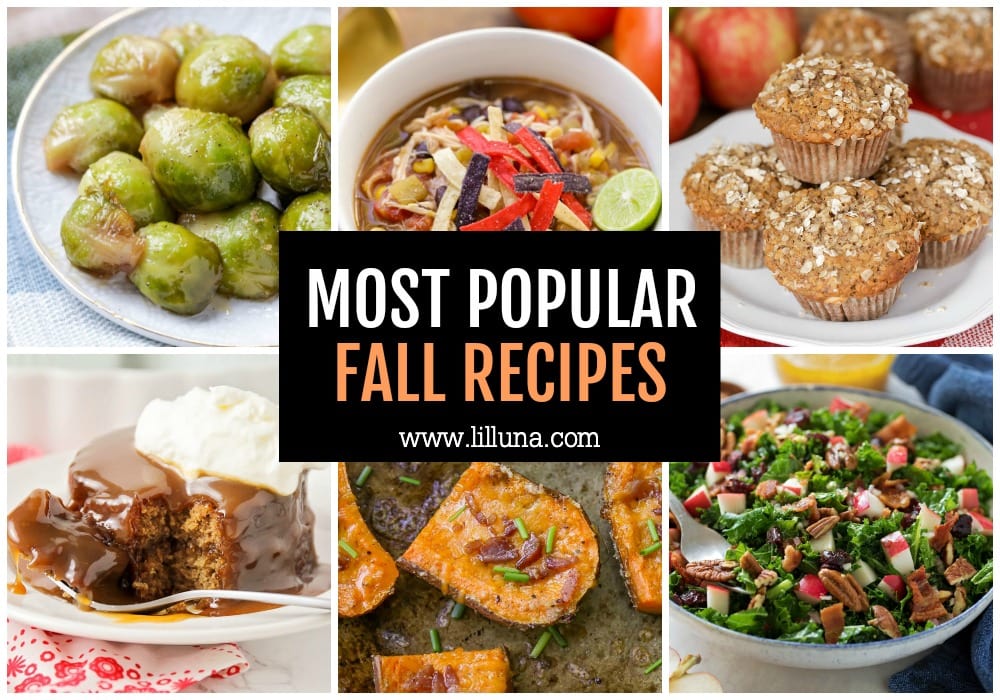 Food that Brings People Together
In the Fall, the light summer salads and outdoor BBQs give way to warm comfort foods that fill your home with delicious aromas and feed your body and soul. That may seem like a tall order, but there's nothing like a warm home cooked meal that brings together family and friends and what's better for the soul than that?!
Speaking of bringing family and friends together, here are a few tips for hosting a Dinner Party in the fall:
When planning the menu think about what produce is in season. So many delicious root vegetables, squashes and fruits are wonderful to cook with.

Plan to serve some items that can be made ahead of time and utilize various methods of cooking such as crock pot, oven, stove top.

Use fall foliage as centerpieces for the table.

Set a simple place setting. Avoid busy patterns on the dinnerware and keep it to a 3 piece set of silverware.

Have background music playing that will help set the atmosphere.

Lighting can also help add to the atmosphere too.

Don't hesitate to allow guests to bring dishes if they offer. 
Each category below contains appetizers, sides, main dishes, salads and desserts that are perfect during the autumn months. Be sure to check out the individual posts for tips and tricks that will help you make the perfect dish.
BEST Fall Recipes
Come Fall, all your favorite comfort foods make their annual appearance. You'll be able to find everything from appetizers to desserts, deliciously healthy, easy to make and everything in between. I know you'll be able to find recipes that will fit a warm family gathering or a quiet cozy evening home. Start making you menu with some of these appetizing recipes:
Healthy Fall Recipes
Warm comfort foods can often be rich and laden with flavorful, but unhealthy calories. Thankfully, that is not always the case. Many dishes can fit the bill of being mouth watering and be healthy too.
Easy Fall Recipes
Just because you're making a warm meal doesn't mean that you have to spend a lot of time slaving away over the stove. Baking casseroles and utilizing your crock pots are two ways to simplify your meal. We've included a few recipe from both categories as well as other quick and easy dishes for you to make:
More collections: Fall Soups, Fall Salads, Fall Desserts, Fall Dinners