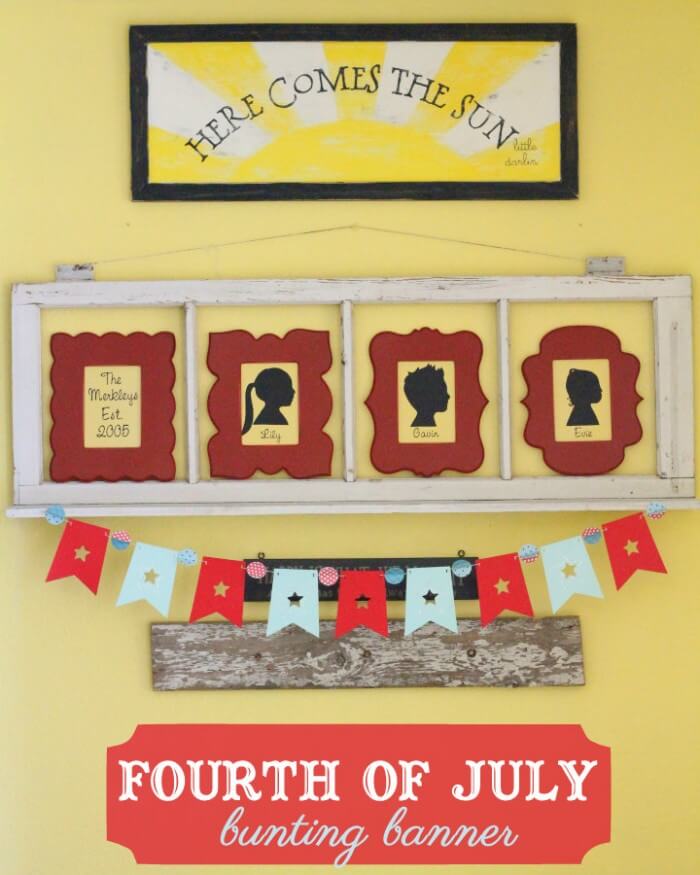 Guess what?!
I got a CAMEO!!
I cannot tell you how excited I was to get it. I finally busted it out and made my first creation, and I can't wait to share it with you.
But before I do I want to make sure you know of an awesome Silhouette Promotion going on right now!
That's right! You can get the Silhouette CAMEO + Rhinestone Starter Kit for $269.99 (a $70 SAVINGS) when you use promo code: LUNA
And if you already have the CAMEO you can get the Rhinestone Starter Kit for $29.99 (a $10 SAVINGS) when you use promo code: LUNA
Here is what the Starter kit includes:
2 sheets of rhinestone template material
2 sheets of transfer tape
2 backing boards
rhinestone positioning brush
400 10ss clear rhinestones
400 10ss black rhinestones
400 10ss pink rhinestones
exclusive download card good for 10 rhinestone templates and a rhinestone alphabet
idea booklet and instruction guide
instructional DVD
To purchase please go
HERE
and use Promo Code: LUNA
Promo ends June 28th, 2012.
I loved using the Rhinestones and although I wanted to put them on Fabric I decided to use them on a Paper Craft.
Seeing as I'm a little obsessed with banners (if you don't believe me you can check out my Valentines, Easter, St. Patrick's Day and Christmas ones), I thought it only fitting to make a Fourth of July Banner as well.
Here is how it turned out: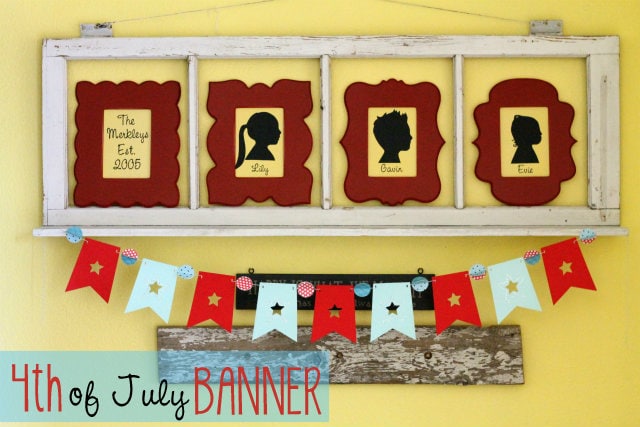 It was super easy and fun to do!!
DIRECTIONS:
1. Begin by cutting out your bunting shape. I went with a pennant and added the star in the middle. I did 5 red and 4 turquoise.
2. From there I cut out my Rhinestone shape. I went with the star to go around the punched star in the banner. Be sure to cut it with the green side facing up. From there you will peel off the Rhinestone paper, doing it pretty quickly or some of the circles may stay and you will have to peel them off manually. Add that piece to your backing board (the thick white cardstock). From there you will pour out your rhinestones and using your Rhinestone Positioning Brush, you will go in a circular motion pushing the rhinestones into place, making sure the rhinestones are right side up. You may have to help a few in… I did. 🙂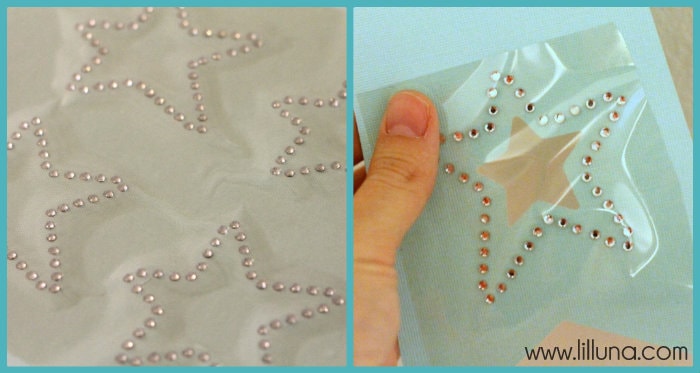 3. From there you will add your rhinestone adhesive tape on top. Press down firmly to make sure all your rhinestones stick. Peel that off and add to whatever you are putting the jewels on. I put mine on my paper. Then I placed a piece of scrap fabric over top and ironed on Medium Heat for about 45 seconds. I peeled off the adhesive and Voila – the rhinestones stuck on like magic!!!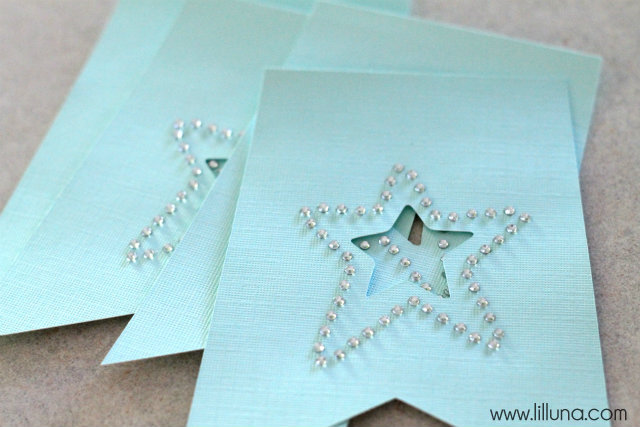 They were the perfect touch for my paper banner! I only added the rhinestones to my blue pieces.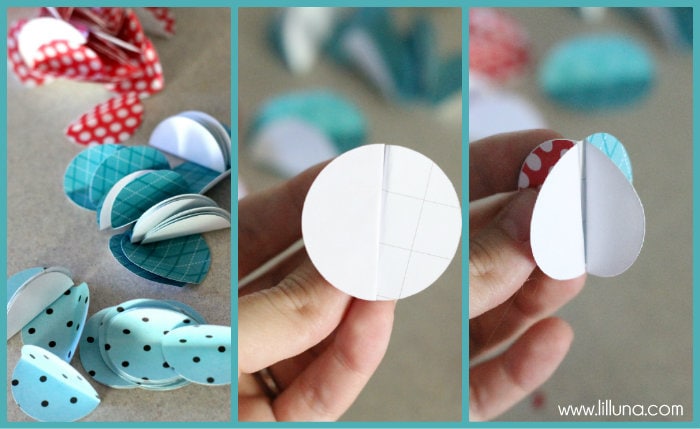 4. From there I used the CAMEO to cut out 1.5 inch circles from scrapbook paper. I made little poms to go in between the pennants on my banner. After cutting out the circles, I folded them in half and hot glued two of them together. I hot glued the third piece but left it open. From there I hot glued all over and stuck it to my twine which is where the pennants were already on. I did this making sure the spacing was right and after all my pennants were already on the twine.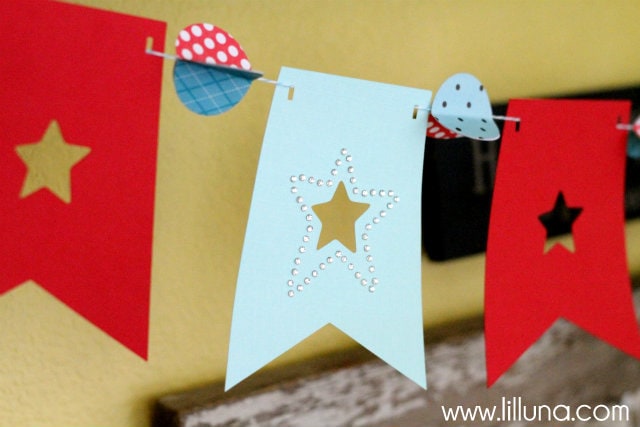 5. The paper poms helped with the spacing and gave it a little 3-D effect.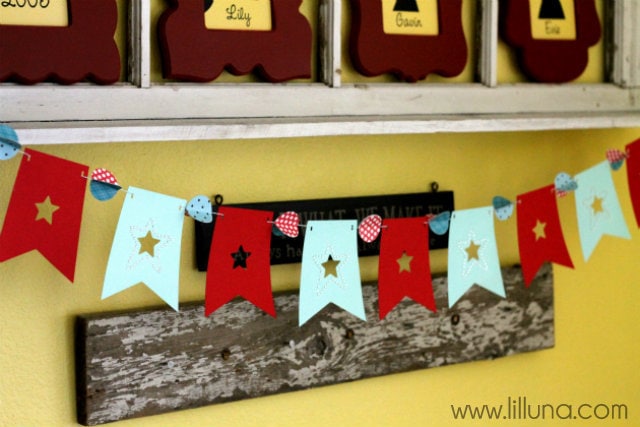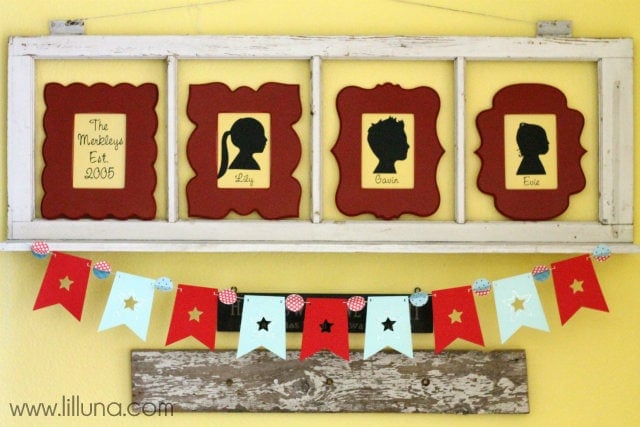 I love how it turned out!! The Red, White and Blue and stars and sparkle make it the perfect Fourth of July Banner!!
And here is the link for the Bundle discount one more time. 🙂
For more Fourth of July craft ideas be sure to check out: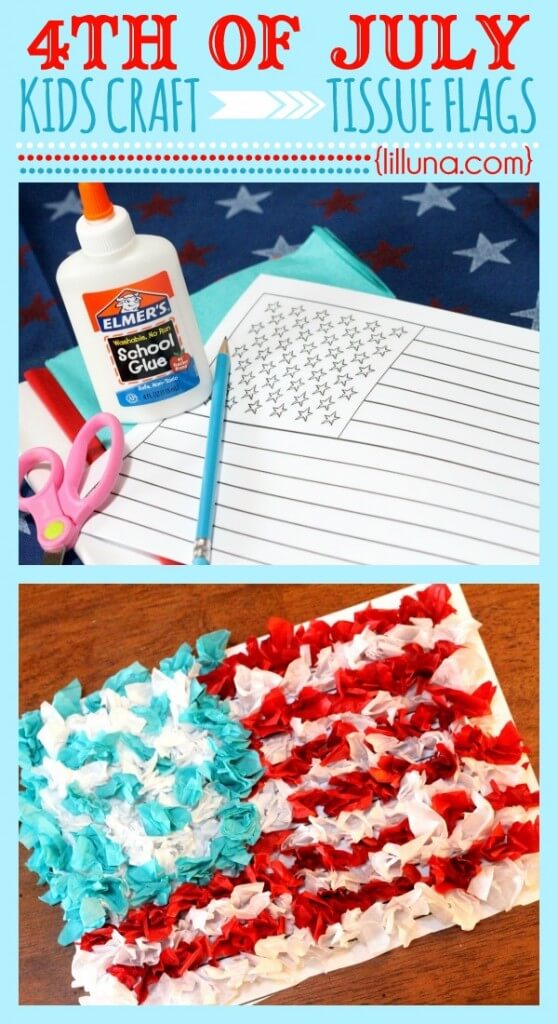 Fourth of July Fireworks Favors
For all Fourth of July ideas go HERE.
For all Crafts & Tutorials go HERE.
And get weekly emails with monthly freebies by signing up for the Lil' Luna newsletter. 🙂
For even more great ideas follow me on Facebook – Pinterest – Instagram – Twitter – Periscope – Snapchat & YouTube.
ENJOY!
PS – I will do a post about the window and frames real soon. I just am OCD and think the red frames are too dark and I want to re-paint them first – LOL! 🙂