Hi everyone! Rebekah here from A Blissful Nest, a lifestyle and entertaining site. I am so excited to share with y'all our newest party! Ever since having my little one, I have adored setting up parties for her and her friends. This year we styled a Americana party perfect for Memorial Day or the 4th of July. Using the classic red, blue and white color scheme, we popped in burlap and natural color elements to give it a classic rustic feel.
This table is so easy to recreate! Using paper fans from Target and Party City, I just glued them onto foam core and tied the board onto the front of the table apron. Then I laid a piece of burlap over the top of the table for a runner and you're done!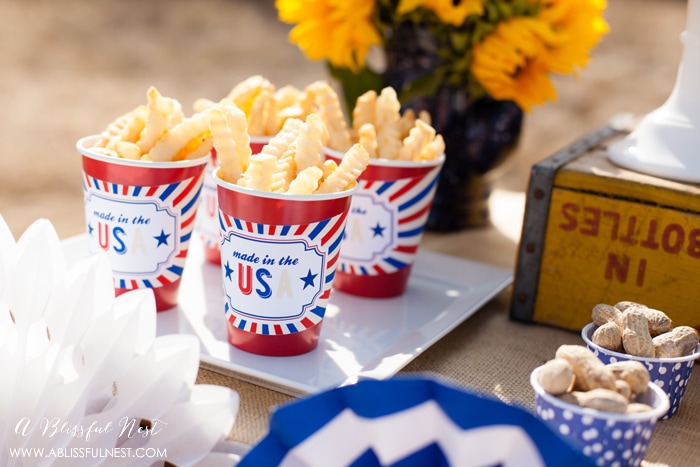 I am a huge fan of keeping my food selections simple. There is so much going on before a party that I don't have a whole lot of time to bake. Here is our menu that will help you keep it simple!
-Hot Dogs
-French Fries
-Peanuts
-Sugar Cookies (we dyed ours to match the party)
-Layered cake dessert
-Watermelon Stars
-Popcorn
-Misc. festive candy to match your party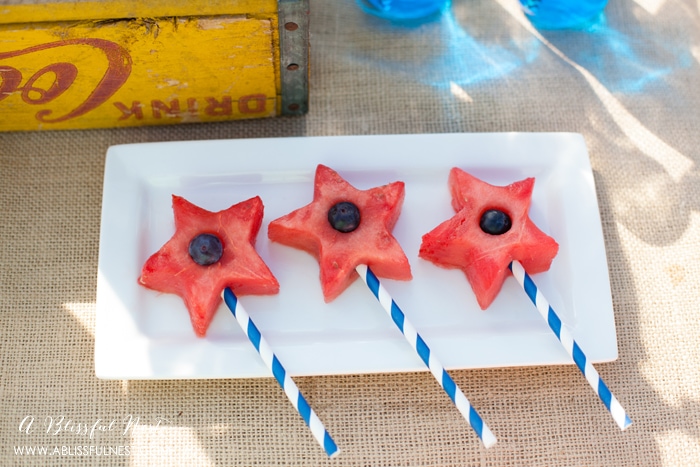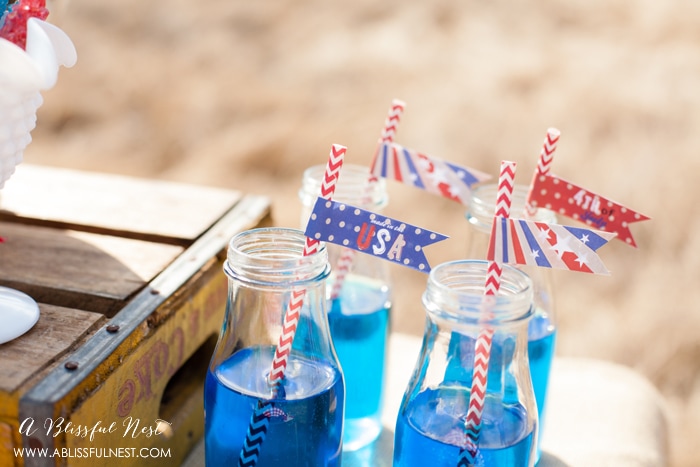 One of my favorite things to do is color my water or milk for a party with food coloring. The kids are so excited to drink the mystery drinks and topped with some cute straws and flags pulls all the decor together.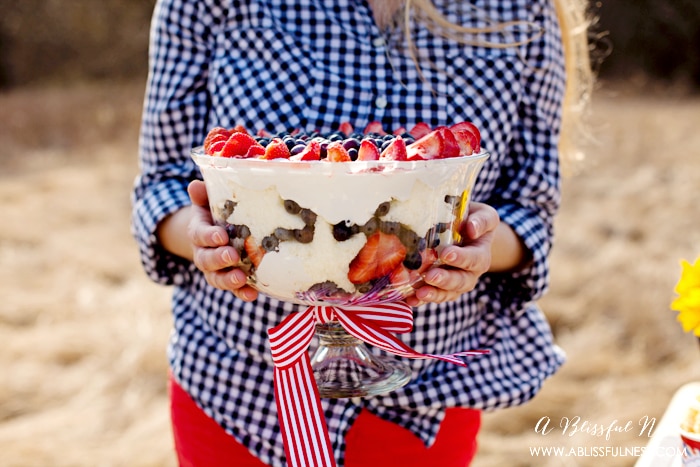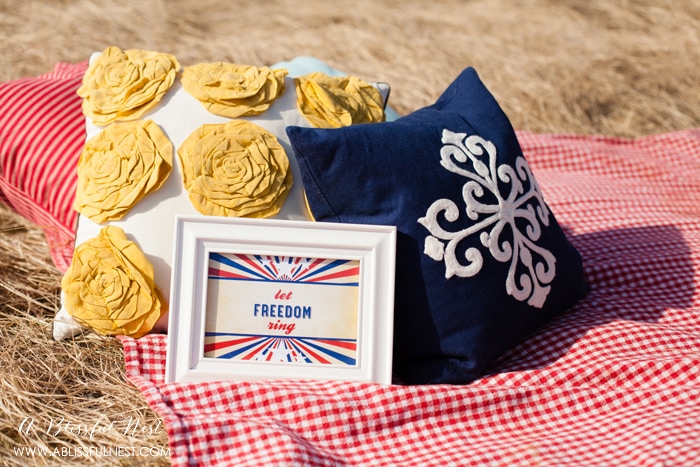 I also created a little area for the kids to rest. These kids get tired from all the running around, so I laid out a blanket and some pillows from the house. They love when they have spots created just for them!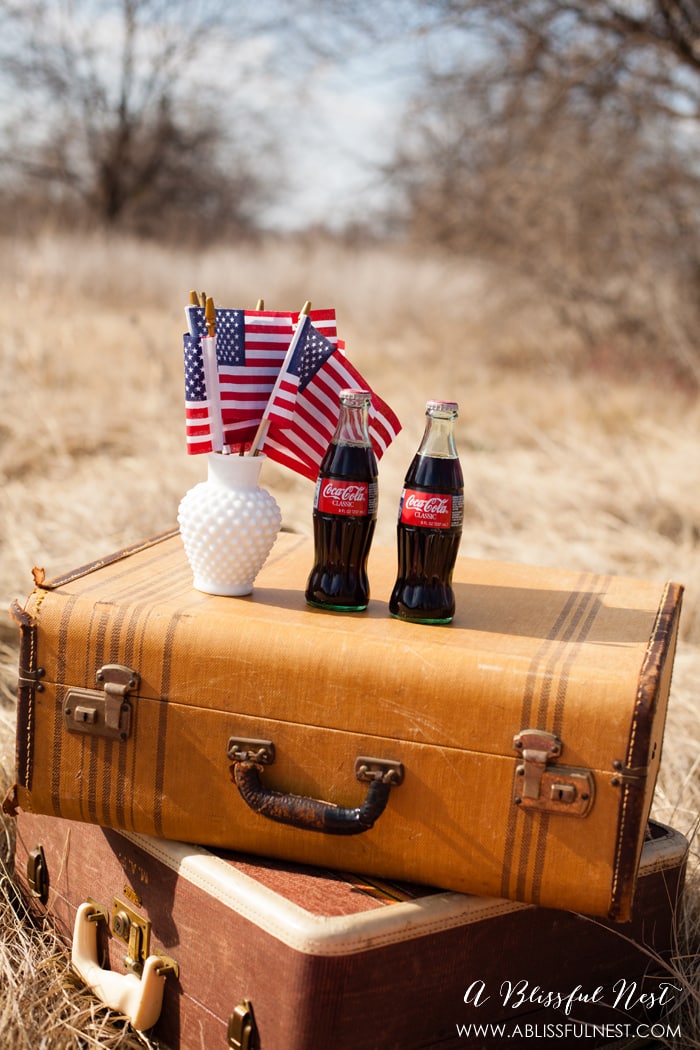 A jar of flags perched on some old suitcases act like mini tables – the perfect height for little hands.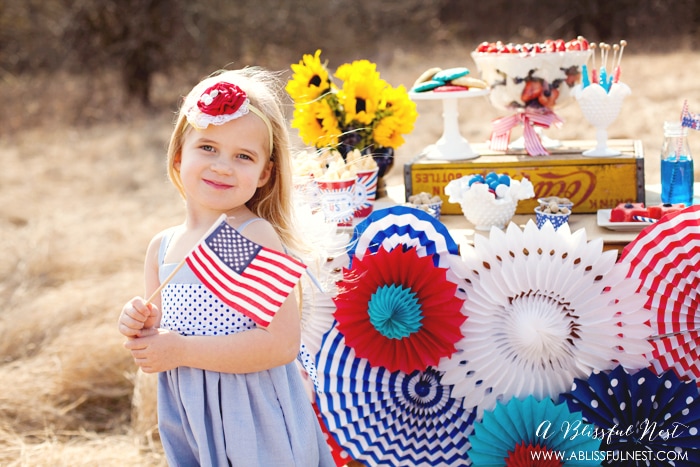 TO DOWNLOAD:
I hope you enjoyed our red, white and blue party and we would love for you to recreate your own! Enjoy the full party printable decor and download the printables HERE!
Our sweet vendors in this party: Styling/Decor – A Blissful Nest; Photography – Alyssa Maisano; Candy- Candy Galaxy; Girl's Striped Dress – Ava Rochelle Designs; Herringbone Dress – Sneaky Pea ; Girl's T-Shirt Floral Dress – Willow Bee Apparel; Girl's Headbands – Jameson Monroe
——————————————————————-
Oh my – I'm in love. What an adorable shoot! Beautiful ideas, prints, kids – you name it!
THANK YOU, Rebekah! I LOVE it, and I will be using the prints myself this year for our Independence Day celebrations. 🙂
For more great ideas from Rebekah, be sure to visit her at A Blissful Nest.
For some great Fourth of July Treats to add to the festivities, be sure to check out: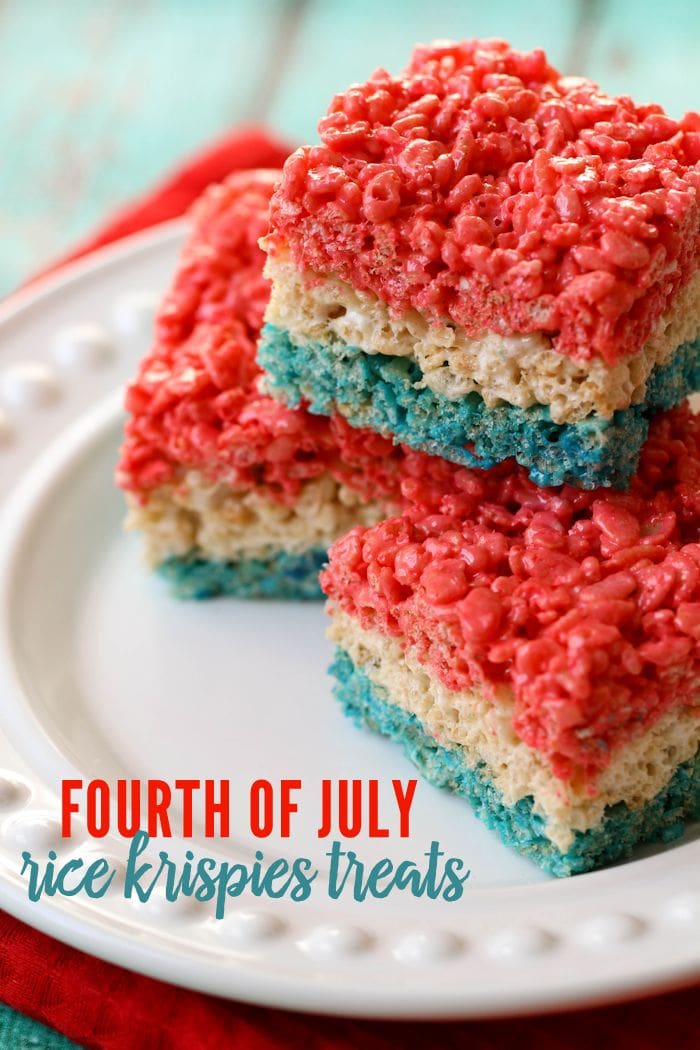 ENJOY!