Hi everyone!! Hope your day is fantastic! If not, I've got a great recipe for you that might just change that. I don't know about you, but chicken is one of those foods that we always have on hand. It can get old though, if you do the same boring recipe over and over. Fortunately, we found a great recipe for Garlic Lemon Double Stuffed Chicken (from Allrecipes) that is a great way to change up your boring chicken dish. Crunchy on the outside and tender and creamy on the inside. Each breast is stuffed with cheddar cheese and cream cheese making it so flavorful and cheesy. I mean, can chicken get any better when it's stuffed with cheese and coated in bread crumbs?? I think not!!
Even though there are several ingredients, this recipe is very simple and doesn't take long to put it together. We want to change it up and try adding different cheeses in the middle next time and maybe a little of our favorite veggies – maybe tomatoes or asparagus?! No need to change it at all though because it really was great and is perfect for the chicken lover.
Here are a few process shot to help you make this baked chicken recipe:
Stuffed with cheddar and cream cheeses.
Coated and ready for some butter!
Melted butter drizzled on top!
Baked to perfection!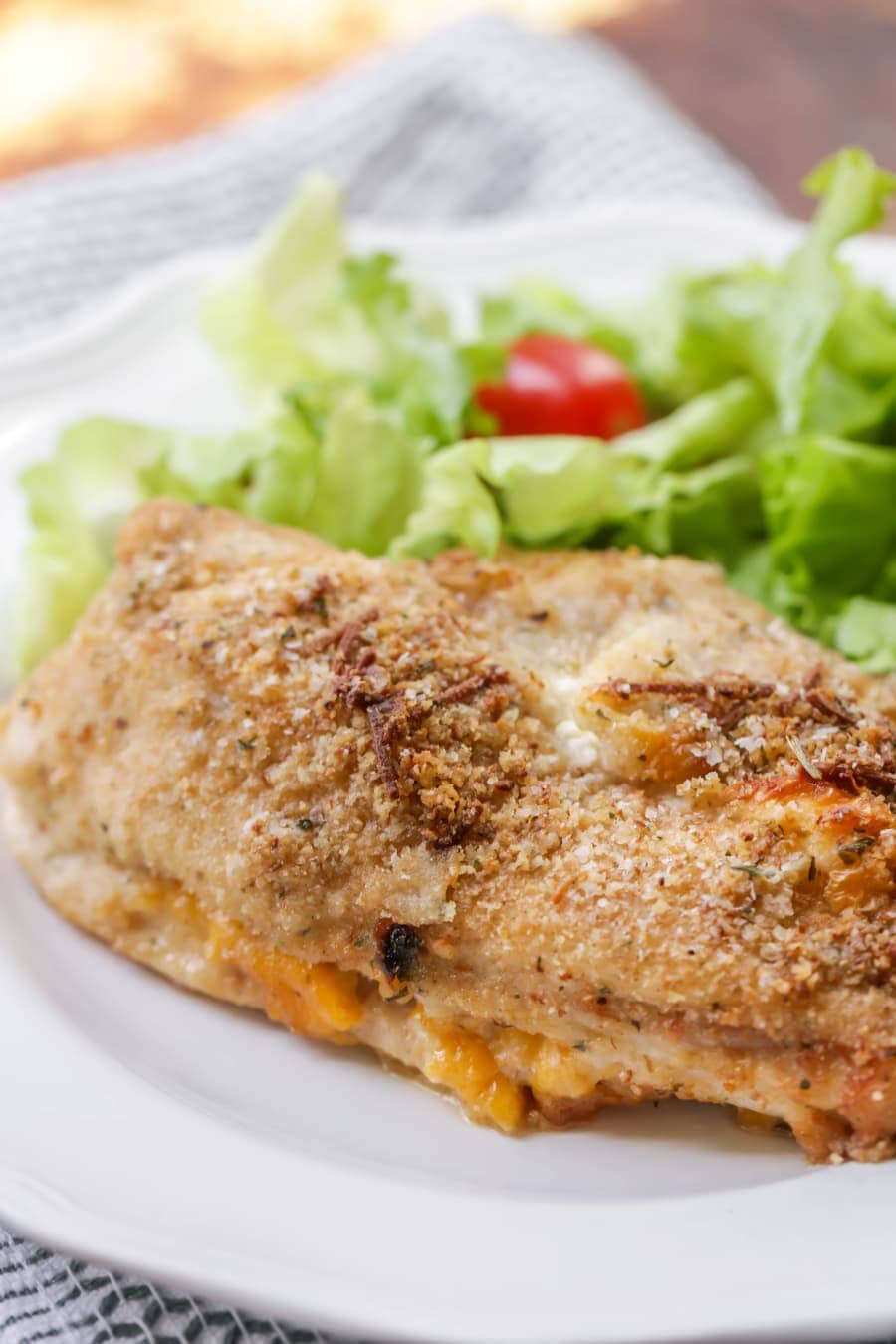 We all know chicken can be perfect for an easy dinner idea. This recipe requires a few steps but is simple and the result is so delicious. Give it a try and let us know what you think. 😉
Garlic Lemon Double Stuffed Chicken: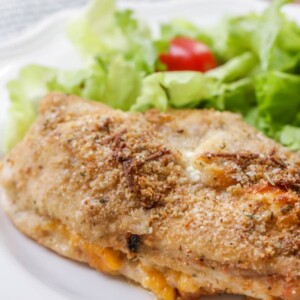 Garlic Lemon Double Stuffed Chicken
This garlic lemon double stuffed chicken is so flavorful & cheesy with a nice little crunch from the bread crumbs!
Ingredients
oil

to grease pan

8

boneless skinless chicken breast halve

8

oz

cream cheese

cut into thin strips

8

oz

cheddar cheese

cut into 1/2 inch slices

1

cup

milk

1 1/2

cups

Italian seasoned bread crumbs

1/2

cup

romano cheese

grated

1

tbsp

minced garlic

3/4

cup

butter

melted

2

tbsp

lemon juice

1/2

tsp

garlic salt

or to taste

1/2

tsp

paprika

(optional)
Instructions
Slice each chicken breast in half horizontally through the center, cutting almost but not completely through. Place one slice of cheddar and one slice of cream cheese inside the center of each breast. Close and set aside.

Combine breadcrumbs and Romano cheese in a shallow bowl. Pour milk into a separate bowl. Carefully dip each breast first in milk, then in the breadcrumb mixture, lightly patting crumbs to coat. Place chicken side by side in a shallow baking dish, coated with oil. Be sure to tuck open edges of chicken to seal.

In a small saucepan over medium heat, melt your butter. Stir in lemon juice and garlic. Drizzle evenly over chicken and, if desired, top with garlic salt and paprika.

Bake at 350 for 30 minutes. Serve warm.
Adapted from Allrecipes.com
Here are more delicious chicken recipes:
ENJOY!