PHILADELPHIA compensated me for this post. As always, all opinions are 100% my own.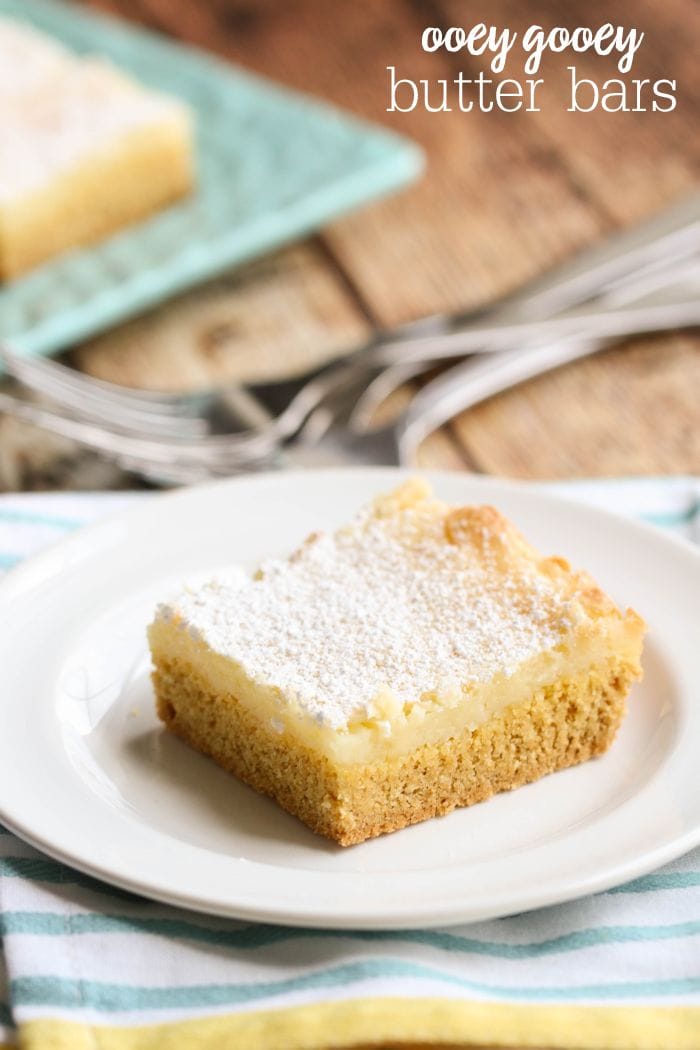 Do you have "go to" recipes you use all the time? This next one is one of those. I almost always have Cream Cheese and Cake Mix on hand, and I know this next recipe is good and easy, so it's one I turn to often in time of need. It's called Gooey Butter Cake. It is so easy to make and always get devoured, so I make it quite often. I even recently made a Strawberry version and can't wait to share it with you!
The added Powdered Sugar on top just makes them that much better! I will admit that everyone thinks that are lemon bars at first, but these are more cake batter flavored and so irresistible. What's great about them is they can be made with any cake mix which totally changes up the flavor!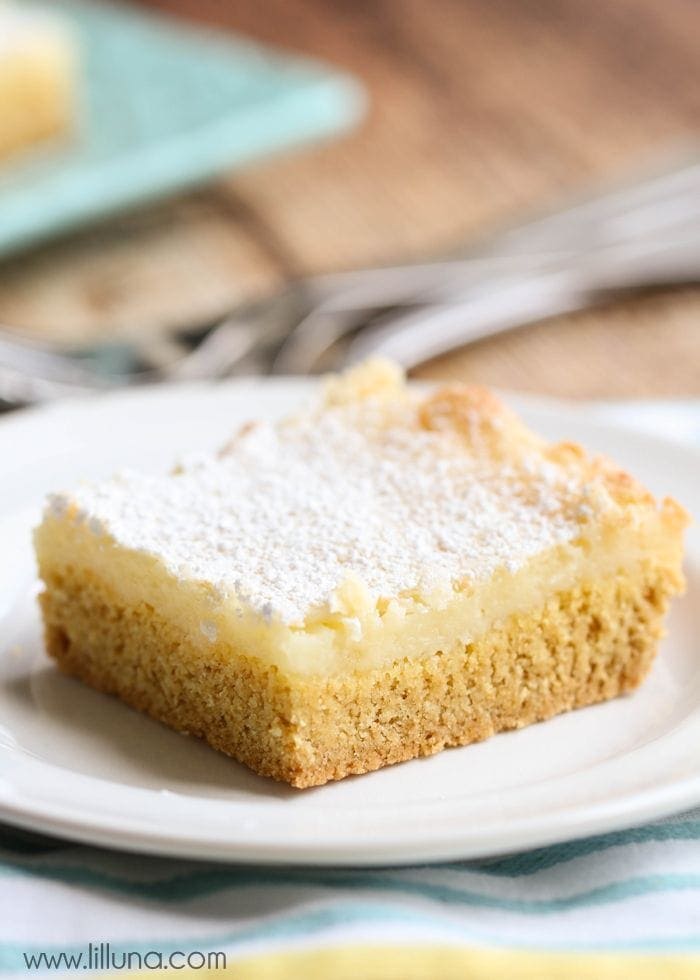 And with sharing this yummy recipe I used making PHILADELPHIA Cream cheese, I wanted to make sure you knew of a campaign they are running right now that is called "6 Days to Delicious", but to begin I must say how much we love PHILADELPHIA Cream Cheese!
They use four fundamental standards to ensure high quality and that famous taste:
Fresh local milk and real cream – Only milk from farmers that are local to where the cream cheese is made is used.
Farm to fridge in six days – Whether it's their creamery in Beaver Dam, WI or Lowville, NY, that local milk is turned into cream cheese and refrigerated, all in just six days.
Preservatives are limited – In fact, there are no preservatives found in the cream cheese brick varieties!
Use of real ingredients – Their flavor varieties use real ingredients such as crisp, fresh jalapenos and crunchy pecans, to delivery the best tasting product out there.
PHILADELPHIA cream cheese understands that people want to know exactly what's going on their plate and into their bodies, which is why they never compromises their standards when making rich and luscious cream cheese. This is why PHILADELPHIA created their new video campaign "6 Days to Delicious," which takes you through its one-of-a-kind cream cheese creation, showing consumers how it's made using only the freshest and highest quality ingredients from the best sources, from the farm to our fridge in just six days. PHILADELPHIA always uses milk sourced from dairy farmers local to where the cream cheese is made, and combines it with real, wholesome cream to create a deliciously fresh tasting cream cheese. Now that's fresh!
6 DAYS TO DELICIOUS VIDEO:

PHILADELPHIA is not only passionate about creating high-quality cream cheese but also about helping those in need. This year, they have partnered with national child hunger charity Share Our Strength. For every brand video shared via Facebook or Twitter, PHILADELPHIA will donate $1 to Share Our Strength and their No Kid Hungry Campaign. Every dollar donated to No Kid Hungry can help connect a child in need with up to 10 meals. How great is that?!
By sharing this video via Twitter or Facebook, $1 will be donated to Share Our Strength (up to $50,000)!! Such a great cause, so I encourage you to share it! 😀
Would love for you try this recipe and let us know what you think!
For more gooey recipes, check out:
How to make Gooey Butter Cake: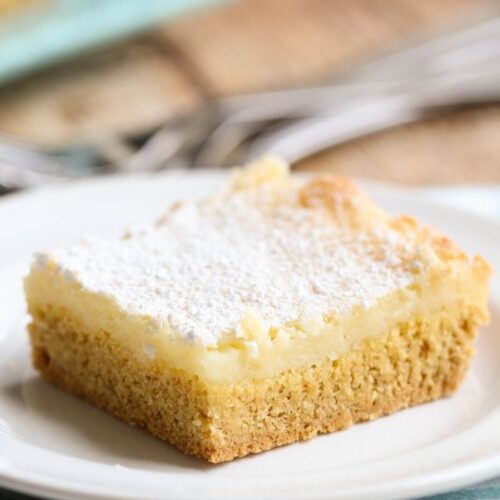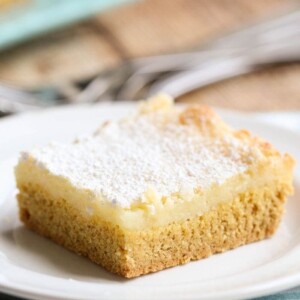 Gooey Butter Bars Recipe
Ooey Gooey Butter Cake - yes, please!! An easy dessert that melts in your mouth - made with a yellow cake mix, powdered sugar, and cream cheese!
Ingredients
1

box

yellow cake mix

1

egg

1/2

cup

butter

melted

8

oz

PHILADELPHIA Cream Cheese

2

eggs

beaten

2

cups

powdered sugar

powdered sugar

to sprinkle
Instructions
Grease a 9x13 pan and turn oven to 325.

Blend cake mix, 1 egg and butter until smooth. Press into your greased 9x13 pan.

Blend cream cheese, 2 eggs, and powdered sugar until creamy and smooth. Spread over your the first mixture in your pan.

Bake at 325 for 40-45 minutes or until edges are golden brown (middle may sink in a bit).

Top with powdered sugar and ENJOY!
BEHIND THE SCENES AT LILLUNA.COM: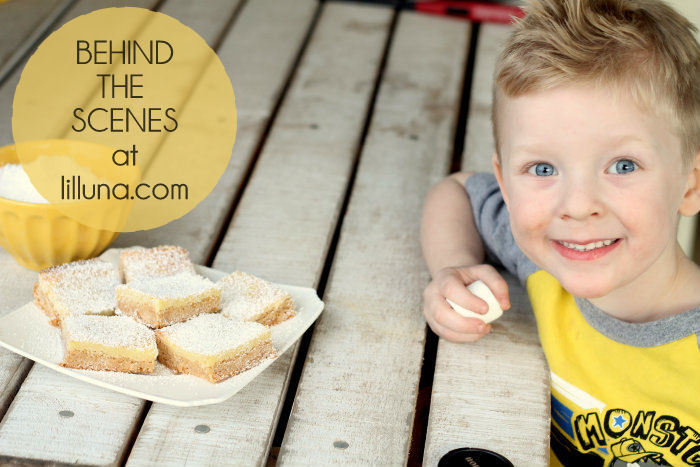 {My little man who was anxiously awaiting to have a Gooey Butter Bar}