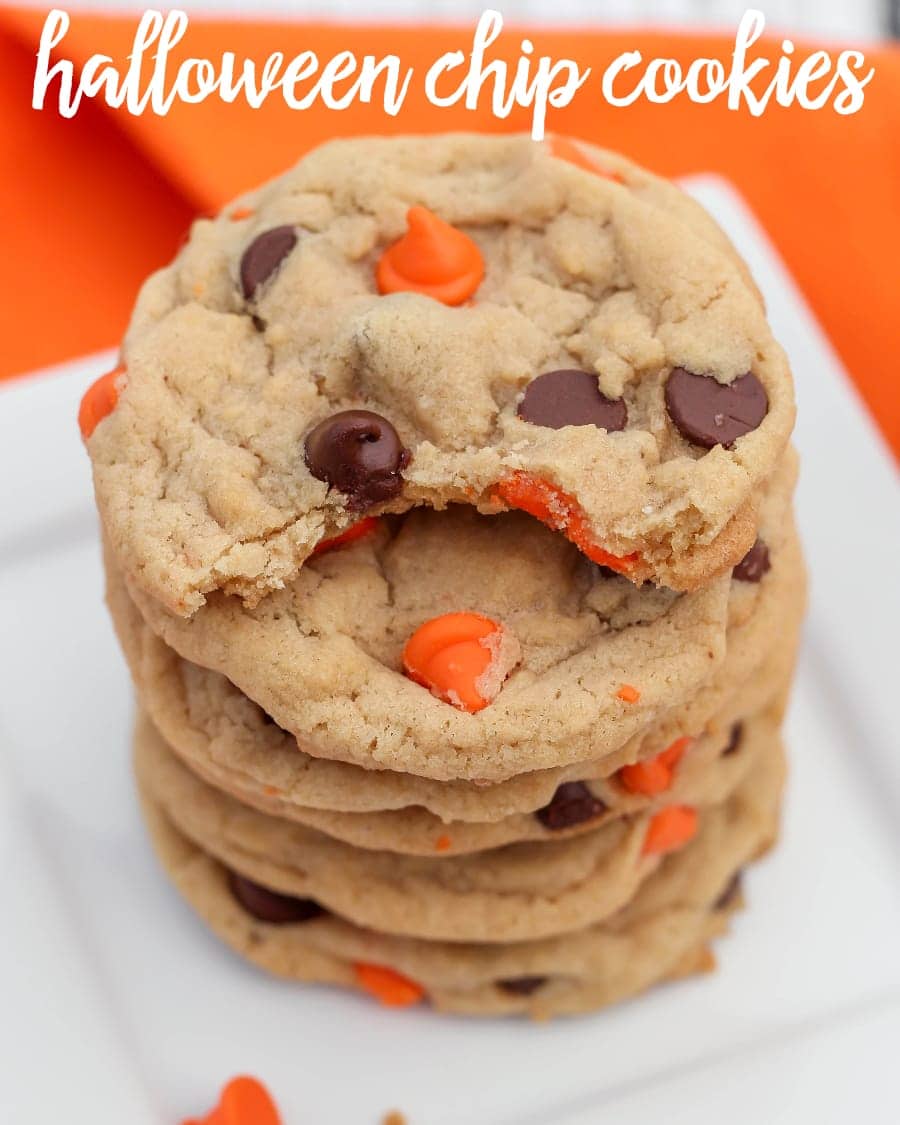 One of my favorite things to do is to go to the store and find inspiration for upcoming crafts, decor ideas and recipes. I usually don't go to the store just for inspiration but are always on the look out for items to create with. The hubby think it's a little crazy, but I can't help myself anymore. 🙂
You better believe then that when I saw some Halloween Chocolate Chips from Nestle I had to buy some. I mean, how could I not use them to make some Halloween Chocolate Chip cookies, right?! Lily was super excited as well and with no school on Monday she asked if she could have some friends over to play and to make cookies. I thought that it sounded like a great idea!
Although, I absolutely love the cookie recipe I use ALL the time, I thought I'd change things up and try a new one. My sister suggested I try using this one, so I did.
The cookies tasted absolutely delicious. The recipe claims that they are the perfect Chocolate Chip Cookie. I don't know if I agree with that 100% just because I still love my go-to cookie recipe, but they were pretty darn close to being there. The recipe requires that you chill the dough so I feel like it may be a little more work than the recipe I always use, but like I said, they ended up tasting SO yummy!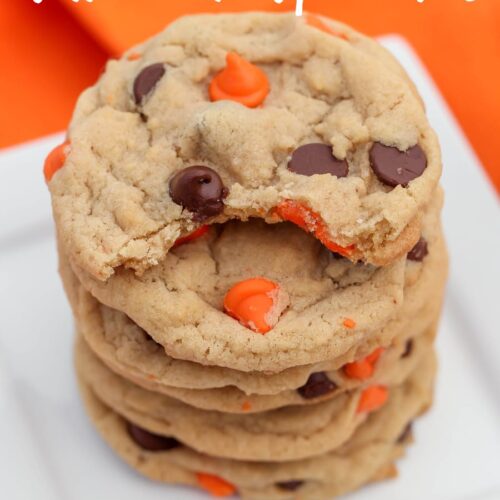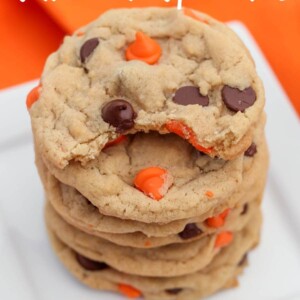 Halloween Chocolate Chip Cookies
HALLOWEEN Chocolate Chip Cookies - easy, festive and delicious!
Ingredients
Instructions
Preheat oven to 350. Mix flour, salt and soda in a bowl and set aside.

In your mixer, cream butter and shortening together. Add sugars and mix well.

Add eggs and vanilla until fluffy.

Add your chocolate chips and mix well but do not overmix.

Add flour/salt/soda mixture until it is all combined.

Scoop dough onto a greased baking sheet and refrigerate for 30-40 minutes.

Bake at 350 for 8-10 minutes. ENJOY!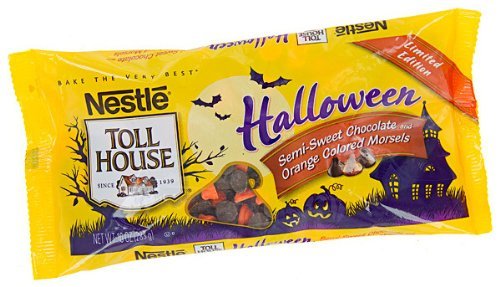 I found these chocolate chips at Target with the baking items in the Halloween section.
If you are unable to find and still want to use them I also found them on Amazon:
Nestle Toll House Halloween Semi-sweet Chocolate and Orange Colored Morsels Limited Edition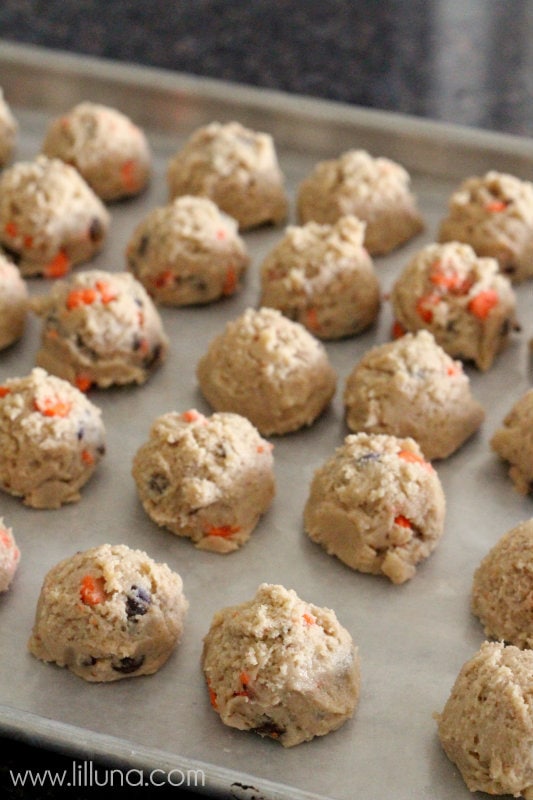 Since the dough had to be chilled, I went ahead and used my Cookie Scoop

(I always use my scoop and never roll by hand) and placed them all on a wax paper-lined jelly roll pan. It made 3 dozen exactly and I would just take it out and place a dozen scoops onto a greased cookie sheet as I went.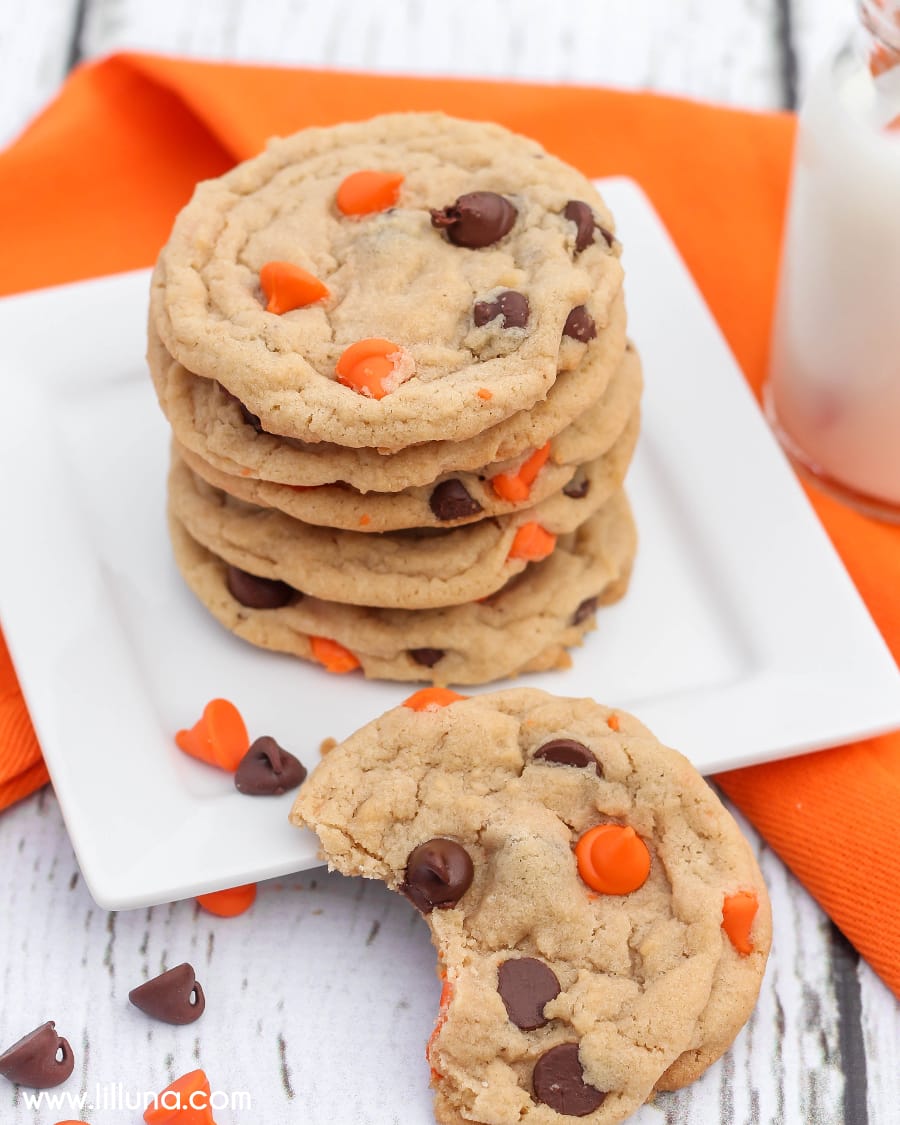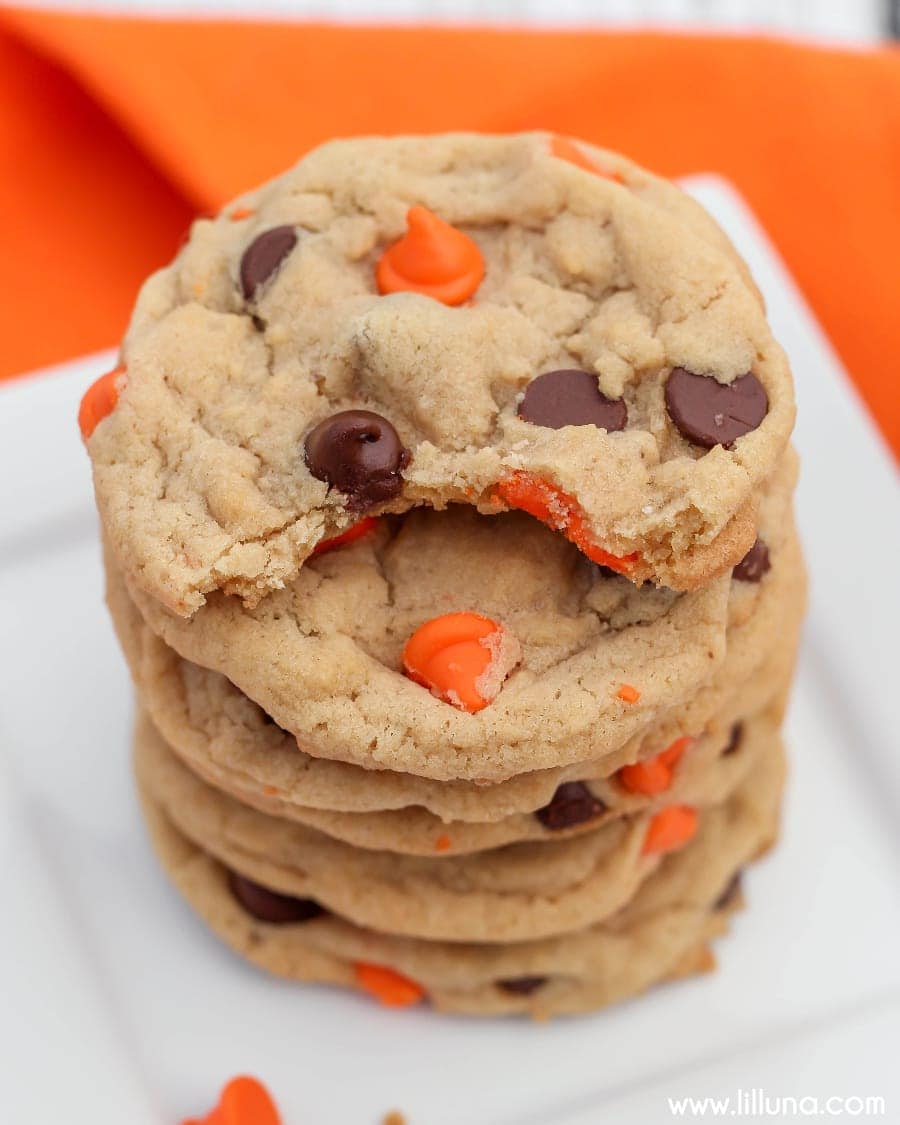 The kids absolutely LOVED the cookies! The chips don't taste any different from semi-sweet and white chocolate chips, but are simply more festive. My only complaint about the chips was that they were a tad melted and stuck together in the package but that's how they were at the store. I'm guessing it's due to the fact that it's HOT in Houston. 😉
If you're looking for more yummy cookies perfect for Halloween be sure to check out: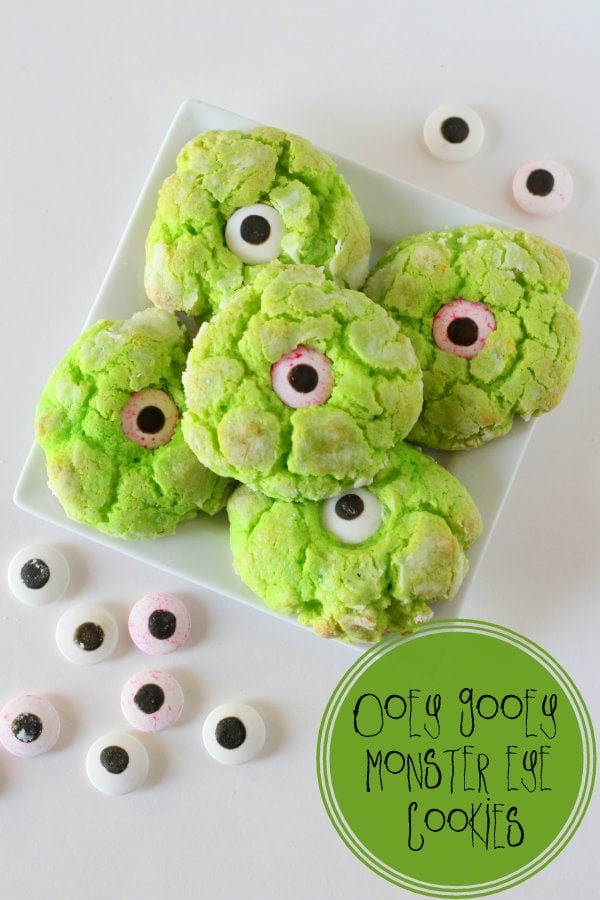 White Chocolate Candy Corn Cookies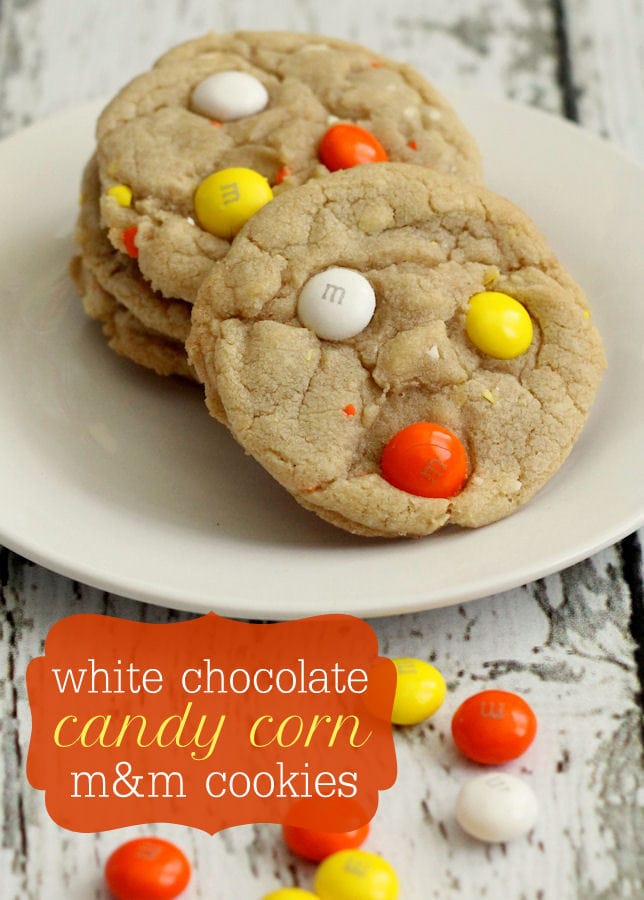 White Chocolate Pumpkin Spice Snickerdoodles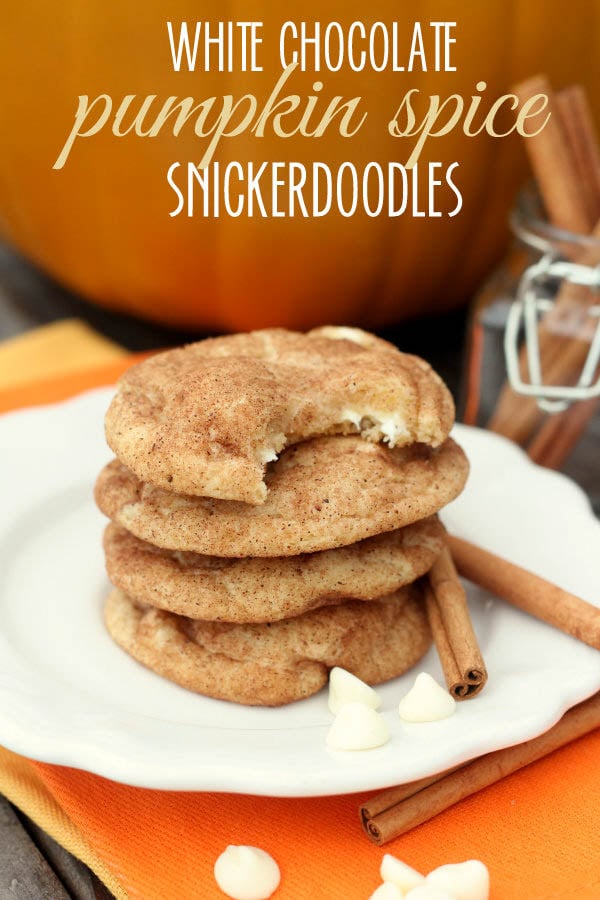 For all Halloween creations go HERE.
For all Lil' Luna recipes go HERE!
And get weekly emails with monthly freebies by signing up for the Lil' Luna newsletter. 🙂
For even more great ideas follow me on Facebook – Pinterest – Instagram – Twitter – Periscope.
ENJOY!
BEHIND THE SCENES AT LILLUNA.COM: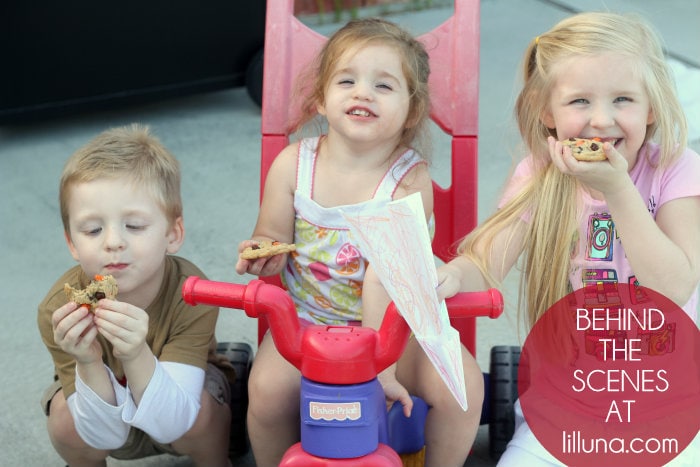 Kid-Approved!! These cookies were the perfect treat for Family Night!