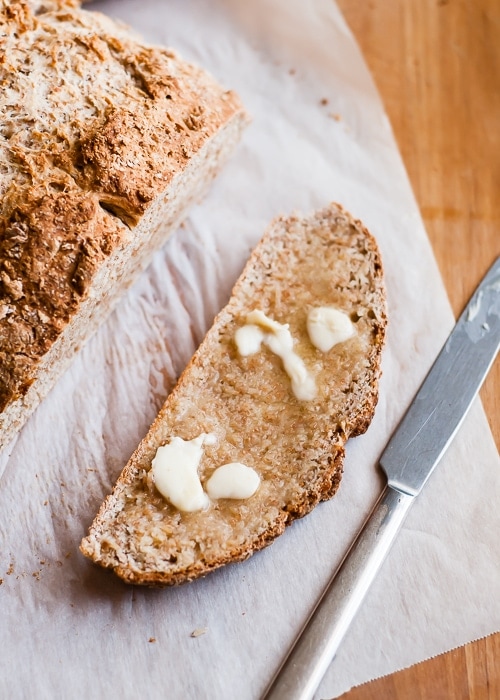 Hi there! I'm Lindsey Johnson from Cafe Johnsonia. I am a freelance food photographer and stylist, writer, and recipe developer. I live in the beautiful Mountain West with my husband and three kids. I post mainly recipes with the occasional how-to or DIY thrown in. I also write for Babble, Design Mom, Henry Happened, and a few other sites. I live and breathe blogging and I love it!
I also love the month of March. It signals the end of winter and ushers in the newness of spring. That's something I can get on board with. St. Patrick's Day has always been one of my favorites. We're not Irish, but we always celebrate it and cook up something delicious. A few years ago we lived in a town where St. Patrick's Day was a big deal. I'm talking parades, parties at school, store displays full of decorations, and big stacks of corned beef at the market. Near the end of February and beginning of March we'd start also to see Irish soda bread popping up in the community at bakeries and at friends' homes. There was a set of Irish triplets at our neighborhood school who would sell their mother's famous soda bread to teachers and classmates. That was some legendary soda bread! We always bought a loaf or two. We don't live on the East Coast anymore and there's aren't parades or store windows full of St. Paddy's Day decorations, but we still make soda bread and other Irish favorites during the first half of the month.
In my never-ending effort to add more nutrition into our daily meal, I have started making Irish soda bread with whole wheat flour. I'm actually gluten-free, but my family is not, and I still enjoy making this for them. Irish soda bread is one of the easiest breads you can make. Typically it's four ingredients – flour, salt, baking soda, and buttermilk. I changed it just a bit by adding a little honey for a bit of sweetness. My kids love it as an after school snack, warm from the oven, with a pat of melted butter. It's also great the next day toasted with jam and a cup of herbal tea. And we don't just make it in March. It's a favorite all year long.
Honey Whole Wheat Irish Soda Bread
By Lindsey Johnson
Honey Whole Wheat Irish Soda Bread Recipe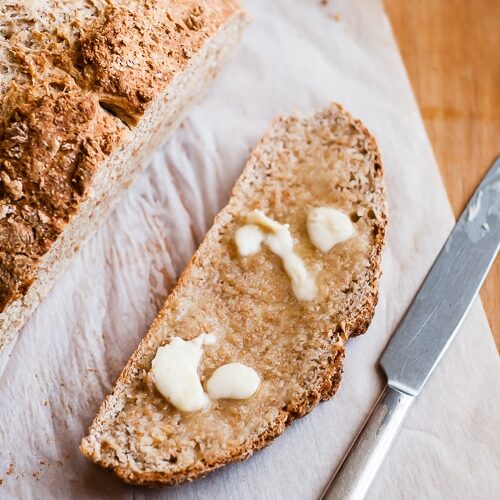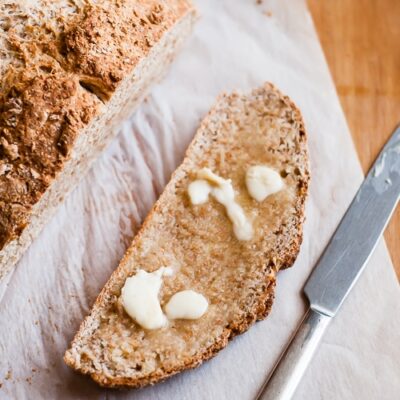 Honey Whole Wheat Irish Soda Bread. Soft, sweet bread with a hint of honey!!
Ingredients
2

cup

whole wheat flour

2

cups

unbleached all-purpose flour

1 1/2

tsp

sea salt

1

tsp

baking soda

2

cups

low-fat buttermilk

2-3

tbsp

honey

(depending on how sweet you want it)
Instructions
Preheat oven to 400 degrees F. Line a baking sheet with parchment paper, or grease well.

Whisk flours, sea salt, and baking soda together in large mixing bowl.

In another bowl or large measuring cup with a spout, whisk honey and buttermilk together. Make a well in the center of the dry ingredients and pour the honey buttermilk mixture into the well. Use a fork to quickly stir the dough together. It will look kind of shaggy. Do not mix until smooth!

Turn the dough out onto a lightly floured surface and gently knead a few times to bring it together. Do not overwork the dough! Form the dough into a large mound about 7 to 8 inches in diameter. Transfer to the baking sheet.

Place in oven and reduce heat to 375 degrees F. Bake for 50-60 minutes, or until deep golden on top and it sounds hollow when knocked on.

Let cool slightly before serving.

Serve warm or at room temperature with butter and jam, if desired. Goes very well with tea and coffee. It is also very good toasted.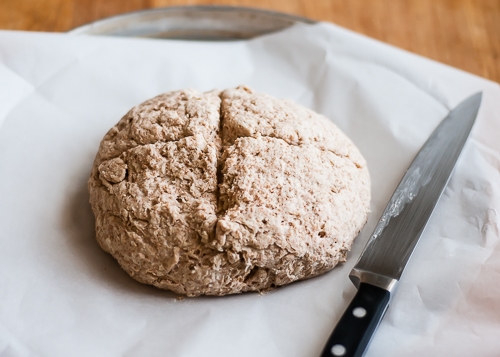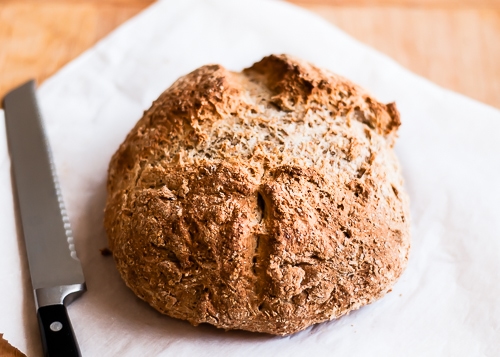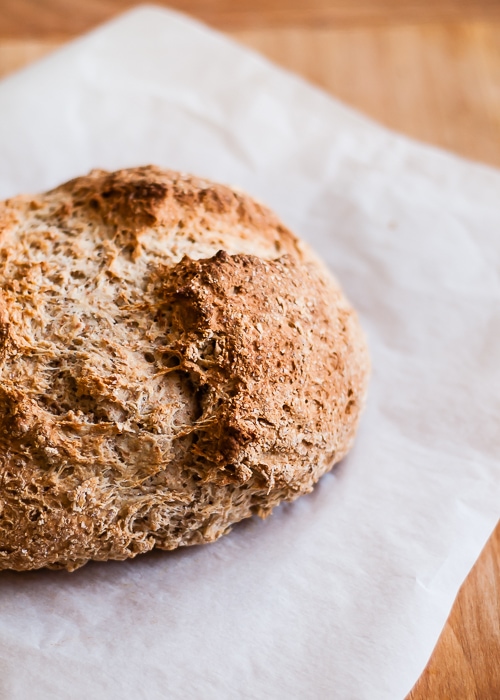 You can find me on Pinterest,Facebook,Twitter, and Google+.
——————————
Here are some of our favorite recipes to enjoy for St. Patrick's Day: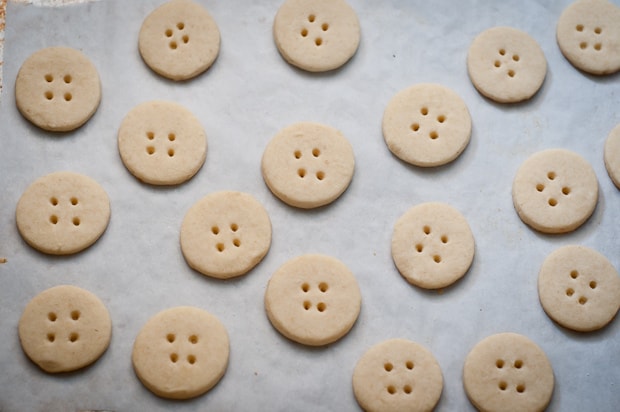 Irish Butter and Oat Shortbread Cookies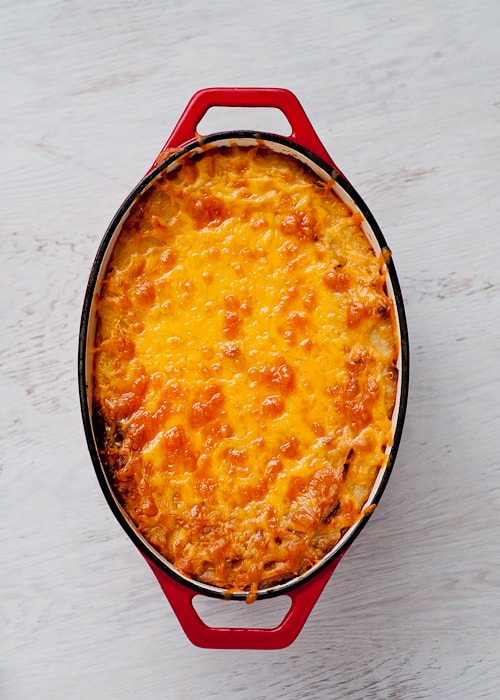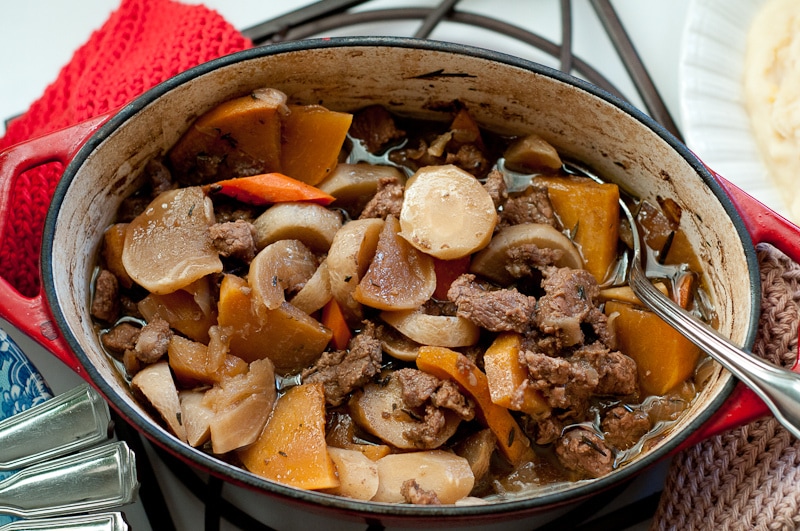 Beef and Root Vegetable Stew
————————————————
WOW! That bread looks amazing, Lindsey!! Thank you for the great recipe. 🙂
For more awesome recipes from her be sure to go to Cafe Johnsonia.
For more great Bread recipes be sure to check out these favorites: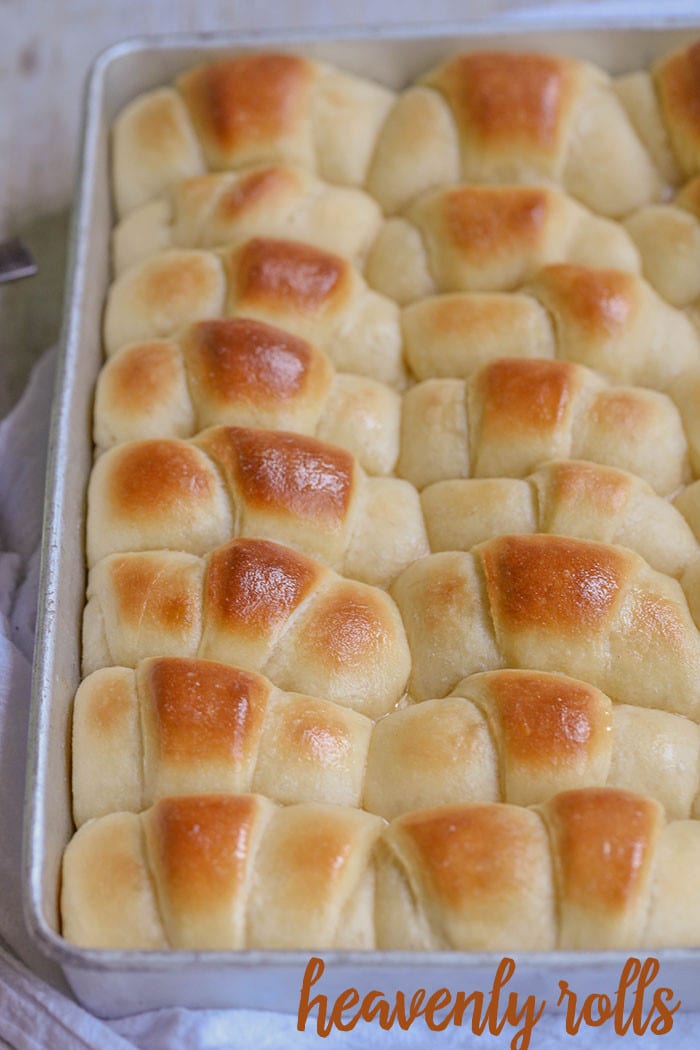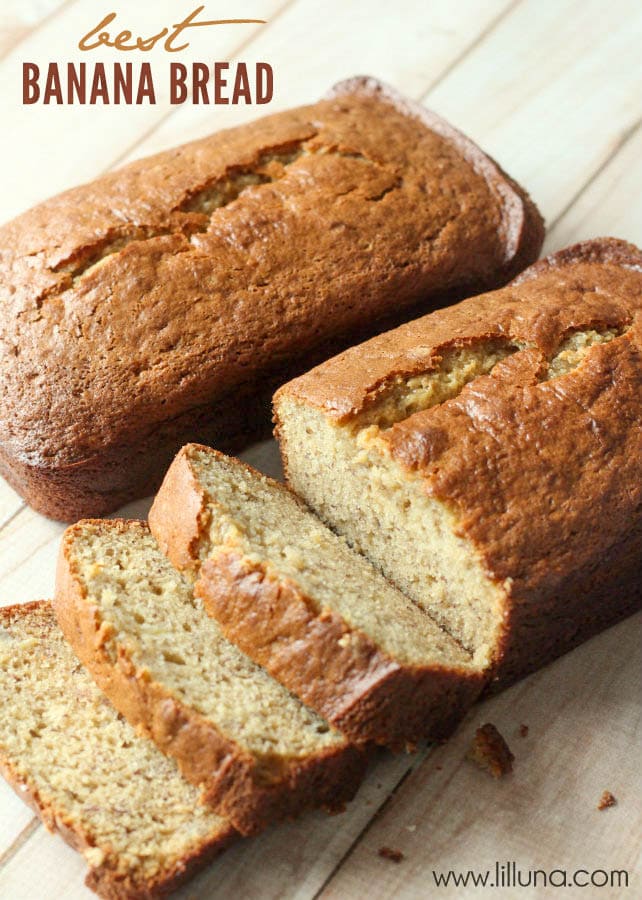 And get weekly emails with monthly freebies by signing up for the Lil' Luna newsletter. 🙂
For even more great ideas follow me on Facebook – Pinterest – Instagram – Twitter – Periscope.
ENJOY!