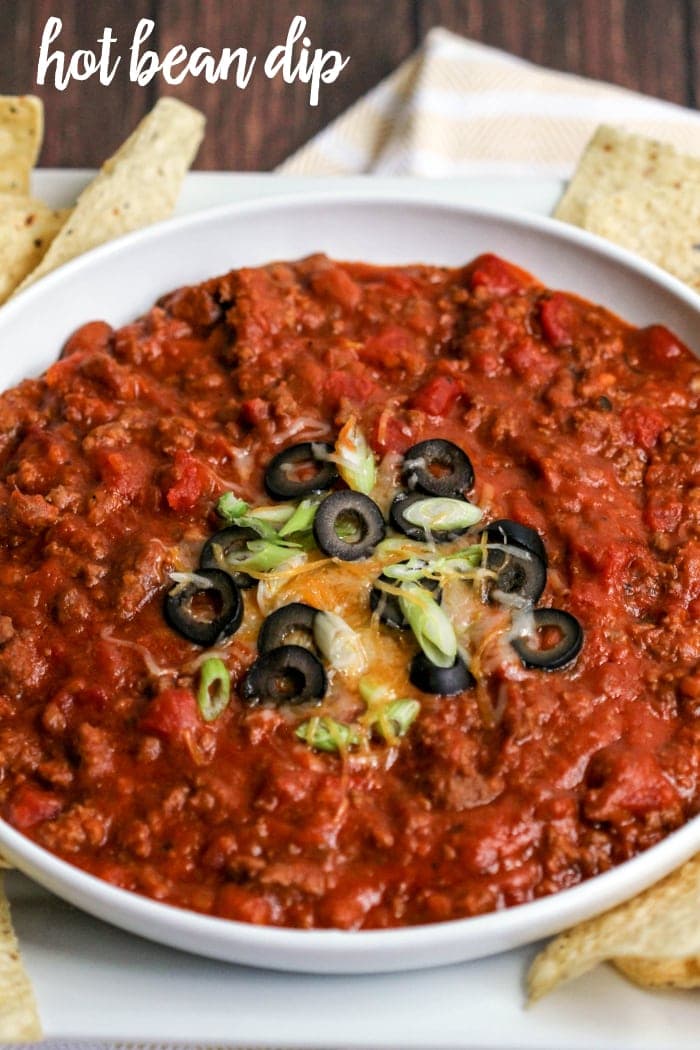 Hi friends!
Raise your hand if your a dipper!! I'm a dipper. I LOVE to dip chips, veggies, fruits, ALL of it. My older kiddos do not share the same love for dipping as me and my two younger girls do. Kinzi, my 3 year old has just recently ventured into ketchup. I can pretty much get her to eat anything, if she can dip it in ketchup. Then there's my 1 1/2 year old, who is not a respecter of dips. She'll dip anything in anything. Its adorable!
One of our favorite places to go as a family is restaurant here in Phoenix called Garcias. They have amazing chips and salsa. And their bean dip… forget it! It's (in the words of my dear friend Jimmy Fallon) AMAZEBALLS!! So, when my Mom wanted to make this Hot Bean Dip that she's had in the books forever (and used to make in her younger days), I did not argue! I'm SO glad she pulled this old recipe out. This bean dip was incredible. It was very simple to make and was a HUGE hit with the family. After we dug in for a while, we decided to turn it into a taco salad. We pilled the chips on our plate, loaded it with the delicious dip and it made a great meal for us and the kids. I think this recipe will be a big hit with your family during this Holiday season and all year long!
MY OTHER RECIPES
Like I said, this recipe is very simple and delicious, so I know you'll love it!

Hot Bean Dip
Ingredients
½ lb of ground beef
¾ carton Campbells Mexican style tomato soup
1 can tomatoes and green chili's
1 - 8 oz can tomato sauce
1 can re-fried beans
cheese, olives & green onions as garnish
Instructions
Cook beef in skillet, add all remaining ingredients (except garnish) and simmer for 10-15 minutes. Top with cheese, olives and green onions.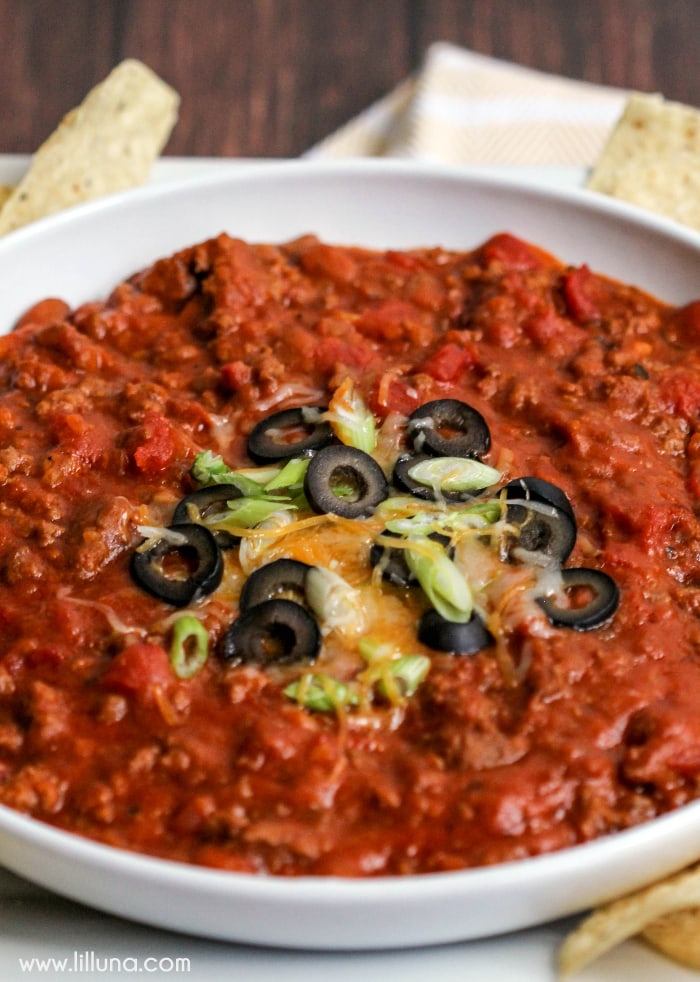 DIFFICULTY: Simple (in fact, does not get any more simple!!)
HOW MANY DOES IT FEED: as many as you're willing to share with (fed 10 of us)
ANY CHANGES MADE: As usual, we took out the onions
ANY SUGGESTIONS FOR NEXT TIME: I think some extra cheese thrown into the skillet would make this extra creamy. Yummers!
You'll love this Hot Bean Dip as an appetizer or even dinner!!
For more great Bean recipes my family loves, check out:
For all Appetizer recipes go HERE.
For all recipes go HERE.
For even more great ideas follow me on Facebook – Pinterest – Instagram – Twitter – Periscope.
And get weekly emails with monthly freebies by signing up for the Lil' Luna newsletter. 🙂
ENJOY!