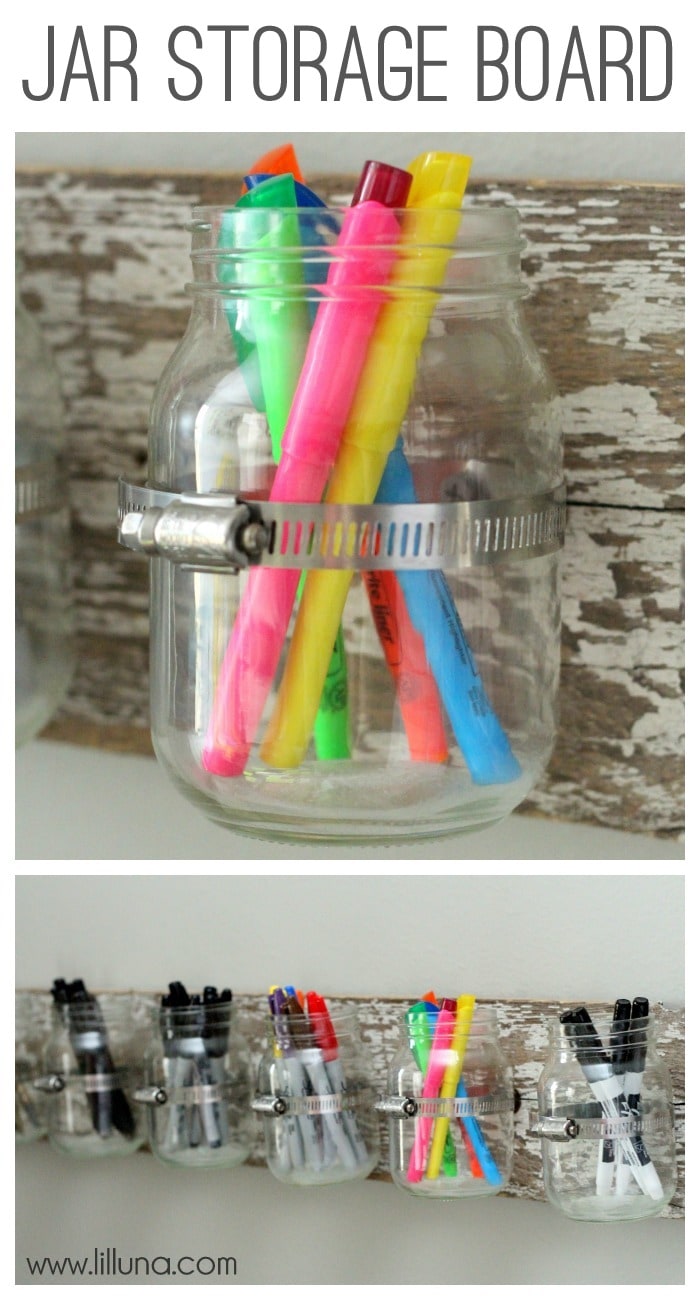 I'm slowly organizing my entire house, and it feels so awesome! One in my goals in life is to be so organized that I know where everything is at all times at my home. I know it's a little far-fetched, but I really hope I can do it. Of course, with 4 little kids it's impossible to keep things clean all the time, but I at least try to teach them to clean up and put things where they belong when they're done. I admit they are pretty good and I often hear them telling one another, "No, it goes in that bin…" Sure, it may seem a little OCD but being organized keeps me happy and sane. There's nothing more that I despise than turning the house upside down to look for something. 😉
I've found that keeping things organized and stored in their proper places is essential in having a clean and well-kept home. And having a CUTE thing to store items in is even better! Which leads me to my next project…
When we first moved into this house at the end of last May I decided to have a craft room. We then turned that room into the nursery, and now it's the guest bedroom (and the baby still sleeps in there). We ended up moving all my craft items to the master since there was room. Right now I'm in the process of trying to make it look cute and just finished my first project to store some of my pens/pencils and such. I LOVE how it turned out!!
MY OTHER RECIPES
Fun, right? It was inspired by this from my friends at Lolly Jane. I thought that I needed one for all the pens and little items I keep at my desk all the time. Even though this pictures all my pens I plan on using it for other items too – like my scissors which I always need and can never find – lol!!
The best part of this project was it cost hardly anything! I had the jars and board on hand, which means I only ended up having to get those hose clamps – SWEET!
Here is what you'll need to make it too:
SUPPLIES:
– Board (mine was an old board I've had for a loooong time)
– Jars (whichever size you'd like to use)
– Hose Clamps (Just need to make sure they fit the circumference of your jars – bought at Lowe's for a little over $1/each)
– Marker (to mark things on items)
– Drill (from Lowe's)
– Screws (from Lowe's)
DIRECTIONS:
1. Mark on your board where you want to drill in your screws. We measured it out and placed the jars on there to get a good idea of where we wanted them. We used 6 jars.
2. We wanted the turn screw on the clamp to be front and center so we put it on the jar and marked on the back center where we need to drill the hole for the screw.
3. Then we measured the distance from that mark to the slots on the clamp so we could repeat that mark the same on the other clamps.
4. From there, we took an awl and hit it once with a hammer to start a divet so that the drill bit doesn't jump around when you try to drill it. If you don't have an awl, you can use a long nail.
5. Then, we used an 1/8″ drill bit because that worked with the screws we were using, but you can use any type of wood screw. Just make sure you use a drill bit large enough for your screw to go through.
6. We pre-drilled the holes into the wood first (before adding the screws). This prevents splitting which is especially bad in old wood, like this piece. We then opened up the clamps, screwed them in – using screws shorter than the thickness of the wood. Then we closed the clamps up, inserted the jars, and tightened them around them.
NOT: Be careful not to over-tighten – you don't want to break the jar. Tighten it to where it's firmly held.
THE RESULT: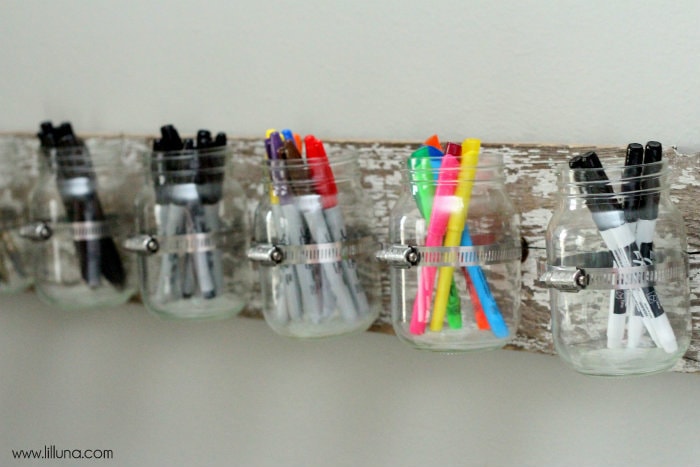 I absolutely LOVE it!! And I'm so glad the hubby helped me put it together. I always have these visions in my head of what I want, and he always helps me make them happen. Thanks, Lo!!
I'm still working on my crafting area, and can't wait to share it with you when I'm finished. In the meantime, here are some other Craft Organization ideas: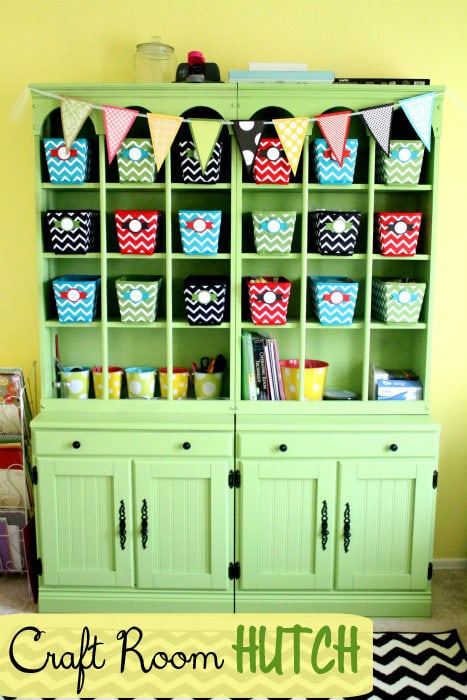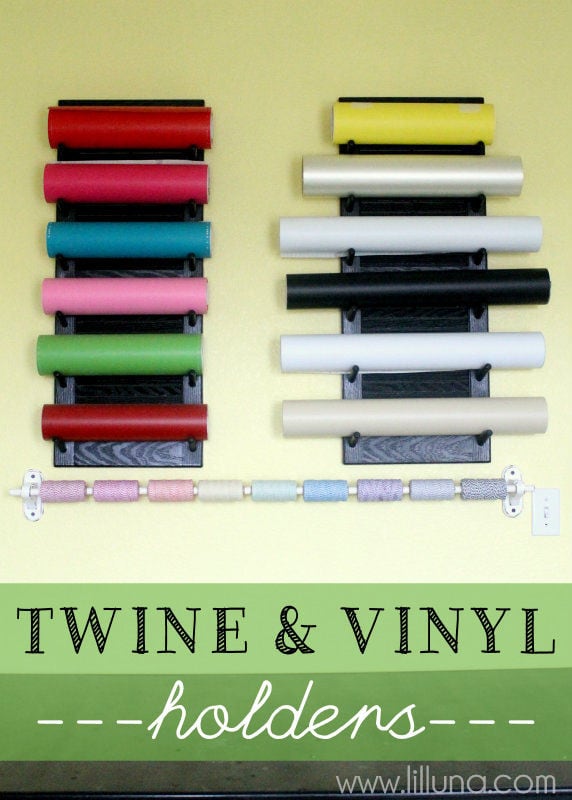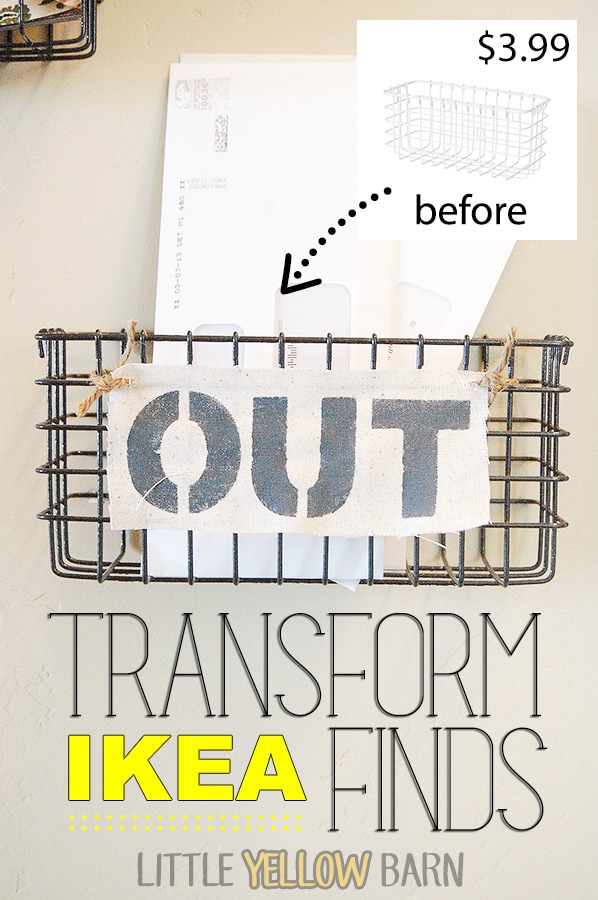 For all Organization ideas on the site go HERE.
For all crafts & tutorials go HERE.
And get weekly emails with monthly freebies by signing up for the Lil' Luna newsletter. 🙂
For even more great ideas follow me on Facebook – Pinterest – Instagram – Twitter – Periscope.
ENJOY!!
For more creative inspiration, visit Lowes Creative Ideas and Lowes.com.
This is a sponsored post written by me on behalf of Lowes. All opinions are 100% mine.