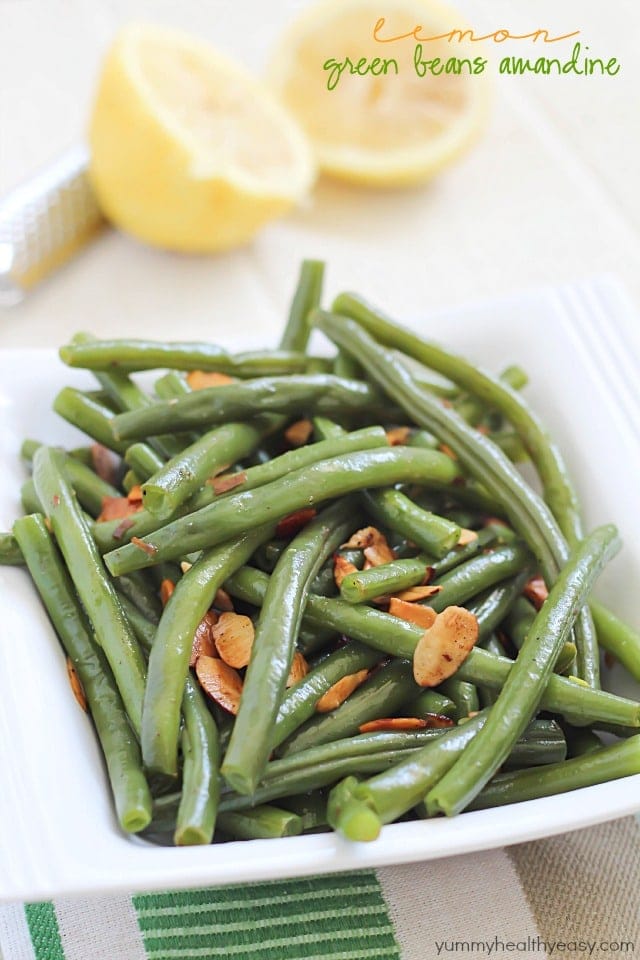 Hi everyone! I'm Jen from Yummy Healthy Easy. I'm super excited to be here at Lil Luna today to share one of my fave side dish recipes!
A little about me: I live in beautiful Southern California with my husband and our four wild and crazy boys. You could say I'm surrounded by testosterone all day, ha! You'll usually find me blogging at YHE about healthier budget & family friendly dishes, but I also enjoy sharing yummy desserts, too! Thanks for having me today!
I'll be honest, I hate coming up with new side dishes at dinnertime. I tend to make the same things over and over. I'm guilty of just steaming a veggie and calling it a day. But these green beans are not your typical side dish. Have you heard of green beans amandine? Amandine just means that a dish is garnished with almonds. I am a HUGE almond fan. I love adding them to just about everything – from oatmeal for breakfast to salmon at dinner. Everything is better with almonds!
These green beans also have a zippy lemon flavor that makes this side dish something special. We just moved into a new house about a month ago and we have a lemon tree in our new backyard – YAY! I have lemons coming out of my eyeballs now. A little lemon zest and some lemon juice brings the best flavor out in these green beans. They are absolutely delicious!
Lemon Green Beans Amandine

Lemon Green Beans
Ingredients
16-oz (1 lb) fresh green beans, trimmed
4 Tbsp. sliced almonds
1½ Tbsp. unsalted butter
½ tsp. salt
¼ tsp. pepper
2 tsp. lemon juice
zest from one lemon
Directions:
Instructions
Cook trimmed green beans in boiling water for 10-15 minutes, or until crisp-tender.
While beans are cooking, melt butter over medium heat and add in almonds. Stir until almonds are golden brown. Pull off heat and stir in salt, pepper, lemon juice and lemon zest. Stir to blend.
Drain cooked beans well and toss in almond mixture. Serve alongside your favorite main dish. Enjoy!
Serve 4-6
Check out these other delicious side dish ideas from Yummy Healthy Easy:
Easy Greek Salad with Homemade Dressing
Check Out My Other Recipes
Thanks again Kristyn for having me!
You can find more yummy recipes ideas here:
Yummy Healthy Easy | Facebook | Pinterest | Twitter
————————————————– 
I LOVE Green Beans, and these look amazing! Thank you, Jen!
Can't wait to try this! Be sure to head to Yummy Healthy Easy for more great recipes from Jen.
For more great side dish recipes, check out: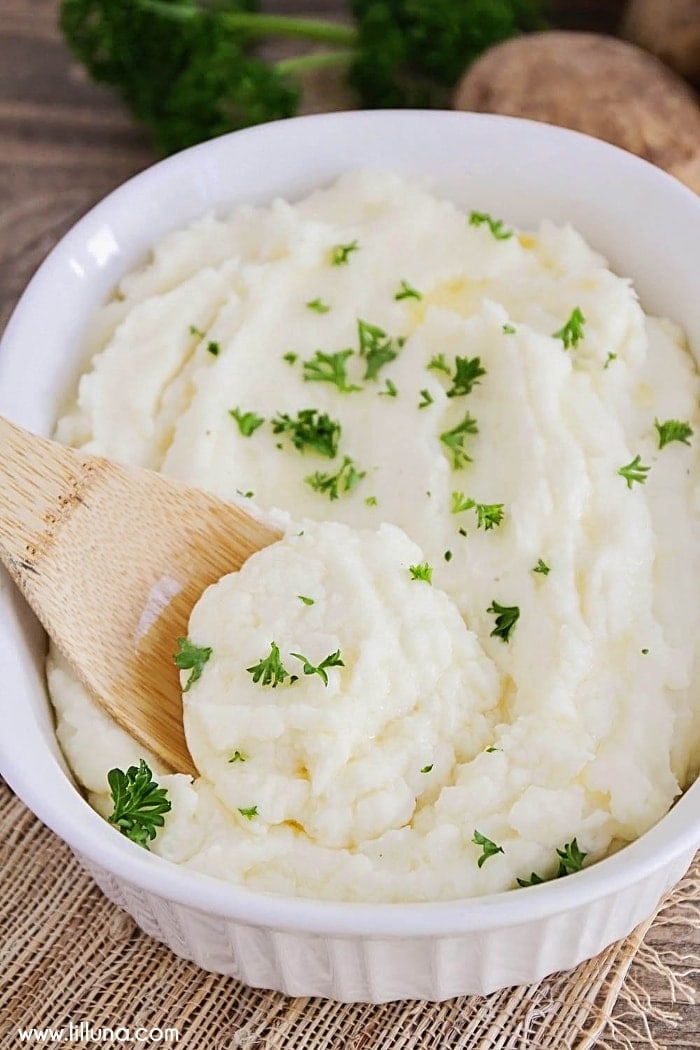 And get weekly emails with monthly freebies by signing up for the Lil' Luna newsletter. 🙂
For even more great ideas follow me on Facebook – Pinterest – Instagram – Twitter – Periscope.
ENJOY!
Need more recipes and creative ideas? Sign up and get a FREE copy of my latest ebook!