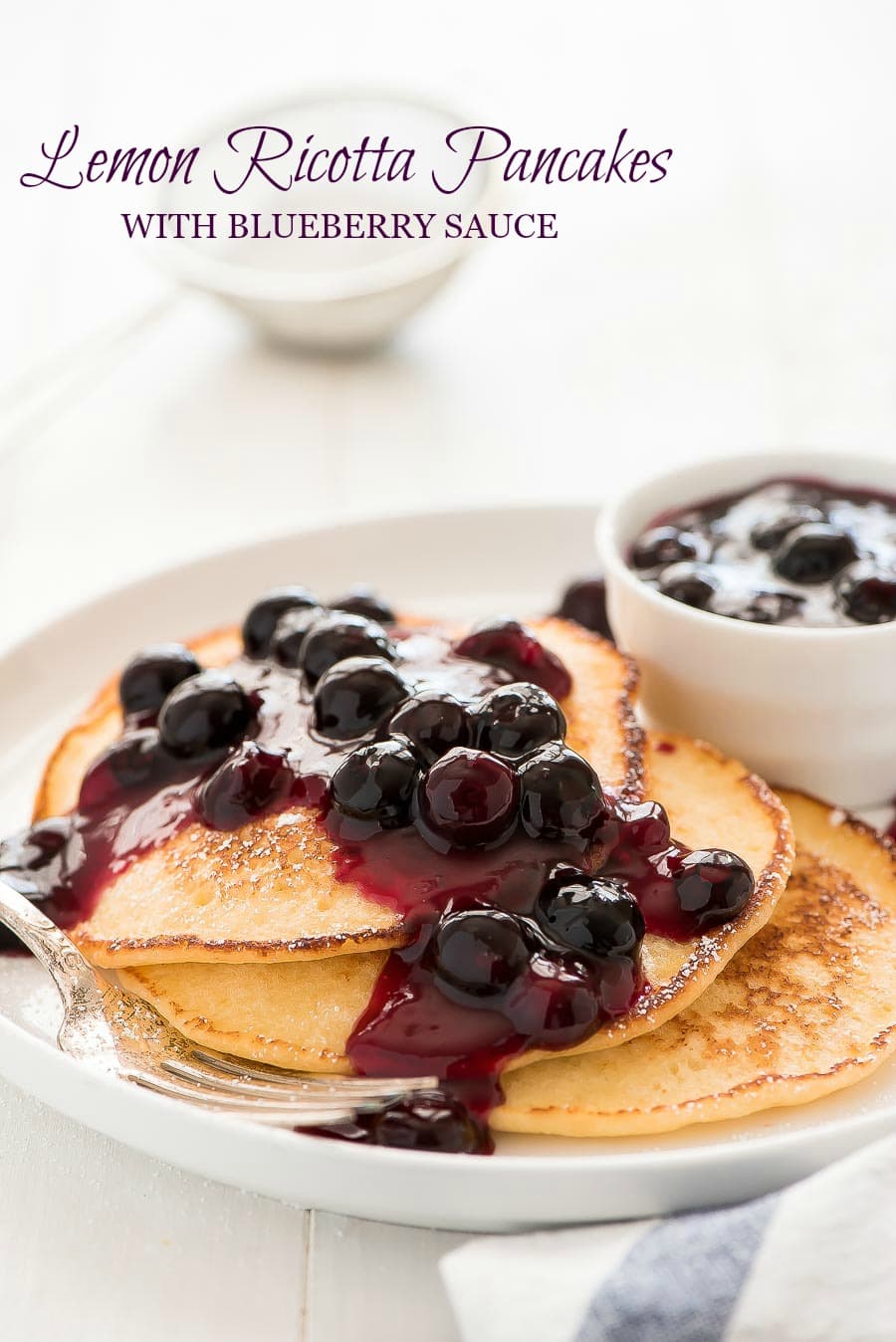 Start the morning off right with a stack of scrumptious, light, and fluffy Lemon Ricotta Pancakes with Blueberry Sauce.
I like eggs and bacon but what I really love to eat for breakfast is the sweet stuff that could pass as a dessert. Cinnamon rolls, waffles, french toast, crepes, pancakes… I could eat one of these everyday. Of course, variation is always welcomed so today I'm sharing these scrumptious Lemon Ricotta Pancakes with Blueberry Sauce.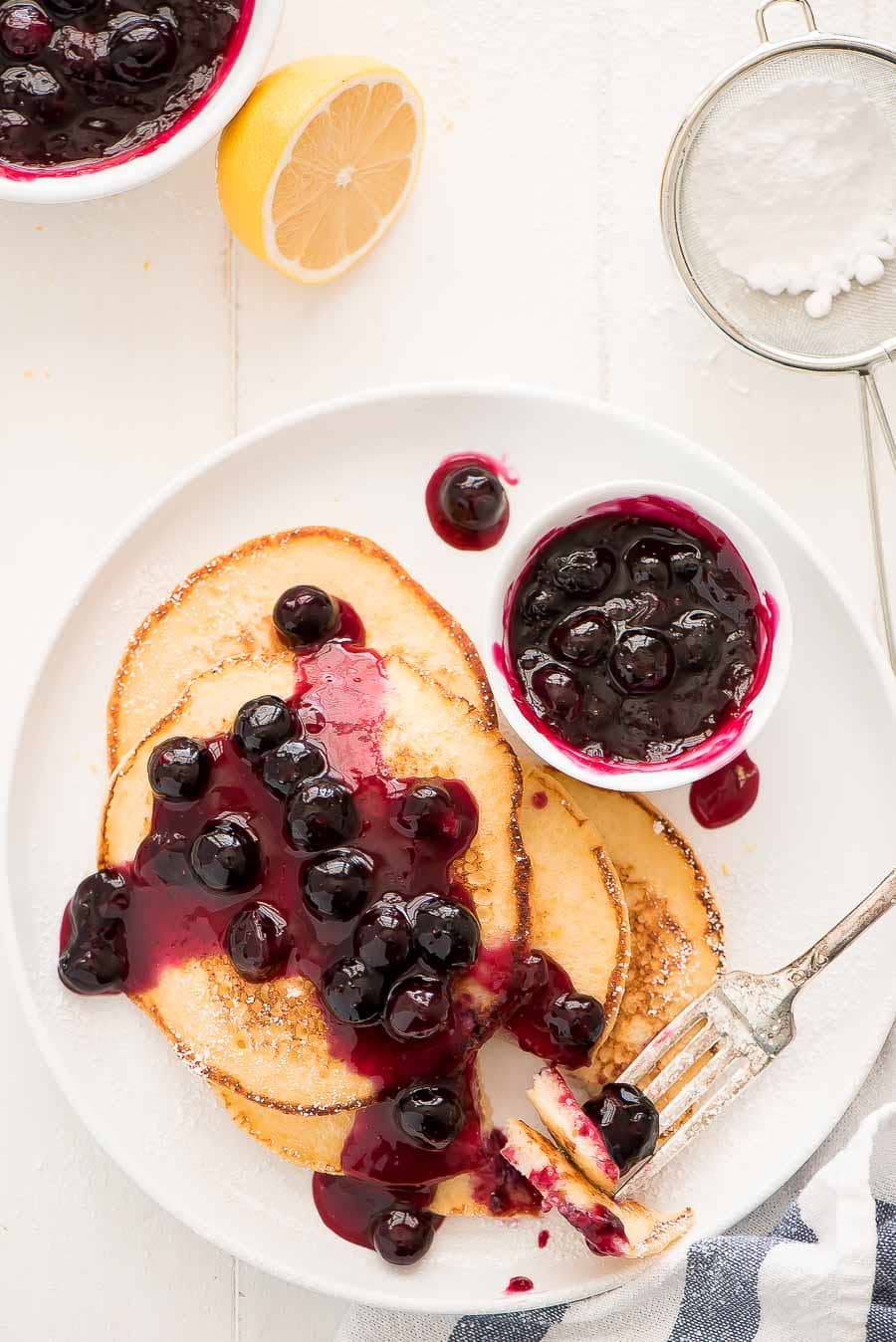 MY OTHER RECIPES
Kind of weird to use cheese in pancakes but it really works! Not cheesy at all and super soft and fluffy. Beating the egg whites is also what really helps create a light and fluffy pancake. I might just have to start doing this with all my pancakes. It's worth the extra dirty dishes.
The rustic look of these pancakes has my heart. Aren't they beautiful!? I love that golden edge. And let's not ignore that gorgeous blueberry sauce because YUM!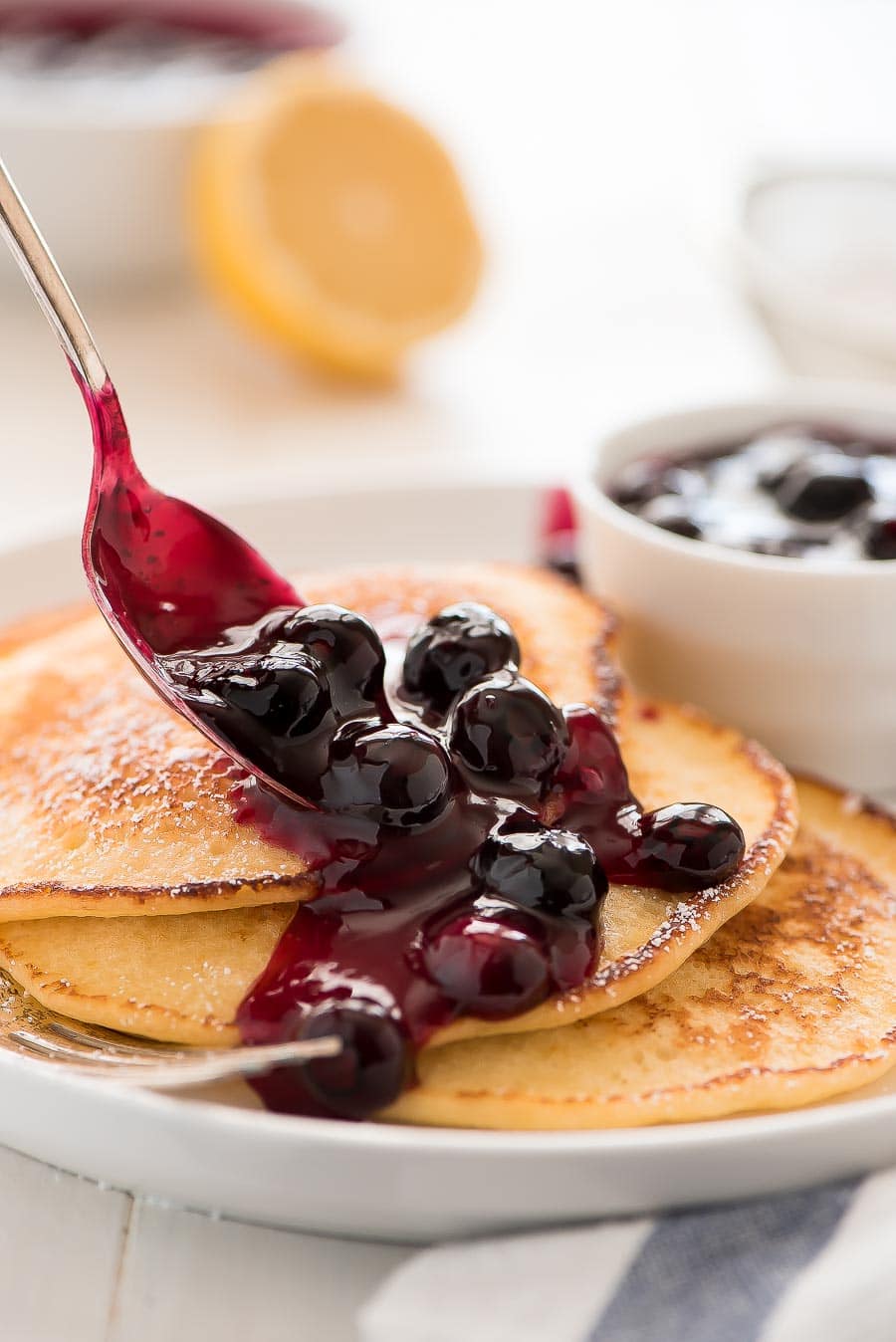 I'm a sucker for berries with my breakfast. It's refreshing, tastes awesome, and makes me feel a little healthier and justifies me eating something dessert-like for breakfast.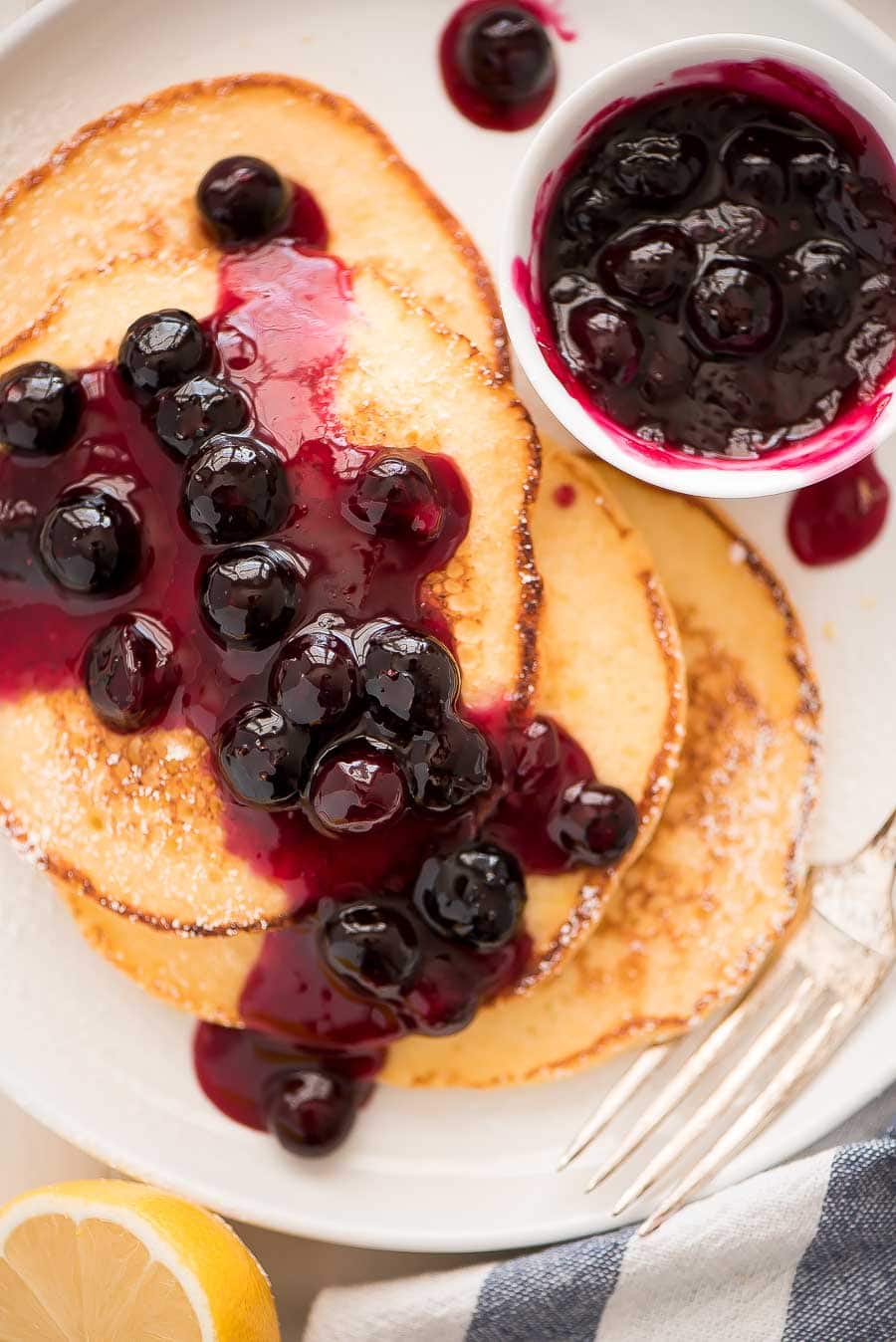 Sure you can use regular ole pancake syrup but really, the best way to enjoy these pancakes is with this fresh blueberry syrup. It takes just 7 minutes to make and you can top it on even more than these pancakes. Spoon it over waffles, crepes, and even ice cream!
The blueberry sauce is super delicious on these particular pancakes because they are lemon flavored. All you need is a lemon. You'll use the whole thing between the pancakes and sauce. Add the zest and half the juice to the pancakes batter and the rest of the juice you add to the blueberry sauce. You'll love the refreshing taste it brings to both.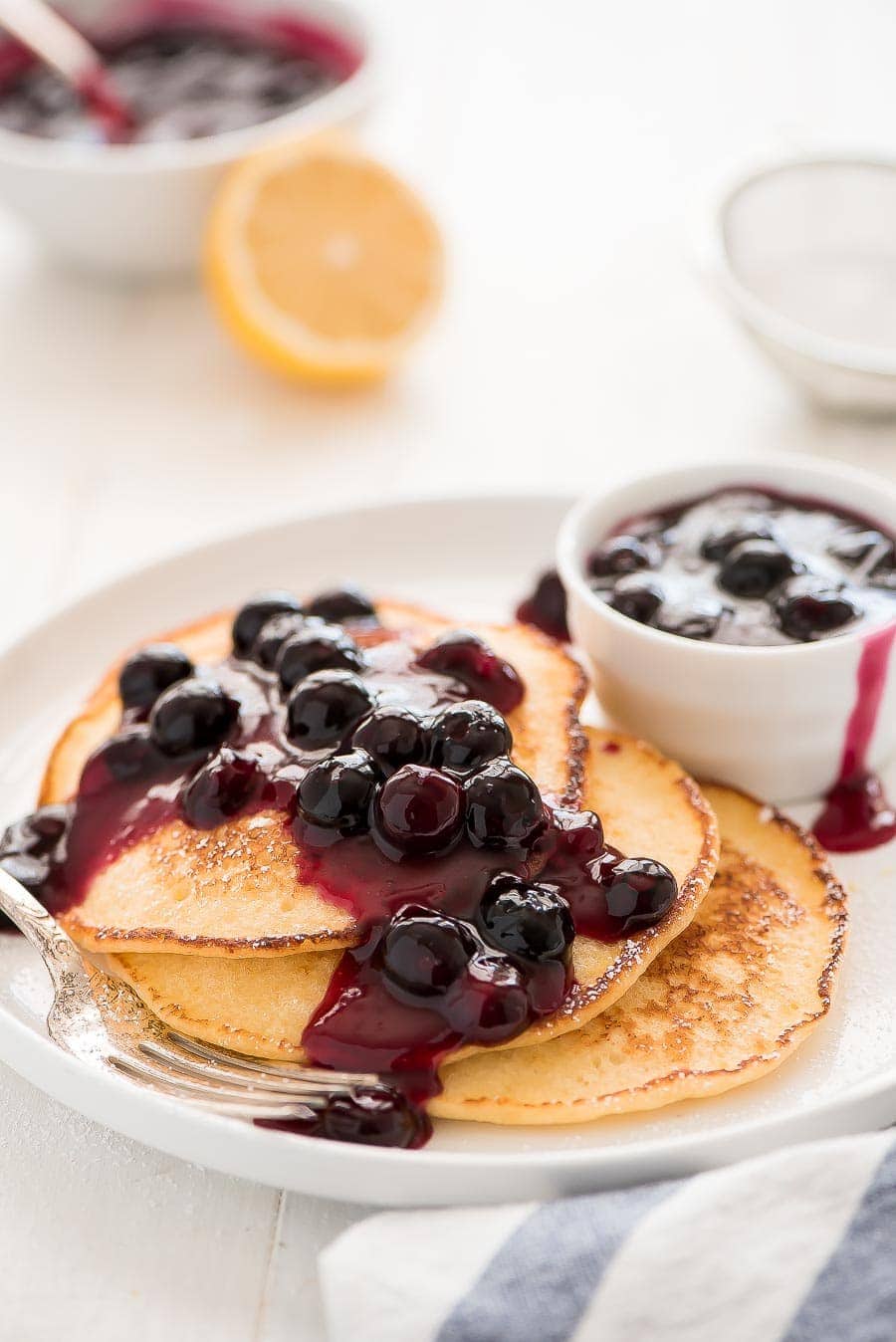 Your day will be off to an awesome start with these Lemon Ricotta Pancakes with Blueberry Sauce. Enjoy!
Lemon Ricotta Pancakes with Blueberry Sauce:
Lemon Ricotta Pancakes
Ingredients
For the Pancakes:
1 cup flour
1 tablespoon granulated sugar
½ teaspoon baking powder
2 teaspoons lemon zest
¼ teaspoon salt
1 cup ricotta cheese (whole milk)
¾ cup milk
2 eggs, separated
2 tablespoons lemon juice
½ teaspoon vanilla extract
For the Blueberry Sauce:
⅓ cup granulated sugar
1 tablespoon cornstarch
⅛ teaspoon salt
¾ cup water
2 teaspoons fresh lemon juice
1 cup fresh or frozen blueberries
2 tablespoons butter
¼ teaspoons ground cinnamon
Instructions
For the Pancakes:
Preheat pan or griddle over medium-low heat.
Mix the flour, sugar, baking powder, lemon zest, and salt together. Add the ricotta cheese, milk, egg yolks, lemon juice, and vanilla and mix until combined.
Place the egg whites in another bowl and beat until stiff. Fold into the batter.
Brush pan with butter and use a ¼ cup measuring cup to pour the batter on. Cook for about 2-3 minutes or until bubbles form on the sides and flip and cook for another 1-2 minutes until cooked through.
For the Blueberry Sauce:
Mix the sugar, cornstarch, and salt in a small sauce pan. Add the water and lemon juice and while stirring, cook over med-high heat until thick. Add the blueberries, reduce heat to medium, and cook 2 more minutes. Remove from heat and mix in the butter and cinnamon. Keep warm until ready to serve.
These look amazing!! Thank you Melanie for sharing these. For more delicious recipes from Melanie, head on over to 
Garnish & Glaze.
For another great breakfast recipe, check out: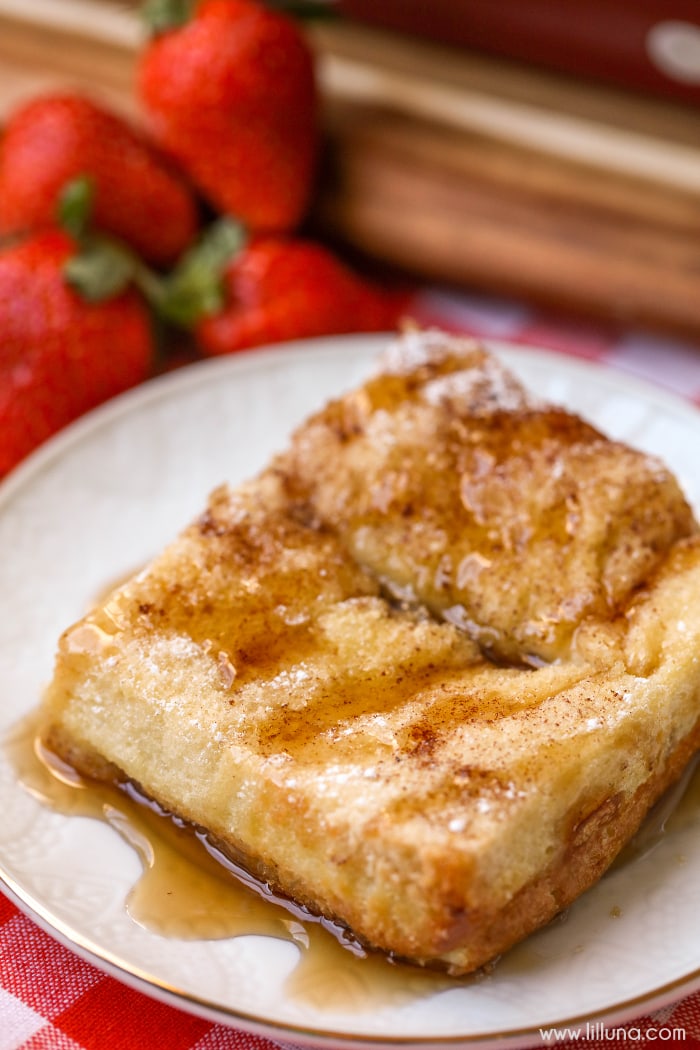 And, for more great recipes to try, check out:
ENJOY!!