It's Marie from Blooming Homestead here to share a fun and simple DIY Valentine's Sign with you today.
You'll only need a few supplies to recreate this pretty sign for your home.
SUPPLIES:
Wood Slat Sign (I found mine at Wood Connection)
Bakers Twine
Paint dauber and paint brush
scissors
paint- black, red, brown, white
Stencil using craft cutter
DIRECTIONS:
To get started you'll want to prep your sign. I used a wood slat sign that I had previously painted. To get this look you'll paint it with a dark black or brown, then paint white overtop leaving edges exposed for a distressed look.
When the paint is dry its time to apply the stencil. I cannot freehand for the life of me so I often use my Silhouette to create stencils for my sign using adhesive vinyl. Here is how my stencil looks in the software. I used the font braveheart.
When I've got my vinyl cut, I use transfer paper to apply the stencil to my wood sign base. This can be tricky and the vinyl often lifts when you are removing the transfer paper. Just be patient and keep pressing the vinyl down. When the stencil is fully applied you'll smooth it over to try and get the best seal you can.
When I create stencils like this I almost always have some bleeding, it is somewhat inevitable. However, I've got some tips to reduce the amount of bleeding. First off, you use a small sponge dauber to apply paint. First dip the dauber in paint then press it on a separate surface or the unused portion of vinyl to limit the actual amount of paint being transferred. The key is to use a very light amount of paint. You can always go back over when its dry to deepen the color if necessary. If you use an excess of paint it will leak under and create large streaks. (nobody wants that lol!) If you do have a little bleeding, use a small firm brush to cover them with the white base paint. As long as it is not in large areas it goes virtually unnoticeable.
For the arrow, I applied red paint to the heart only.
Let the paint dry and remove the stencil gently.
Wrap bakers twine around the sign a few times and tie it off, and that's it!
Be sure to stop by Blooming Homestead, you can also find me on Facebook, twitter, pinterest, and instagram.
Looking for more fun Valentine ideas?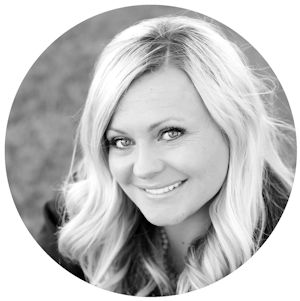 _________________________
Definitely downloading that cute font! What a cute sign!!
Think of all the signs you could make year-round using this process! Thanks for sharing Marie!!
For more awesome ideas from her, head on over to Blooming Homestead!
And for even more Valentine's decor ideas check out these posts:
For all Valentine's creations and recipes, go HERE.
For all crafts and DIY, go HERE.