OK, down to business…. I'll tell you a little about myself. I'm the mom of three amazingly spunky kids and wife to a great guy who keeps me laughing. A born DIYer and creative junkie, my interests include decorating, sewing, painting, photography (although I'm quite the novice) and, of course, gorgeous parties! I love to save a buck and will take on just about any project if I think I can save a little by doing it myself. These days, I spend most of my time designing party printables for my Etsy shop and all of my fabulous customers.
For my first tutorial here on 'Lil Luna, I thought I'd share a few of my printable designs with you and a little 4th of July craft, too. I love the idea of giving kids something special "just for them" at a holiday get together. Whether you are eating a sit down lunch for Independence Day or just having lots of kids coming over to celebrate the 4th,  handing them something fun and kid-friendly to keep them happy and occupied is always a good idea. So how much fun is this Fourth of July Firework Favors container!
I'm going to show you make it using of all things, a Pringles can! And I've also designed some freebie July 4th printables just for you to download for this craft — Free is good, right?
When I was thinking of what kinds of items I could put in the favor box for the kids, I wanted to have coloring pages as well as some sparklers. I needed a container tall enough to fit both, and a Pringles can was the perfect solution. At about $1.00 each they won't break the bank, and if your kids are anything like mine, they'll think you're Mom of the Year if you come home from the store with a pile of Pringles cans! So let's get started.
Firecracker Favor Box – Here's what you'll need:
– Pringles cans
– Printable sheets from the July 4th craft download (Print onto photo paper for the most vivid colors)
– July 4th trinkets for the kids like necklaces, tattoos, stickers, sparklers, etc.
– Coloring pages printouts and crayons
– Ribbon and tulle (in red, white and blue colors)
– Low temp hot glue gun, tape, scissors, hole punch, and sharp knife
– Craft circle punches in 2.5″ and 3″ sizes (optional)
– Red, white and blue star wire garland (Dollar Tree)
– Metallic chenille stems (pipe cleaners)
Step 1: Print out your free set of Firecracker Favor printables (seen above). Punch your 2.5″ logos and 3″ decorative circles out with a circle craft punch.
Step 2: Preparing the can – We're going to leave the stay-fresh seal at the top closed so that the kids can "pop the top" themselves so take a sharp knife and cut just above the silver base on the bottom of the can. Saw through the cardboard, cutting a little and then turning the container to cut the next spot. Keep repeating around the can until you can pull the bottom of the can away. It's helpful to not cut the bottom piece all the way off and leave a small piece attached. Empty out the Pringles into a air-proof container and keep them for later use. Wash out the inside but don't douse it with water…. it's only cardboard afterall. Then dry out the interior with a towel.
Step 3: Get all of your kids' July 4th trinkets and coloring pages ready to insert in the can once you're sure it's nice and dry. I rolled the coloring pages together so they would fit inside the container and then placed the candy, sparklers, tattoos, stickers, yo-yo necklaces and crayons inside.
Step 4: Putting your can back together – Using a low temp hot glue gun, apply glue to the outside edge of the bottom silver piece on your can and then press back onto the cardboard part of the can. Hold together until the glue dries. Then if you are using a low temp glue gun, apply some glue to the outside of the can and press your finger over it to smooth it out. This will ensure that the can will stay together. If you are using a high temp glue gun, just encircle the cut part of your can with some Scotch tape.
Step 5: Firecracker Favor printables set and cover up your ugly glue seam, too. The 8.5″x11″ printed sheet won't completely cover the can so I placed the paper on the 11″ side around the can, cut off an inch or so to make it fit, and then taped the seam with Scotch tape. On the top and bottom where I have a small bit of can still showing, I cut a different decorative paper into strips and wrapped it around the can as well until the entire can was covered and pretty.
Step 6: Punch your 2.5″ circles and 3″ decorative circles out from the Firecracker Favor printables  (or you can just use scissors to cut them out if you don't have the punches). Cut a small piece of ribbon maybe 10″ long, punch a hole in your 2.5″ tag, and insert the ribbon through the hole. Dab a little hot glue on the top of your can and place the ribbon into it to secure. Next, take a 3″  decorative circle, add some hot glue to the edge and place it down on the top of the Pringles can original seal. Hold it down until it dries.
Step 7: Making your decorative lid – Take your sharp knife and punch a slit through the center of your plastic Pringles lid. Then take a red, white and silver chenille stem and wrap each around one of your fingers to make it into a spiral. Release the spiral, insert it into the slit on the plastic lid and secure underneath with a small dab of hot glue. Repeat the spiral for each color chenille stem and insert into the lid.
Then you'll do the same spiral trick with your red, white and blue star garland. Cut a long, maybe 18″-24″ piece of garland and spiral it as well, then fold it in half and stick the middle through the slit in the lid. Secure it, too, with some hot glue.
Next cut some 5″-6″ pieces of tulle – I used red since it seemed to look the most like a fireworks explosion – and fold each piece in half. Dab a little hot glue on the folded part and place down on top of the plastic lid. Repeat for 4 or 5 more pieces until the top of your lid looks nice and "firework-ey."
I love this project because it's so simple and inexpensive but would be a real treat for the kids. I think it would also be a fun gift container for neighbors and friends or even a hostess gift for a 4th of July party. Make a batch of July 4th cookies, place them in a cellophane bag with some ribbon and insert them into the can for a sweet surprise!
I hope you all enjoyed the tutorial and be sure to download your FREEBIE Firecracker Favor printables set. Have a wonderful holiday, and I'll see you back here for another tutorial real soon.
Thank you, Kristyn! It's been so much fun joining you on 'Lil Luna today!!
————————————-
Thank you so much for being here Amanda!! These are super cute and can't wait to make some!!
For more fun Fourth of July ideas be sure to check out: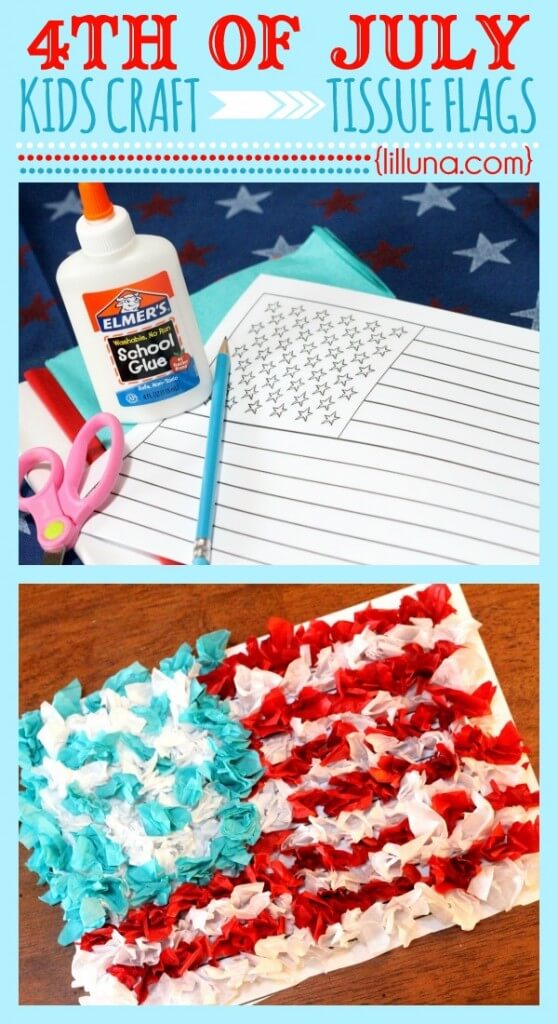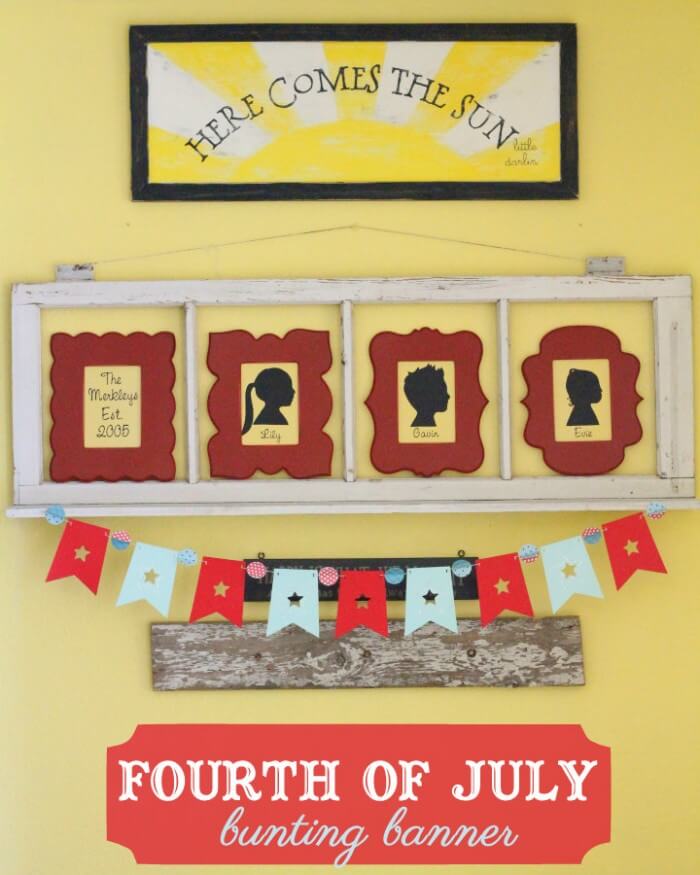 For all Fourth of July ideas go HERE.
For all Crafts & Tutorials go HERE.
And get weekly emails with monthly freebies by signing up for the Lil' Luna newsletter. 🙂
For even more great ideas follow me on Facebook – Pinterest – Instagram – Twitter – Periscope – Snapchat & YouTube.
ENJOY!!