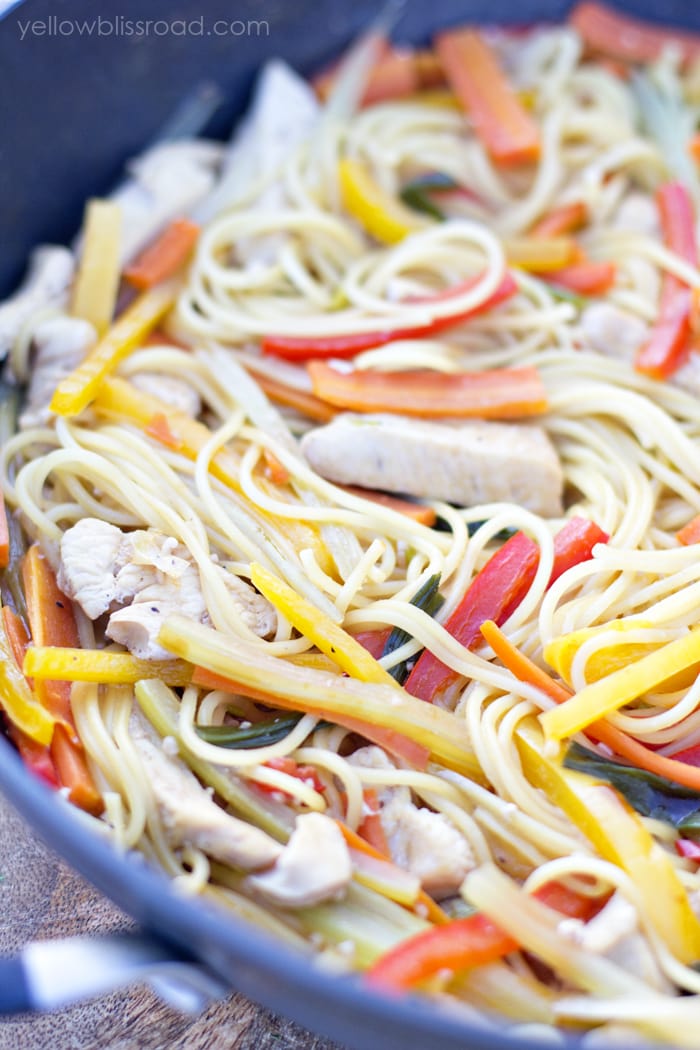 Hi Lil Luna readers, I'm Kristin from Yellow Bliss Road back again with another easy recipe. This One Pan Chicken Lo Mein is so easy to make, and so full of flavor, it's sure to become a favorite to add to your monthly rotation.
I absolutely love Asian inspired meals, and my kids love anything with pasta, so I figured why not combine the two. This is a recipe that I've been making for years, but this was the first time I'd tried it as a one pan meal. It was so easy!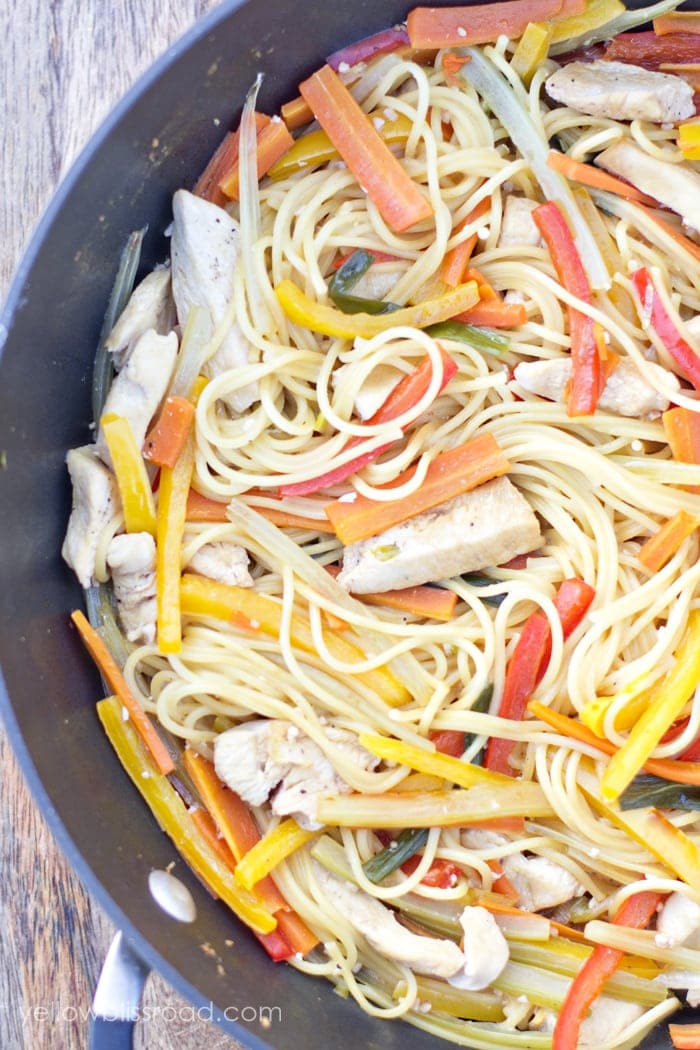 MY OTHER RECIPES
One pan meals like my One Pan Meals like my Spicy Lemon Chicken & Tomatoes Skillet or my Italian Sausage and Tortellini are always wildly popular on my site. Who doesn't love a meal that actually creates less dishes to wash and comes together in less than 30 minutes? Plus it's a complete meal – chicken, veggies, and pasta. What's not to love?
This meal starts with beautiful veggies. Have you ever heard the term "Eat Your Rainbow?" This is what they're talking about:
So pretty. I love the big chunks of vibrant, colorful veggies.
Anyway, start by sauteing the chicken for a couple of minutes in some olive oil and then add the veggies just for a few minutes to take the edge off, then add some garlic, chicken broth, soy sauce and dry pasta. For the true Asian inspired feel you want to use either lo main noodles or spaghetti (that's what I use), but really any small pasta will work.
Let this mixture come up to a boil, then turn the heat down a bit and cook for about ten minutes with the lid off, stirring often to break up the pasta. While it's cooking the liquid will reduce.
Check out Yellow Bliss Road for over 30 more quick and easy One Pan Meals!
One Pan Chicken Lo Mein
Ingredients
2 large boneless, skinless chicken breasts
1 bell pepper (any color)
1 bunch of green onions
2 medium carrots
2-3 stalks celery
2 tablespoons minced garlic
½ pound spaghetti noodles (about half a 16 oz. box)
2 cups chicken broth
½ cup soy sauce
½ teaspoon red pepper flakes, optional, for heat
2 tablespoons olive oil
Instructions
Prep the vegetables. Dice whites of the onions, and cut the green tops into 3 inch strips. Peel carrots and celery and cut into thin, 3 inch strips. Remove seeds from bell peppers and cut into 3 inch strips.
Cut chicken into equal sized pieces, at least one inch thick. Season with salt and pepper.
Heat olive oil in a 12 inch wok or large skillet, then add chicken and cook for 2 minutes just to brown.
Add veggies and cook for about a minute before adding the remaining ingredients (broth, garlic, pasta, soy sauce, red pepper flakes). Bring mixture to a boil, then lower to medium heat and cook for 10 minutes or until pasta is tender. Let sit for 5-10 minutes before serving for sauce to thicken.
Serve hot.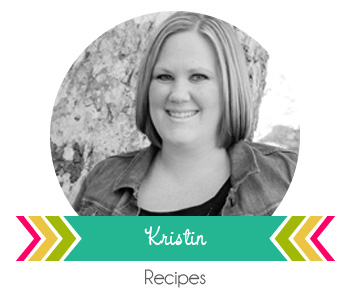 —————————————-
I LOVE Chicken Lo Mein, and love even more that this recipe can be made in One Pan!
Thanks, Kristin!
For more great recipes from her head to Yellow Bliss Road.
For more yummy Asian dishes, check out: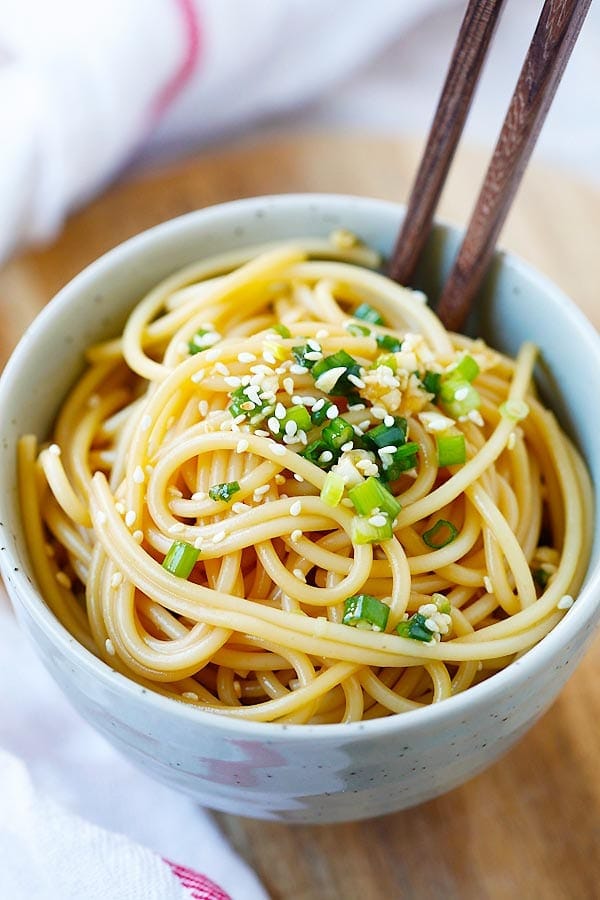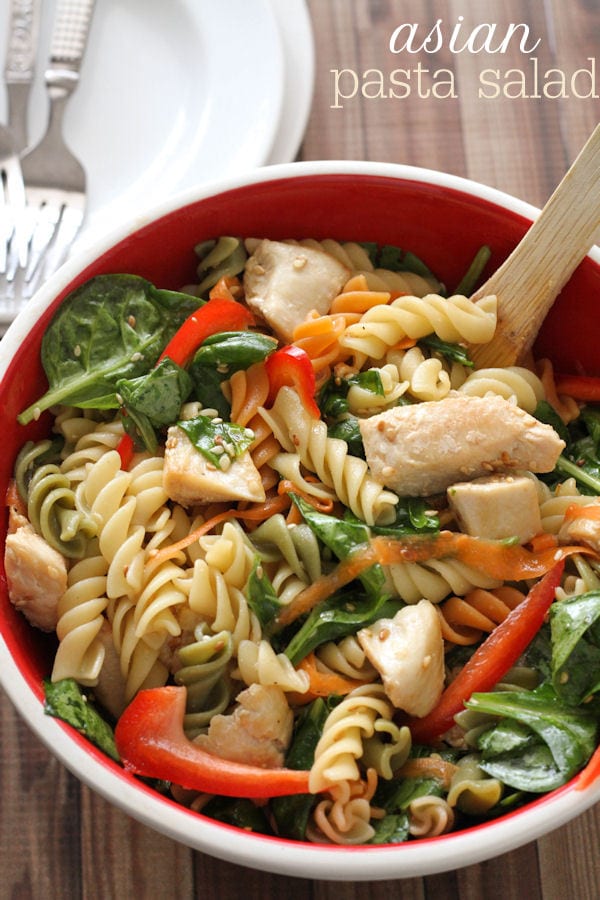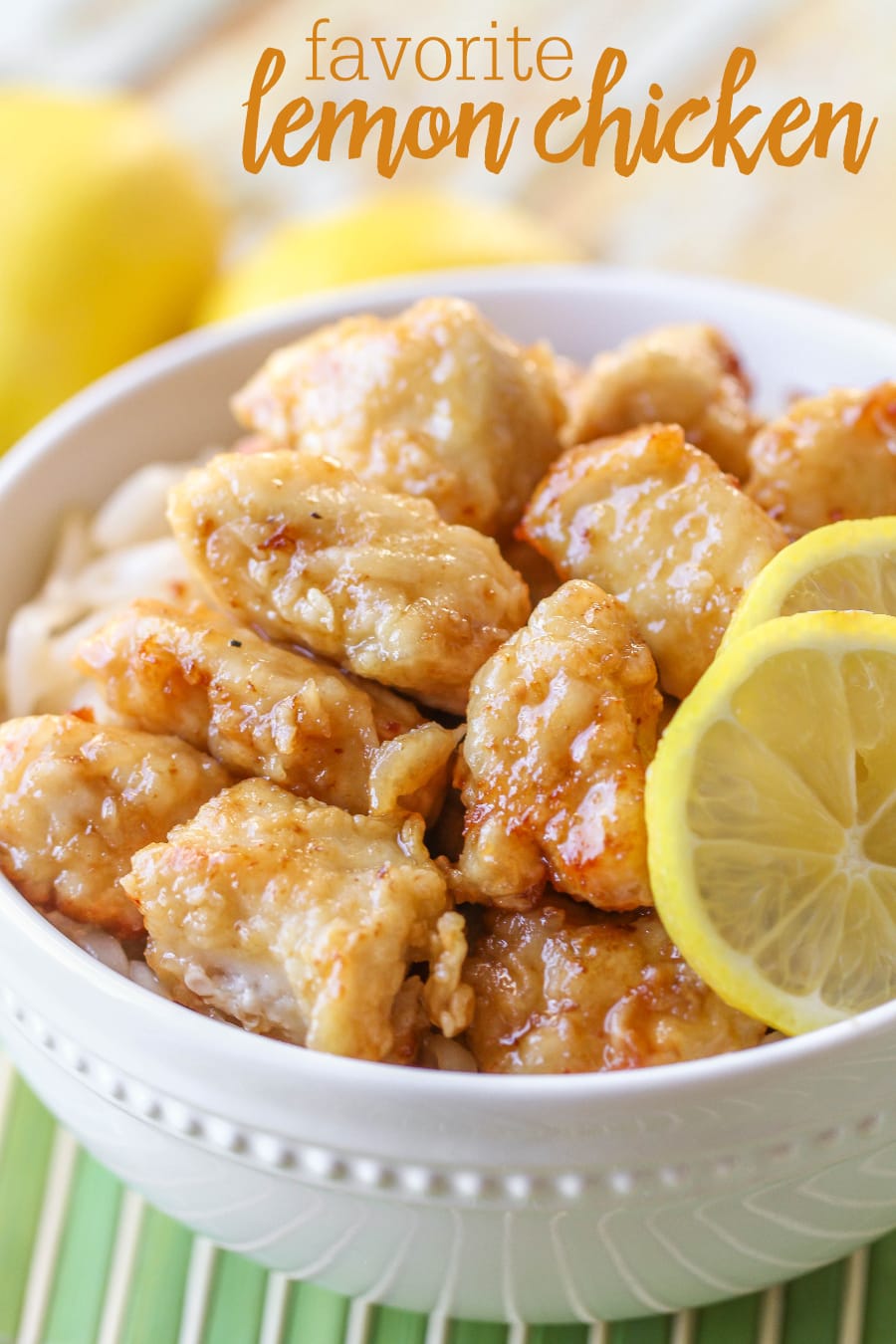 I'm hungry now!
For all dinner ideas on the site go HERE.
For all recipes go HERE.
And get weekly emails with monthly freebies by signing up for the Lil' Luna newsletter. 🙂
For even more great ideas follow me on Facebook – Pinterest – Instagram – Twitter – Periscope – Snapchat.
Don't miss a thing – Sign up for the Lil' Luna Newsletter today!
ENJOY!