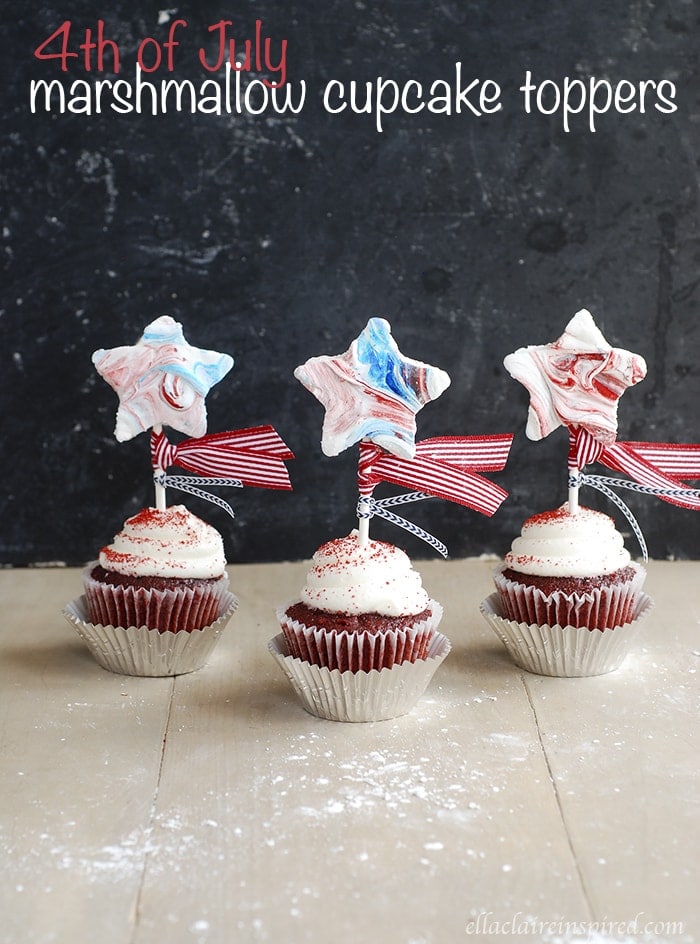 Hi again! It's Kristen from Ella Claire and I am so excited to share a fun little kid-friendly 4th of July project with you today- marbled marshmallow cupcake toppers!
I think these toppers are so festive and I love that they are edible! My girl had a lot of fun helping me make them too!
MY OTHER RECIPES
Making these Patriotic Marshmallow toppers was a lot easier than I thought and the results were delicious! I also think they have a much better flavor than store-bought marshmallows. You could adapt this recipe and technique in so many ways and for lots of different holidays!
To make your marshmallows, you can follow the recipe below.

4th of July Marshmallow Cupcake Toppers
Ingredients
3 packets unflavored gelatin
1 cup ice cold water, divided
1½ cups granulated sugar
1 cup light corn syrup
¼ teaspoon salt
1 teaspoon vanilla extract
½ cup powdered sugar
½ cup cornstarch
food coloring
Instructions
In the bowl of your mixer, pour ½ cup of the ice water and all 3 packets of gelatin, Let stand with whisk attachment close by for later use.
In a small saucepan, combine remaining water, sugar, corn syrup, and salt. Cook over medium high heat, scraping the sides down until sugar is dissolved. Lower to medium heat and clip a candy thermometer to the side of the pan. Cook until mixture reaches 240 degrees without stirring.
Add your whisk attachment to the mixer and turn it to low speed. Gradually pour the hot sugar mixture down the side of your bowl and into the gelatin mixture, carefully avoiding directly pouring on the whisks. This will prevent splashing. Increase the speed of your mixer to high and let mixture whip until it is thick and lukewarm. This will take approximately 10-15 minutes.
While the mixer is whipping your marshmallows, combine the cornstarch and powdered sugar in a small bowl. Prepare 13x9 pan by spraying lightly and dusting with the cornstarch and sugar mixture. Set aside the rest of the powdered sugar mixture.
When marshmallow mixture is finished being whisked, pour into the 13x9 pan. Immediately dot the top with food coloring and use the tip of a butter knife to swirl the colors on the top of your marshmallow. Dust the top lightly with powdered sugar mixture and set aside for about 4 hours to set up.
Use a cookie cutter to cut into desired shapes. Dip raw edges into the powdered sugar mixture and dust off marbled side with a clean dry rag.
We put ribbon low on our sticks and then gently stuck on the marshmallows. Then we pulled the ribbon up to be right under the marshmallows. We tried doing it both before and after, but doing it before seemed to keep the ribbon cleaner for us.
I love the way they turned out! And it seemed that every time I turned around there was a bite mark in one or more of them… sheesh. Good thing they are so easy to make! I am sharing my tips on making these cute coordinating ribbon toppers today over on my blog (HERE), so I hope you stop by!
You may also like some of these fun projects of mine:
Sprucing Up the Patio for Summer
Easy 10 Minute Stovetop Bacon Parmesan Asparagus
——————————————————-
LOVE these cupcake toppers!! So festive.
I can't believe summer and the 4th of July are already around the corner!!
To see more awesome stuff from Kristen, head on over to Ella Claire.
Here are some more 4th of July ideas perfect for parties and BBQ's: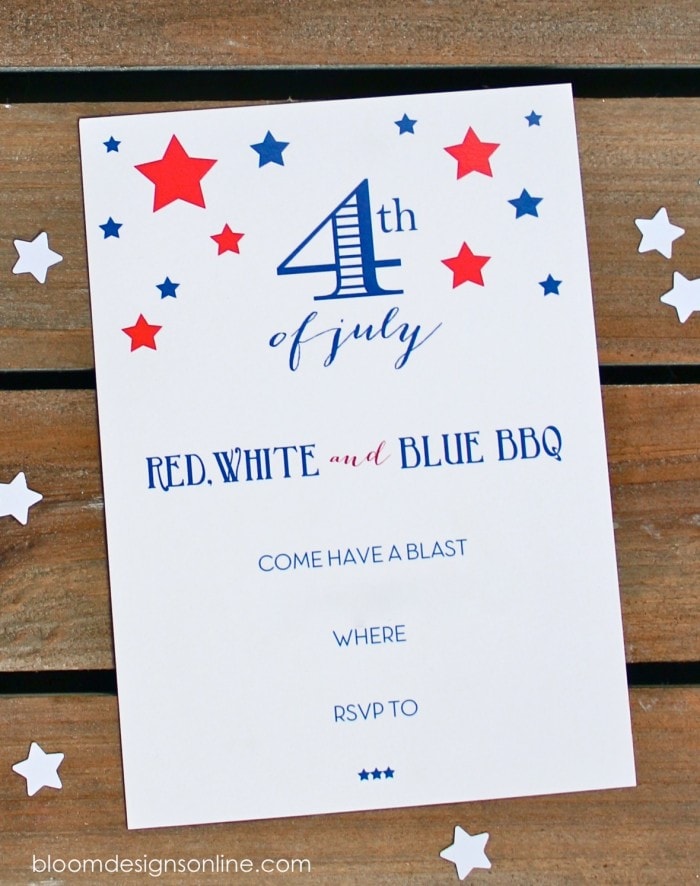 4th of July BBQ Invitation Printables
And for another yummy patriotic treat, check out these Red, White and Blue Trifle: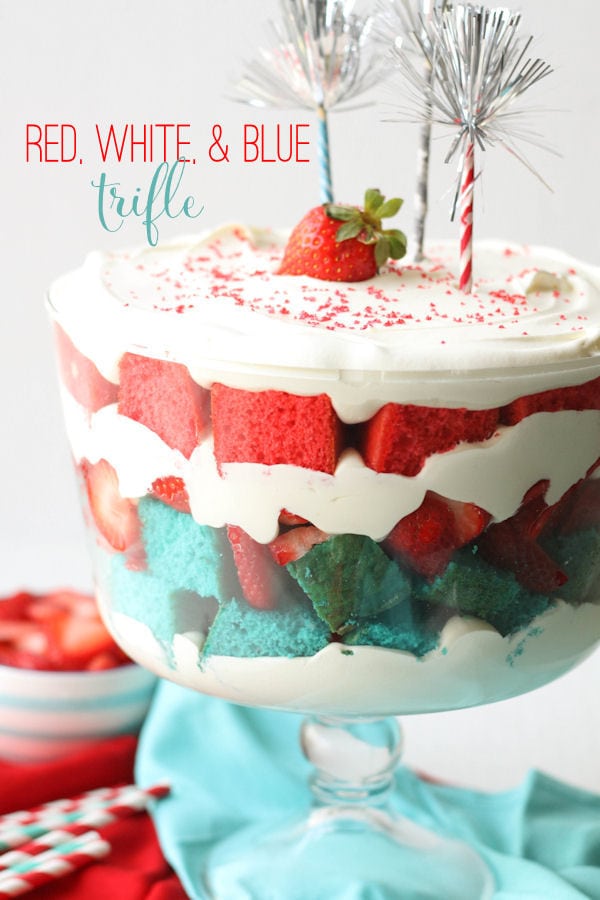 For all 4th of July ideas, go HERE.
For all crafts & tutorials go HERE.
And get weekly emails with monthly freebies by signing up for the Lil' Luna newsletter. 🙂
For even more great ideas follow me on Facebook – Pinterest – Instagram – Twitter – Periscope – Snapchat.
Don't miss a thing – Sign up for the Lil' Luna Newsletter today!
ENJOY!!!