Pesto Chicken Meatballs – homemade meatballs that are so juicy, delicious and perfect for your next meal!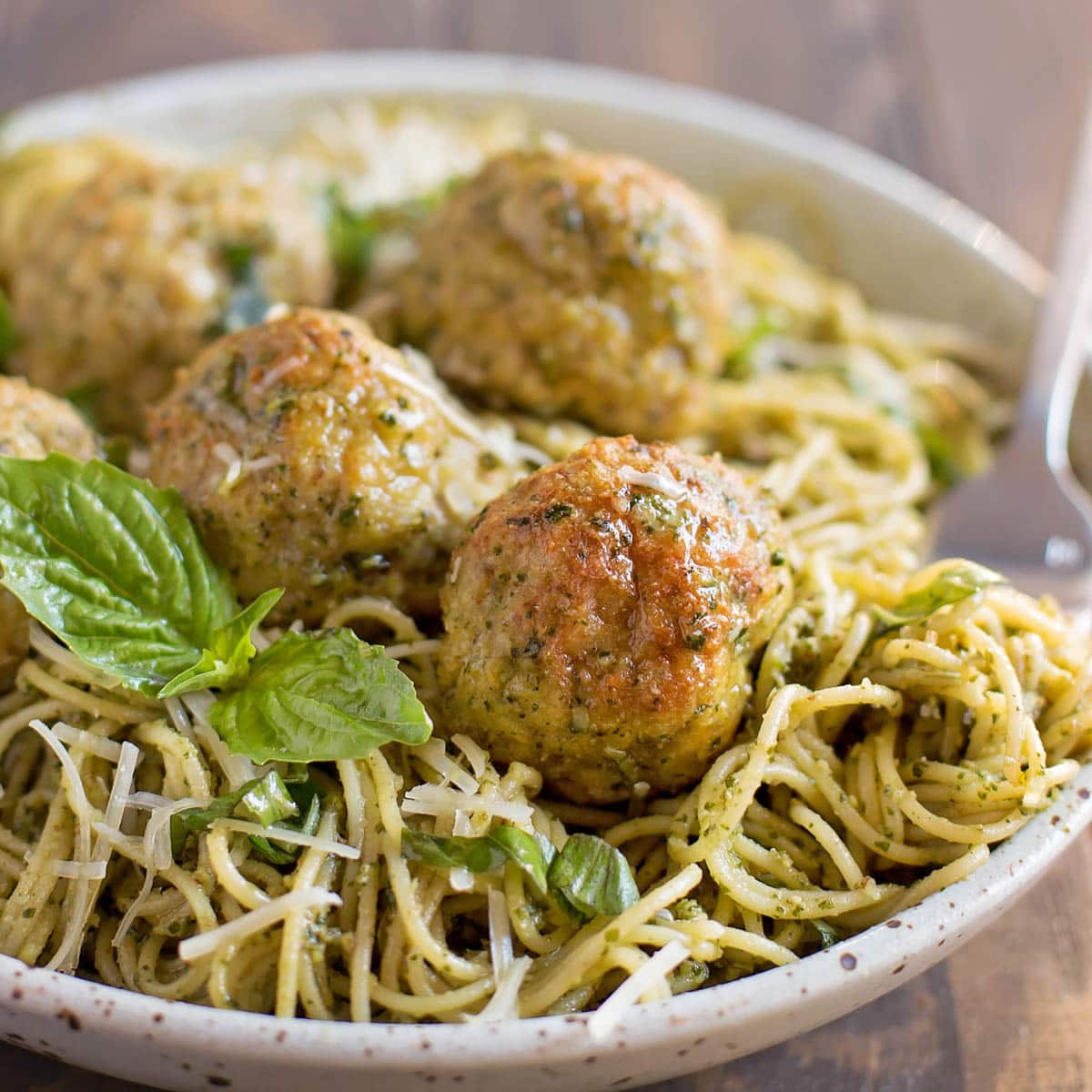 Our family is always on the hunt for really easy dinner recipes. Bonus points if they are both kid-friendly and somewhat healthy! These pesto chicken meatballs have become a family favorite. They require minimal ingredients and only a few minutes of prep. It doesn't get much better than that!
My kids absolutely adore basil pesto and chicken meatballs. I thought it only made sense to combine the two! Turns out that was a great idea… although I'll admit, I was a little worried at first. Testing recipes is always nerve wracking especially when you have two tough critics to please. Thankfully they turned out. Flavorful, tender and perfect on top of a bed of basil tossed pasta. We've also enjoyed them with roasted veggies and cous cous. Always a big hit!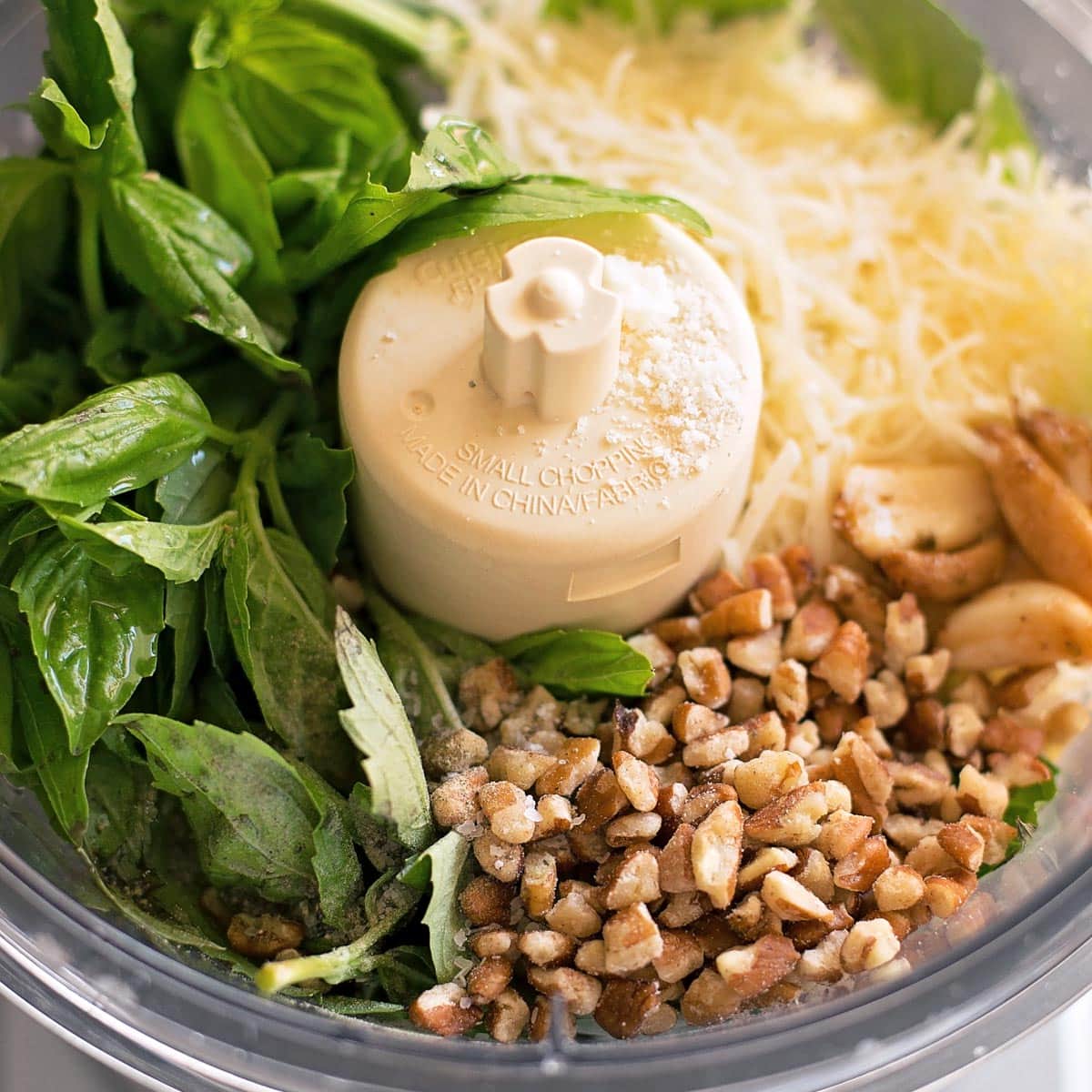 We always make homemade pesto because my husband is allergic to pine nuts, but store-bought works too. I make an extra large batch and it goes a long way. Plus if I make my own I can toss in extra greens like spinach and kale and the kids have no clue. 😉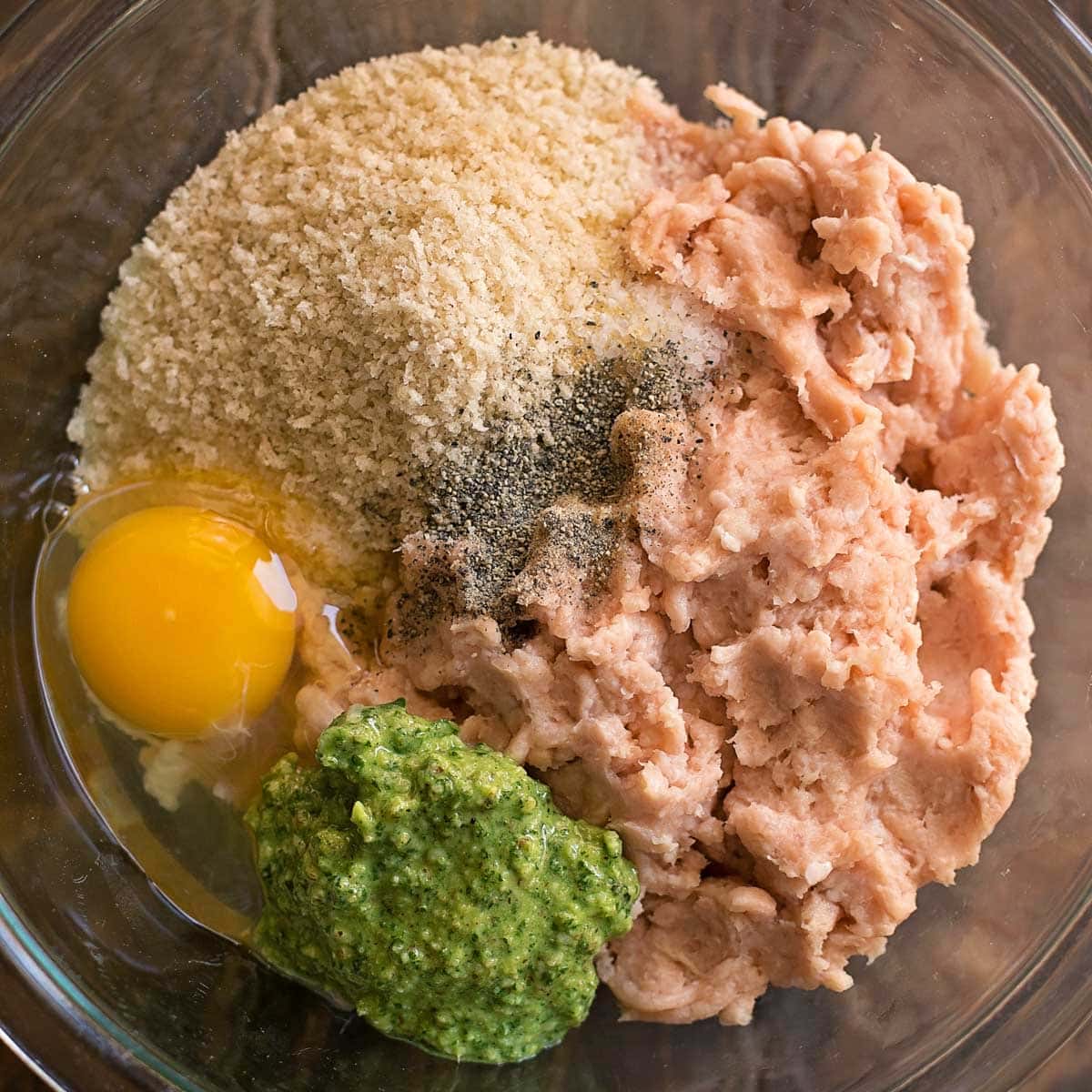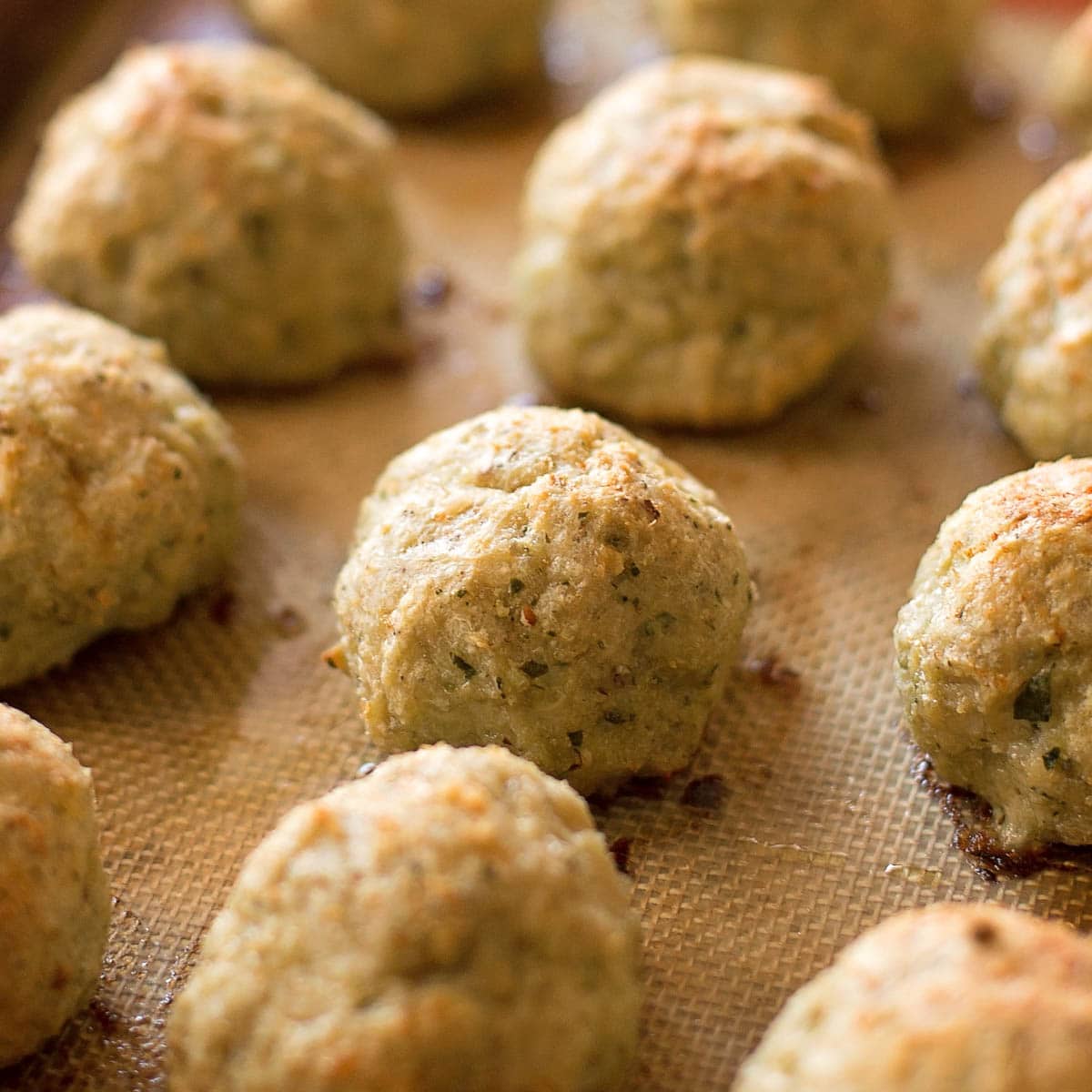 All you need for this recipe is a baking sheet lined with a baking mat and a large mixing bowl. Toss all of the ingredients together, form the meatballs, then spray them lightly with oil before baking them. After 20-25 minutes in the oven they'll be tender and juicy on the inside and crisp on the outside.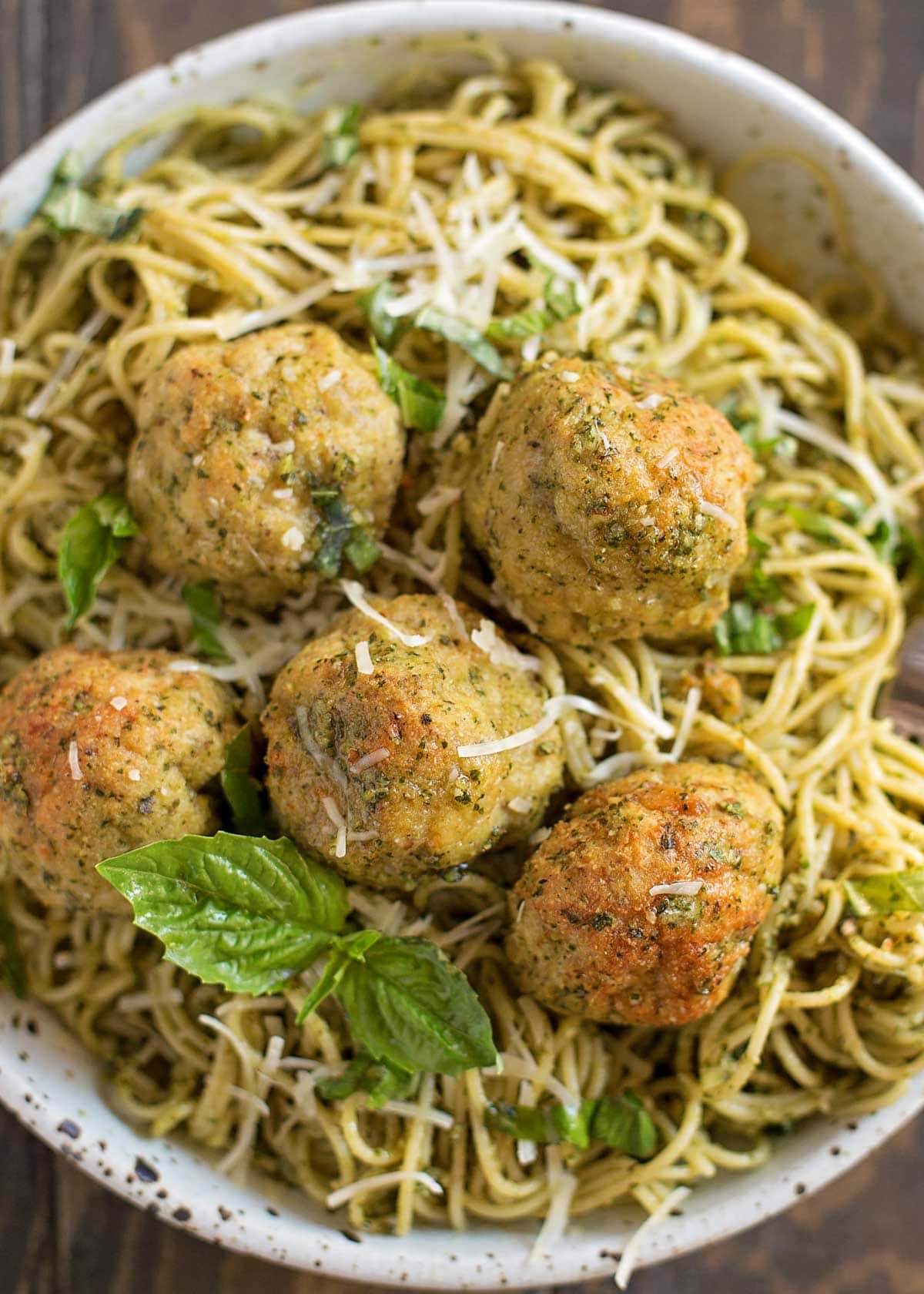 These meatballs are the perfect addition to any pasta, rice, or veggie dish. Even the pickiest of eaters will love them!
For more meatball recipes, check out:
More Pesto Recipes:
How to make Chicken Meatballs:
Pesto Chicken Meatballs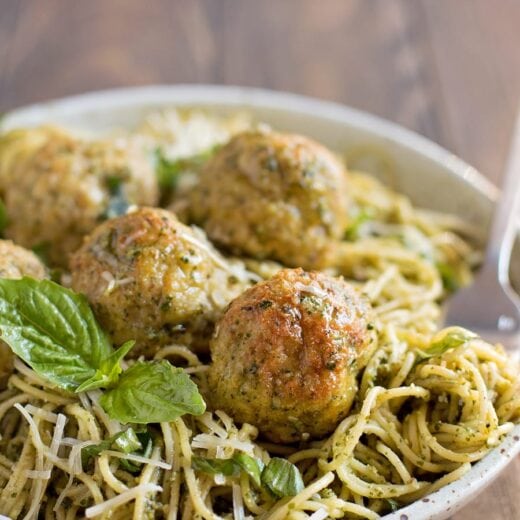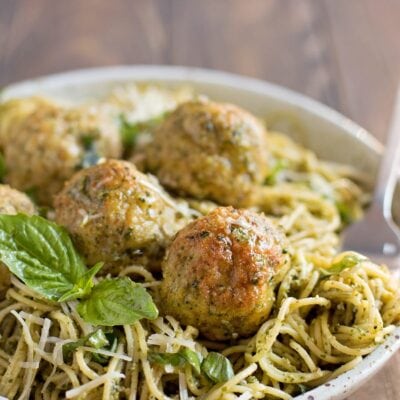 Flavorful chicken meatballs made with basil pesto. This will be a hit with even the pickiest eaters!
Ingredients
1

lb

ground chicken

1

shallot, minced

1/2

c

panko breadcrumbs

1/4

c

grated parmesan

1/4

c

basil pesto

fresh or store-bought

1

egg

1/4

tsp.

salt

1/4

tsp.

black pepper
Instructions
Preheat oven to 400 degrees. Line a baking sheet with a silicone baking mat, set aside.

In medium mixing bowl, combine ground chicken, shallot, breadcrumbs, parmesan, pesto, egg, salt and pepper. Using a spatula or your hands, mix until combined.

Roll mixture into balls about 1 1/2 inches in diameter. Place onto prepared baking sheet and lightly spray with oil (I prefer using pure avocado oil).

Place into oven and bake for 20-25 minutes or until they reach an internal temperature of 165 degrees. Remove from the oven and serve with your favorite pasta dish or steamed veggies.
——————————————-
So delicious!! We love meatballs and can't wait to try this version. Thank you, Natalie!! For more great recipes from her, be sure to head over to Life Made Simple Bakes.
For our easy homemade meatball recipe, click HERE:
ENJOY!