Disney paid for my family's vacation to Walt Disney World. As always, all opinions are my own.
So you've decided to go to Walt Disney World!
What now?
When planning a vacation to the Happiest Place on Earth, there are many things to do and consider to make your vacation the best one yet. Many things can be done months in advance to prepare for the vacation, but there are also some things that just need to be done days in advance. Today, I'm going to share with you some tips and information to help you plan and prepare for a wonderful vacation to Walt Disney World, as well as provide a checklist to make sure everything is taken care of.
Let's begin with the things that can be done MONTHS IN ADVANCE.
BOOK AIRFARE – It's important to book your flights early to get the best deals and to make sure you can visit the parks when you want to visit the parks. Getting time off isn't always easy, so be sure to plan accordingly and reserve your airfare at the earliest convenience.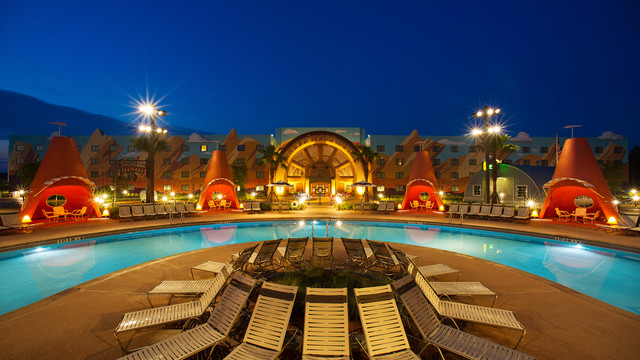 BOOK HOTEL – Walt Disney World is popular! Hotels are booked way in advance, so if there is a particular place you'd like to stay, make sure you book it early. Fortunately, there are so many great Disney hotels and resorts to choose from. You do not have to book your stay at a Walt Disney World resort, however there are many perks that we have found make it worth your while. A few of these are free easy transportation to all of the parks, extra magic hours, and the magical ambiance of the park continuing back at your resort. We were surprised at the affordable options that there were too. They have resorts from the most luxurious stays, to very fun and budget friendly.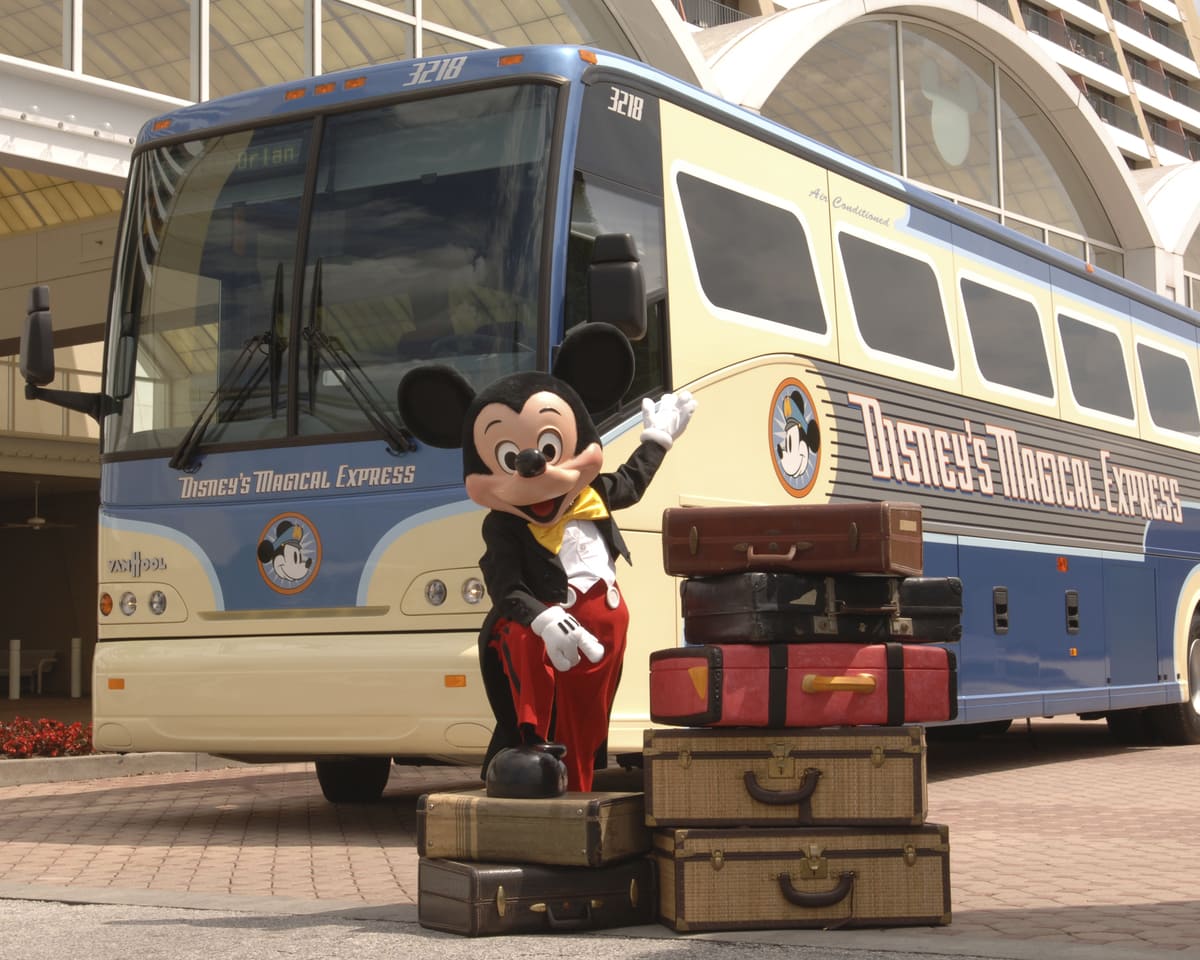 BOOK DISNEY'S MAGICAL EXPRESS – If staying at select Disney resorts, you can use Disney's Magical Express, a complimentary motorcoach transportation, to and from Orlando International Airport. It also includes complimentary luggage delivery straight to your hotel room. Pretty convenient!! The service is available for flights arriving from 5:00 AM to 10:00 PM so be sure to book it by calling: (407) 939-1936. Luggage Tags will be sent to your home 2-3 weeks before your travel. If you want the bags to go straight to your room upon arrival, attach the tags before you get to the airport and they'll show up in your hotel room up to 3 hours after arriving at your resort. There is nothing more magical than dropping your luggage off at your departing airport, and not having to worry about them until you are in your room!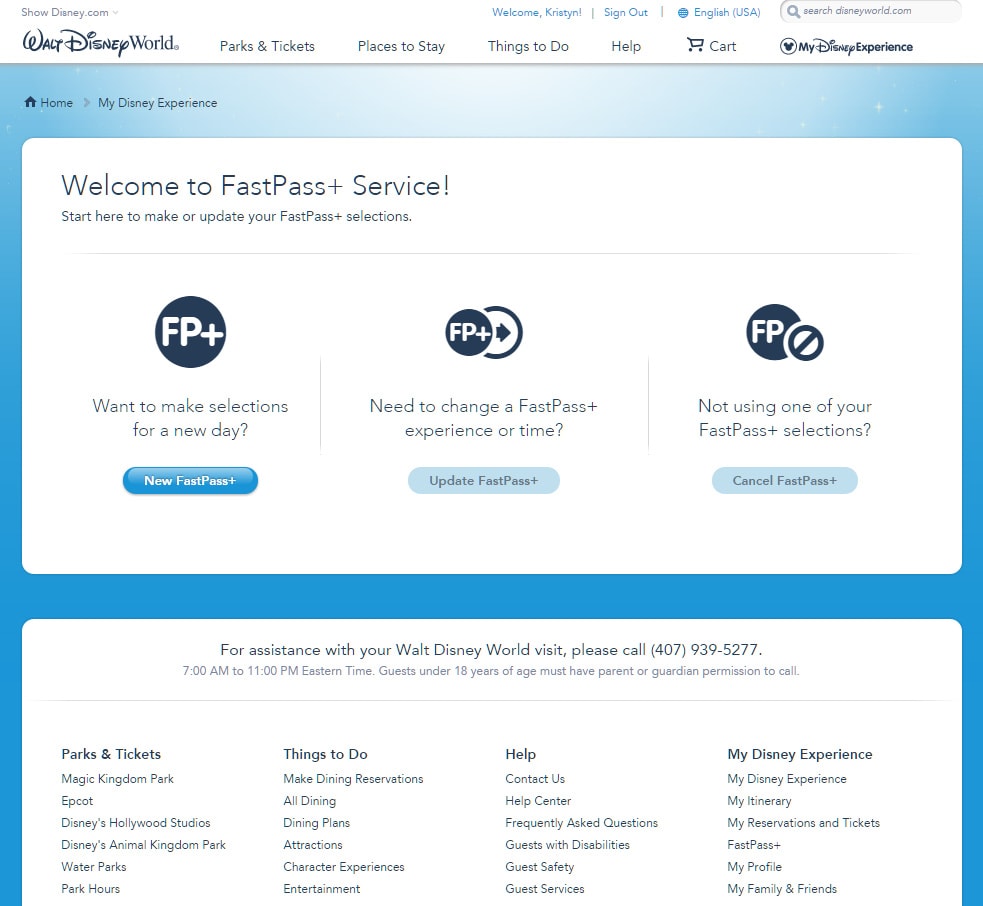 MAKE FAST PASS+ RESERVATIONS – The Disney FastPass+ service lets you reserve access to select attractions, entertainment and more. You can start making your selections 30 days before you arrive, or as early as 60 days before check-in when you have a Walt Disney World Resort vacation package. secure up to 3 FastPass+ selections for popular attractions like Big Thunder Mountain Railroad and Mission: SPACE and entertainment choices such as Fantasmic! There are even FastPass+ picks for Character Greetings where you'll meet Mickey Mouse and Cinderella, and special viewing areas for parades and fireworks. Definitely a park-MUST! If you wait to do this until you get to the park, many of the more popular attractions reservations could already be filled
MAKE RESTAURANT RESERVATIONS – All guests can book dining reservations 180 days in advance by calling (407) WDW-DINE (939-3463). With the popularity of these restaurants, it can be difficult to walk up and get into these hot spots, even during low-peak season so it's essential to book in advance. For a complete list of Dining Restaurants, be sure to go HERE.
SET A BUDGET
START ON THE PACKING LIST (See Complete Walt Disney World Packing List Below)
ORDER CUSTOM MAGICBANDS – MagicBands and cards are secure all-in-one devices that allow you to effortlessly access the plans and vacation choices that you've made with My Disney Experience. MagicBands are colorful, waterproof wristbands—resembling a watch or bracelet—that can unlock your Disney Resort hotel room, allow you to enter theme parks, check in at FastPass+ entrances, charge food and merchandise purchases to your room and more.

You can order a custom MagicBand at least 10 days before your arrival by going HERE.

CHECK DISNEY'S EVENT SCHEDULE AND PLAN YOUR DAYS – Visit the Park Calendars by going HERE and have a tentative schedule of what you would like to do each day.
Now, let's talk about things to plan a WEEK IN ADVANCE:
CHECK WEATHER – Pack appropriate clothing, and don't forget items like umbrellas and ponchos in case you need them.
PRE-ORDER DISNEY'S MEMORY MAKER – Disney PhotoPass Service gets everyone in the picture—and Memory Maker allows you to download all of your favorite digital photos taken at all the perfect locations, with your favorite characters and on rides. There's no need to buy pictures individually because Memory Maker captures all of them for you! If purchased in advance, you get a discount rate, so if you know you'll use it, buy it in advance. Memory maker even has special video capture for certain rides where they will insert you into a movie about the ride! Our kids love this!
PAY BILLS BEFORE YOU LEAVE – The last thing you'll want to worry about is paying bills while on vacation!
HANDLE MAIL FOR YOUR VACATION – Have a friend pick or neighbor pick up your mail while you are gone or call the post office and have them hold it.
INFORM YOUR NEIGHBORS OF YOUR DEPARTURE – Make sure a close neighbor or friend knows you will be gone so they can keep an eye out on your house. Be sure to exchange phone numbers with your neighbors in case of an emergency.
TALK TO YOUR FAMILY ABOUT TRAVEL SAFETY – Be sure to inform your children of safety rules while on your Disney stay and to stay close while at the parks. Getting lost can easily happen, so make sure your kids know that they can get help from any Disney employee.
DOWNLOAD MY DISNEY EXPERIENCE PHONE APP – The app is filled with handy features and lets you view and update your plans, make dining reservations, search maps of all 4 theme parks, get real-time attraction wait times and more.
ORDER GROCERIES – There are many services available that allow you to order groceries and have them delivered to your hotel room on a specific day. If you are hoping to use this service, it must be done several days in advance upon your arrival.
CHARGE ELECTRONICS – Make sure all devices (phones, cameras, tables, Portable DVD Players, External Phone Chargers, etc.) are charged and ready to go. Be sure to pack extra memory cards and batteries too!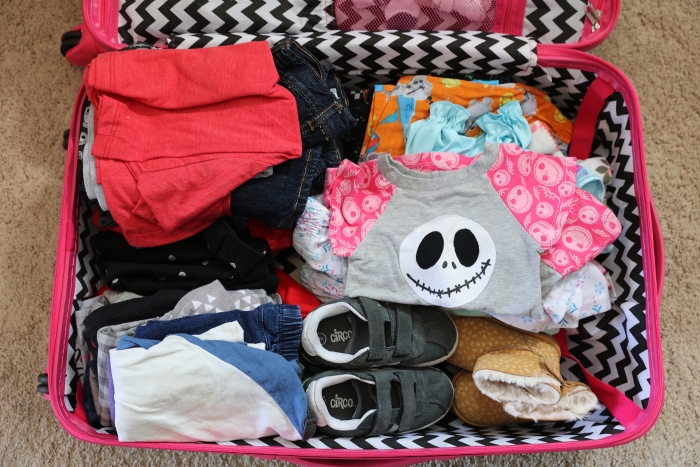 PACK LUGGAGE – Start this several days in advance and keep a running list of items to bring and place them in a designated are as you think of them.
PACK TRAVEL BAGS/BACKPACKS – Make sure all reservations, paper documents, IDs and everything else for the plane/car ride is handy.
ONLINE CHECK-IN – Many Disney resorts and hotels have Online Check-in so be sure to do this by going HERE.
Yes, there's so much to do for your vacation, but I promise you it will be amazing!!
To help you out, I thought a cute printable checklist would be handy.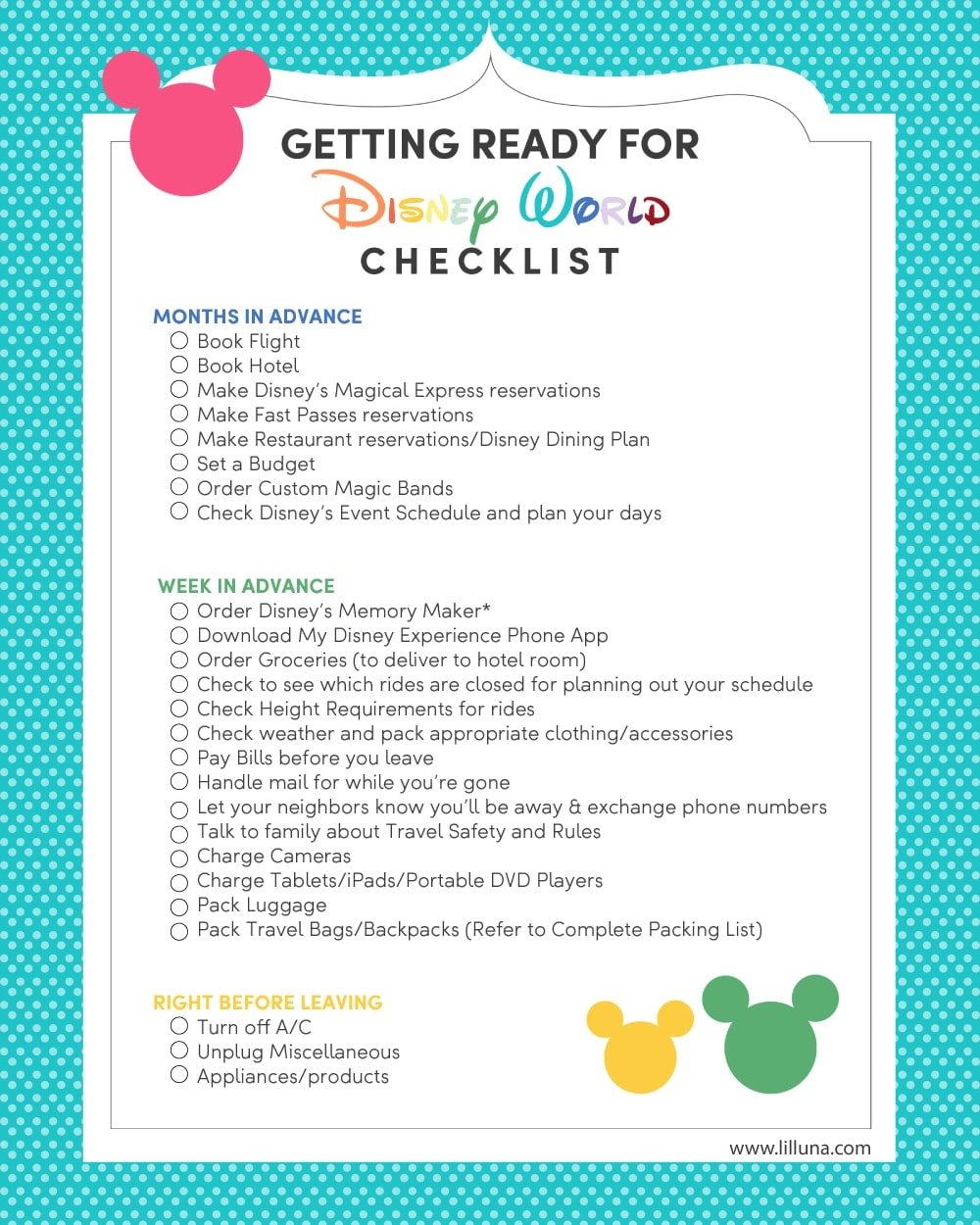 TO DOWNLOAD, GO HERE.
I think we all know that the hardest part of the vacation is PACKING for it!!
There are so many things to think of, so I wanted to put together the COMPLETE WALT DISNEY WORLD PACKING LIST for you to use for your next vacation. I've been working on this list since we had our vacation and hope I covered everything. You won't need everything on this list. Just go through and highlight all the things you will need and then you can check them off as you pack them. 😉

Told you it was long! 😉
As I mentioned above, there is no need to bring everything listed above. This list is simply to help you know the things you may need while you're there depending on your family situation and when you are attending the parks.
For a PDF version of this Packing List go HERE.

Now that you are all planned for your vacation, you can use this 30 Day Paper Chain to count down to your upcoming vacation. To download the PDF go HERE.
I hope these tips and Prints help in planning your vacation to Walt Disney World!
And, for even a few more tips check these out: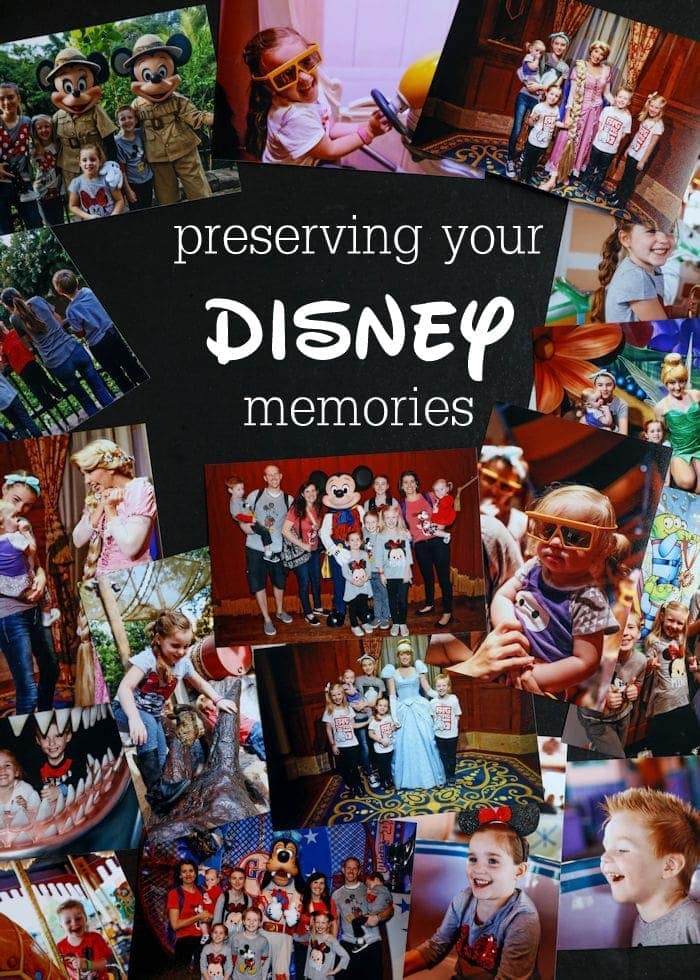 Preserving Your Disney Memories

10 Creative Ways to Reveal A Disney Vacation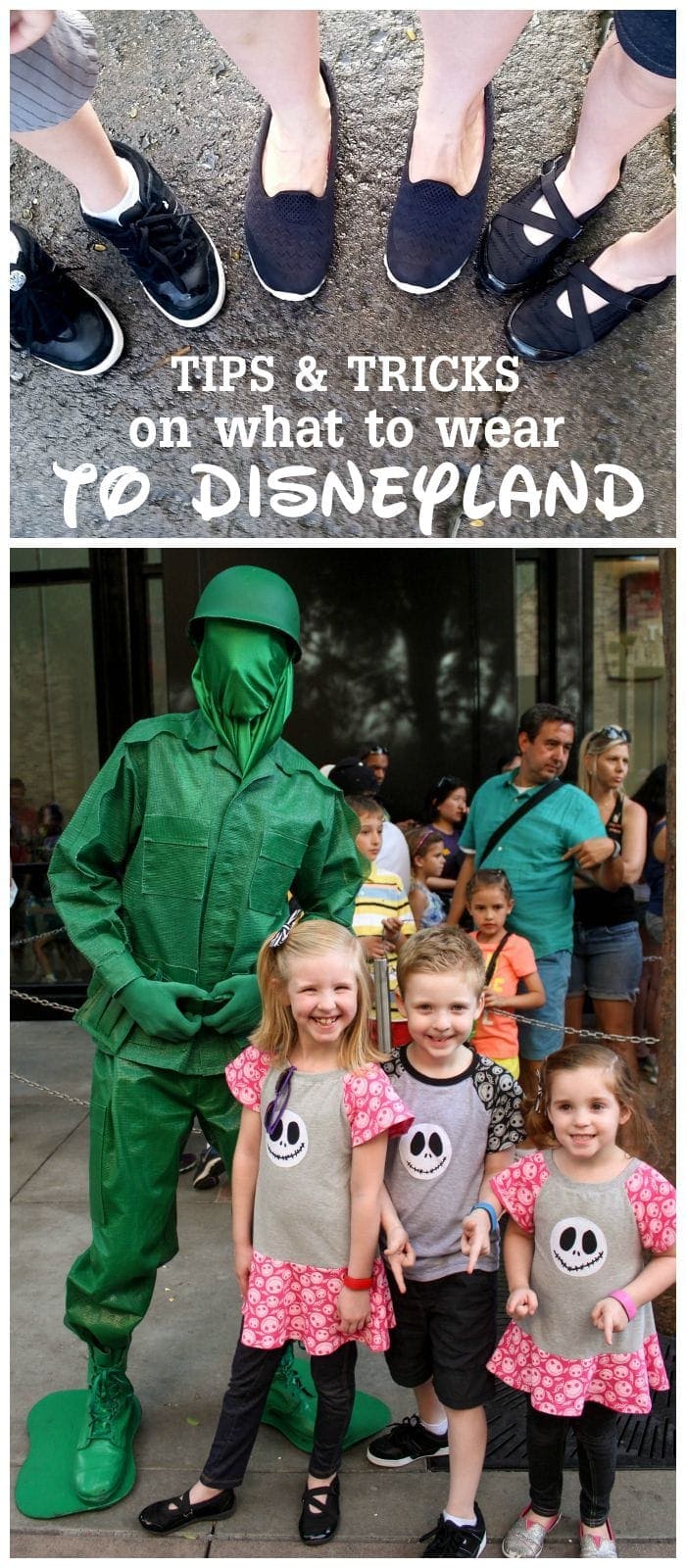 ENJOY!