We're back to soups again, my friends. This time we're sharing an Asian Soup,and we're not talking Egg Drop Soup… this one is a Pork and Edamame Soup that will knock your socks off!!
This is another recipe my mom tried out (from BHG), and I can't wait to give it a try myself. She just modified it a bit by using pork chops instead of pork roast as well as taking out the peppers and chestnuts (I think mostly because she knew the fam would like it better without them). The hubby is a huge fan of anything with PORK (it's his favorite meat) so I'm guessing he'll love this recipe too. I've also converted him to Edamames. We buy the huge pack from Sams Club with the packs of Edamames and often have those for a snack while watching a movie at night. What's crazy is I feel like I didn't even know what they were 10 years ago, and now we have them ALL the time – they are so good! Combine the pork and edamames with Ramen Noodles, and it makes for a delicious soup!

Kinda looks like something from Panda Express, huh? All I know is it looks super tasty!

Pork and Edamame Soup
Ingredients
2 lbs boneless pork loin chops, cut in chunks
1 TB oil
2 14 oz. can chicken broth
1 12 oz. package frozen edamame
2 TB soy sauce
1 TB hoisin sauce
2 tsp. grated fresh ginger
¼ tsp. crushed red pepper
6 cloves garlic, minced
1 package ramen noodles broken
Instructions
Slice meat into 1-inch pieces. If needed, trim fat from meat. Brown in a large skillet of hot oil.
Put meat in a slow cooker. Stir in chicken broth, edamame, soy sauce, hoisin sauce, ginger, crushed red pepper, and garlic.
Cover and cook on low-heat for 7 to 8 hours or on high-heat for close to 4 hours. Stir in uncooked ramen noodles, cover and cook for an additional 5-7 minutes.
Man, I LOVE delicious soup recipes! Time to add this one into the meal rotation over the next few months.
For more delicious soups, be sure to check out: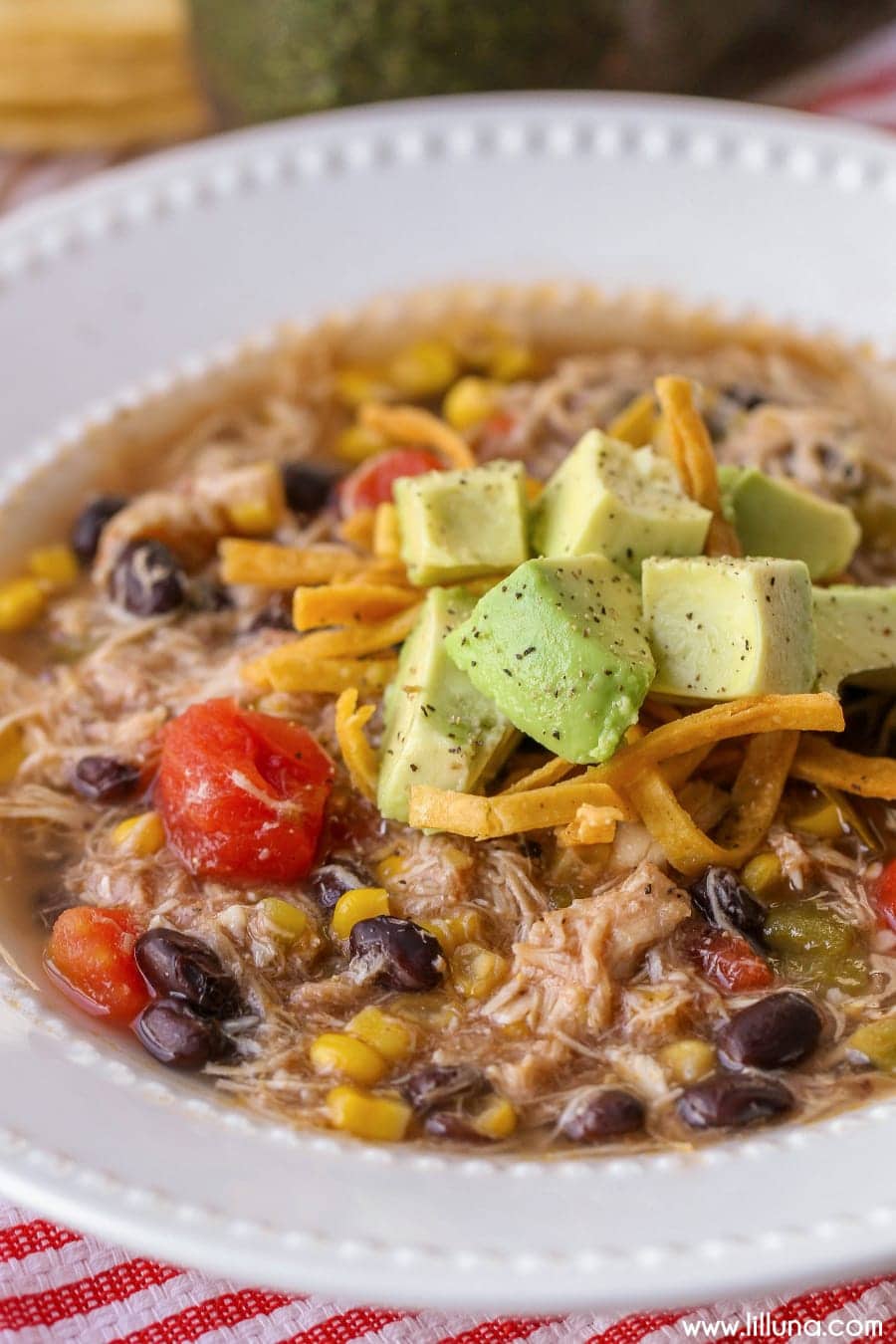 Check Out My Other Recipes
For all Soup Recipes go HERE.
For all Lil' Luna Recipes go HERE.
And get weekly emails with monthly freebies by signing up for the Lil' Luna newsletter. 🙂
For even more great ideas follow me on Facebook – Pinterest – Instagram – Twitter – Periscope.
ENJOY!
Need more recipes and creative ideas? Sign up and get a FREE copy of my latest ebook!