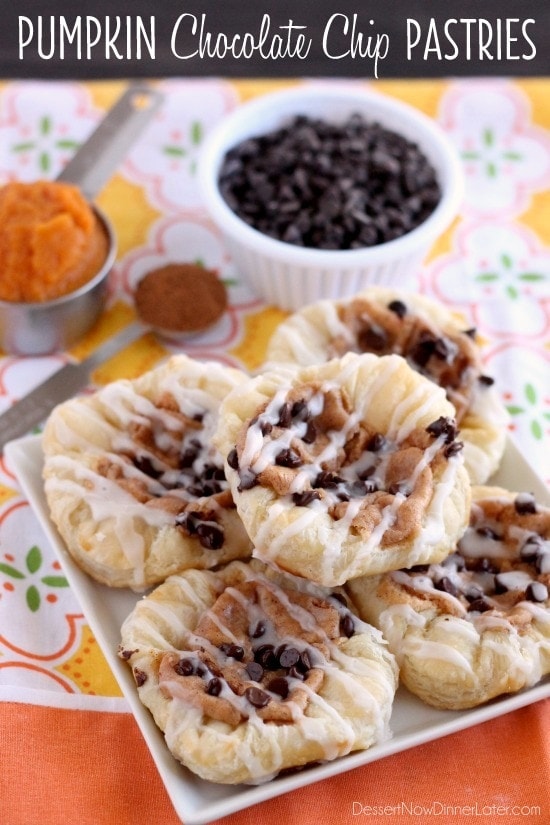 Hi Lil' Luna friends! I'm Amber and I blog at Dessert Now, Dinner Later! I love eating my dessert first, but I love savory dishes as well. My blog is where I share recipes, along with my knowledge and skills as a culinary graduate. If you have a minute, stop on by and look around! There are tips, tricks, and tutorials as well as delicious sweet and savory recipes. Go ahead and scroll through the recipe index for inspiration.
Today I am sharing one of my favorite fall pastries! I used to work in a bakery that made all the desserts for every eatery and catering event at Utah State University. The pastries was one of my special jobs. Of course, we used danish dough and a large sheet to roll it out, but this is the simple at home version. 😉
Pumpkin Chocolate Chip Pastries are made with frozen puff pastry dough, a spiced pumpkin cream cheese, and mini chocolate chips! They are especially delicious warm from the oven with a powdered sugar glaze!
MY OTHER RECIPES
The frozen puff pastry comes in a box from Pepperidge Farm and has two square sheets which cut nicely into 9 squares each.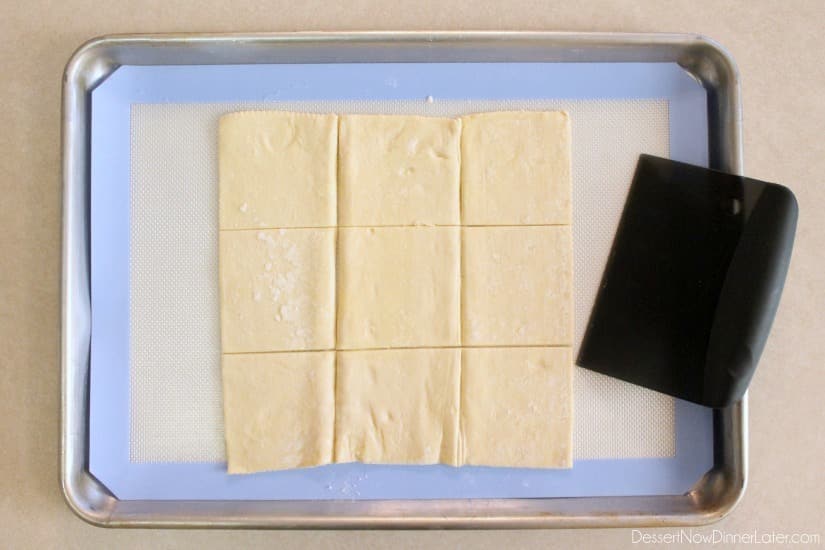 Fold the corners in towards the center and egg wash the edges to help them brown up in the oven. Don't egg wash the centers or your filling will slide right off as it bakes.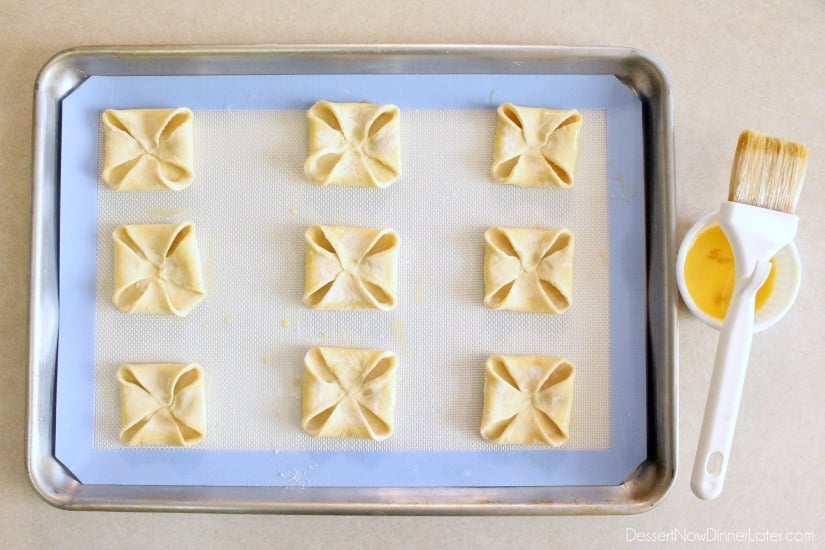 Add a spiced cream cheese and mini chocolate chips right in the center.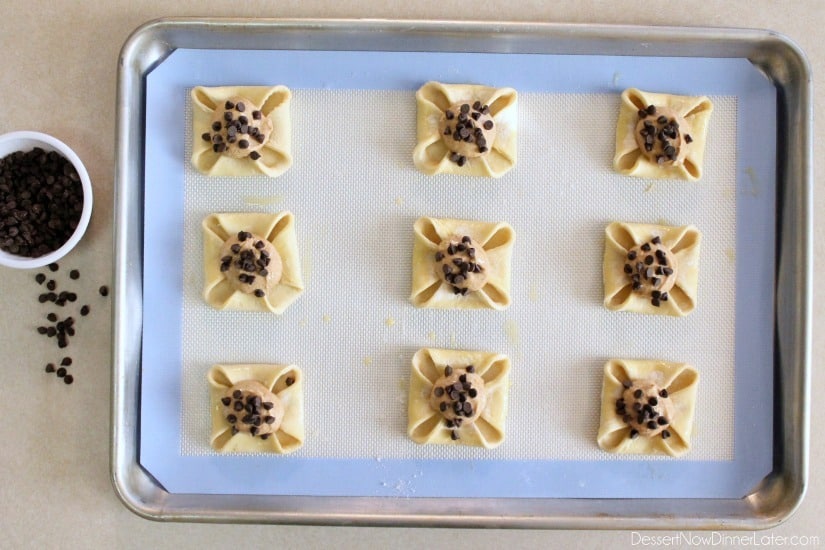 Bake and drizzle with a powdered sugar glaze to create a delicious pastry for breakfast or dessert!
Pumpkin Chocolate Chip Pastries
Yield: 18 pastries
1 box Pepperidge Farm Frozen Puff Pastry Sheets (2pk)
4 oz cream cheese
1/4 cup sugar
2 Tbsp pumpkin puree (not pumpkin pie filling)
1 egg, whisked
1 1/2 tsp pumpkin pie spice (I like my homemade version)
Mini Chocolate Chips
1 1/2 cups powdered sugar
2 Tbsp water
Remove the puff pastry sheets from the box and thaw at room temperature for 40 minutes, or per directions on the box. The dough will unfold easily once it's thawed.
With a hand held mixer and a bowl, beat the cream cheese and sugar until all lumps are gone. Mix in the pumpkin puree and pie spice. Set aside.
Once the puff pastry is thawed, unfold it onto a silicone mat or parchment lined baking sheet. (It will be a large square. I used two baking sheets for the two sheets of puff pastry.) Using a bench scrape or pizza cutter, cut each pastry sheet into 9 squares.
Fold the corners of each square in toward the centers. Brush the whisked egg onto the edges of the pastries. Avoid the centers or the filling will slide off while baking.
Spoon half of a Tablespoon (or heaping teaspoon) of the pumpkin cream cheese into the center of each pastry. Sprinkle the tops with mini chocolate chips.
Bake at 400 degrees Fahrenheit for 15 minutes or until the bottom and edges are browned (baking one tray at a time). Allow pastries to cool slightly.
Mix powdered sugar with water. You want it thick and white, but still pourable. A little water goes a long ways. With a spoon, drizzle the glaze back and forth over the pastries. Allow glaze to set and enjoy!
Thanks for having me today, Kristyn and Lil' Luna readers! I'd be honored to have you stop by Dessert Now, Dinner Later! or connect with me via social media sometime.
Facebook | Twitter | Pinterest | Google + | Instagram
——————————————-
Here are some more pumpkin treats from Dessert Now, Dinner Later!:
Cream Cheese Filled Pumpkin Bread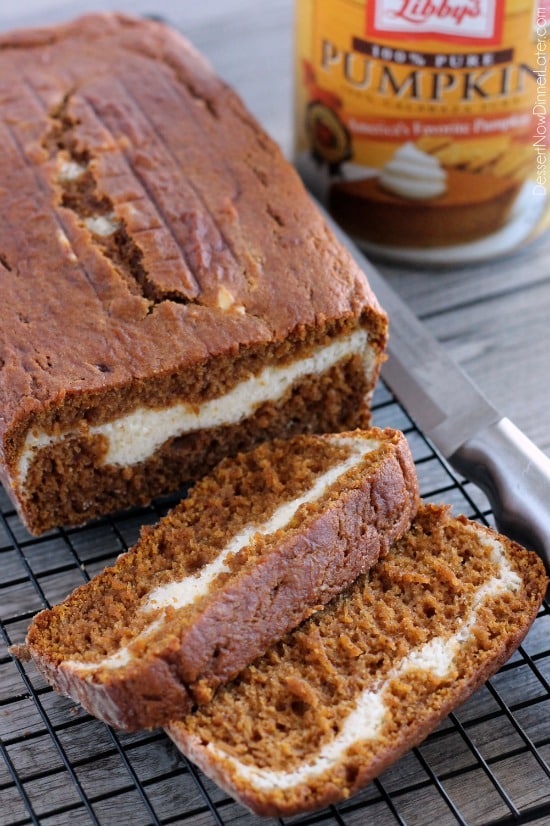 Pumpkin White Chocolate Chip Blondies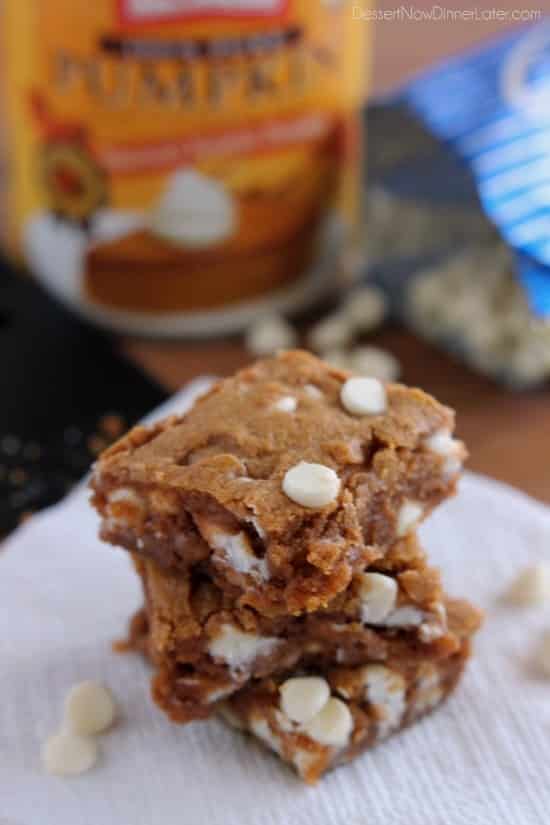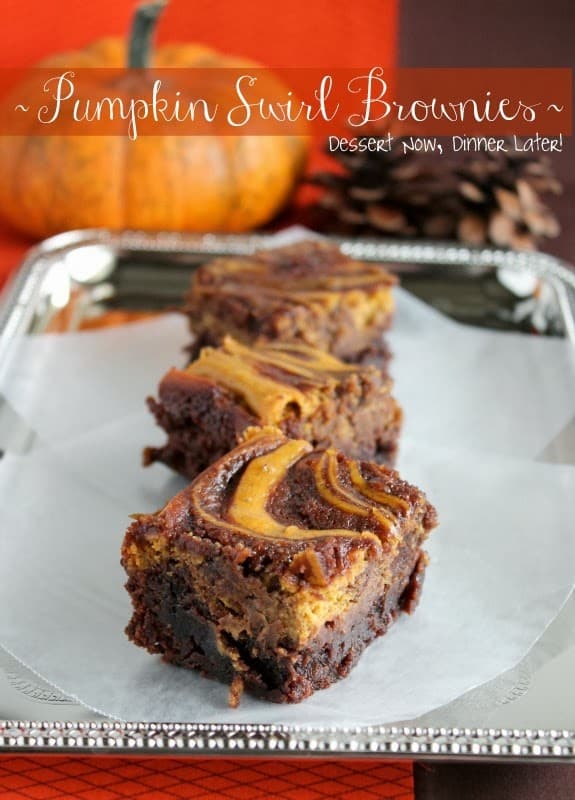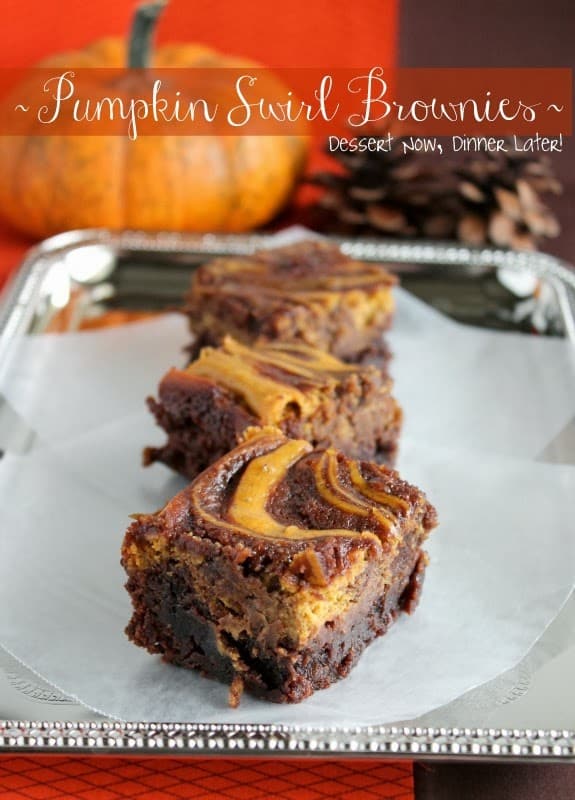 —————————————-
These Pumpkin Chocolate Chip Pastries look easy AND delicious!
Thank you. Amber!
For more great recipes from her be sure to head to Dessert Now, Dinner Later.
For more great pumpkin treats, check out: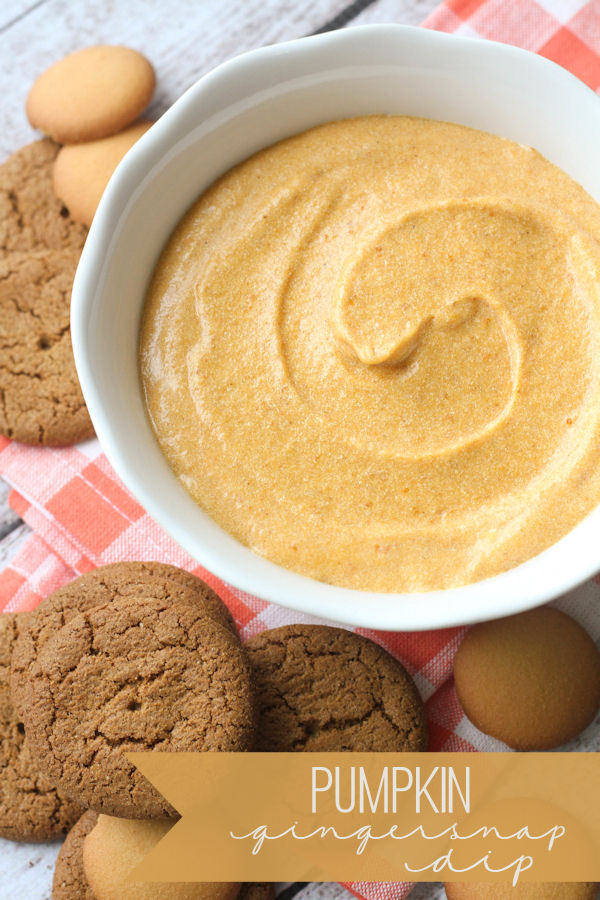 And get weekly emails with monthly freebies by signing up for the Lil' Luna newsletter. 🙂
For even more great ideas follow me on Facebook – Pinterest – Instagram – Twitter – Periscope.
ENJOY!