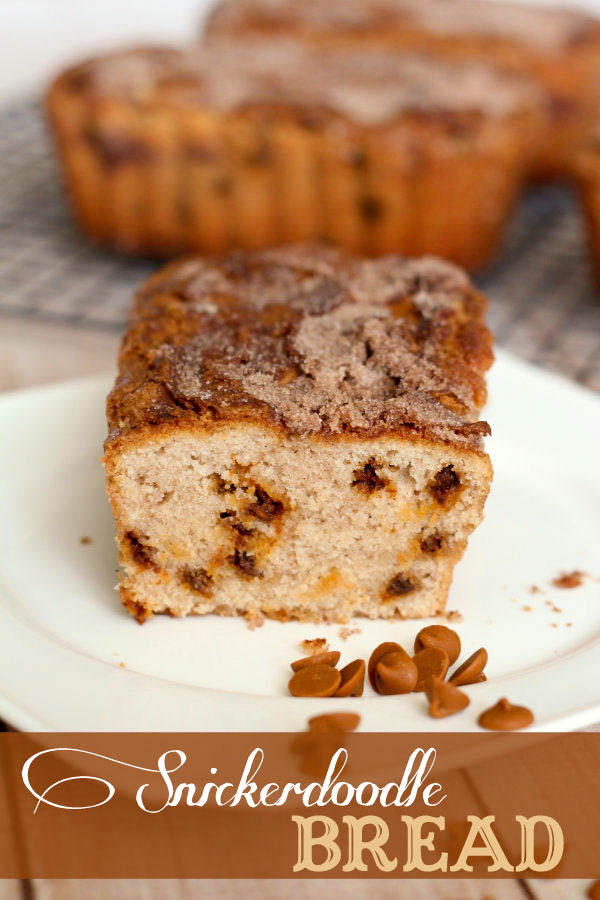 I about died when my mom tried out this new recipe for Snickerdoodle Bread.
She found the recipe from Barbara Bakes and made a few modifications. It was a huge hit!!
If you like bread and you like Snickerdoodles, you will LOVE this recipe!
I PROMISE you will love this recipe – it is so good!
But, I must warn – cinnamon chips are only seasonal and can be found at most grocery stores during the holidays. Although few stores carry them the rest of the year, you can always order them online at the Hershey's Store.
For video instructions on how to make this delicious quick bread, watch the video below:
Here is the printable recipe:

Snickerdoodle Bread
Ingredients
2½ cups flour
2 tsp baking powder
½ tsp. salt
2 tsp. cinnamon
1 cup butter (softened)
2 cups sugar
3 eggs
1 tsp vanilla
¾ cup sour cream
1 package Hershey's Cinnamon Chips
3 TB sugar
3 tsp. cinnamon
Instructions
Cream butter, sugar, salt and cinnamon until fluffy. Add eggs and mix well.
Add vanilla and sour cream and mix well.
Mix flour and baking powder in a separate bowl. Add to wet ingredients and mix until all combined.
Add cinnamon chips and stir into batter. Set aside.
Spoon batter into 4 mini loaf pans until about ⅔ full.
Mix 3 T. sugar and 3 t. cinnamon in a bowl and sprinkle over the batter in each loaf pan.
Bake at 350 for 35-40 minutes. Let cool before removing from pan.
Products Featured in this Recipe:
(may include affiliate links)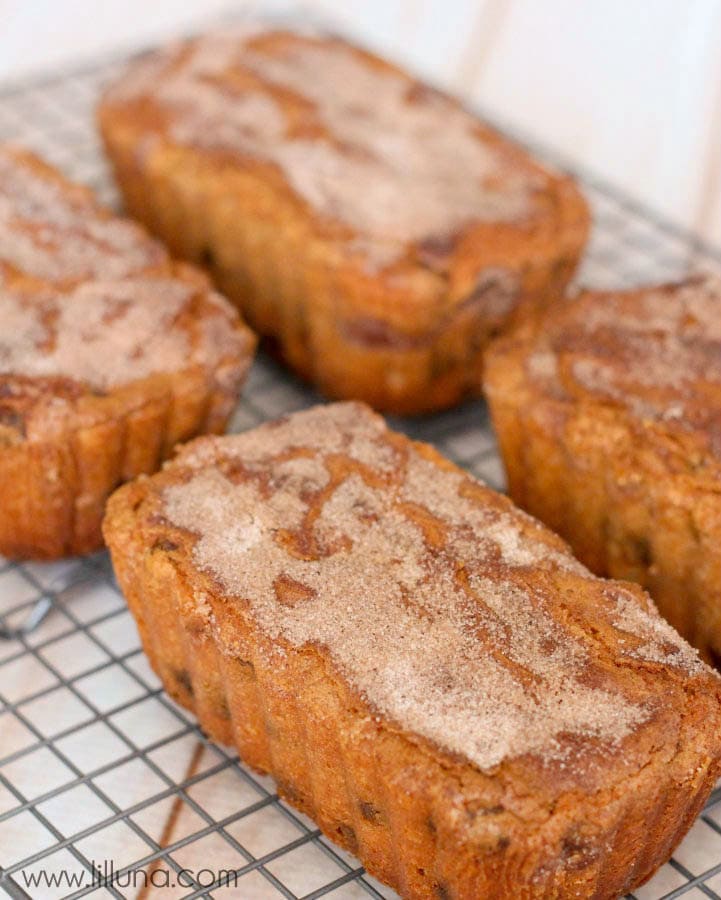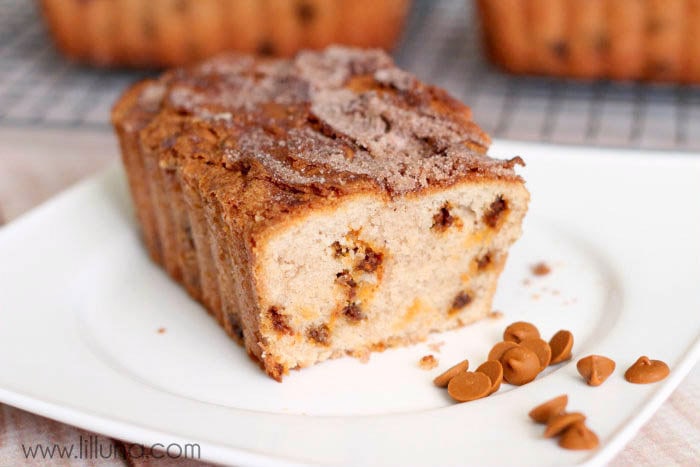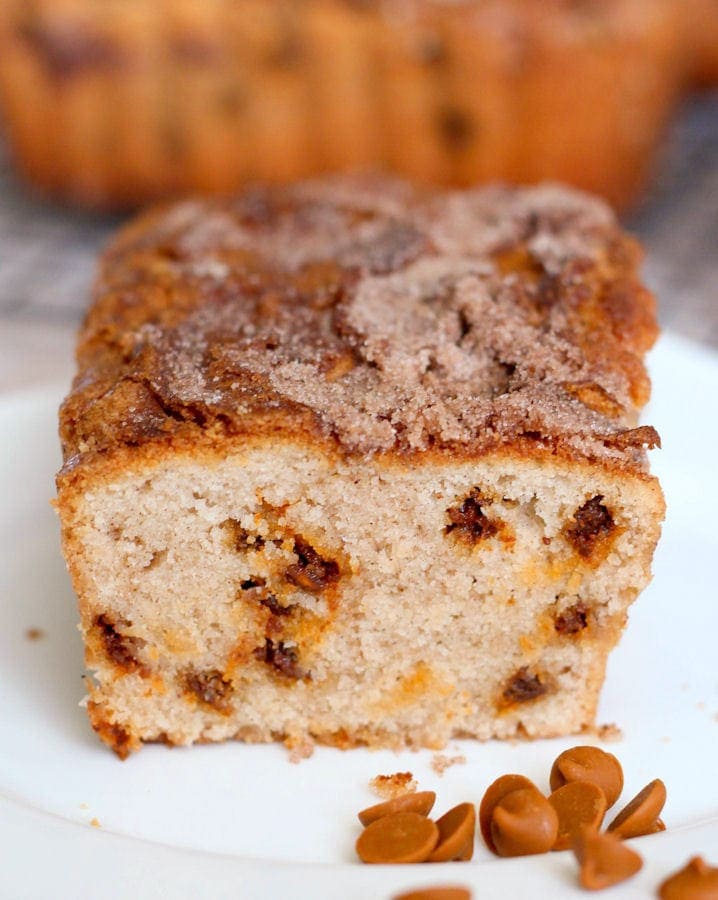 Check Out My Other Recipes
My advice – stock up and freeze the chips during the holidays. 🙂
For more SNICKERDOODLE creations, check out these amazing recipes: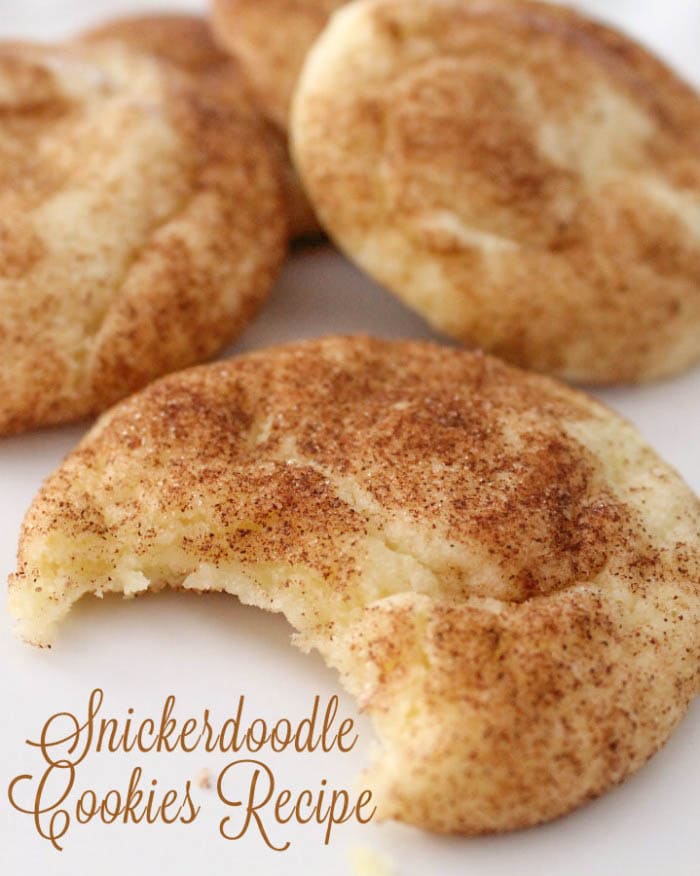 The Best Snickerdoodle Cookies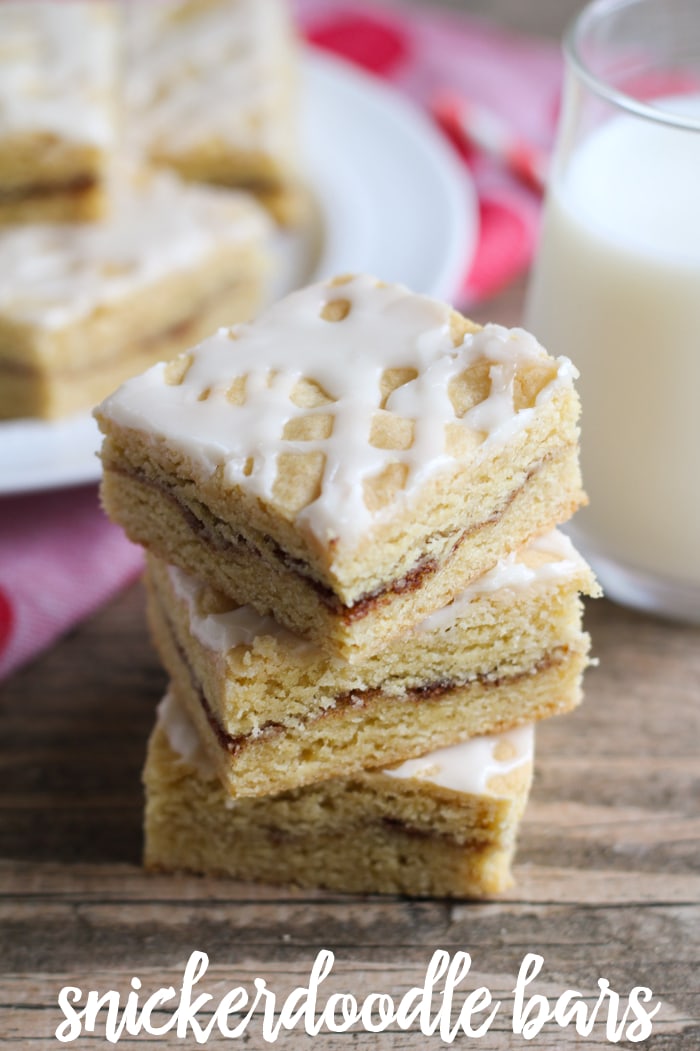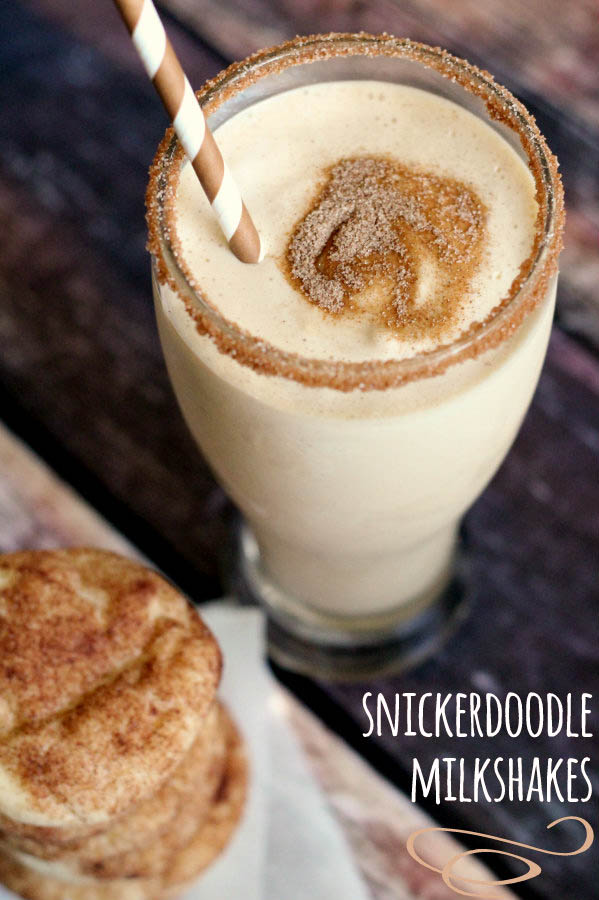 UPDATED:
NOTES FROM OTHER READERS FOR SNICKERDOODLE BREAD:
-This recipe makes 4-6 mini loaves depending on the size of pan you use. I prefer to use the small aluminum pans and make 5 loaves.
-For a Gluten-Free version please visit Suburban Prairie Homemaker
-Can be made in 2 large loaf pans. Bake at 350 for about 60-70 minutes (until a toothpick inserted comes out clean).
-Cinnamon Chips are a seasonal item. You can find them at Hersheys.com online OR if you are in AZ, Albertson's carries them (woo hoo!!)
-If you can't find cinnamon chips, many readers have tried TOFFEE CHIPS or WHITE CHOCOLATE CHIPS and said they turned out great!!
-For a healthier version you can substitute the sour cream for greek vanilla yogurt.
-You can make these as muffins (makes about 2 dozen) – bake for about 20 minutes.
For all Dessert recipes go HERE.
For all Recipes go HERE.
And get weekly emails with monthly freebies by signing up for the Lil' Luna newsletter. 🙂
For even more great ideas follow me on Facebook – Pinterest – Instagram – Twitter – Periscope – Snapchat & YouTube.
ENJOY!
BEHIND THE SCENES:
This Post was updated on 7.1.13 with new images of the recipe.
Need more recipes and creative ideas? Sign up and get a FREE copy of my latest ebook!