Sara Lee pound cake baked in a layer of butter and cinnamon sugar, topped with vanilla ice cream, white chocolate sauce, and white chocolate curls – this Snickerdoodle Pound Cake is hard to resist! Although it looks (and sounds) fancy, it's one of the most simple dessert recipes to create!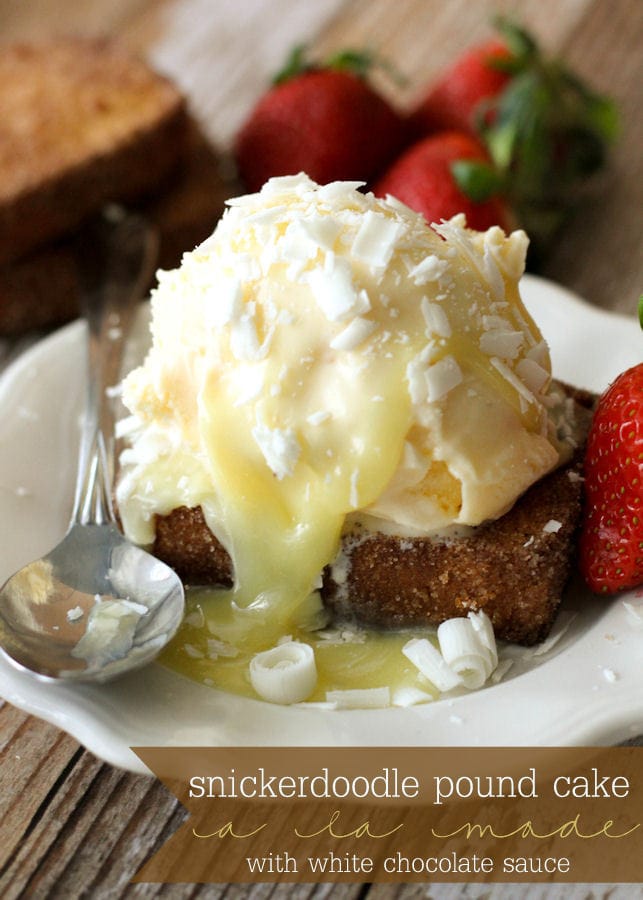 Snickerdoodle Sara Lee Pound Cake
Happy National Pound Cake Day!!! I have to begin by saying I LOVE Pound Cake… who am I kidding? I pretty much love ALL cake, but I've come to love pound cake, in particular, over the past few years. It is always so delicious and soft! Not sure if you remember, but last year I celebrated National Pound Cake Day with Sara Lee and made Pound Cake French Toast. It is the BEST! We've had it a few times since then and every time I do have it I'm reminded again just how delicious and versatile this yummy treat can be. 🙂 To celebrate today, I wanted to share a new recipe that I tried out this weekend – Snickerdoodle Pound Cake!
Let me begin by saying it may be one of the BEST desserts I've ever made. It was so stinkin' delicious and was gone in a matter of seconds… This isn't just any pound cake recipe, it's Snickerdoodle Pound Cake a la Mode with White Chocolate Sauce! Yes, you heard me right… a ton of delicious flavors all wrapped up in this yummy treat! I've always been a huge fan of warm and cold treats served together (brownies and ice cream, cobbler and ice cream, etc.) and wanted to do the same thing with this pound cake. The result was AHHH-MAZING!! No joke! The best part was that it was super easy to make and tasted like it came straight from a restaurant!!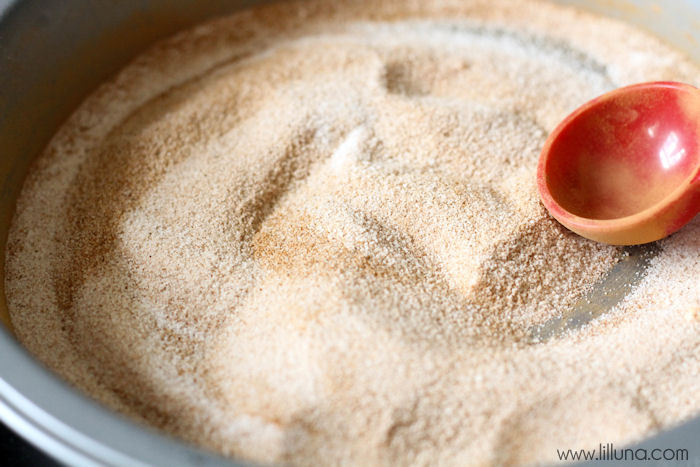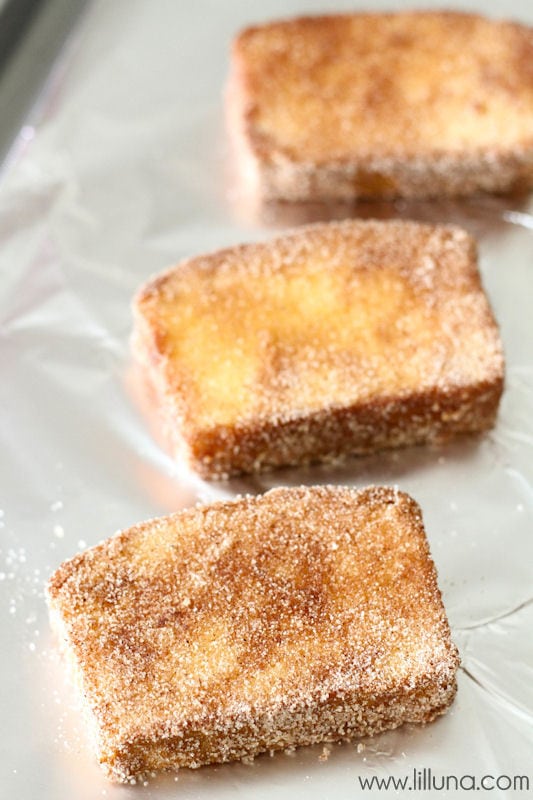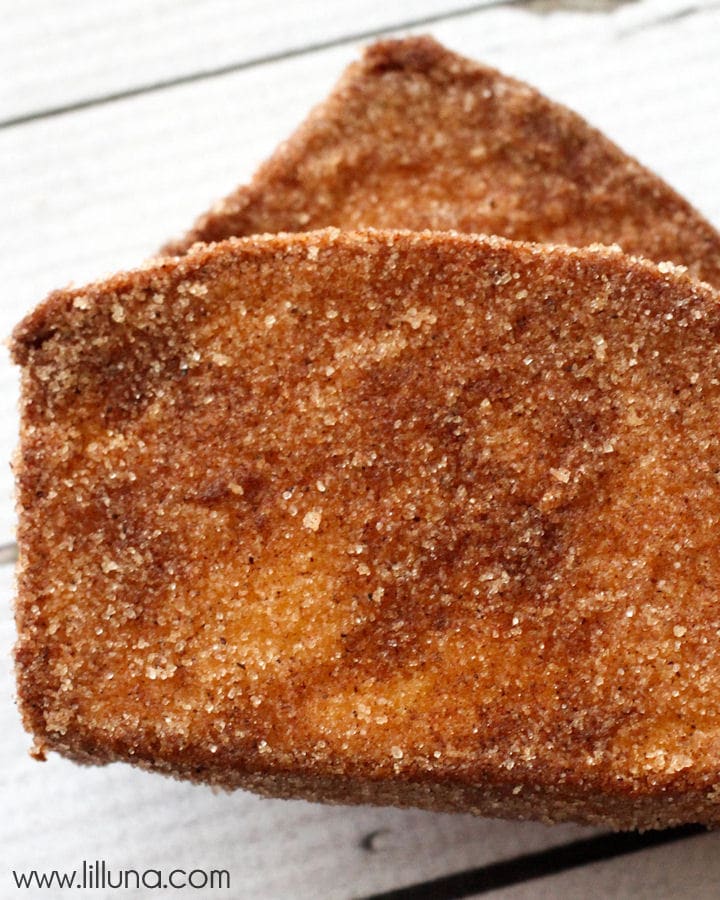 How to Make Snickerdoodle Pound Cake:
The name of this dessert is slightly deceiving, because it makes it sound a lot fancier than it really is! I can honestly say that this is one of the quickest, simplest dessert recipes I have ever made. For how delicious it is, and how impressive it looks when you serve it, it's hard to believe you can make it in 15 minutes. Here's how to do it:
Mix your 1 cup sugar and 1 TB cinnamon in a bowl or cake pan.
Slice cake, brush with melted butter, and coat in cinnamon/sugar mixture.
Bake your pound cake until it's slightly crunchy on the outside and soft on the inside (YUM!).
Add ice cream, chocolate sauce and curls and you have a super delicious treat that everyone will love.
The combination of the pound cake, cinnamon and sugar, ice cream and white chocolate sauce make this dessert irresistible!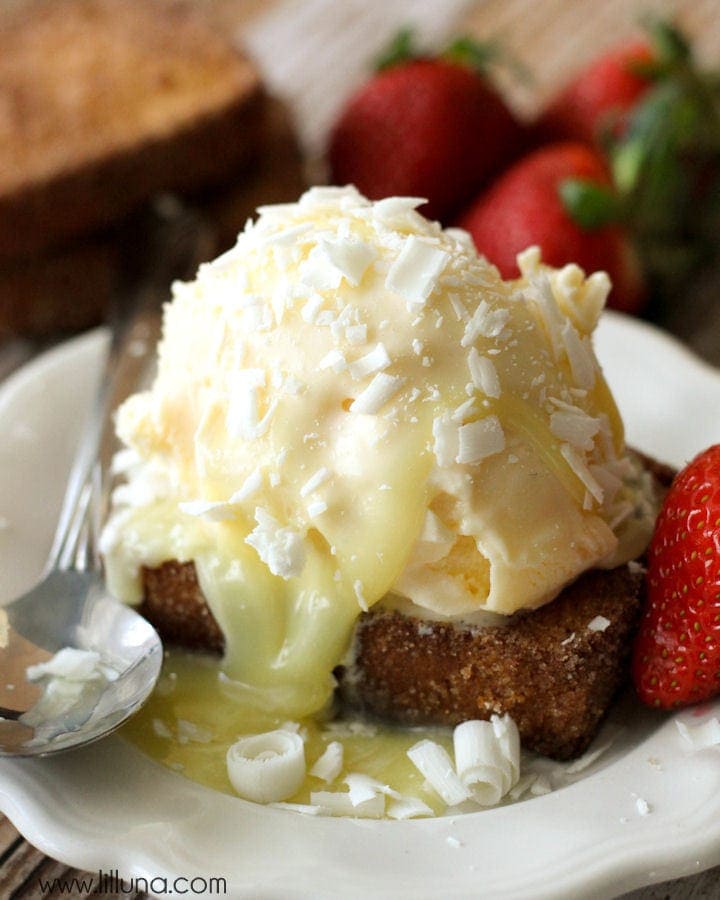 Looks pretty fab, right?! The bottom pound cake layer has just a slight crunch from the cinnamon sugar coating, and it's amazing paired with the creamy ice cream and white chocolate sauce. Yes… you can begin to drool now! 😉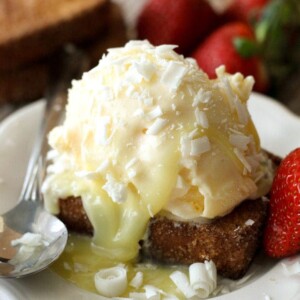 Snickedoodle Pound Cake Recipe
Sara Lee pound cake baked in a layer of butter and cinnamon sugar, topped with vanilla ice cream, white chocolate sauce, and white chocolate curls - this Snickerdoodle Pound Cake is hard to resist!

Ingredients
1

Sara Lee Pound Cake

4

TB

melted butter

1

c

sugar

ice cream
Sauce
1/4

c

heavy whipping cream

1

TB

butter

4

oz

white chocolate

white chocolate curls
Instructions
Begin by slicing your pound cake in ¾" - 1" thick pieces. Set aside.

Add sugar and cinnamon to a bowl and mix well. Set aside.


Melt butter in microwave.


Using a pastry brush, brush butter over the front, sides and back of a slice of pound cake. Place in sugar/cinnamon mixture and mix around until all coated. Do this for all cake slices.


Place each slice on a baking sheet lined with aluminum foil.


Bake at 325 for 7-9 minutes.


While pound cakes are baking, chop your white chocolate. Place in a bowl and set aside.


In a small pot, melt 1 TB butter and ¼ cup whipping cream until butter is melted and mixture starts to boil.


Pour over chopped white chocolate and stir until chocolate is melted and mixture is smooth.


Once pound cakes are done and still warm, add a scoop of ice cream.


Pour white chocolate sauce over ice cream and garnish with white chocolate curls.

For more information about Sara Lee go HERE.
Or find them here…
Facebook – Pinterest – Twitter
For more great recipes using Sara Lee products be sure to check out:
ENJOY!
This is a sponsored post written by me on behalf of Sara Lee Desserts. As always, all opinions are 100% my own.