Sometimes I wish I could be the mom who does all the great crafts with my kids and bakes all the fun meals for the holidays, etc., etc., but I just don't have the time to do that ALL THE TIME! I know you may think otherwise, but I really am not Super Mom! As much as I try to do all the fun traditions and such I've just realized that it's not gonna happen for every holiday, so if I can do at least one fun thing then I'm happy. Having said that I will not be preparing an "ALL GREEN" meal on St. Patrick's, but thought I could muster up at least one green dessert for next week. Still haven't decided which one I'd do but but wanted to share with you 17+ St. Patrick's Day Desserts that I will be choosing from. These all look TO-DIE-FOR  and I love that a lot of them include mint because that is one of my favorite ingredients in desserts.
SO – the questions I have for you are:
1 – Will you be cooking lots of green for the fam on St. Patty's?
and
2 – Which of these desserts would you make if you had to choose. I need help deciding. 🙂
Lucky Rainbow Jell-O from Glorious Treats

St. Patrick's Day Green and White Bundt Cake from Love from the Oven
Mint Oreo Cupcakes from Made with Pink
"Lucky You" Mint Pie from Very Best Baking
Irish Car Bomb Cupcakes from Brown Eyed Baker
St. Patrick's Day Jello Cream Cake from The Food Librarian
St. Patty's Caramel Rice Krispy Treats from Wants & Wishes
Leprechaun Pie from Oopsey Daisy
Shamrock Sandwich Cookies from Homemade by Holman
No Bake Thin Mint Truffle Cookies from Six Sisters Stuff
St. Patty's Day Cake from I Am Baker
Rainbow Cake in a Jar from Babble
St. Patrick's Day Rainbow Slice and Bake Cookie from Good Life Eats
Green Velvet Whoopie Pies from Love from the Oven
Shamrock Mint Oreos from Confessions of a Cookbook Queen
Pot of Gold Cupcakes from Confessions of a Cookbook Queen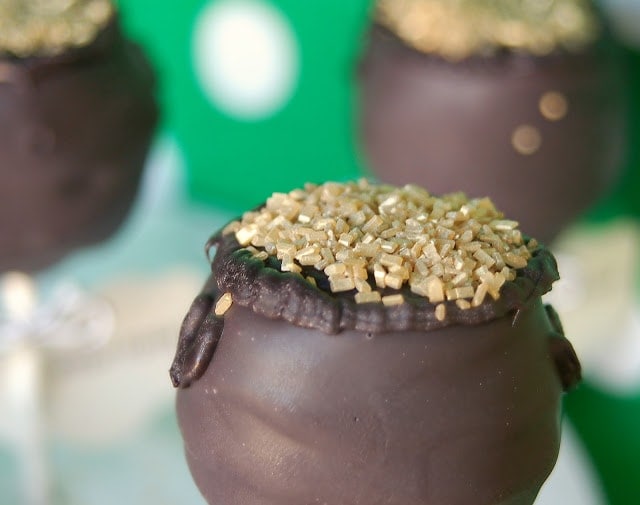 Pot of Gold Pops from Joy in the Jumble
And don't forget my two latest St. Patty's Treats:
and my Mint M&M Oreo Cookies
These all look so delicious!!
For more St. Patrick's Day treats be sure to check these out:
ENJOY!