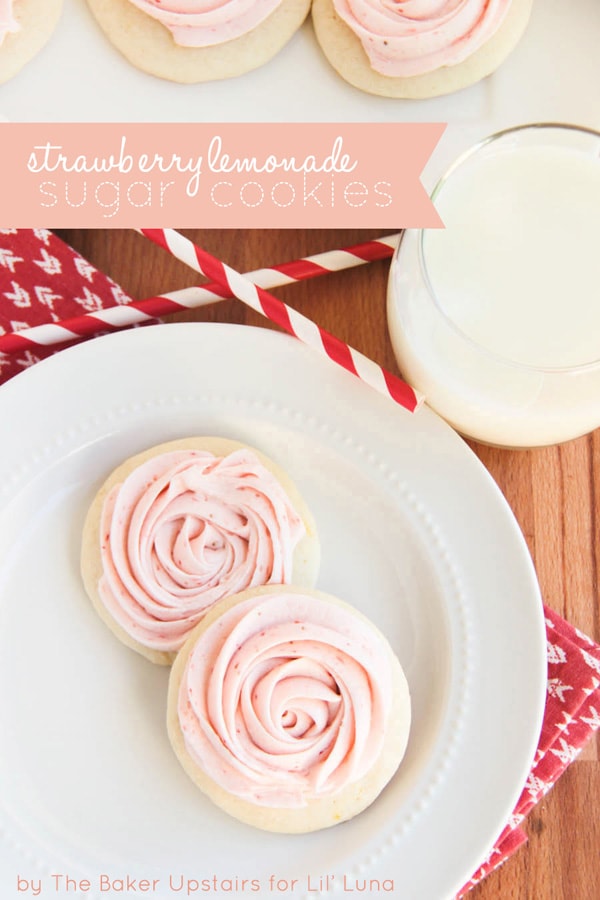 Hello again, Lil' Luna readers! It's Alicia from The Baker Upstairs and I have a delicious summer treat to share with you today! Sugar cookies are one of my favorite desserts… I would even go so far as to say they are my favorite kind of cookie (which is saying a lot, since I make a ton of cookies). But these strawberry lemonade sugar cookies are out of this world! The strawberry and lemon flavor combination is so delicious and summery, and it makes these cookies so unique and fun!
The sugar cookie base is soft and moist, with just a hint of lemon. The texture is just perfect! I love that they stay soft for several days and don't fall apart when you take a bite. The strawberry buttercream is sweet and flavorful and complements the soft cookies perfectly. These cookies would be the perfect dessert for any summer celebration!

Strawberry Lemonade Sugar Cookies
Ingredients
for the cookies:
2½ cups cake flour
2 teaspoons corn starch
1½ teaspoons baking powder
½ teaspoon salt
½ cup butter, room temperature
¼ cup shortening
1 cup sugar
1 large egg
1 egg white
1 teaspoon vanilla extract
1 teaspoon lemon extract
zest of one lemon
for the frosting:
2 sticks butter, softened
pinch of salt
3½ cups powdered sugar
½ teaspoon vanilla extract
3 tablespoons strawberry puree (from about ½ cup strawberries)
Instructions
Whisk together the cake flour, corn starch, baking powder, and salt, and set aside. In a large bowl or the bowl of a stand mixer, beat the butter, shortening, and sugar until light and fluffy. Add the egg, egg white, vanilla extract, lemon extract, and lemon zest, and beat until smooth. Add the flour mixture and mix until just combined. Wrap in plastic wrap and refrigerate one hour (or freeze 20 minutes if you're impatient like me).
Preheat the oven to 375. Prepare two baking sheets by spraying with cooking spray or lining with parchment or baking mats. Dust a work surface with flour and roll out the dough to a ⅓ - ½ inch thickness (depending on how thick you like your cookies). Cut out cookies using a cup or biscuit cutter and transfer to the baking sheet. Bake 8-10 minutes, or until the bottom is lightly browned (the tops of the cookies will still be very pale). Cool completely before frosting.
To make the frosting, beat the butter until light and fluffy. Add the salt, powdered sugar, and vanilla, and mix to combine. Add the strawberry puree and beat until light and fluffy. Frost cookies as desired and enjoy! (If you're interested in topping them with roses like I did, here is a link to an excellent tutorial.)
cookie base adapted from Cooking Classy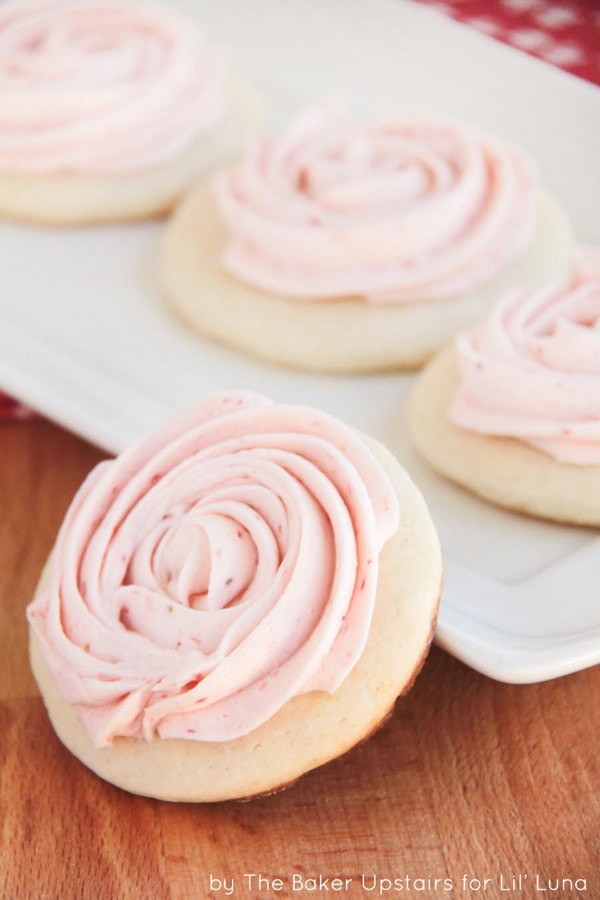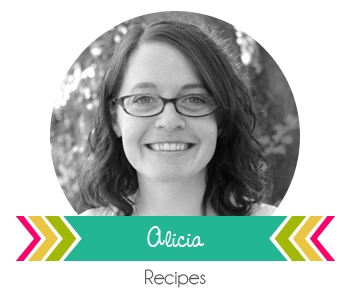 ———————————————————
Who would have thought of Strawberry Lemonade Sugar Cookies?!? Seriously – genius! Thanks, Alicia!
For more great recipes from her be sure to check out The Baker Upstairs, and for more info about her go HERE.
For more recipes from Alicia here on the site, check out: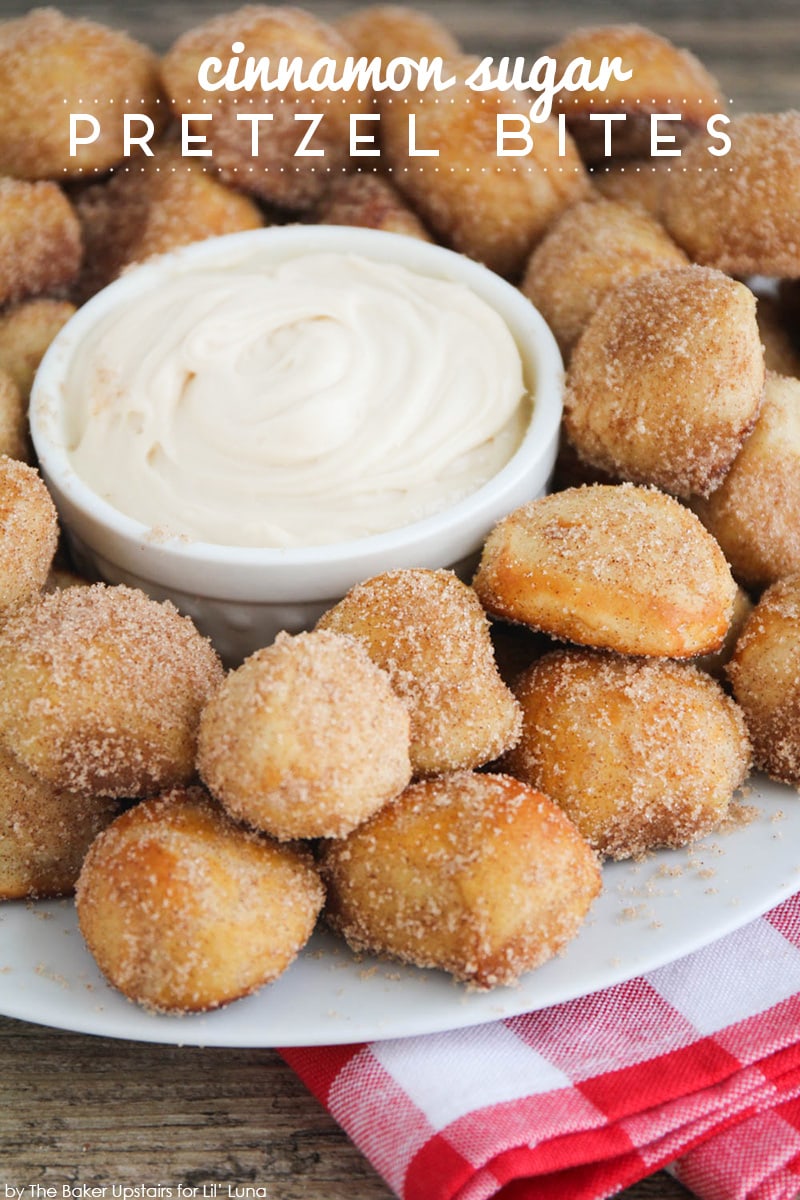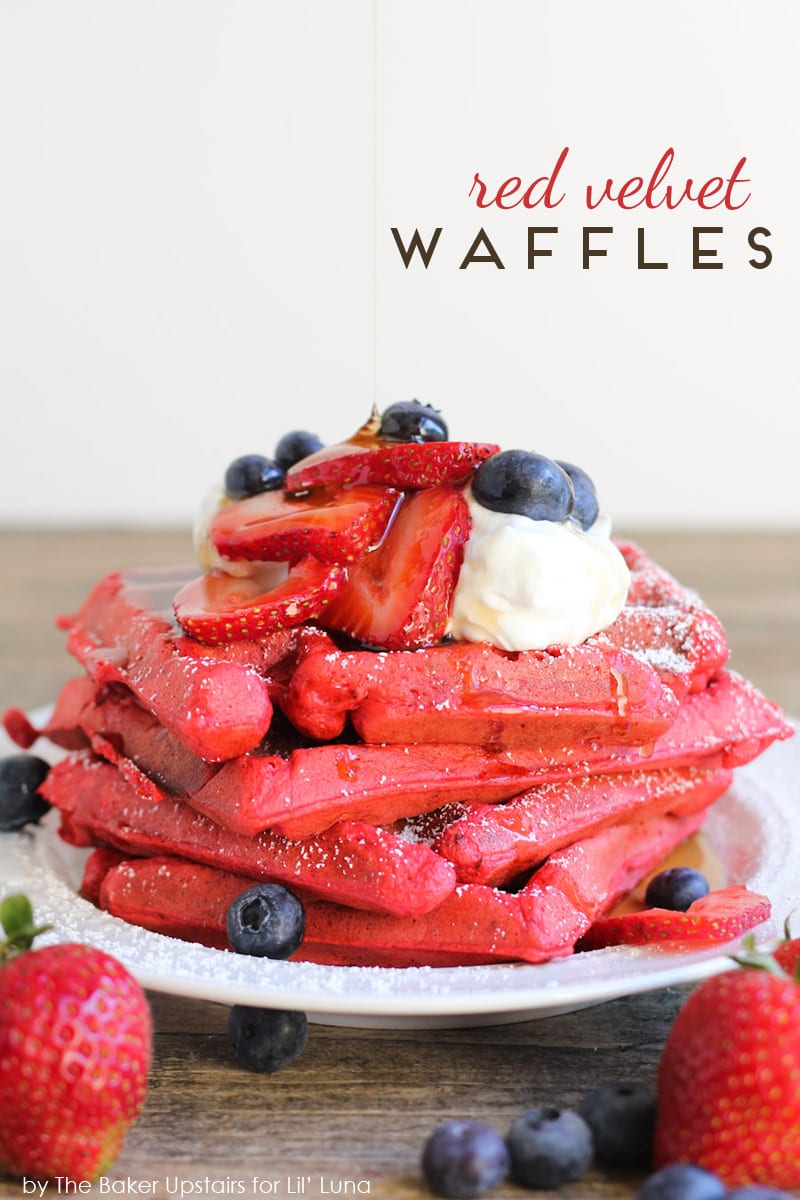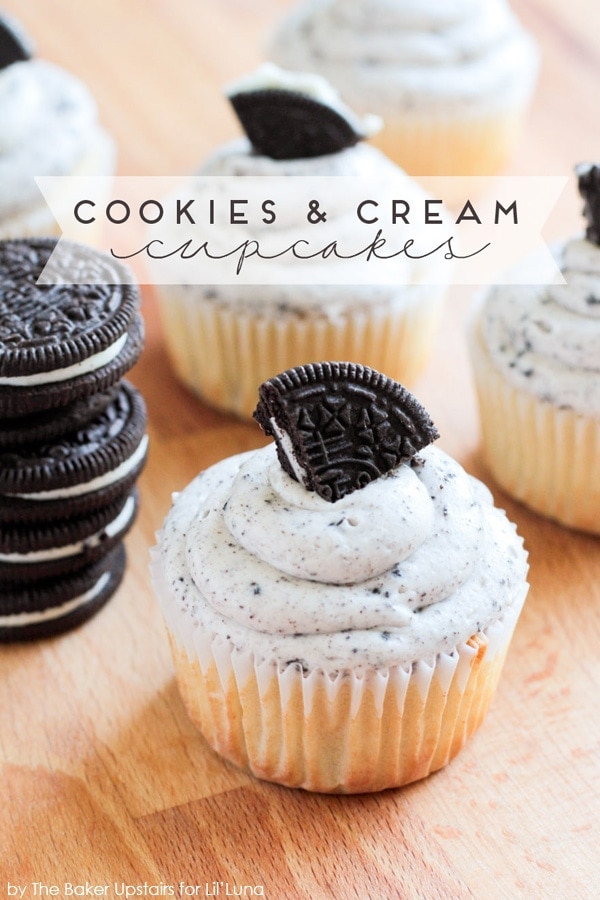 For all dessert recipes go HERE.
For all recipes go HERE.
And get weekly emails with monthly freebies by signing up for the Lil' Luna newsletter. 🙂
For even more great ideas follow me on Facebook – Pinterest – Instagram – Twitter – Periscope.
ENJOY!