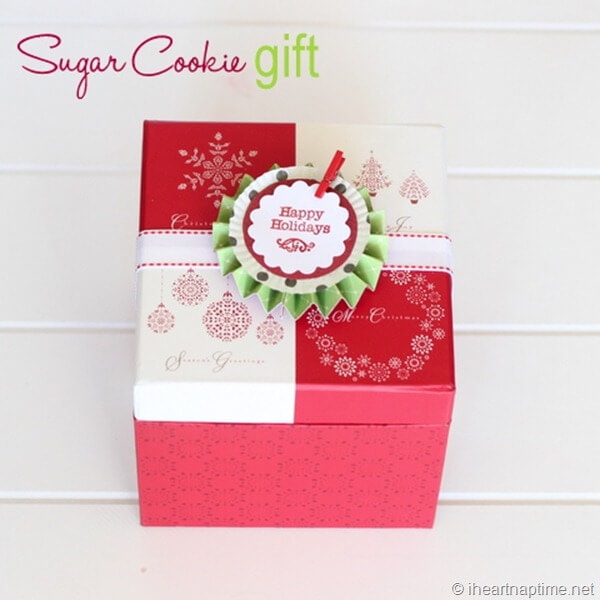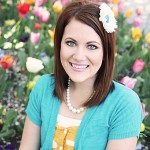 1 – What is your favorite holiday and why?
My favorite holiday is definitely Christmas! I love the cheerful spirit everyone has that time of year and spending time with my family. We have so much fun traditions. Of course I love decorating for Christmas as well. 😉
2 – What is your favorite Christmas Tradition?
My favorite Christmas tradition is acting out the nativity scene with my family. We all get together for a big dinner and then the grand kids take a role and we're able to celebrate and remember the true meaning of Christmas.
3 – What is your all-time favorite Christmas Movie?
ELF! We watch it every year… cracks me up!
4 – What has been the best present you've ever received and why?
The best present I ever received was my cannon rebel! I had been wanting one for years but could never afford it. My husband secretly saved up to buy me one last year. I can now capture all the special moments with my kids.
MY OTHER RECIPES
5 – Why do you blog?
I started my blog as a creative outlet… time for me! My husband was in medical school and I had a one year old with another on the way. I needed time during the day to do something I love. I've always been a creative type, so I decided I would start a blog to share my projects with others and give me something to do at night while my husband studied the night away.
Today I'm going to show you have to make a cute and easy sugar cookie gift. I thought this would be such a fun gift to give to your neighbors, teachers and friends. The nice thing about it is… there's no baking involved. Your neighbors aren't swarmed with a million cookies all in one night and it gives them a fun holiday activity they can do together as a family.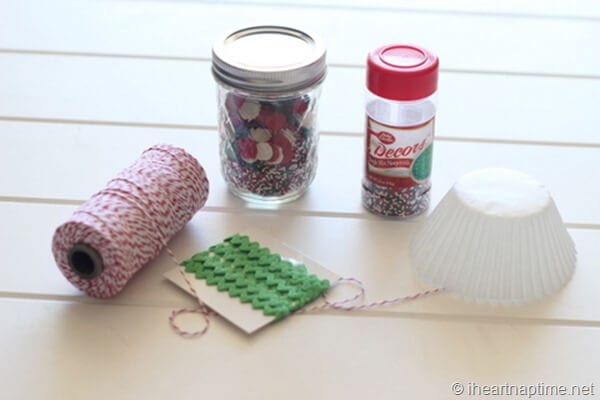 So first we're going to make the sprinkles jar. All I did was dump my sprinkles into a mason jar and top it with a cupcake wrapper. Then tied it together with some ric rac and twine. I also added a little flower on top… but it would be fun to make a little tag as well.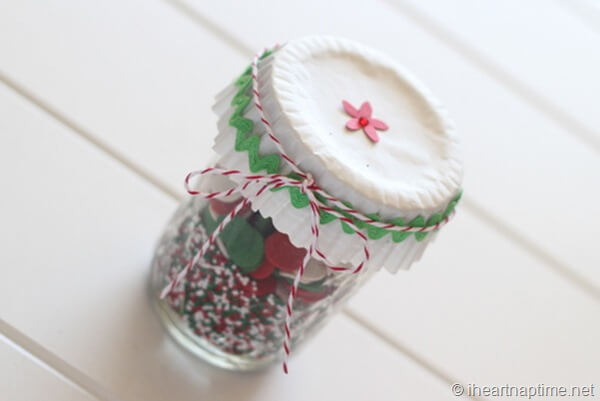 So now that you have your cute sprinkles jar (so fun huh?!) you're going to start putting together your box.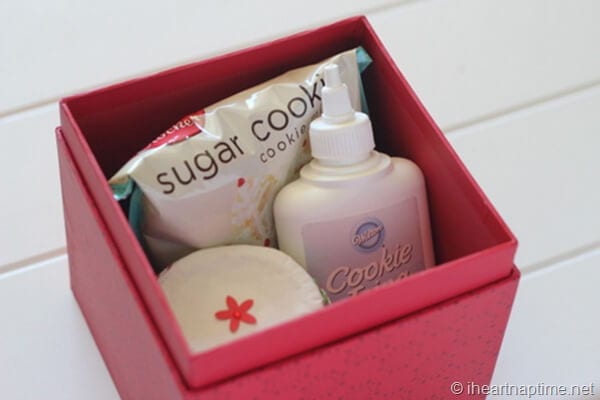 I found this box at HL last year for a dollar after Christmas. That is the perfect time to buy Christmas décor! Anyways… all you need is a sugar cookie mix, sprinkles jar and cookie icing. You could even go all out and make homemade dough and frosting! 😉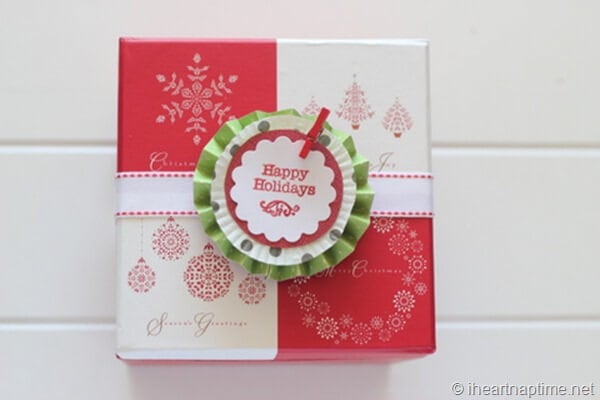 Then I tied the box with ribbon and one of these pinwheels (you can find the tutorial
here
).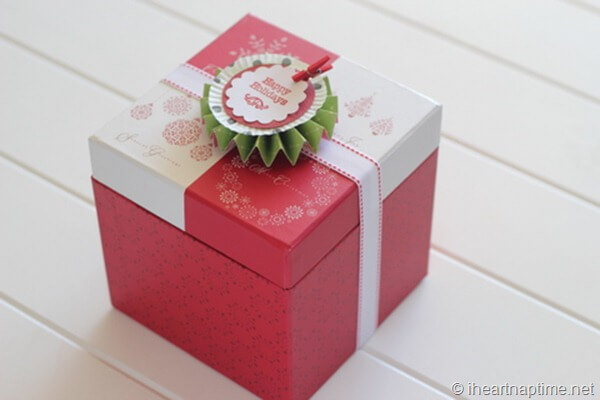 That's all! Simple as that. Wouldn't you love to receive that box?!
Thanks for having me! xo
——————————————–
Jamielyn created
I Heart Nap Time
as a creative outlet for a little bliss during her day called "nap time."
IHeartNapTime.net
is a creative site that shares DIY home projects on a budget, crafts, easy recipes, tips and techniques. Her goal is to inspire others to find the time to create by sharing tutorials, ideas and providing support. Connect with her on
FB
,
Twitter
or
Pinterest
.
Thank you Jamielyn!! Goodies are the best gift!!
For more great Christmas gift ideas be sure to check out: