If you follow me on Instagram you would know that we put up our Halloween decorations a few weeks ago. Yes, it was in early September and you probably think I'm crazy but I LOVE Halloween and knew that my October would be a little crazy and I wanted to be able to enjoy it as long as I could. 😉 AND, I knew I wanted to share our Updated Halloween Gallery Wall with all of you to inspire you with your Halloween decor which means I had to get it done at least a little early (or at least that's what I tell myself). LOL! 😉
It seems like I update the gallery wall every year for Halloween for some reason or another and this year I changed it up since we now have our Yellow Piano. I thought I'd take a smarter approach to the gallery wall this time and make sure I added items that were same or similar in size to the pieces already hanging on the wall. The reason? It makes things SUPER easy to hang and to change out!! No added nails or Command Strips – just hang things on the nails that are already there for my every-day decor. Fortunately, I have made similar-sized pieces in the past so it worked out beautifully!
This is what the gallery wall looks like normally (on the left) and then the Halloween decor on the right. 😉
I left a few things and then then changed out others with some of my favorite Halloween decor I've picked up over the years. People ask me all the time where I find my favorite holiday decor and HomeGoods is, by far, my favorite!! 😀 I also love Hobby Lobby and making things myself. 😉
Here's a closer look…
Both of these pieces are from HomeGoods, along with the skull below. 😉
I also found this cute couple in HomeGoods back in Arizona when I was there on a short layover. And yes, going to an AZ HomeGoods was one of the priorities on my short visit. 😉
I picked up this cute family at HomeGoods too but several years go.
I love picking up some black floral pieces at Michael's to add through out the house.
Pictures below: The Black and White striped piece with the gold spider is from Hobby Lobby, along with the yellow Clock.
Check Out My Other Recipes
The middle piece and black and white wooden signs are ones I made.
You can find the tutorials for those HERE.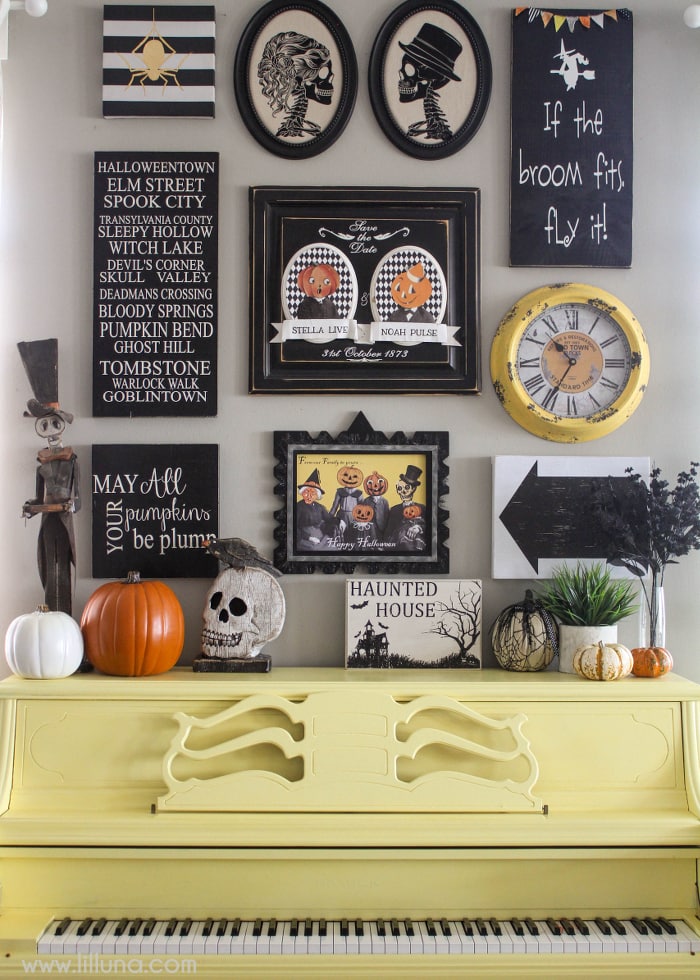 This is just one area of my house that is decked out in Halloween pieces.
I wanted to keep the pops of yellow to tie in with the piano. 😉
I love all the pieces and especially love that they were hung with little effort!!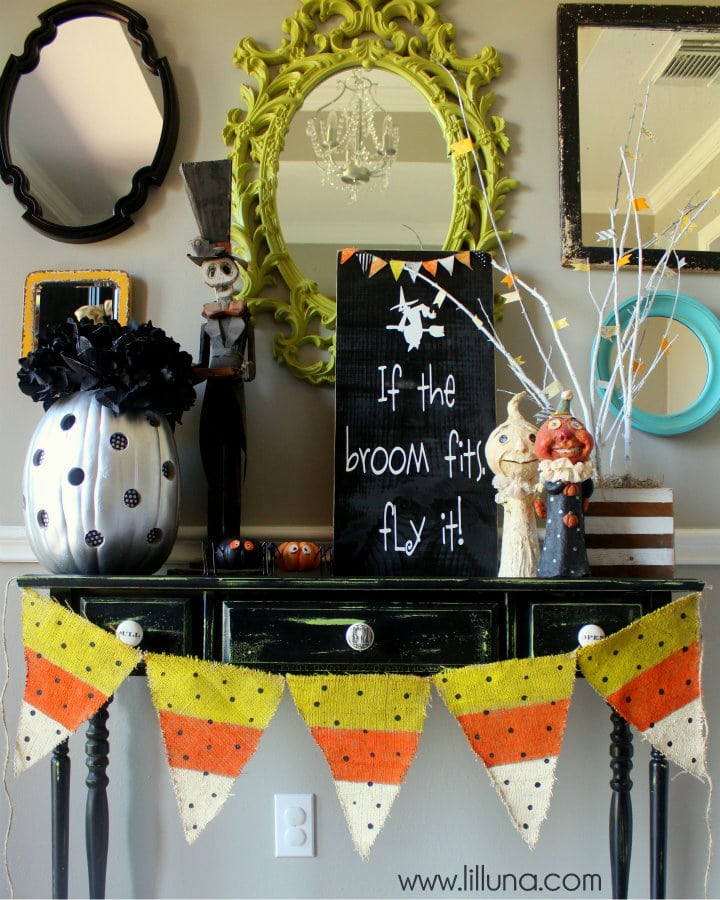 This is a picture from last year of part of my entryway but I decorated it the same this year. You can go HERE for all the details. 😉
Here is also a picture of the Halloween Gallery Wall in my home in Arizona…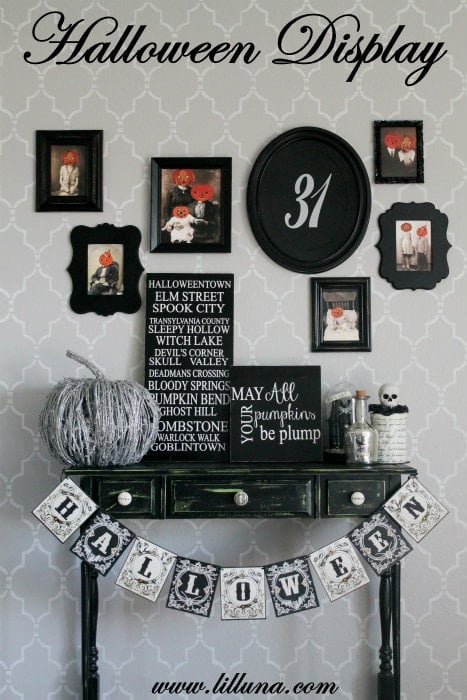 For more Halloween decor ideas, check these out: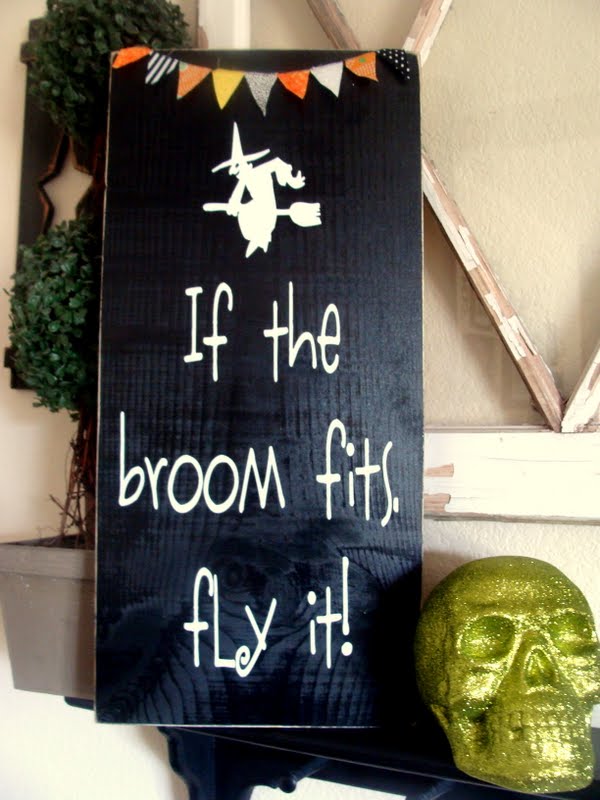 Yeah, I know… I'm slightly obsessed with Halloween!! 😉
For even more Halloween inspiration go HERE.
For all Decor ideas go HERE.
And get weekly emails with monthly freebies by signing up for the Lil' Luna newsletter. 🙂
For even more great ideas follow me on Facebook – Pinterest – Instagram – Twitter – Periscope – Snapchat.
Don't miss a thing – Sign up for the Lil' Luna Newsletter today!
ENJOY!